Do you have leftover apple crisp and you're wondering what to do with it? While you could just treat yourself to a second helping (and I don't blame you if you do!), you can also store it and enjoy it at another time. Learn all about how to store the leftovers so that they are as good as fresh as well as how to prepare it ahead and store it before baking.
Jump to: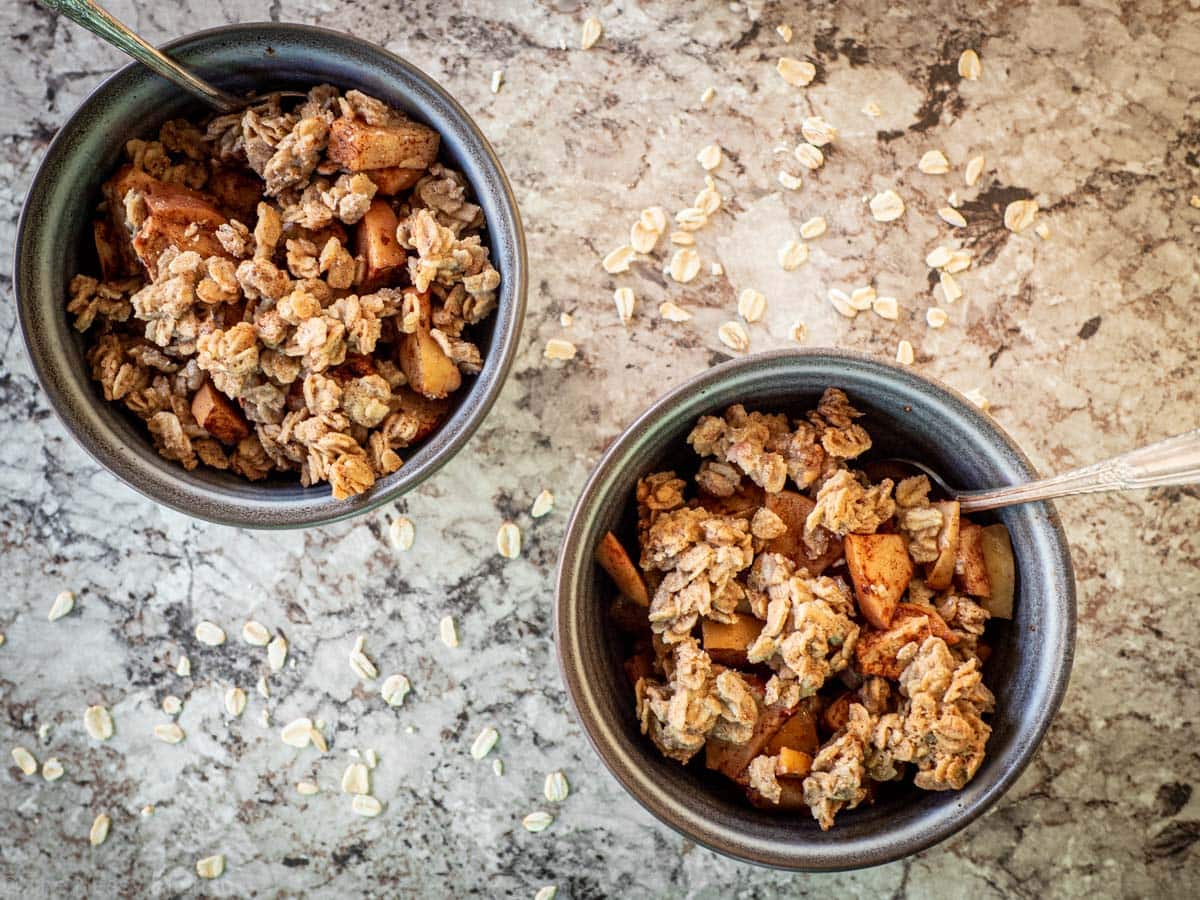 This easy apple crisp recipe is a regular dessert around here.
We almost always have fresh apples on the counter, enough butter in the fridge and all of the dry ingredients in the pantry to whip up this family favorite at a moment's notice.
And with much less prep time compared to making an apple pie, I sometimes even make it to satisfy our sweet tooth with a weeknight dinner. Cinnamon, tender apples and a scoop of ice cream just hits the spot!
But unless we have company over, we never finish it all in one sitting.
Fortunately, it can easily be kept in the fridge for a couple of days or even frozen so the leftovers don't go to waste.
And today I'm sharing my tips for how to best keep the leftovers from this type of apple dessert so that they taste as good as the day you baked it.
Refrigerating Baked Apple Crisp
How to Store
1. Cool. Allow your hot apple crisp to cool completely by setting the whole baking pan on a wire rack. Allow it to cool for 2-3 hours to room temperature. If you store it too soon, the extra heat and moisture will cause it to get soggy.
2. Package. You have two options depending on how much is leftover. You can either:
Keep it in the dish that it was baked in and cover with plastic wrap
Transfer it into an airtight container (or into several portioned individual containers)
*For extra assurance to protect against soggy leftovers, you can cover the dish with one or two paper towels to absorb additional moisture from condensation.
3. Store. Place it in the refrigerator for 2-4 days. Or it can be frozen. See below for more details on freezing.
Storing the Apple Filling and Oat Topping Separately
If you have a runny apple crisp, you may want to store the crispy oat crumb topping separately so that the excess moisture doesn't cause it to lose it's texture. Simply scoop the oat mixture (as best as you can- it's okay if a bit gets left on the apples), into a separate airtight container.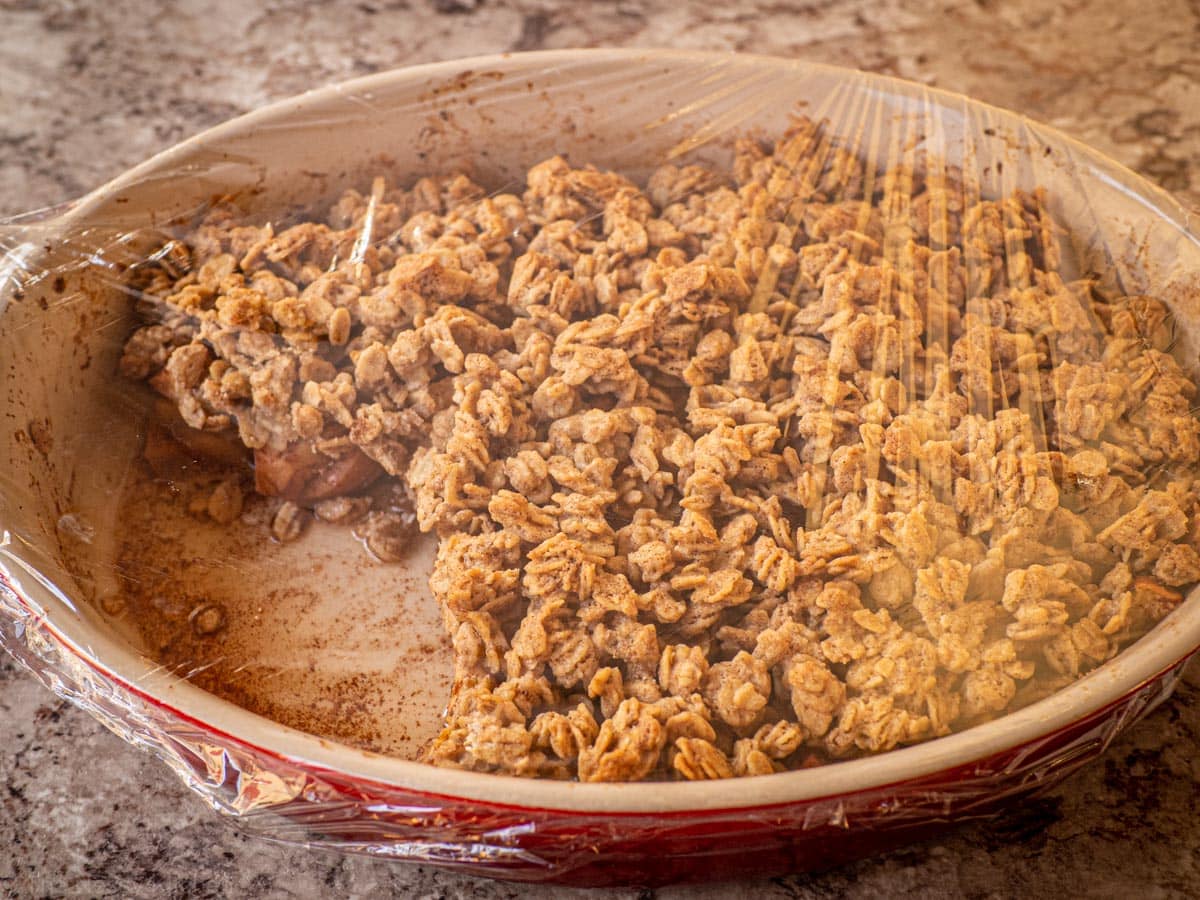 How Long Does it Last in the Fridge?
While some sources suggest that you can keep the apple crisp at room temperature, I highly recommend refrigerating it to be on the safe side. It can be kept in the refrigerator for 3-4 days.
Freezing Baked Apple Crisp
How to Store
Follow the same steps as above for refrigerating.
Cool.
Package.
Store.
And place it in the freezer for up to 3 months.
How Long Does it Last in the Freezer?
According to the USDA, frozen leftovers are safe indefinitely but lose moisture and flavor over time. So for best results, I would recommend consuming the frozen leftover crisp within 3 months.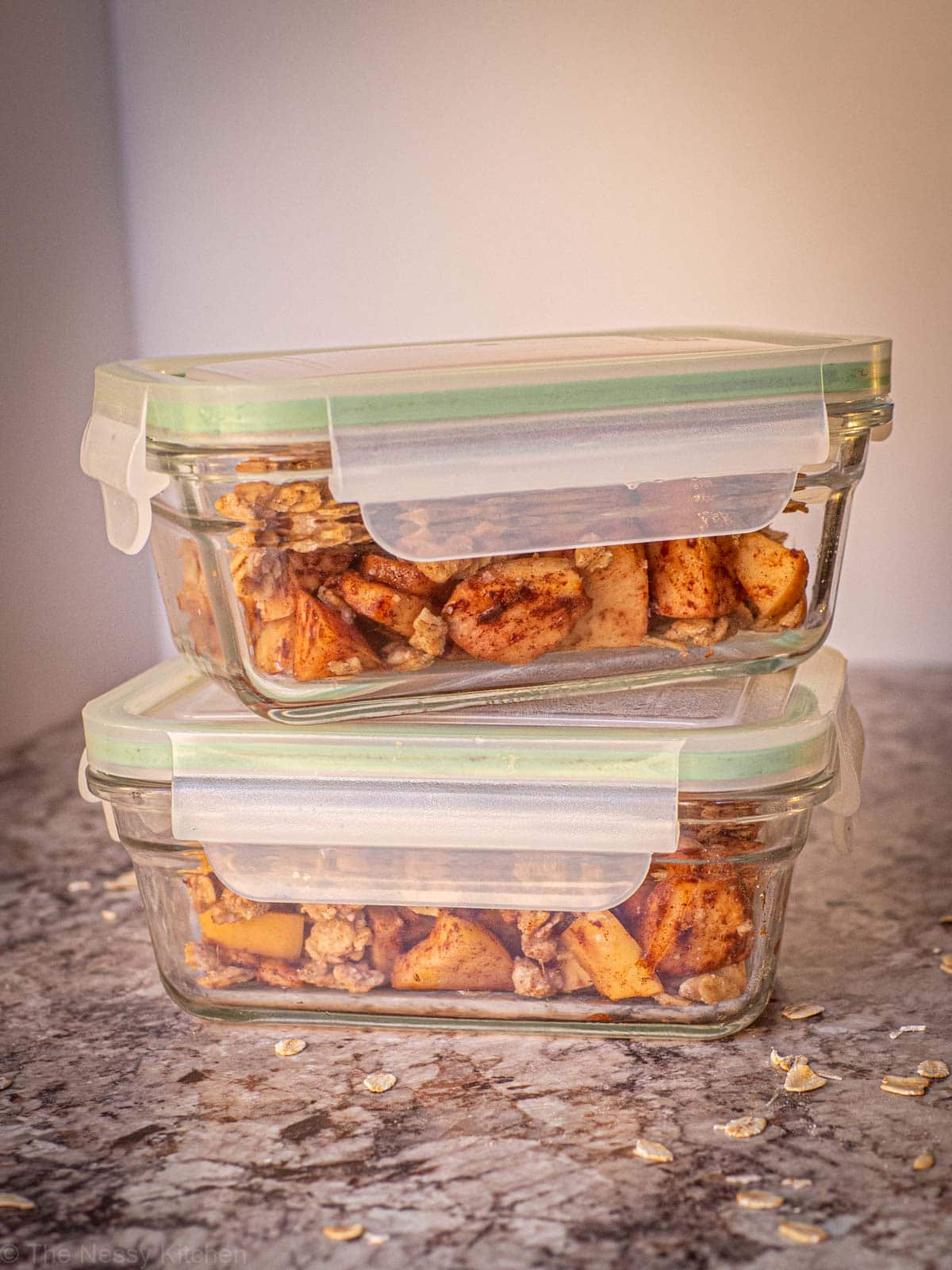 Unbaked Apple Crisp Storage
How to Store
If you would like to prepare your delicious apple crisp recipe ahead of time, you definitely can and you have a couple of options for how to do so.
Assembled: You can fully assemble your apple crumble in a prepared baking dish, cover with a lid or plastic wrap and store in the refrigerator for up to 2 days.
Unassembled: You can also assemble the apple mixture and brown sugar crumble topping separately. Slice apples and mix with the other filling ingredients, cover and store in the refrigerator for up to 2 days.
You can mix together the topping in a bowl at the same time or make it fresh just before baking. The topping can be stored at room temperature for up to a day or refrigerated for up to 2 days.
Add to the top of the apples just before baking.
Want to just prepare the apples?
Since cutting the apples is the most time consuming part, you can get a head start by simply prepping and storing sliced apples with a bit of lemon juice. Then when you are ready to make the crisp, you can mix everything together and bake.
This is a great option if you lots of apples in the fall. You can prepare the apples needed for several batches of apple crisp.
Portion them into freezer bags and freeze. Then all you need is to the thaw the apples and make your favorite apple crisp recipe!
How Long Does It Last?
Unbaked apple crisp (or prepared sliced apples) can be stored:
Refrigerated for up to 2 days
Frozen for up to 3 months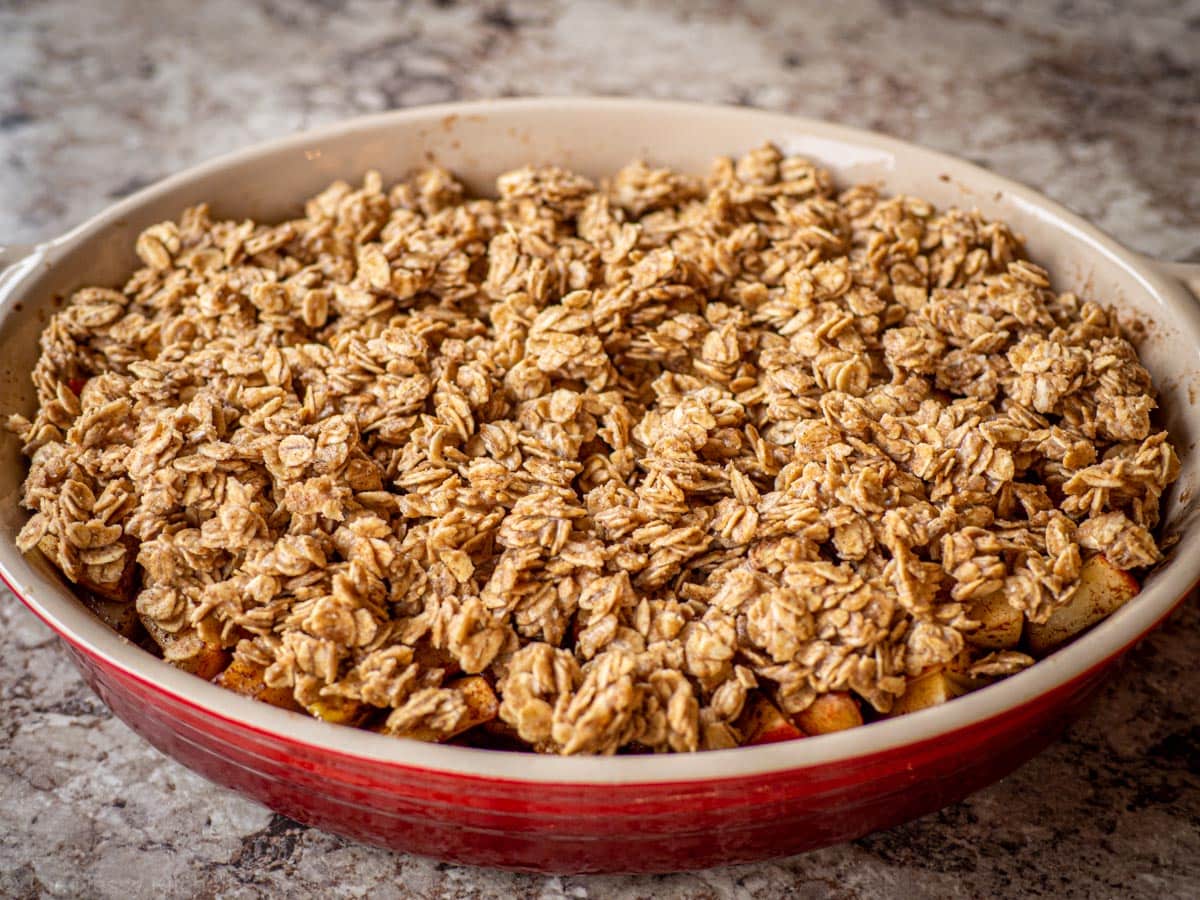 LET ME PLAN YOUR DINNERS! Get My FREE Meal Plan (Including Grocery List!)>>>
Reheating Apple Crisp
Now that you know all about apple crisp storage, let's talk briefly about reheating it. For more detailed instructions, check out this post on Reheating Apple Crisp.
Microwave
This method is the quickest but most likely to yield a soggy apple crisp. While this option might be okay if you just want it for a treat with a scoop of vanilla ice cream, it may not be the way to go if you are serving the crisp to guests.
How to: Simply microwave your desired portion for 30-60 seconds until heated through.
Oven
This method takes a bit longer but yields crisp that tastes fresh. It is a great option for reheating a large portion.
How to: Bake at 350 F for 20-30 minutes until heated through. If the topping is pretty golden brown early on, tent it with some aluminum foil to prevent it from getting overdone.
Toaster Oven
This method is great for reheating a small portion when you still want to preserve the crispy topping.
How to: Set your toaster oven to 350 F on the "bake" setting. Place the amount of apple crisp that you want to reheat in an over proof dish and bake for 15-30 minutes.
Unbaked Make Ahead
If you froze your unbaked apple crisp, place it in the refrigerator a day ahead to thaw.
How to: Bake as per the baking directions in the original recipe card that you are using.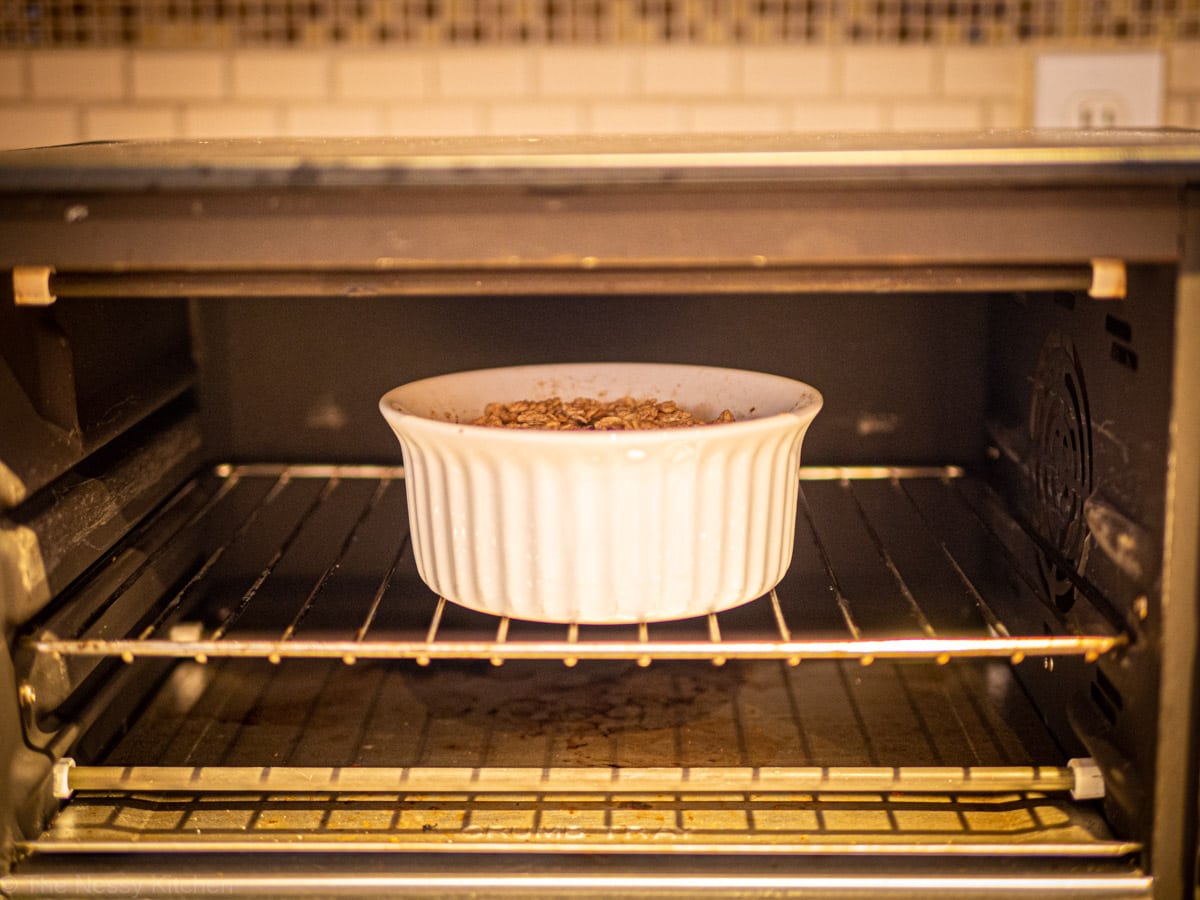 Storing Other Fruit Crisps
This way of storing apple crisp will work for other crisps with a fruit filling as well such as cranberry or peach crisp.
FAQs
Does apple crisp need to be refrigerated after baking?
While some sources suggest that fruits pies and crisps can be stored at room temperature for up to 2 days, I highly recommend refrigerating it to be on the safe side.
Can you reheat apple crisp?
Yes! You can reheat apple crisp in the microwave, oven or toaster oven.
How long does apple crisp keep in the fridge?
Apple crisp will keep in the fridge for 2-4 days.
Is it better to freeze homemade apple crisp before or after baking?
Either works. I have had great results reheating frozen apple crisp in the oven as well as with freezing unbaked apple crisp and baking it at a different time.
Crisp Recipes
Oat Flour Apple Crisp
This irresistible treat features tender apples, sweet maple syrup, warm spices, and a crumble topping made gluten free by using oat flour.
Check out this recipe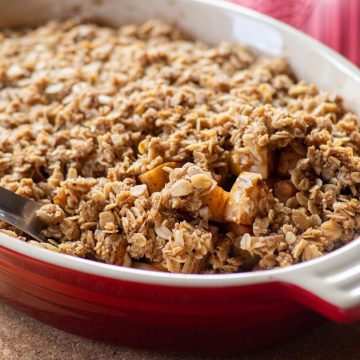 Cranberry Crisp
An easy and delicious dessert with maple cranberry filling that is topped with a buttery oats and brown sugar streusel. And since it is made entirely with oat flour, it is easily gluten free. Enjoy this cranberry crisp on its own or top it off with a scoop of vanilla ice cream!
Check out this recipe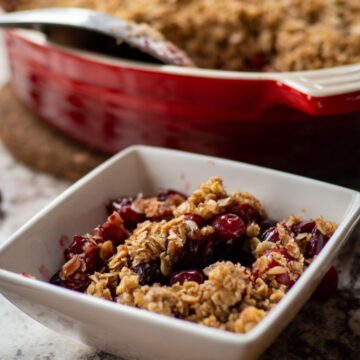 I hope you found these tips helpful and that you are able to preserve your fruit crisp leftovers for a tasty treat later on.
Related: How to Reheat Apple Crisp