Want to make a recipe that calls for Yukon Gold Potatoes and don't have any on hand? If you're wondering what the best substitute is, you have come to the right place!
Jump to:
No time to read?
Download the Quick Reference Chart>>>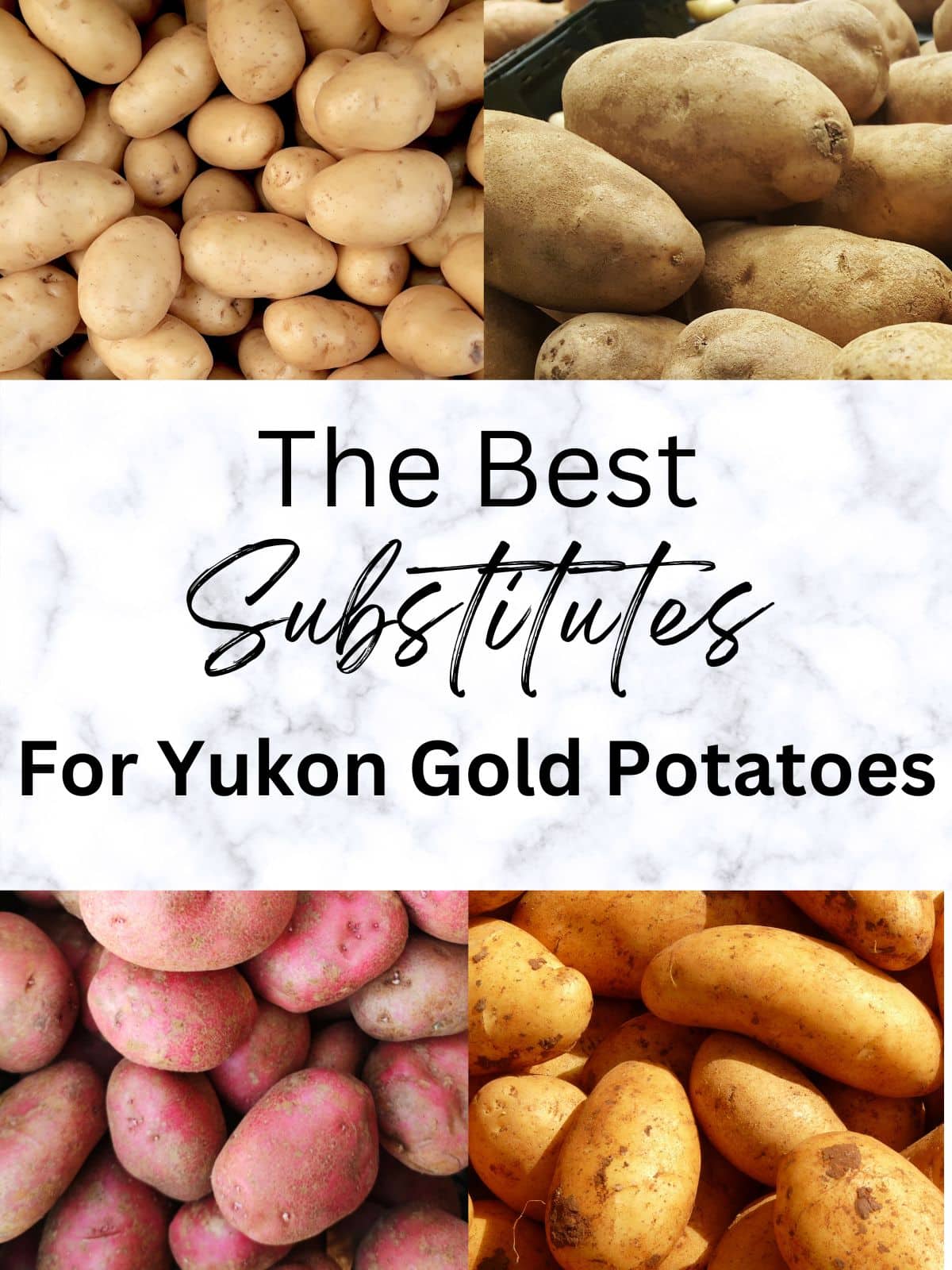 What is a Yukon Gold Potato?
With a pale yellow flesh and thin skin, Yukon golds are one of the most common varieties of potatoes and for good reason.
They are versatile and work in many different types of recipes. They hold their shape well enough for potato salad, can be made into a good mash and taste incredible as fries.
With a perfect balance of a buttery and almost sweet flavor, they tend to be readily available at grocery stores and less expensive than some other potato varieties.
This type of yellow potato was invented at the University of Guelph in the 1960s and according to Wikipedia, is a cross combination of three types of spuds- Inca Gold Potatoes (yellow), Katahdin Potatoes (white) and a Norgleam potato (white).
A Brief Overview of Potato Types
The different types of potatoes can be broadly classified based on their starch content which affects their properties when cooking.
High-Starch Potatoes- Which contain lower moisture by comparison and are often described as "mealy". They are a denser potato and are best for baking and frying but they don't hold their shape as well when boiled. Some examples include:
Russet
Innovator
Idaho potatoes
Low-Starch Potatoes- By comparison, these contain higher moisture and are often described as having a "waxy texture". They tend to hold their shape better so they work well for things like potato salad and in soups but they tend to be more difficult to mash. This category would include:
Red-skinned potatoes (such as Red Bliss or Norland)
Fingerlings
White Potatoes
Medium Starch Content Potatoes- Somewhere in the middle, these are most often thought of as an "all-purpose potato" and this is where a Yukon Gold variety would be classified.
Yukon Gold Equivalents
Most other yellow-fleshed potatoes have similar taste, starch content and properties which generally makes them a great alternative in your potato dish. Look for these yellow skin varieties:
Klondike Goldust
Carola Potatoes
Yellow Finn
Inca Gold Potatoes
Butterball
Gold or Yellow Potatoes
Colomba
Best Substitutes By Recipe Type
So now that we have a bit of a history of potatoes and understand that the type of potato really can make a difference in the end result, let's talk about what the best option is for a substitution depending on the recipe!
Based on my own testing and experience as well as reading dozens of recipes to see what they most commonly call for, I have come to the following conclusions.
As with most things in cooking, everyone has their own personal preferences and opinions so you may find you prefer something else. I'd love to know what you thought worked best so be sure to leave a comment down below! It would be helpful to other readers to know of even more substitution options.
No time to read?
Download the Quick Reference Chart>>>
Considerations for Picking the Best Substitution
In trying to decide what potato will work best for your recipe, consider the following:
Shape:

Does it need to hold its shape? Will if be mashed or pureed?

Peel:

Will it be peeled? Or do you need a thin peel?

Texture:

Do you want it to have a waxy or creamy flesh?

Role in the Dish:

Is its flavor the star of the dish?
Boiled
Boiling is a forgiving way of cooking potatoes- Red, White, Fingerling or even Purple Potatoes will all work. Russets are not a good option as they tend to break down.
French Fries
Russet Potatoes are the best option for fries as they yield a crispy exterior while maintaining a creamy flesh.
Gnocchi
A good choice is Russets as the potatoes do not need to hold their shape.
Gratin/Scalloped
Russets will yield creamy results.
Hasselback
These are like an upgraded baked potato so Russets are the next best option to Yukon golds.
Mashed
Russet Potatoes are well loved for mashed potatoes as they yield a very creamy texture.
However, there are recipes available for mashing nearly any kind of potato, so I would recommend looking for a mashed potato recipe written for the specific kind that you have on hand.
Pan Fried
You want a potato that will hold its shape with stirring so a low-starch potato such as a Red Variety is best.
Potato Salad
Potatoes are the star of the show in potato salad and need to hold their shape. When looking for a substitute for Yukon Golds, choose another waxy potato such as Red Bliss or another red potato. Baby or Fingerling potatoes are also good options.
Try to stay away from starchy potatoes such as Russets for potato salad as they will not hold up.
Roasted
Roasting potatoes is another one of the most forgiving cooking methods in terms of what is the best choice.
In my experience, next to Yukon golds, I prefer the results of Fingerlings. My next choices would be baby potatoes, red potatoes or Russets.
Soup (Pureed)
When making a soup where the potatoes are going to be mashed or pureed, Russets are a good choice as they tend to not hold their shape as well.
Soups and Stews (Chunky)
However, when you want the potatoes to hold their shape in a soup or stew, choose waxy potatoes such as red or white skinned.
Summary and Printable Chart
And so that's it- those are my recommendations for substitutions for Yukon Gold potatoes.
Keep this info handy for next time!
Download the Reference Chart>>>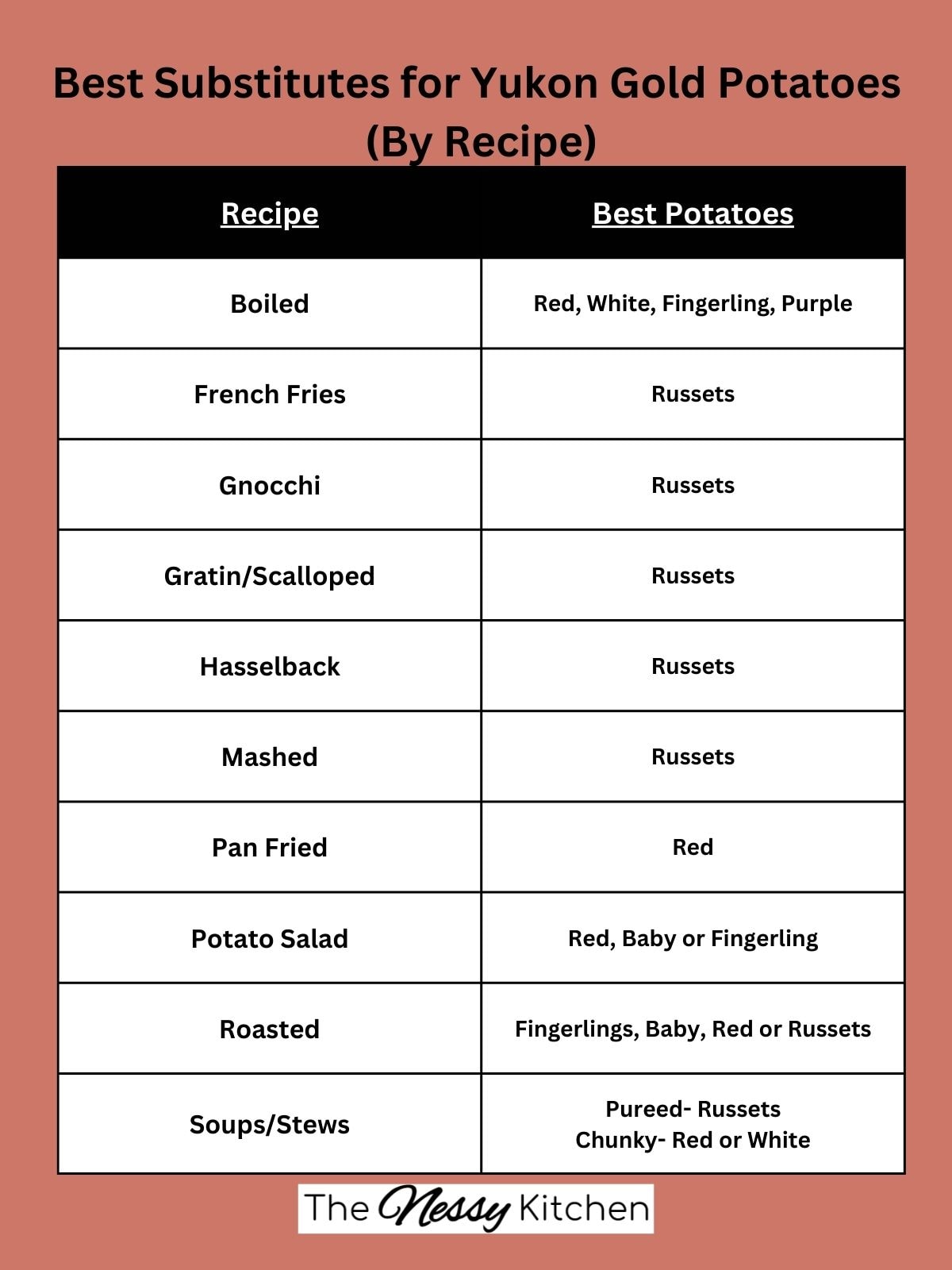 Do you have anything to add? Or did I miss a cooking type that you're wondering about? Did you make a recipe with one of these recommendations? Were you happy with the results?
Let me know in the comments below!
Yukon Gold Recipes