Whether you made your own granola or you simply want to preserve your favorite bag of store bought, you may be wondering about the best ways to store it. Can you freeze it? How long does it last? Does granola go bad? And what is the best container to store it in? Learn all this and more!
Jump to: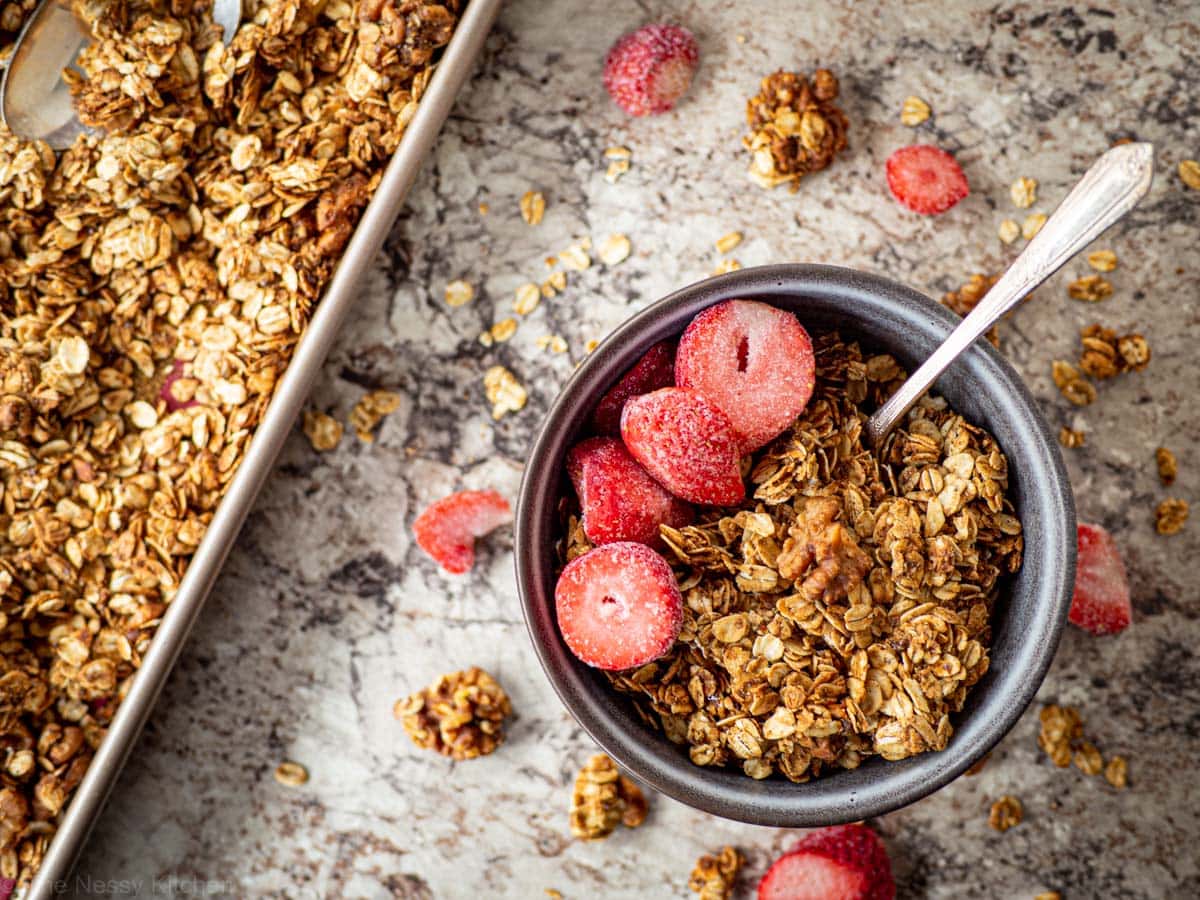 A quick breakfast, a healthy snack or even a topping for ice cream, this versatile mixture of oats is something that I never tire of.
I make a large quantity every couple of weeks and one of my favorite things is that freezing it is a great way to keep it fresh for longer. If I am getting sick of honey granola, I can freeze the leftovers and whip up a batch of chocolate.
And then the next time that I'm craving the honey cinnamon flavor, I have some on hand!
If you've been wondering about freezing granola and other storage options, I'm sharing all of my best food storage tips for granola.
Can You Freeze Granola
You definitely can. In fact, freezing granola, when done right, is the best way to ensure your batch of homemade granola (or store-bought) lasts as long as you want it to.
While homemade granola typically lasts for 2-4 weeks at room temperature, you can easily preserve it for 3 months and even up to 6 months in the freezer.
How to Freeze Granola
1. Cool. Cool your granola completely. (You can obviously skip this step if you are using store bought granola).
2. Package. Place in freezer bags or a freezer-safe container.
3. Freeze.
Thawing and Using Frozen Granola
To use, simply place the granola on the countertop for 30-60 minutes to thaw. Or you could enjoy it frozen.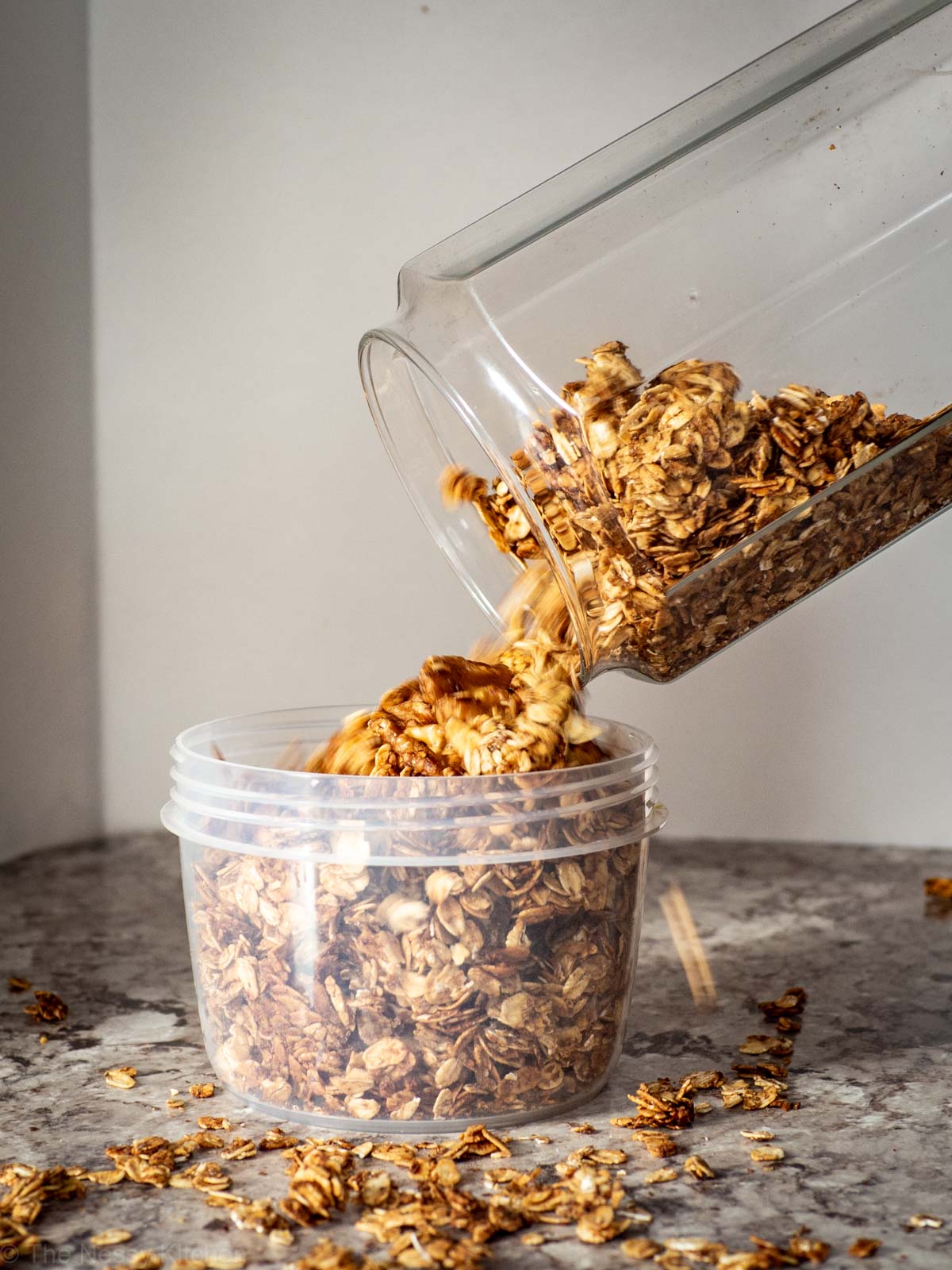 How to Store Granola
To store granola without freezing, you follow the same steps- you just skip the freezer.
1. Cool. It is so important to let the granola cool completely before storing so that is doesn't end up stored with extra moisture.
2. Store. Place in your desired sealed container or resealable bag and store in your pantry or kitchen cupboard.
Should you refrigerate granola? Most of the time, granola will be fine to store at room temperature for a couple of weeks. However, if:
You are in very hot or humid climates, it may be better to store it in the refrigerator.
If your add ins (such as chocolate chips) are melting when being stored in the pantry, the refrigerator may be beneficial.
What To Store Granola In
Glass Jars- Reusable mason jars are my favorite way to store granola. I like to package a batch into several smaller jars so that I can freeze some as well as keep some out.
Airtight Container
Zip Top Bag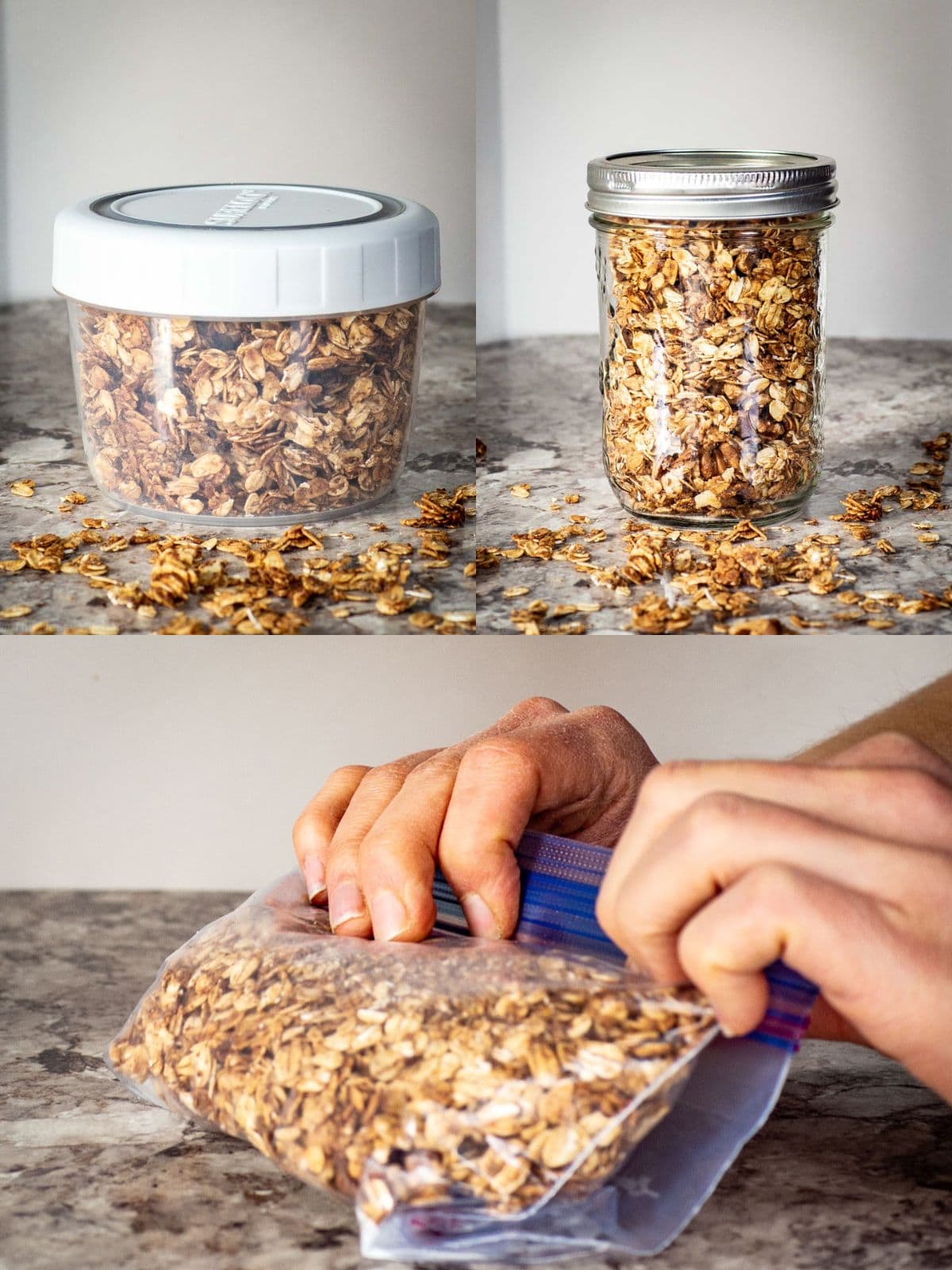 How Long Does Granola Last
The shelf life of granola varies depending on whether you are talking about homemade versus store-bought granola.
Homemade
At Room Temperature- In my research, I couldn't find any recommendations that separated homemade granola from ready-to-eat cereals. However, when referencing some of the most popular recipes on a google search and in my own experience of making granola, 1-4 weeks would be a good guideline.
To determine how long your particular homemade granola will be good at room temperature, consider the following:
Original Recipe Notes- Refer to the recipe's storage guidelines to get an idea of how long it will last.
Presence of Nuts and Seeds- If your recipe contains nuts, seeds, peanut butter (or another nut butter), these would be the ingredients that would be likely to go rancid the fastest. I would err on the shorter side for recipes that have these ingredients.
While I list 2 weeks as the storage time for my Maple Syrup Granola, it has managed to stick around for up to a couple of months and still be fine. Use your best judgment and when in doubt, freeze yours early to avoid stale granola.
Frozen- If you want to keep granola for a long time, it will maintain the best quality in the freezer for 3-4 months but is safe indefinitely. (Source: USDA Website)
Store Bought
Unopened Granola- According to this 2019 article from the USDA, ready-to-eat cereals can be stored for 6-12 months at room temperature. You could also check the expiry date on the original packaging if you aren't sure how long you have had it.
Opened- In the same article, it notes that after opening, it should be consumed within 3 months.
Frozen- According to this page on the USDA website, leftovers maintain best quality if used within 3-4 months of freezing but are safe indefinitely.
Top Tips for Granola Storage
Cool Granola Completely Before Packaging and Storing

This is so, so important. In order for your granola to stay crisp, it is imperative that it is cool and dried completely. At a minimum, let it sit out for two hours but ideally 5-6 or even overnight. I like to prepare granola in the evening and then leave it on the baking sheet on a wire rack to cool completely overnight before packaging it up.

Label

It can be helpful to label your container with the date that you made the granola, the day that you froze it (if freezing) and the kind of granola- in case you make several different batches to have a variety on hand.

Reduce the Amount of Air in the Storage Container (when freezing)

Fill the container that you are using completely or push as much air out of the bag of granola (if using a zip top bag) in order to reduce the amount of extra air with the granola. This will help to reduce the risks of freezer burn.

Dried Fruit May Become a Bit Hard (with freezing)

While it might not bother you, if you want to keep them as soft as possible, you may want to consider adding any dry fruits after freezing.
Is it safe to eat expired granola?
According to the Quaker granola brand manufacturer's website, the best-by date indicates the date which they guarantee the quality of that product. It states that "after this date, the product is still safe to eat, but the product's quality may decline".
How do I know when leftover granola has gone bad?
While Health Canada states that "you can't tell if a food is unsafe by its smell or taste", and therefore if you are questioning whether or not something is safe to eat, it may be best to throw it out, there are a few signs that you can look for that would tell you that you shouldn't eat it.

Definitely throw it out if you notice any mold or organic growth, if it tastes rancid or has an off taste, if is has an off smell or if you just have a gut feeling that it has gone bad!
Granola Recipes
I hope these tips will help you to enjoy your favorite granola by keeping it fresh for as long as possible!
Related: Ways to Eat Granola