Looking for some fun new ways to eat your favorite granola? I've got you covered! A delicious healthy breakfast or midday snack, you'll never get bored with this extensive list of ways to eat it!
From plenty of ideas for what to eat with it in a breakfast bowl to sides to serve with it and a variety of recipes that use granola, you'll never have to worry about ways to use up your bag of granola.
Jump to: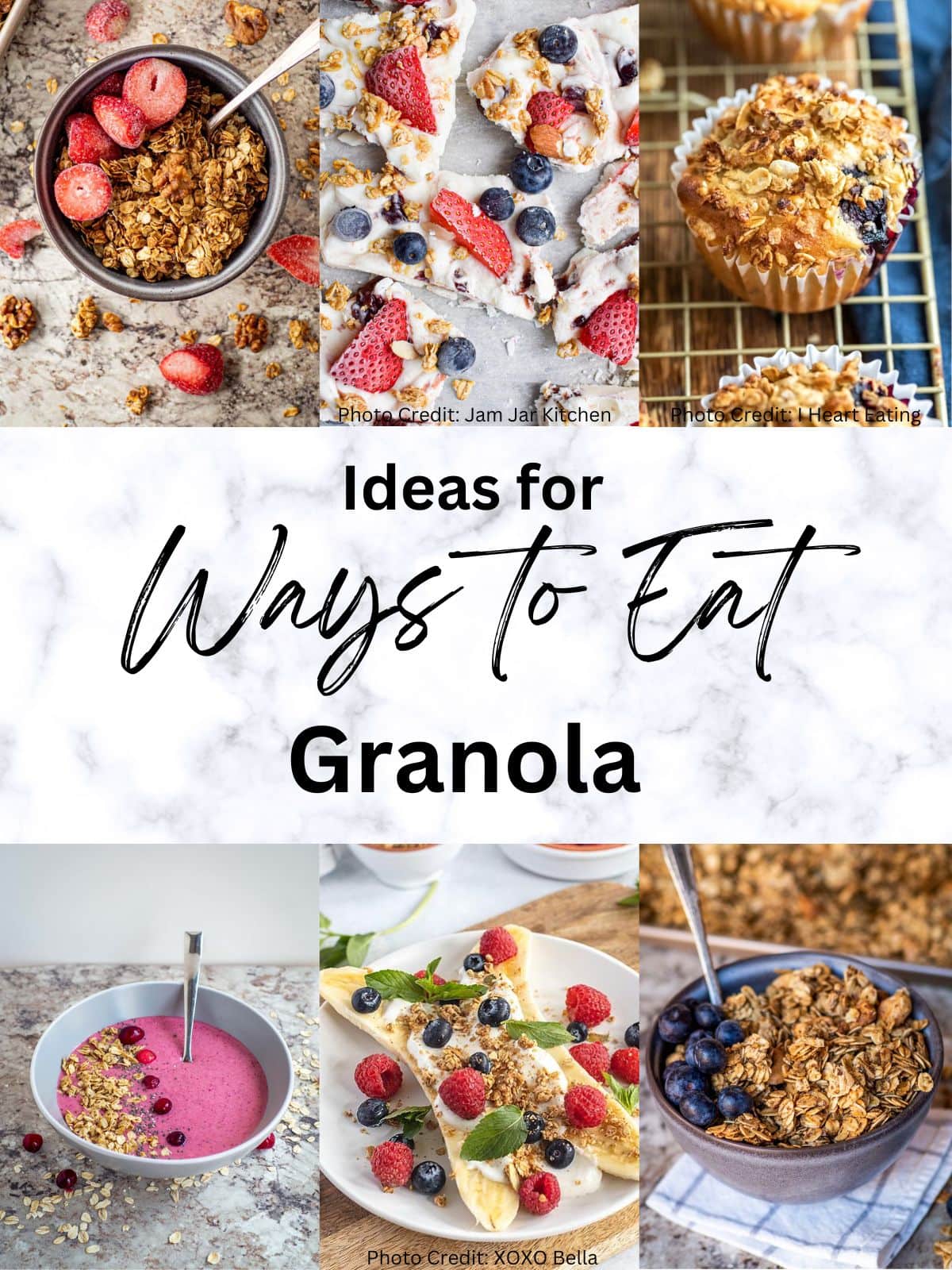 Our pantry is never without at least a couple of jars of homemade granola. And for good reason.
As easy to make as it is to eat (well, almost..), a bowl of crunchy goodness is the perfect breakfast food to start a busy day.
And while I enjoy it simply on top of yogurt with a few seasonal berries, I'm constantly in search of a new or creative way to enjoy it.
As it turns out, there are SO many great ways to eat it! So if you've found yourself wondering what to eat with granola besides yogurt, this list is for you.
What to Eat with Granola
Let these ideas inspire you to get creative with your granola for an easy breakfast.
1. Fruit- You can use fresh seasonal fruit or frozen and you can't really go wrong with any kind- fruit and granola is natural pairing! Here are a few of my favorites though:
Fresh Berries- Strawberries, blueberries, raspberries and blackberries.
Banana slices
Pineapple
Apples
Kiwi
Pomegranate
Mango
Peaches
2. Cranberry Sauce- A dollop of homemade cranberry sauce with granola is almost like eating Cranberry Crisp for breakfast!
3. Applesauce- I love granola with applesauce for a healthy dessert.
4. Milk- Whether you use dairy, nut or another alternative, eating granola cereal style is an easy and delicious option for quick breakfasts.
5. Coconut Milk or Cream- While I might have been able to put this one under the milk section, I wanted to mention it all on its own because it can get forgotten easily but is especially delicious paired with coconut or chocolate granola.
5. Yogurt- Whether you opt for Greek yogurt or regular yogurt, granola and yogurt is natural combination! If you are looking for ways to change up your typical yogurt and granola routine while still keeping the yogurt, you can try:
Stirring in nut butter
Add cinnamon
Stir in maple syrup or honey for added sweetness (if using plain yogurt)
Using a different yogurt flavor
Adding cranberry sauce, applesauce or stirring a bit of fruit jam into your yogurt
Or check out this post of 21 Ways to Make Plain Greek Yogurt Taste Better
6. Cottage Cheese- For a creamy, nutritious and high protein alternative to yogurt, try swapping in cottage cheese instead.
7. Seed or Nut Butter- Peanut butter, almond butter, Macadamia Nut Butter or another favorite are a great way to add flavor and healthy fats to your bowl.
8. Oats- Granola on top of stove top oatmeal, baked oats or overnight oats is a great way to add some crunchy texture.
9. Smoothie Bowl- Granola is excellent served on top of this Cranberry Oat Bowl. Or try it with these Strawberry Banana Acai Bowls or your favorite smoothie bowl instead.
10. Chia Pudding- When soaked, chia seeds develop a pudding like consistency that is great served with granola and maybe some fresh fruit.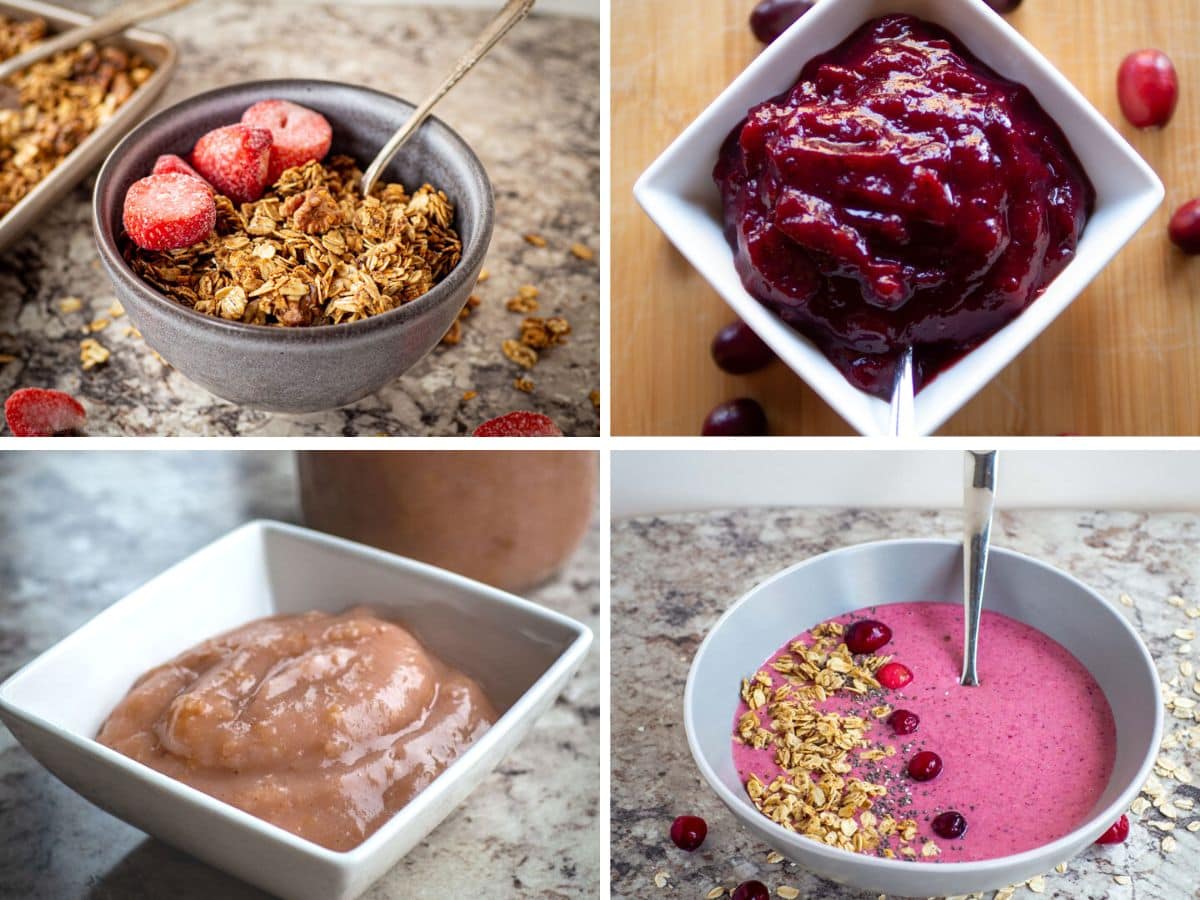 Granola Breakfast Bowl Combination Ideas
Sides to Serve with Granola
Recipes that Use Granola as an Ingredient
Breakfast Recipes:
Yogurt Parfait- With yogurt topped with a layer of granola, fresh fruits and then repeated, parfaits are a fun recipe to upgrade your standard bowl of yogurt and granola.
Breakfast Charcuterie Board- A great way to serve your granola to a crowd, this board features fresh fruit, baked goods and more.
Breakfast Banana Split- Enjoy this classic dessert breakfast style by swapping out the ice cream for yogurt and topping with some healthy granola.
Smoothie- Use your granola right in a smoothie with this recipe. Reserve a bit of granola for topping as well.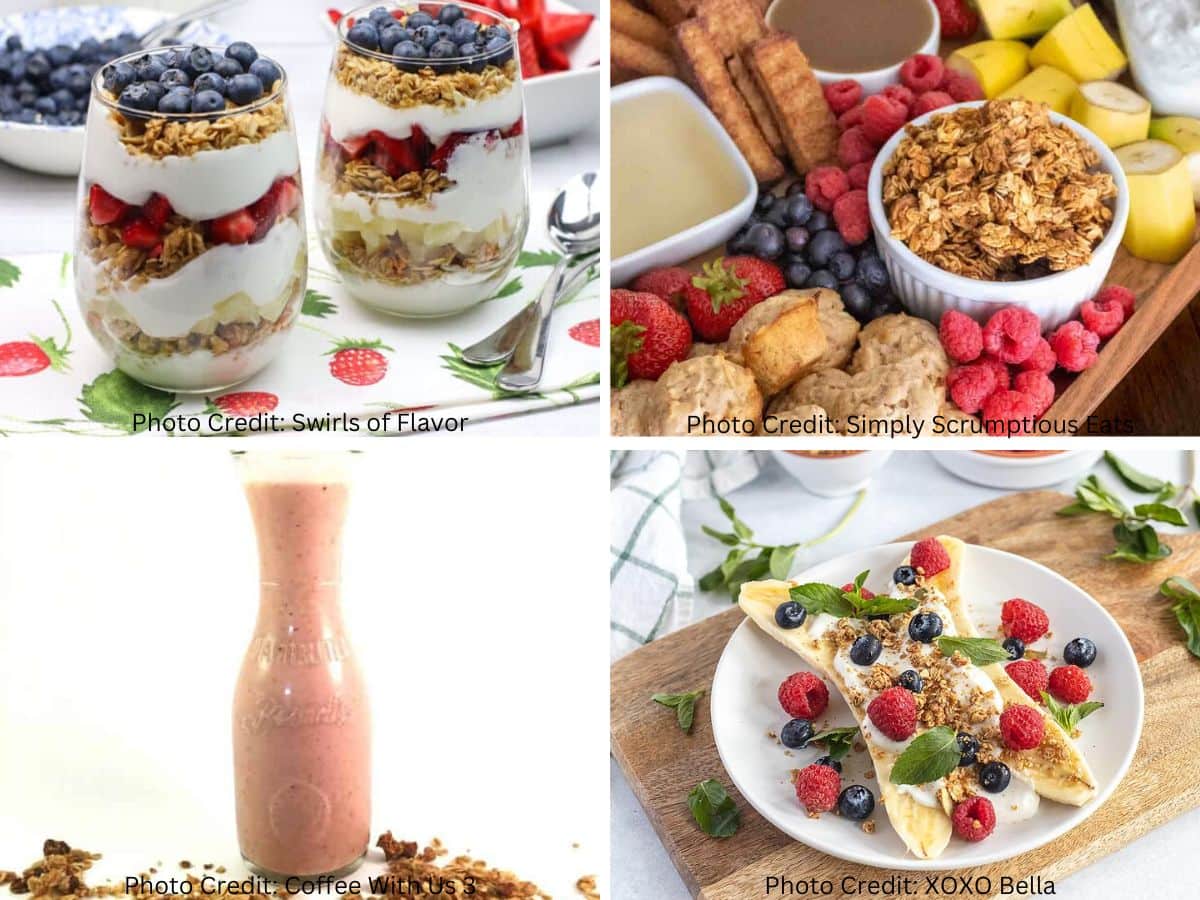 Baking:
Cookies- Ever thought of adding granola to cookies? It adds a scrumptious chewy texture to these cookies.
Muffins- Combine two breakfast favorites by making these muffins with granola. Granola is both in the batter and sprinkled on top for a streusel like topping.
Homemade Granola Bars- These healthy snack bars are made with granola that you already have on hand and could not be easier!
Scones- Like the muffins, adding granola to these scones is a fun way to enjoy two delicious breakfast recipes in one.
Frozen Snacks:
Frozen Yogurt Bark- Made by spreading out yogurt and topping with fruit, granola and more, frozen yogurt bark is a fun way to enjoy your standard granola and yogurt.
Popsicles- These parfait popsicles combine yogurt, fresh fruit and granola in a cool treat!
Other Ideas:
Energy Bites- This recipe for energy bites incorporates crunchy granola for an easy snack when you are on the go.
Granola Butter- Kind of like cookie butter, granola butter is great alternative to nut butters and would be delicious spread on toast or a sliced apple.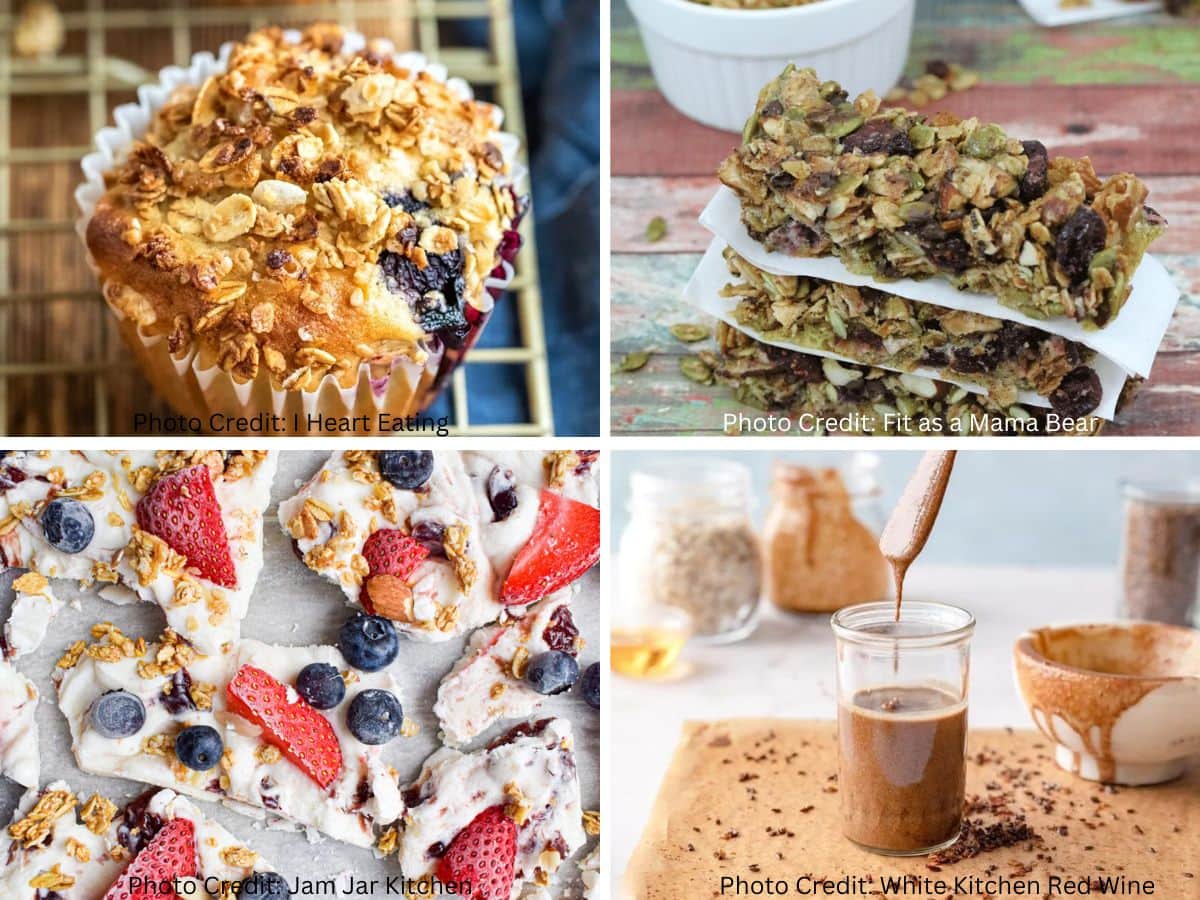 More Ways to Use Granola
Add to a Sandwich- Sprinkle some on a sandwich for extra crunch and a touch of sweetness. Try using it in place of the nuts in this Cranberry Turkey Sandwiches with Brie.
In Pancake Batter- Stir a few tablespoons into your favorite pancake batter (like these Banana Oat Pancakes- after blending) for extra crunch and texture.
In Trail Mix- Throw a few handfuls into your favorite trail mix or make a trail mix by adding granola along with your favorite snack mix add ins such as:
Nuts
Pumpkin Seeds
Sunflower Seeds
Dried Fruits
Chocolate Chips
As Salad "Croutons"- Use crunchy granola as the croutons in a fruit salad or even in a green salad (it would be great added to this Mixed Berry Spinach Salad!).
Add it to Dark Chocolate Bark- Mix in a few handfuls of granola to your chocolate bark recipe for some added texture.
As an Ice Cream Topping- Enjoy granola as a sweet treat by topping a bowl of ice cream or a sundae with it.
On Pancakes (Or Waffles, French Toast, Crepes, etc.) Sprinkle granola on your favorite pancakes for a crunchy topping along with some other healthier toppings for pancakes.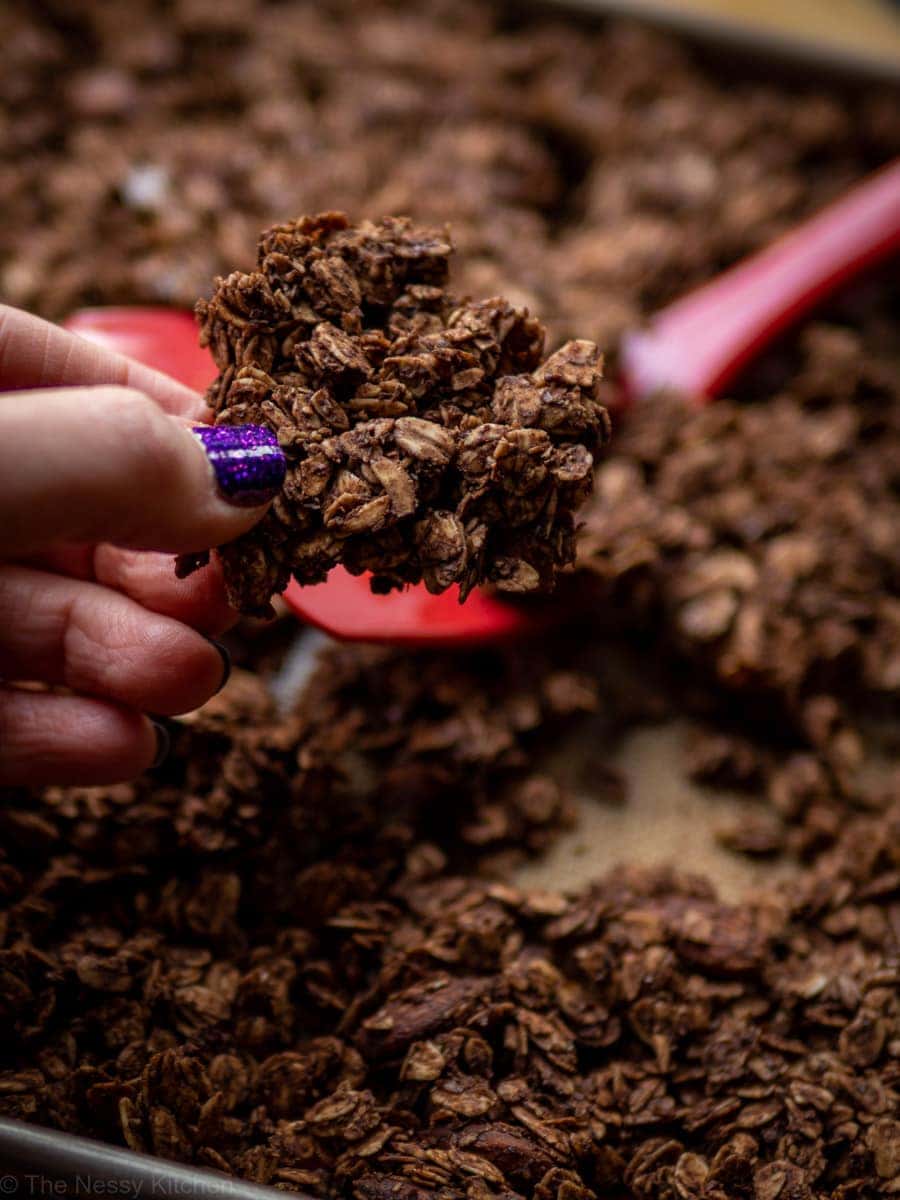 Topping for Fruit Crisps- Try stirring a bit of granola into your crisp topping for extra texture. Or if you don't have what you need to make the crisp topping, experiment with using granola instead. Since it is already cooked, bake the fruit portion of the crisp first and then sprinkle granola on for just the last few minutes so that it doesn't burn.
Garnish the Top of a Pie- Similar to the idea of fruit crisps, granola would be delicious on top of a fruit pie such as apple.
On Roasted Sweet Potatoes or Squash- Add a sweeter crunchy topping to savory roasted vegetables such as squash. Honey Cinnamon Granola would be a delicious garnish on sweet potatoes that have been roasted with cinnamon.
Frequently Asked Questions
Is granola healthy?
It can be! Many brands of store-bought granola (and even some homemade recipes) contain a high sugar content and unhealthy oils. Look for granola options (at the grocery store or homemade) that are made with minimal added sugar, made without unhealthy oils and are made fully with whole grains. And be sure to enjoy it with fruit, nuts and more for a balance of nutrients.
Do you eat granola with milk?
You definitely can! Enjoy granola the way you would with any breakfast cereal- pour it into a bowl and top with milk.
What to eat with granola besides yogurt?
Granola can be eaten with milk, applesauce, chia pudding, cottage cheese, fresh fruit and more! You definitely don't have to be in a rut of granola with yogurt.
What can granola be used for?
Granola can be used in baking (such as cookies and muffins), added to sandwiches or salads, eaten as a topping for ice cream, used in trail mix and more.
Best Granola Recipes
Honey Cinnamon Granola
Easy, extra chunky and filled with cozy flavors, this homemade granola is made with oats, flax and cinnamon and is naturally sweetened with honey.
Get the Recipe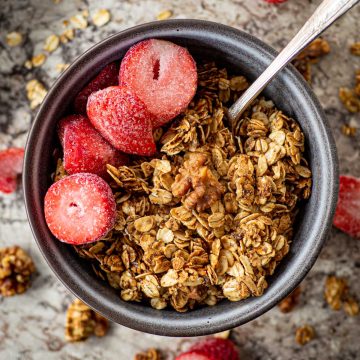 Maple Granola
Sweetened with real maple syrup, once you try making your own granola with this recipe, you'll always want to keep some on hand!
Get the Recipe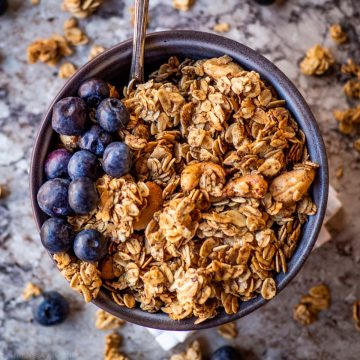 Chocolate Granola
Full of clusters, who doesn't want to enjoy chocolate for breakfast? Or satisfy a mid day chocolate craving with a handful of granola!
Get the Recipe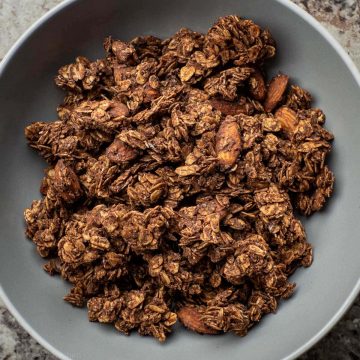 Pumpkin Flax Granola
Filled with fall flavors (including pure pumpkin) this oil free granola recipe features warm spices, crunchy pecans and whole grain oats.
Get the Recipe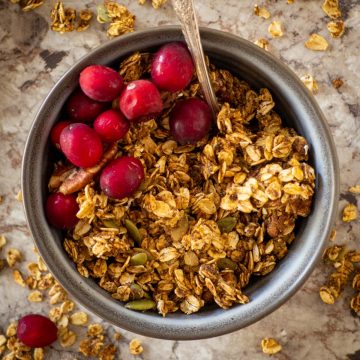 Related: Granola Storage