Who says pancakes can't be a part of a healthy breakfast? Trade in your butter and syrup for some more balanced and filling options! Check out this list of 23+ classic and unique ideas for inspiration to up the nutrition of your fat stack of flapjacks. Or try these healthy options for pancake toppings out on waffles, crepes or French toast instead.
Jump to: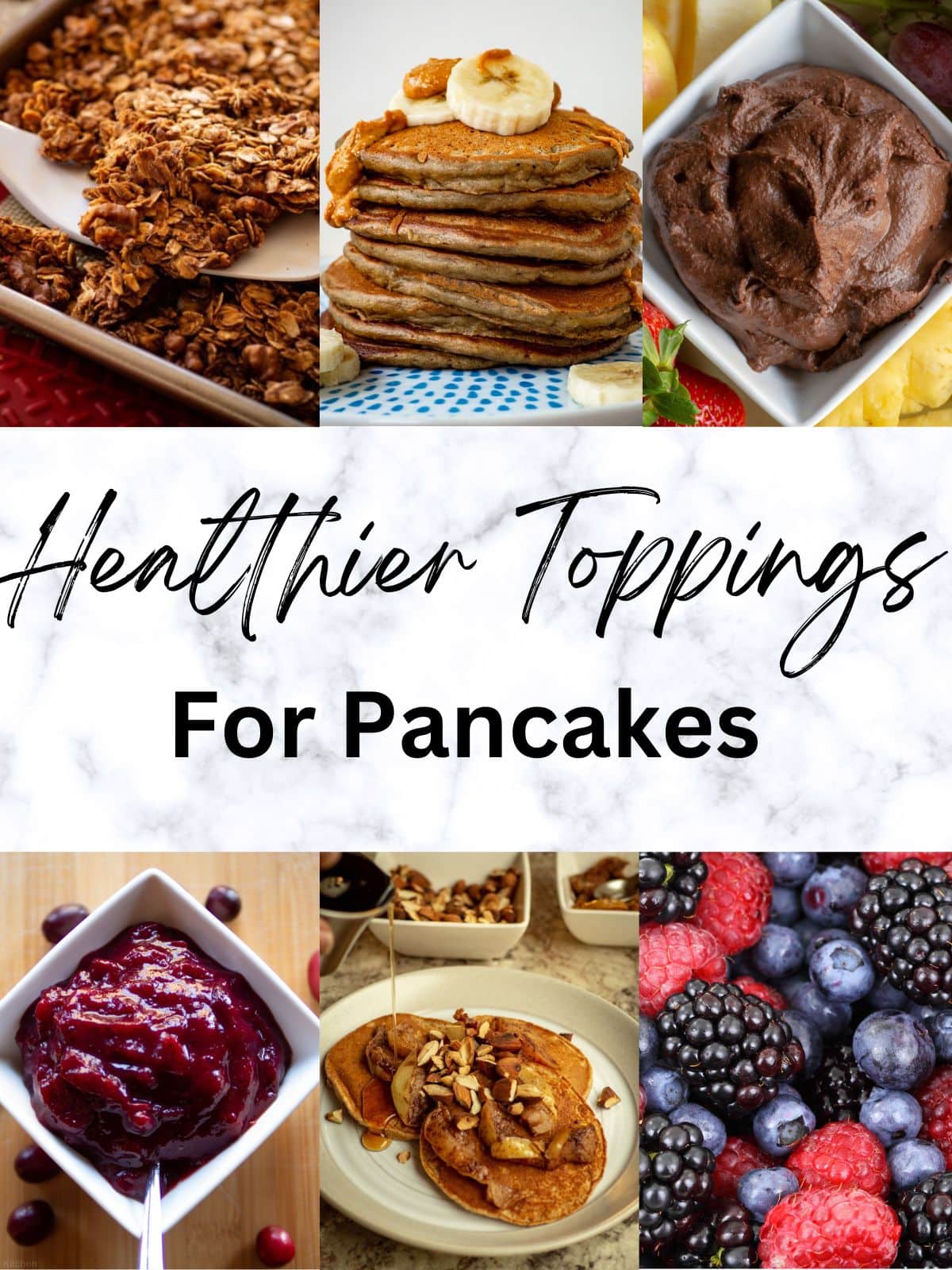 How to Make a Healthier Pancake
Pancakes don't have to be a decadent breakfast reserved for Sunday mornings. By opting for a healthier pancake recipe as your base and balancing it out with nutritious toppings, pancakes can be great for a weekday too! When looking for a healthier pancake recipe, consider the following.
1. Made with whole grains or no grains. Instead of using a pancake recipe made with all purpose white flour, consider using a recipe with a base of oats (like these Apple Cinnamon Oatmeal Pancakes) or these Almond Flour Pancakes.
2. Minimal sugar. Look for a recipe that doesn't have any added sugar (such as these Banana Oat Pancakes) or reduce the amount of sugar in the recipe that you are using.
3. Incorporate Fruits and Vegetables. Use a recipe that incorporate fruits or vegetables (like this pancake recipe that sneaks in some spinach).
4. Higher Protein. Opt for a recipe that incorporates high protein ingredients such as Greek yogurt or cottage cheese. Or try stirring a few scoops of hydrolyzed collagen powder or protein powder into your pancake batter.
Tips for More Nutritious Pancake Toppings
While some of the most popular pancake toppings are high in sugar (looking at you syrup) and low in healthy fats and protein, there are plenty of delicious options that you can use to turn your pancake breakfast into a hearty meal that will keep you full!
1. Avoid high sugar. Instead of opting for the classic syrup and pancakes, try using fresh fruits, unsweetened applesauce or chocolate hummus to add some sweet flavor.
2. Add healthy fats and protein. Make your pancake breakfast more balanced and filling by adding toppings that are full of protein and healthy fats. Greek yogurt, seeds and nut butters are all great options.
3. Consider savory ingredients. Who says pancakes have to be a sweet breakfast? Take the savory route and use a pancake recipe without sugar. Add fresh vegetables, herbs, hummus and an egg for a filling breakfast.
Spreads and Sauces
1. Nut Butter- A creamy spread that adds some good fats, nutrients and protein to your pancakes, nut butter is a great way to top your pancakes. However, not all are created equal so ensure that you choose one that doesn't contain extra oils, sugar or artificial ingredients. Some of my favorites for topping pancakes are:
Cashew Butter
Peanut Butter
Almond Butter
2. Seed Butter- Another good option for a creamy spread, seed butters are great if you or someone in your house has a nut allergy.
Sunflower Seed Butter
Tahini
Pumpkin Seed Butter
3. Chia Jam- Making chia jam is a wonderful healthier alternative to high sugar store-bought jams. It can be quickly whipped up with any of your favorite fruits to put on the top of pancakes.
4. Cranberry Sauce- This homemade recipe is naturally sweetened and is another great alternative to jam. I love it paired with peanut butter.
5. Applesauce or Apple Butter
6. Pumpkin Butter
6. Greek Yogurt- Plain, unsweetened yogurt contains protein and nutrients and is a great alternative to whipped cream. If you don't love it's tangy flavor, check out this post for ideas for Ways to Make Plain Greek Yogurt Taste Better!
7. Coconut Cream
7. Chocolate Hummus- A sweet spin on hummus that is naturally sweetened, filled with protein and a more nutritious option to chocolate sauce. Try it with some sliced strawberries or bananas.
8. Maple Syrup- A small drizzle of real maple syrup can add some nice flavor to your pancakes alongside some other healthy toppings.
9. Honey- If you really love syrup, try using just a bit of honey instead along with some fresh berries for added sweetness.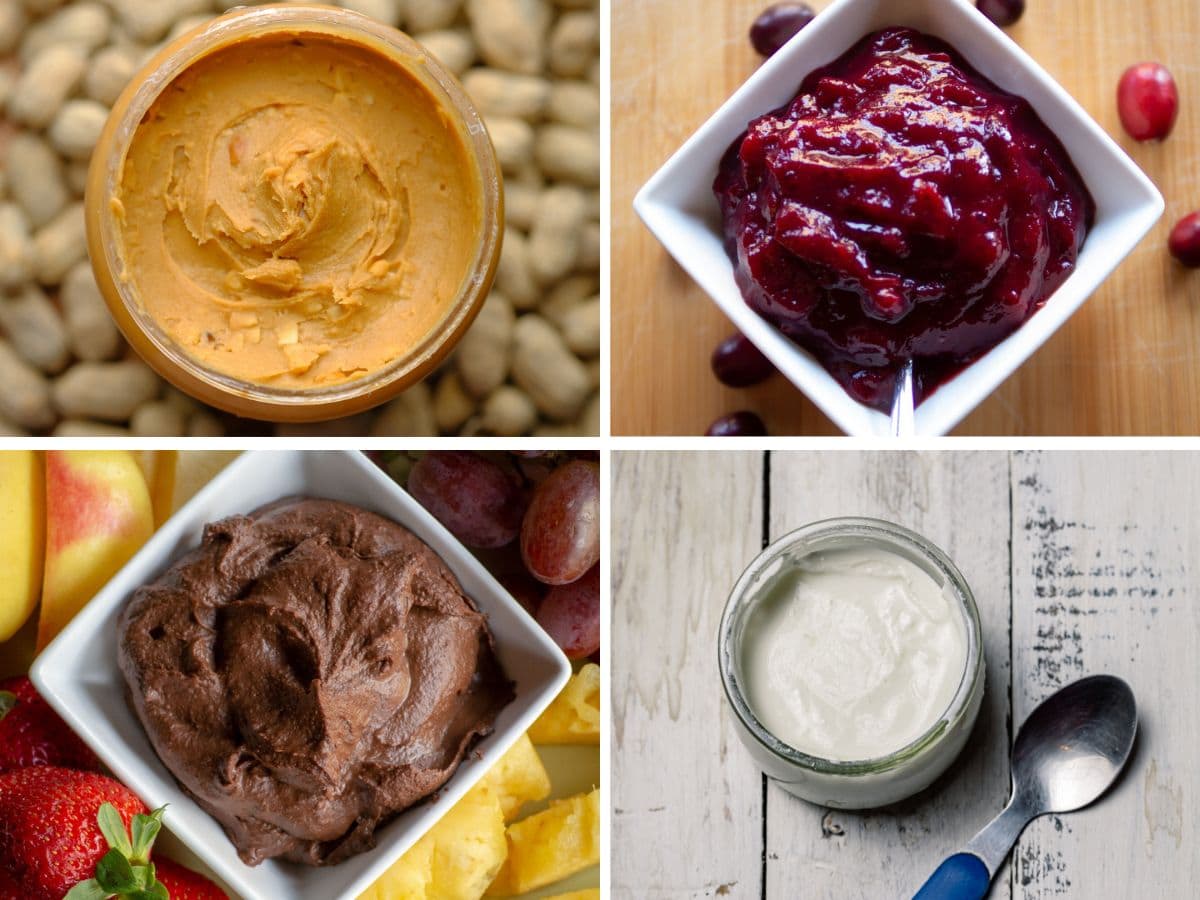 Toppings
10. Granola- Makes a great topping for adding some flavor and crunch! Chocolate Granola and Maple Granola are both tasty options.
11. Nuts- Another perfect topping to add some crunch to your fluffy pancakes, nuts add nutrition to your breakfast. Try your flapjacks with some raw or toasted:
Almonds
Pecans
Walnuts
Cashews
12. Seeds- Add some healthy fats and vitamins to your tall or short stack of pancakes with any of the following:
Chia Seeds
Hemp Seeds
Pepitas
Sunflower Seeds
Sesame Seeds
13. Fruit- Satisfy your sweet tooth by using frozen or fresh fruit in place of syrup or jelly.
Fresh berries
Banana
Apples
Mango
Pears
14. Cacao Nibs- A great alternative to chocolate chips, try adding them right to your pancake batter as well as sprinkling them on top.
15. Coconut Flakes- Such a great way to add some sweetness and depth of flavor to your pancakes. I love the pairing of coconut flakes with almond butter.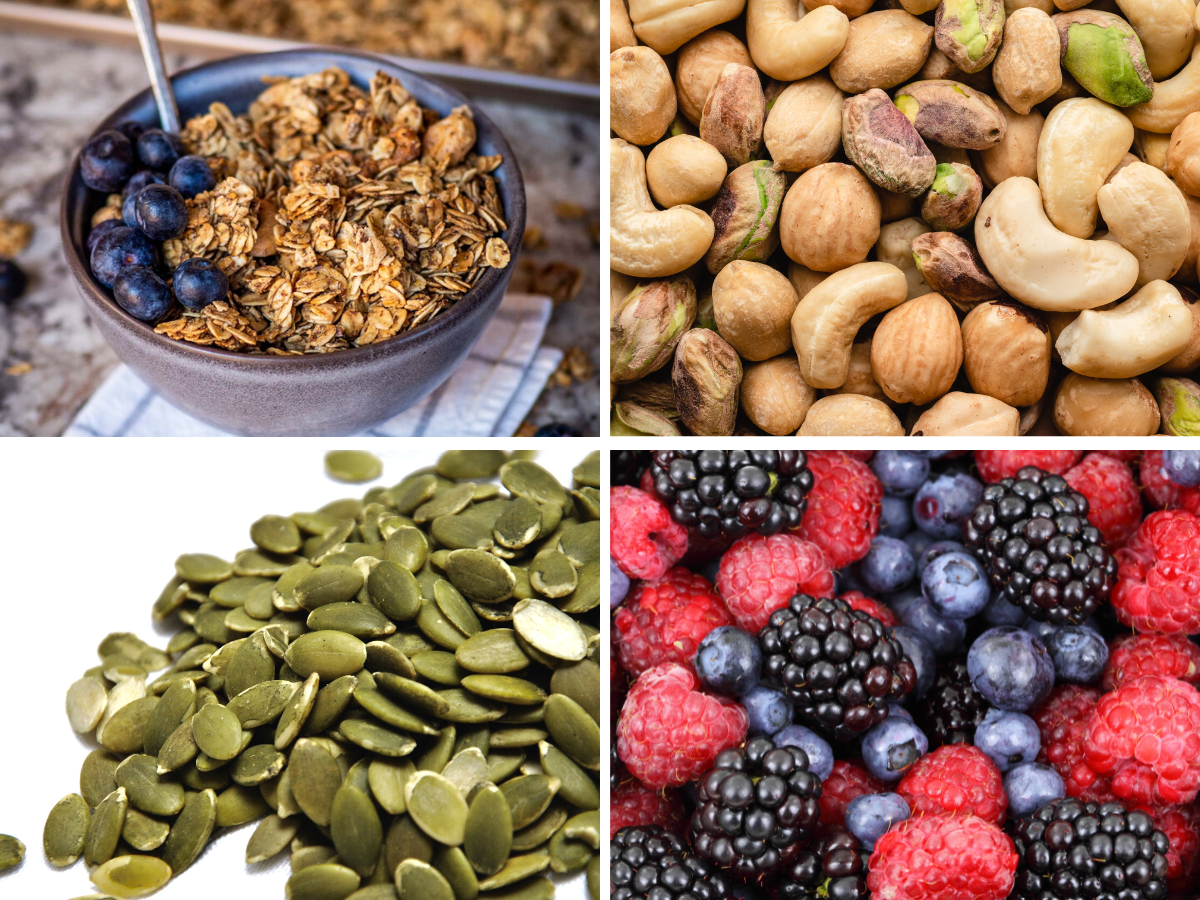 Ideas for Savory Toppings and Spreads
Trade in sweet for savory pancakes and top with wholesome vegetables, herbs and proteins.
17. Eggs- Scrambled, boiled and sliced, fried or smashed would all be great on unsweetened pancakes.
18. Tomato
16. Avocado
18. Fresh Herbs- Basil, parsley, cilantro and dill would add nice flavor and freshness.
19. Ricotta
20. Cottage Cheese
21. Goat Cheese
22. Roasted Chickpeas- Along with adding some crunch, these are a great way to up the fibre and protein of your stack of pancakes.
23. Hummus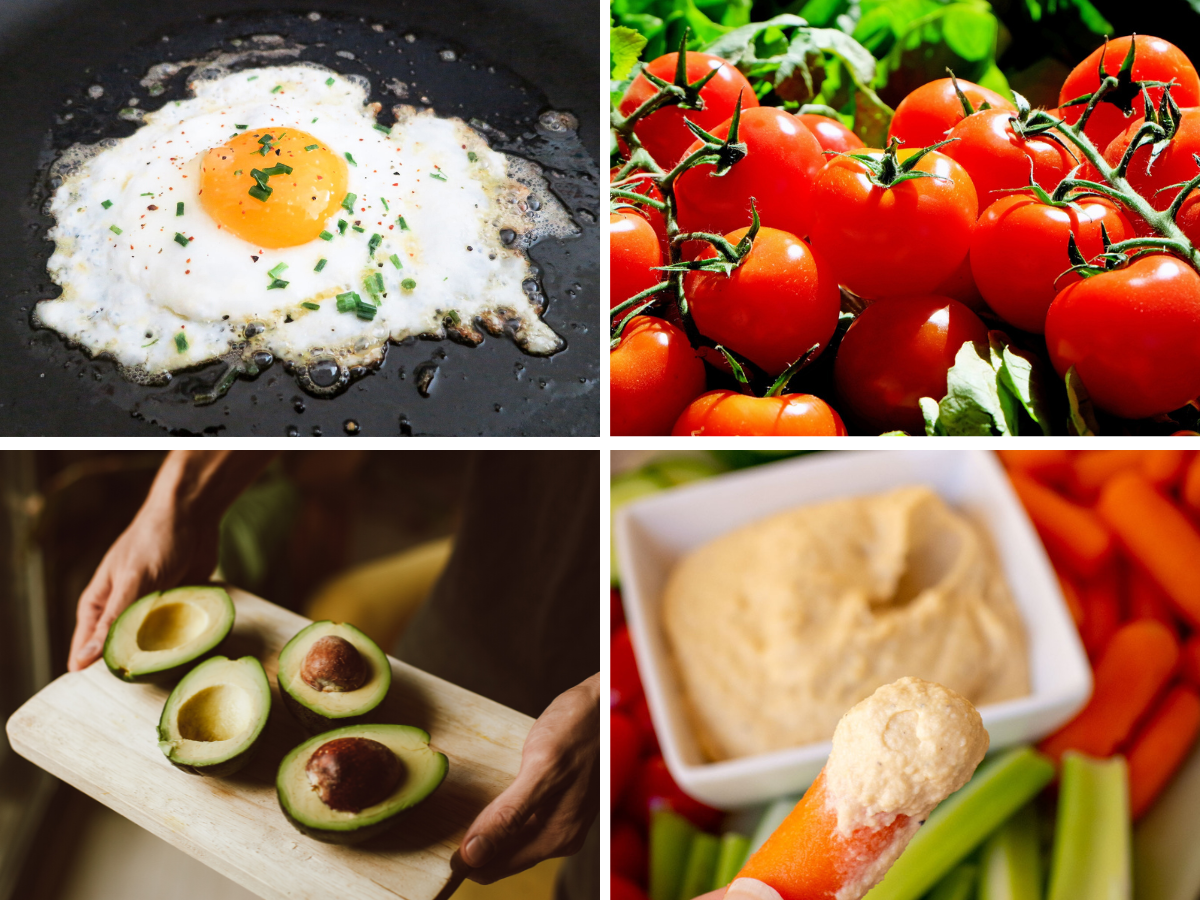 Healthy Pancake Topping Combinations
Peanut Butter and Banana- Spread your pancakes with peanut butter and top with banana slices for a tasty combination.
Blueberry Almond Butter- Use almond butter as your spread and sprinkle with fresh blueberries.
Pancake Parfait- Add yogurt, fresh strawberries and granola.
Apple Crisp- Load your pancakes up with applesauce (or sautéed apples) and top with cinnamon granola.
Trail Mix- Slather your pancakes with peanut butter and then sprinkle with chopped roasted nuts, raisins and cacao nibs.
Tropical- Use coconut cream as the spread and top with diced pineapple and toasted coconut flakes.
Goat Cheese, Tomato and Herb- Spread the pancakes with a thin layer of goat cheese and top with freshly chopped parsley and basil. Top with sliced tomatoes.
Frequently Asked Questions
Are pancakes healthy?
They can be. While pancakes are often made of white flour and sugar and topped with high sugar syrups and jams, you can opt for more wholesome pancake recipes and balanced toppings for a healthier breakfast option. Try swapping your pancake recipe for a whole grain, high protein option and top with nut butter, fresh fruit and more for a healthier breakfast idea.
Best Pancake and Waffle Recipes