Wondering what to serve with Chicken Lettuce Wraps? I've got you covered! I've compiled a list of 33+ of the best side dishes (plus toppings and sauce ideas) to serve with Asian Lettuce Wraps that pair perfectly with this fresh dish. From sauces and salads to noodles and more, I've got plenty of ideas for you!
Jump to: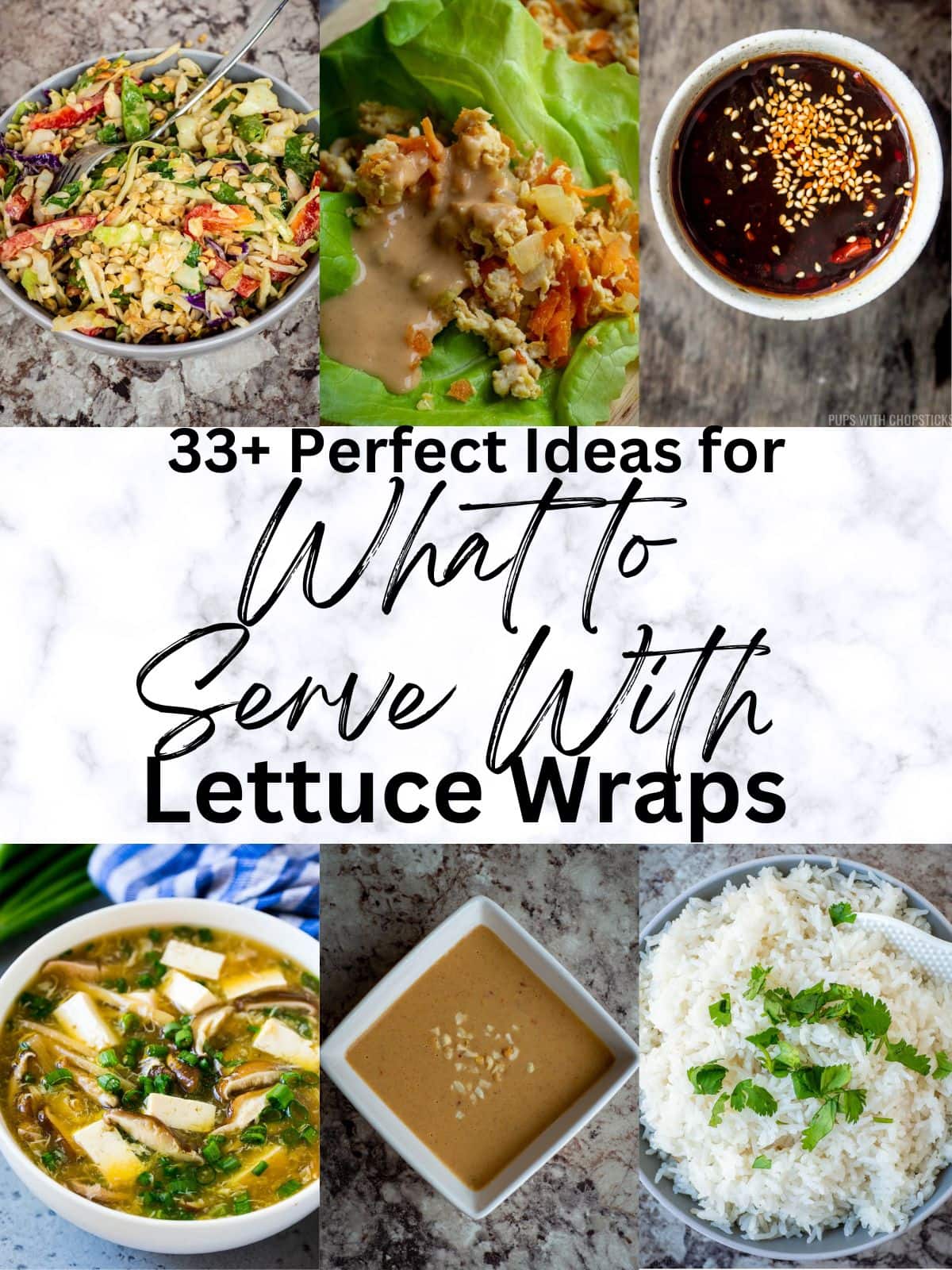 Typically made with a savoury Asian inspired chicken filling and served in cool leaves of lettuce, chicken lettuce cups are an easy and healthy way to bring the flavors of your favorite Asian restaurant to your kitchen table.
Light enough to serve as a starter, they also work as an easy and healthy dinner all on their own.
Here is my recipe for Asian Chicken Lettuce Wraps (the first recipe I ever published!). Made with ground chicken (or sub ground turkey), carrots, sesame oil and couple of other fresh ingredients, this tasty recipe is light, easy and packed with flavor- especially when served with the delicious peanut sauce!
We love to make them on Friday nights for a fun dinner idea to end the week.
Or try these copycat Pf Chang's Lettuce Wraps with ground chicken, water chestnuts, hoisin and a few other common ingredients.
Whether making them for dinner, an appetizer or just a snack, there are so many tasty sauces and sides that would go great with them.
I hope this list gives you plenty of inspiration!
Best Lettuce for Lettuce Wraps
I'm personally a huge fan of using butter lettuce leaves for lettuce wraps since they have a mild flavor and are naturally cupped which is perfect for holding the filling.
However, romaine hearts and iceberg lettuce also work quite well and I have definitely used them from time to time!
Feel free to use whatever- some types might just make for messier eating, but that's part of the fun, right?
For an alternative to lettuce, you could also try serving it in Swiss chard leaves.
Toppings
Garnish your lettuce wraps with fresh flavors and a crunchy texture with some of these ideas:
Sesame Seeds
Chopped Cilantro
Green Onions
Chopped Thai Basil
Toasted Nuts such as peanuts or cashews
Diced Red Onions
Red Pepper Flakes
Sauces
Your lettuce wraps can take on a variety of different flavors depending on what delectable sauce you decide to serve them with. Here are a few ideas:
Chili Oil
Hoisin Sauce
Oyster Sauce
Coconut Aminos or Soy Sauce
Chili Garlic Sauce
Sriracha
Salads
I know, I know. You're eating lettuce wraps- doesn't that count as basically eating a salad? But if you're open to more veggies on your plate, any of these great recipes would be a way to add some.
Vegetables
If salads aren't your thing, any of the following would be great ways to add more vegetables to your meal!
Noodles and Rice
Noodles or rice make an excellent side dish for chicken lettuce wraps and they are also a great option if you would like to serve your lettuce wrap filling without lettuce or assembling. Simply enjoy it over a bed of cauliflower rice, brown rice or white rice! Or try it with one of these recipes.
Appetizers
Keep the finger food theme to your meal and serve your lettuce wraps with some more hand held type food. You can't go wrong serving them with some Oven Baked Egg Rolls or any of these other ideas!
Soups
If you're looking for a warm dish to serve with your fresh lettuce wraps, soup might be just the thing! The flavors in these Asian inspired soups would make for a great pairing.
Hopefully you have found plenty of inspiration for what to serve with Chicken Lettuce Wraps in this post! If you're looking for a recipe, I'm sure you'll love my Asian Lettuce Wraps!
Most Popular Recipes