Flavored with just seasonings, this pulled pork includes no added sugar and cooks hands off in the slow cooker. But don't be fooled by its simplicity- it is packed with flavor and so juicy.
Jump to: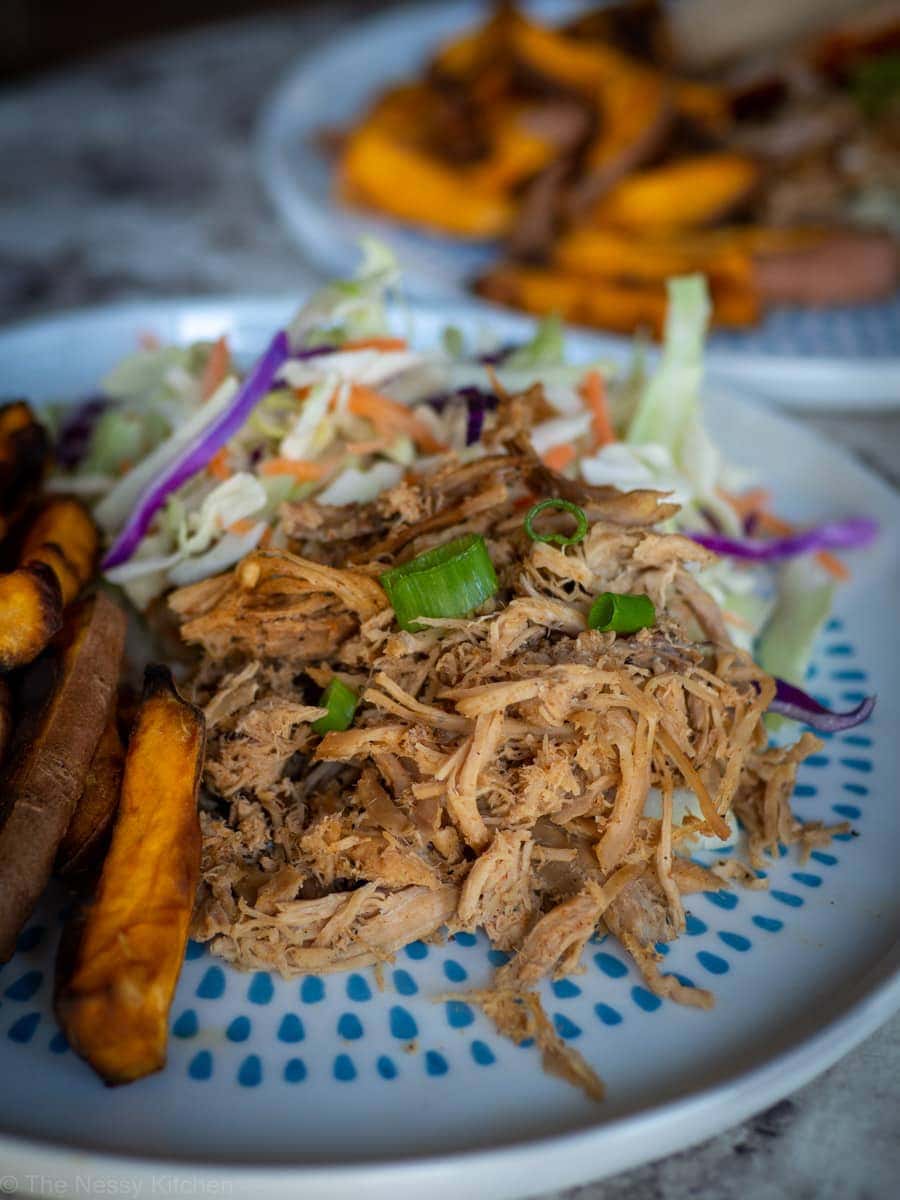 As a teenager, a pulled pork sandwich was what I ordered any time that I was at a restaurant with one on the menu. But as I started to become more aware of nutrition, I discovered that often the sandwich would contain as much as ¼ cup of sugar!
I didn't want to give up my beloved pulled pork. And so after playing around with making my own for a few years, I now have a recipe that I like way better than any I have tried!.
By not adding sugar to the pork and instead focusing on seasoning, the pork flavor really shines. And then you can control the level of sweetness by adding some Barbecue Sauce.
But because the pork isn't sweetened, there are so many other delicious recipes that leftovers can be used in such as salads and soups.
The Ingredients
Pork Roast- Since pulled pork gets cooked for so long, it is a great way to use cheaper and tougher cuts of meat. Fattier cuts of meat tend to make the most moist pulled pork. However, I have used all sorts of cuts of pork for this recipe and gotten great results! Pork shoulder, pork loin, pork tenderloin and even a pack of pork chops. Just make sure that that you use boneless pork.
Water
Black Pepper
Sea Salt
Paprika
Garlic Powder
Onion Powder
The Method
Add ingredients to the crock pot. Place the pork in the bottom of the slow cooker and then pour in the water. Sprinkle all of the seasonings over the top and cover with a lid.
Cook. Pulled pork generally takes 4-5 hours on high or 8-10 hours on low. However, all slow cookers are a bit different so you might want to start checking it a bit earlier.
Shred. Once the pork is tender, shred with a fork right in the slow cooker. Then give it a small stir and allow it to continue to cook for about 30 minutes in order to absorb most of the juices.
Serve. There are so many great ways to eat pulled pork. Be sure to check out some of my suggestions below!
Leftovers and Storage
To Store: Store leftovers in an airtight container in the refrigerator for up to 4 days or freeze for up to 3 months.
To Reheat: Reheat leftovers in the microwave. Or you can reheat leftovers in the oven at 350F in a covered oven safe dish for 15-30 minutes (depending on how much you are reheating).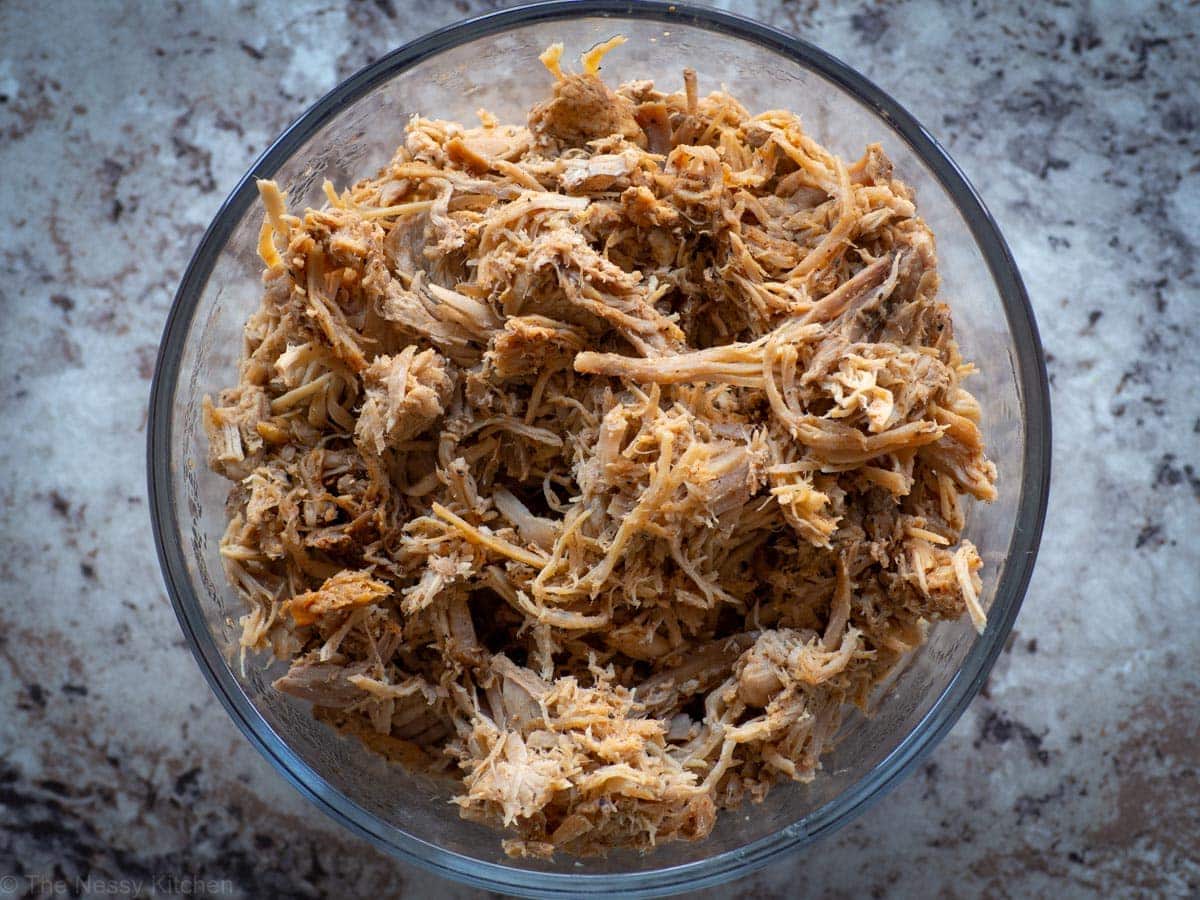 Make it Your Own
If you want to put in a tad more effort with this Pulled Pork Recipe (but you don't need to- it is great as it is!), you could add some chopped onions and garlic on top like we do in this Pork Carnitas recipe!
Ideas for How to Use Pulled Pork (Sandwiches and Beyond!)
This Pulled Pork is honestly one of my favourite foods! I have definitely eaten it on its own with just a fork (or maybe my fingers...) and in all other sorts of ways! Some suggestions for how to use it:
Classic Pulled Pork Sandwiches- Mix the pork with some Barbecue Sauce, add it to a bun and top it with your favourite fixings! Onions, pickles, slaw, cheese, etc.
Or a Classic "Sandwich" Salad- You can also skip the bun and pile the pork on top of a bed of coleslaw, onions, pickles, etc. and enjoy it as a salad.
Chimichurri Pulled Pork Sandwiches- Or you take a slightly different sandwich route and use pork in place of chicken in this Chimichurri Chicken Grilled Cheese.
BBQ Pork Stuffed Sweet Potatoes- Use it in place of chicken in these Stuffed Barbecue Chicken Sweet Potatoes.
Pulled Pork Nachos- Use the pork in place of chicken in these White Cheddar Chicken Nachos and top with some Easy 5 minute Salsa!
Add it to a Salad- This pork would be a delicious way to add some more protein to a garden salad or to this Santa Fe Salad!
Use it in Soup- Try using it in place of shredded chicken in your favourite soup or as an addition in a meatless soup. I think it would be great in place of chicken in Pumpkin Rice Soup or White Chili- just add it at the end when you would stir in the cooked chicken!
Make Quesadillas- I've been wanting to try this recipe- it looks delicious!
Check out this list of 28 Ways to Eat Pulled Pork without Bread for even more ideas!
What are some good sides for with pulled pork?
And if you're making it for a crowd, here's how to determine How Much Pulled Pork you need.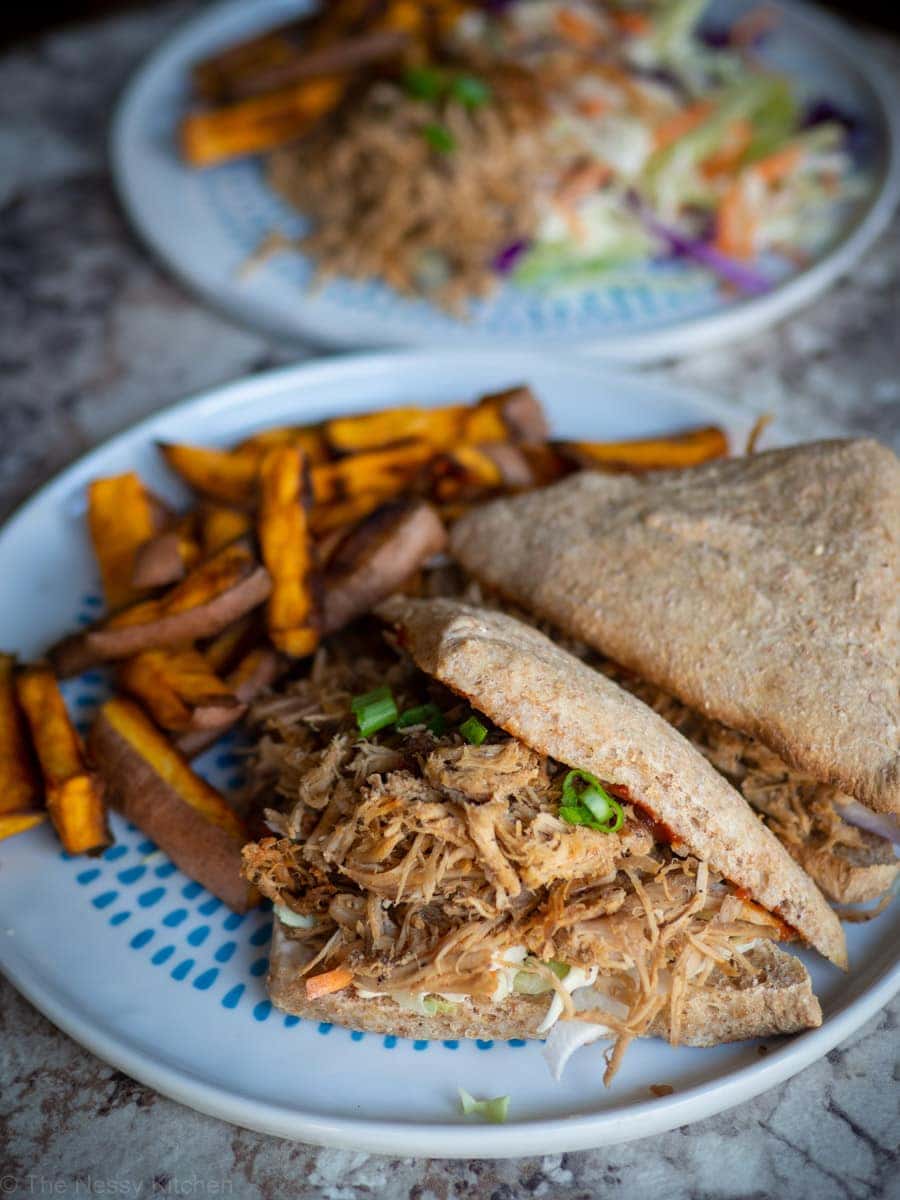 LET ME PLAN YOUR DINNERS! Get My FREE Meal Plan (Including Grocery List!)>>>
And if you liked this recipe...
...you might also like: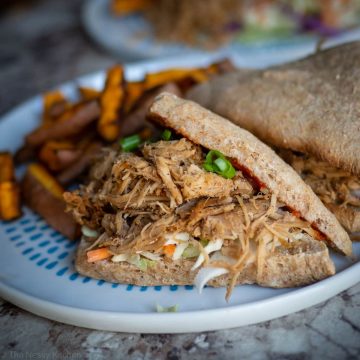 Sugar Free Pulled Pork
Flavoured with just seasonings, this pulled pork includes no added sugar and cooks hands off in the slow cooker.
Print
Pin
Rate
Ingredients
3

lb

boneless pork roast

½

cup

water

1

tablespoon

fine sea salt

1 and ½

teaspoon

pepper

1 and ½

teaspoon

paprika

1 and ½

teaspoon

garlic powder

1 and ½

teaspoon

onion powder
Instructions
Place the pork in the bottom of a slow cooker and add the water. Sprinkle the seasonings on top.

Cover slow cooker and cook on high for 4-5 hours or low for 8-10 hours.

Check the pork at 4 hours (on high) or 8 hours (on low) to see if it is tender. If not yet tender, continue to cook, checking every 30 minutes. Once the pork is tender, shred it with a fork and allow it to cook in the juices for 30-60 additional minutes until they are mostly absorbed.
Notes
Leftovers
Store leftovers in an airtight container in the refrigerator for up to 4 days or freeze for up to 3 months.
Nutrition
Calories:
153
kcal
|
Carbohydrates:
1
g
|
Protein:
26
g
|
Fat:
5
g
|
Saturated Fat:
1
g
|
Polyunsaturated Fat:
1
g
|
Monounsaturated Fat:
2
g
|
Cholesterol:
71
mg
|
Sodium:
638
mg
|
Potassium:
436
mg
|
Fiber:
1
g
|
Sugar:
1
g
|
Vitamin A:
21
IU
|
Vitamin C:
1
mg
|
Calcium:
9
mg
|
Iron:
1
mg
Did you make this recipe?
Let me know what you thought in the comments below!
More Easy Meal Ideas!