The next time you're making pulled pork and looking for a way to eat it without bread, I've got you covered! Whether you're looking for ways to use it other than sandwiches or for tasty ways to enjoy it as a handheld but without the bread, you're sure to find something that suits you on this list!
Jump to: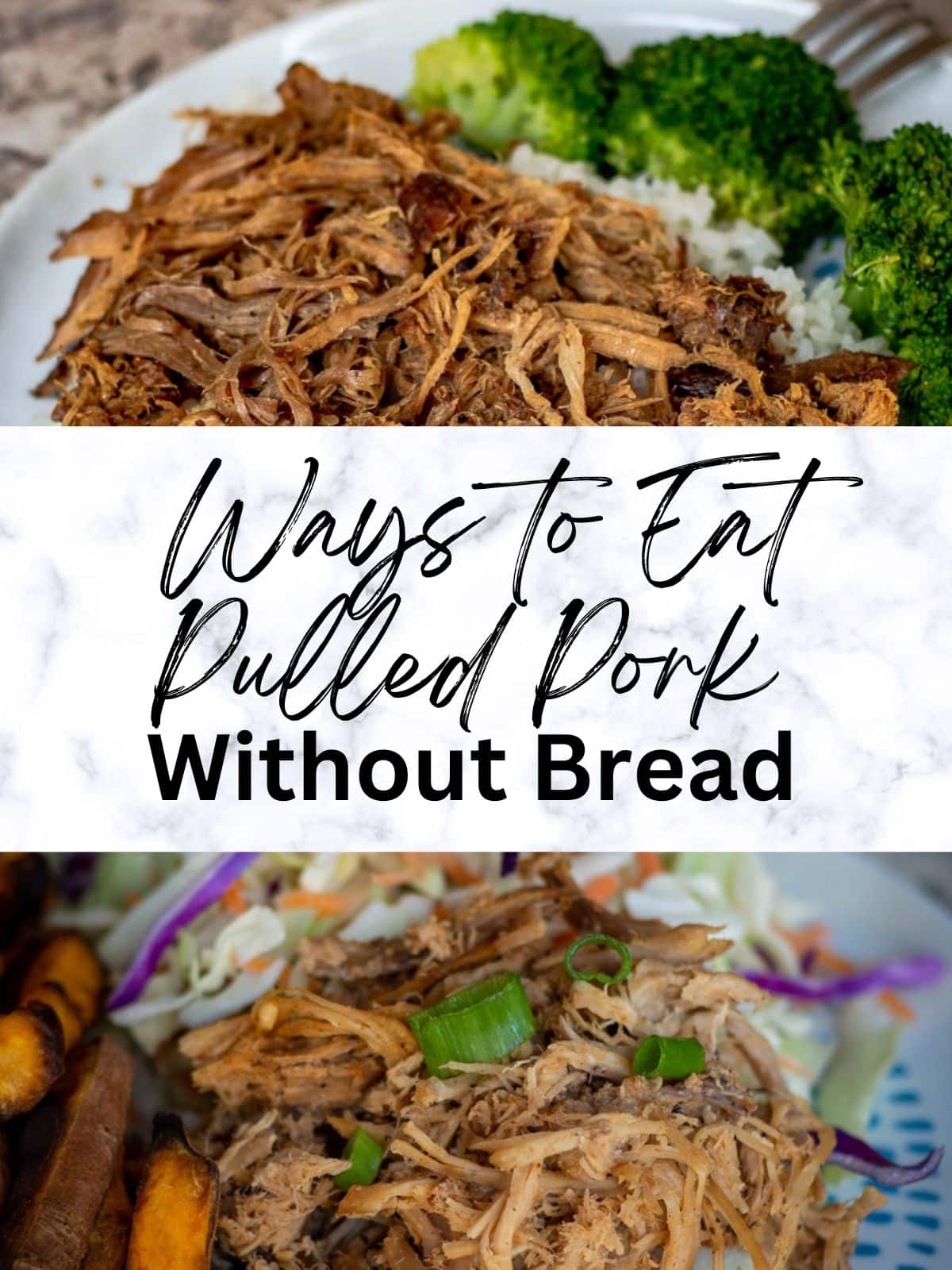 Pulled pork is one of my all-time favorite foods.
Besides being so juicy and flavorful, it is also just such an easy recipe to prepare (even easier than Slow Cooker Thai Chicken Curry!).
But the best part about it might be its versatility!
Delicious on tacos (especially when prepared carnitas-style), tasty in a stir fry (you have to try this Char-Siu inspired version!) or simply tossed on a salad, the ways to enjoy it nearly limitless.
So if you're looking for a way to eat pulled pork that is a change up from a classic sandwich on bread, this extensive list is sure to give you some inspiration!
Sandwich Style
If you're looking to eat your pulled pork as a handheld but want to skip the bread, try using one of these instead.
1. Oat Tortillas- Made with just oats and water, these homemade tortillas are pliable, making them perfect for wraps or pork burritos.
2. Corn Tortillas- For another gluten free option, you could make tostadas or leftover pulled pork tacos.
3. Rice Paper- I love using rice wrappers for all sorts of wraps. Try wrapping up your pulled pork and slaw for a delicious alternative to bread.
4. Rice Cakes- Rice cakes work great for making open faced sandwiches and would be delicious topped with some pulled pork.
5. Lettuce- Lettuce is a great vegetable alternative to bread for sandwiches and wraps. Check out these Pulled Pork Lettuce Wraps from Whole Lotta Yum.
6. Portobello Mushrooms- Another great option for pork sandwiches without bread, Portobello mushrooms make for such a flavorful "bun". Try grilling them for extra flavor.
7. Sweet Potato Toast- Sweet potato toast (or make toast with regular potatoes) is another great option and incorporates the taste of eating your pulled pork with fries!
8. Bell Peppers- An easy way to make a sandwich without bread, bell pepper "sandwiches" would be great loaded up with your tender pork.
9. Cucumbers- Cucumbers are another great veggie alternative to bread.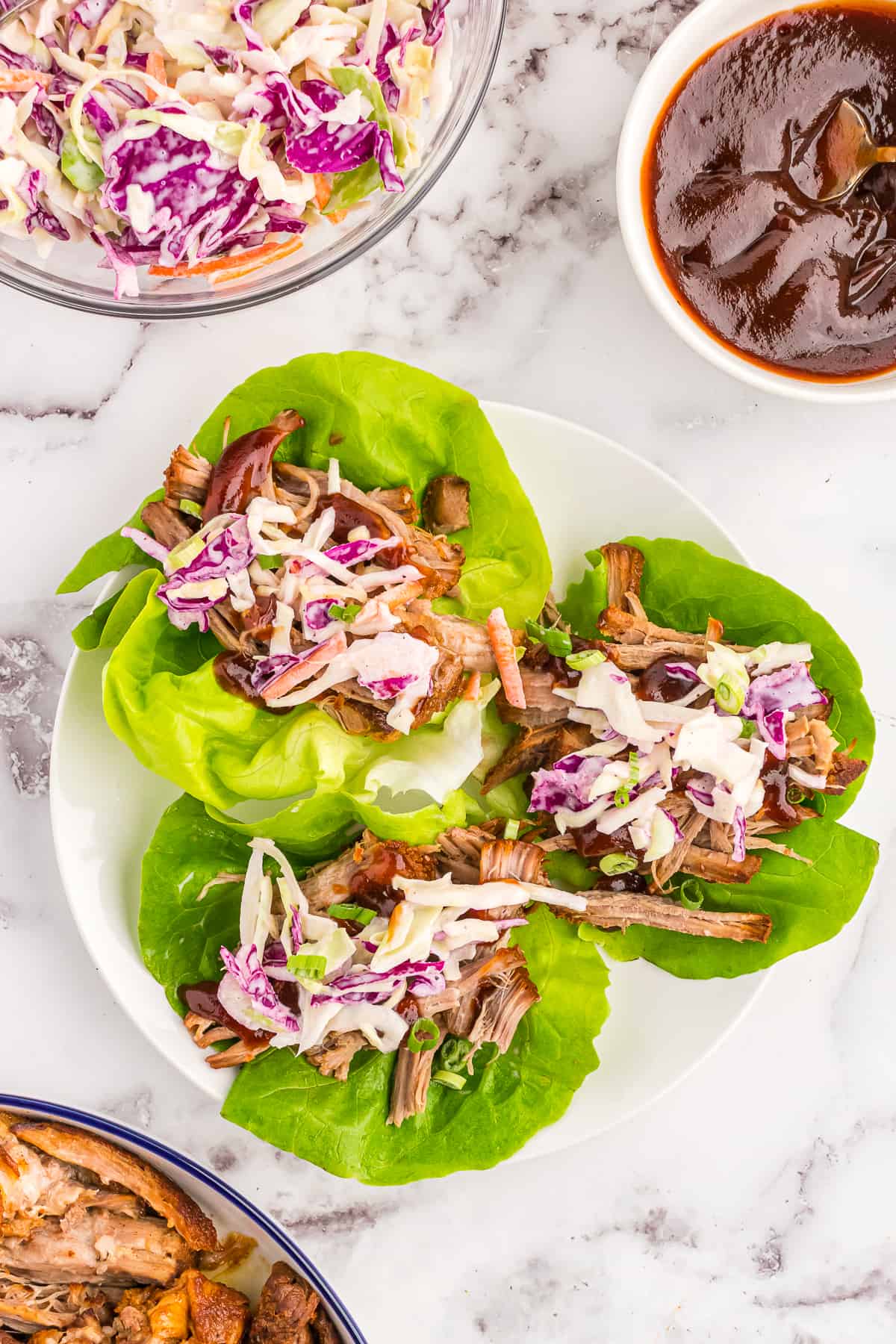 Bowl Style
If you're not set on eating this great meal as a sandwich, you could try making Pulled Pork Bowls instead!
Choose one of the following as a base and load up the bowl with your favorite toppings such as sweet corn, red onions, pickles, plantains, barbecue sauce and more!
10. Mashed Potatoes- This comfort food pairs delicious with pulled pork!
11. Rice- Check out these pork and rice bowls from The Healthy Epicurean.
12. Quinoa- Quinoa makes a delicious and nutritious base to your pork.
13. Coleslaw- This Chimichurri slaw packs amazing flavor that pairs great with pulled pork.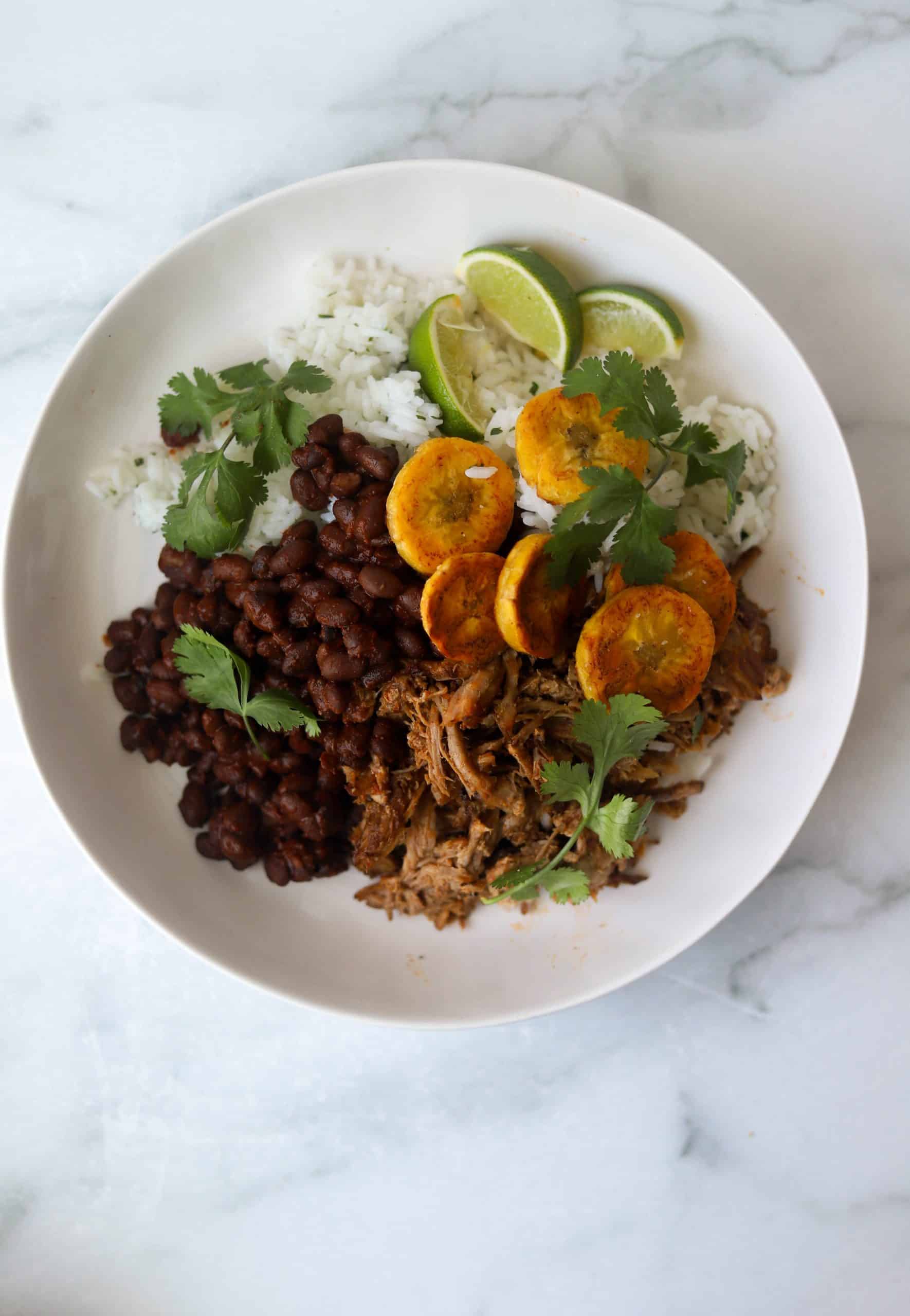 As an Addition
14. Salad- Adding shredded pork to a delicious salad is a great way to enjoy it. I love it on a Santa Fe Salad or a Potato Salad.
15. Soup- If you prefer something warmer, try serving your pulled pork as a topping to or stirred into a soup. It would be delicious in some Simple Cherry Tomato Soup or Potato Soup.
16. Pasta- Turn any pasta into a main dish by adding your pulled pork to it. Try adding it to Sautéed Spinach Pasta or make this Pork Mac from Life as a Strawberry.
Creative Ideas
Put your pulled pork to good use with one of these tasty ideas!
17. Stuffed Peppers- Pulled Pork Stuffed Peppers might just be your new favorite way to enjoy this delicious meat.
18. Pulled Pork Nachos- Replace the chicken in these White Cheddar Cheese Nachos with pulled pork for next level topped tortilla chips.
19. Quesadillas- With black beans, melty cheese and barbecue sauce, Pulled Pork Quesadillas are a delicious way to enjoy your pork or use up the leftovers!
20. Pork Enchiladas- Or try these Enchiladas from Out Grilling instead.
21. Pulled Pork Pizza- Load up this Artisan Pizza Dough with homemade bbq sauce, pork, red onions and mozzarella cheese for a delicious slice of 'za!
22. Fried Rice- A great way to use up leftover meat, rice and veggies.
23. Stir Fry- Toss your extra pork into a stir fry with whatever vegetables you have on hand for a quick and delicious dinner.
24. Stuffed Sweet Potatoes- Use pork in place of chicken in these Stuffed Barbecue Chicken Sweet Potatoes.
25. Pork Chili- This quick and delicious chili recipe is a creative way to enjoy your pulled pork.
26. Poutine- Top some Crispy Baked Fries with pulled pork, mozzarella cheese and gravy for a delicious dinner.
27. Pork Shepherd's Pie- This delicious spin on a crowd favorite is a great way to enjoy your pulled pork without bread.
28. Pork Hash- Try out this Sweet Potato Pulled Pork Hash from Babaganosh for a tasty way to enjoy your pork for breakfast.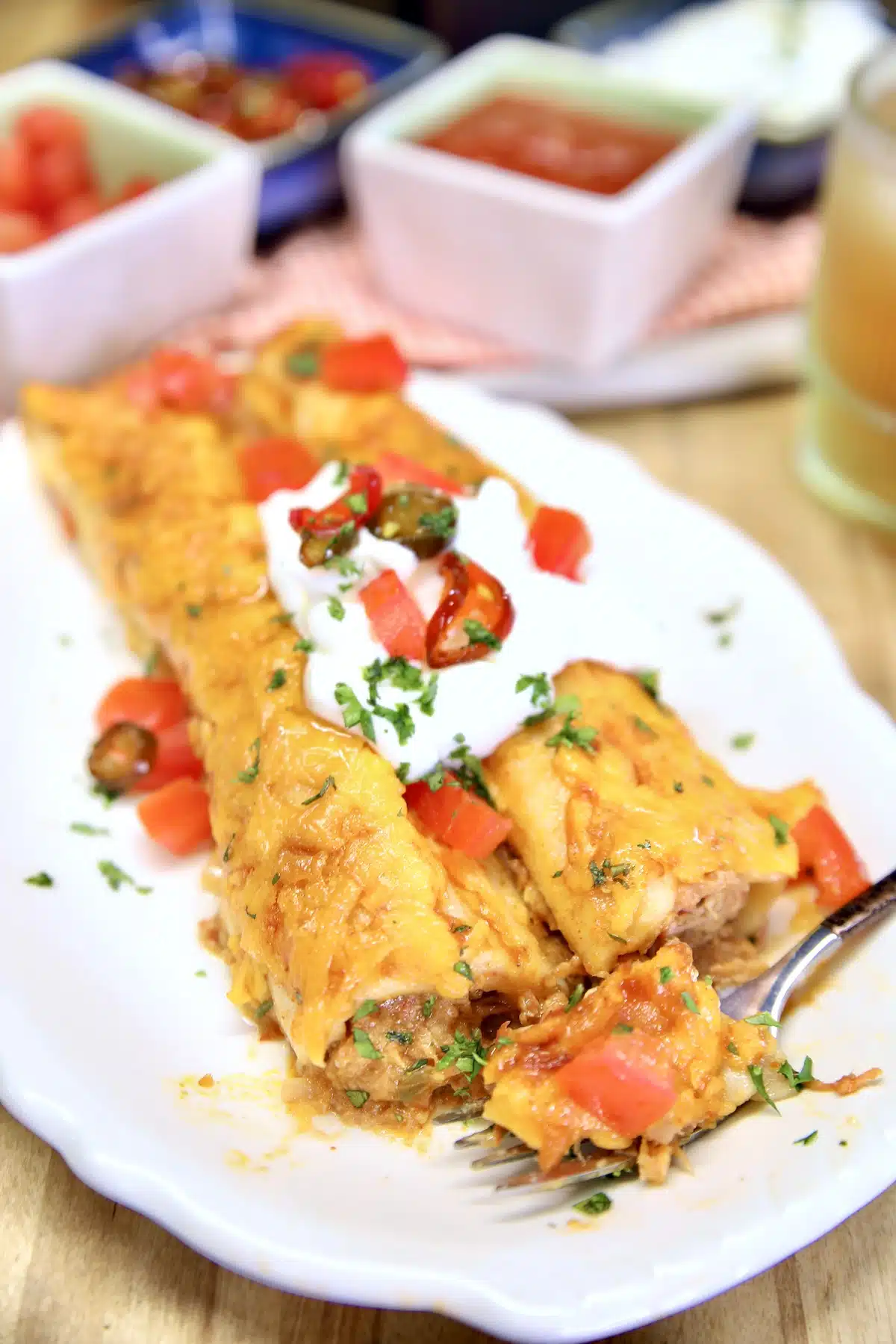 Pulled Pork Side Dishes
And in case you're looking for some more ideas of what to serve with your pulled pork (besides bread), these are some of my favorite sides!
1. Fries
2. Slaw- Classic or try this Lemon Tahini or Chimichurri version.
3. Cajun Corn
4. Potato Salad
5. Baked Beans
6. Veggies and Dip
7. Pasta Salad
8. Corn on the Cob
10. Sweet Potato Fries
11. Spinach Salad
12. Roasted Carrots and Asparagus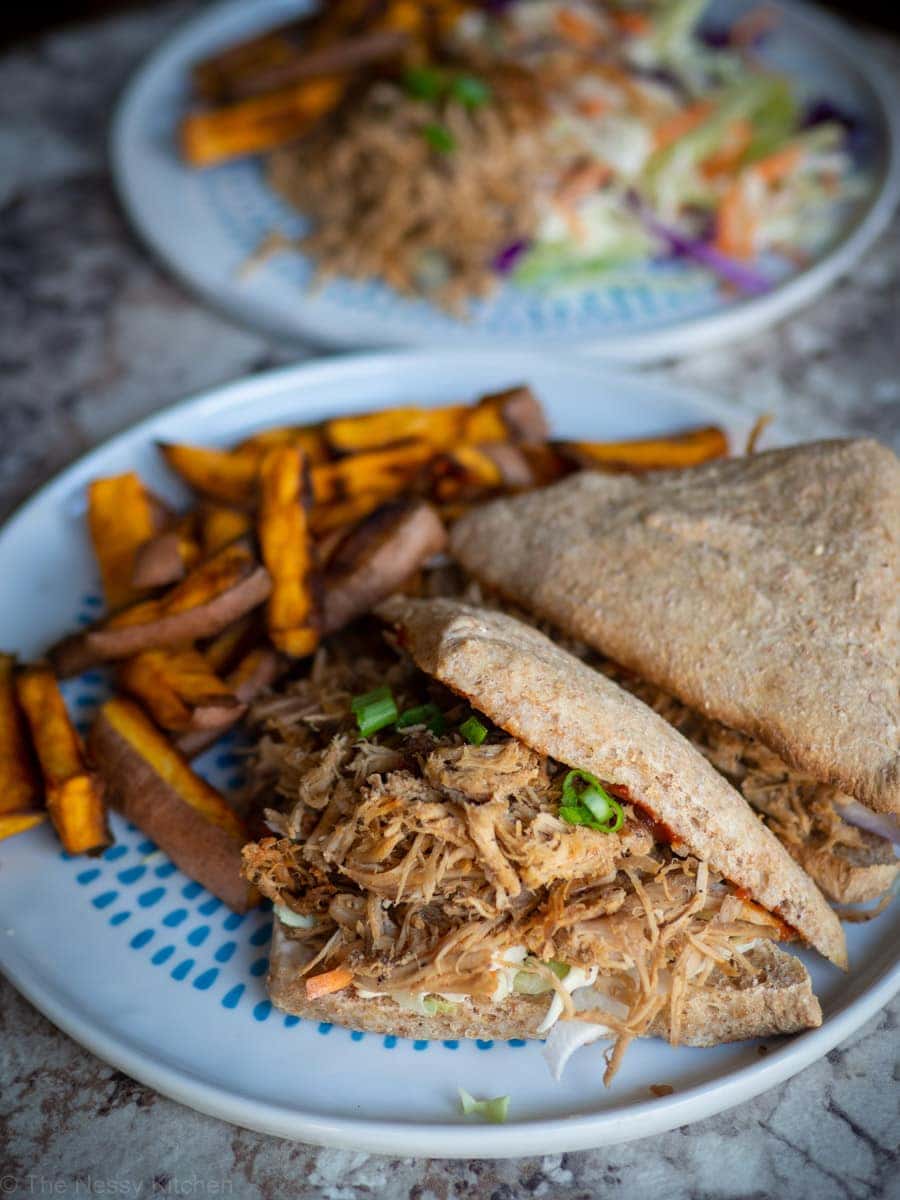 Pulled Pork Recipes
Related: How Much Pulled Pork Per Person