Oven Baked Fries that turn out perfectly crispy and salted every time! Cooking them on a rack ensures they are evenly cooked all around and avoids the need to flip the fries part way through cooking. But if you don't have an oven safe rack, they can also be cooked directly on the pan for equally excellent results!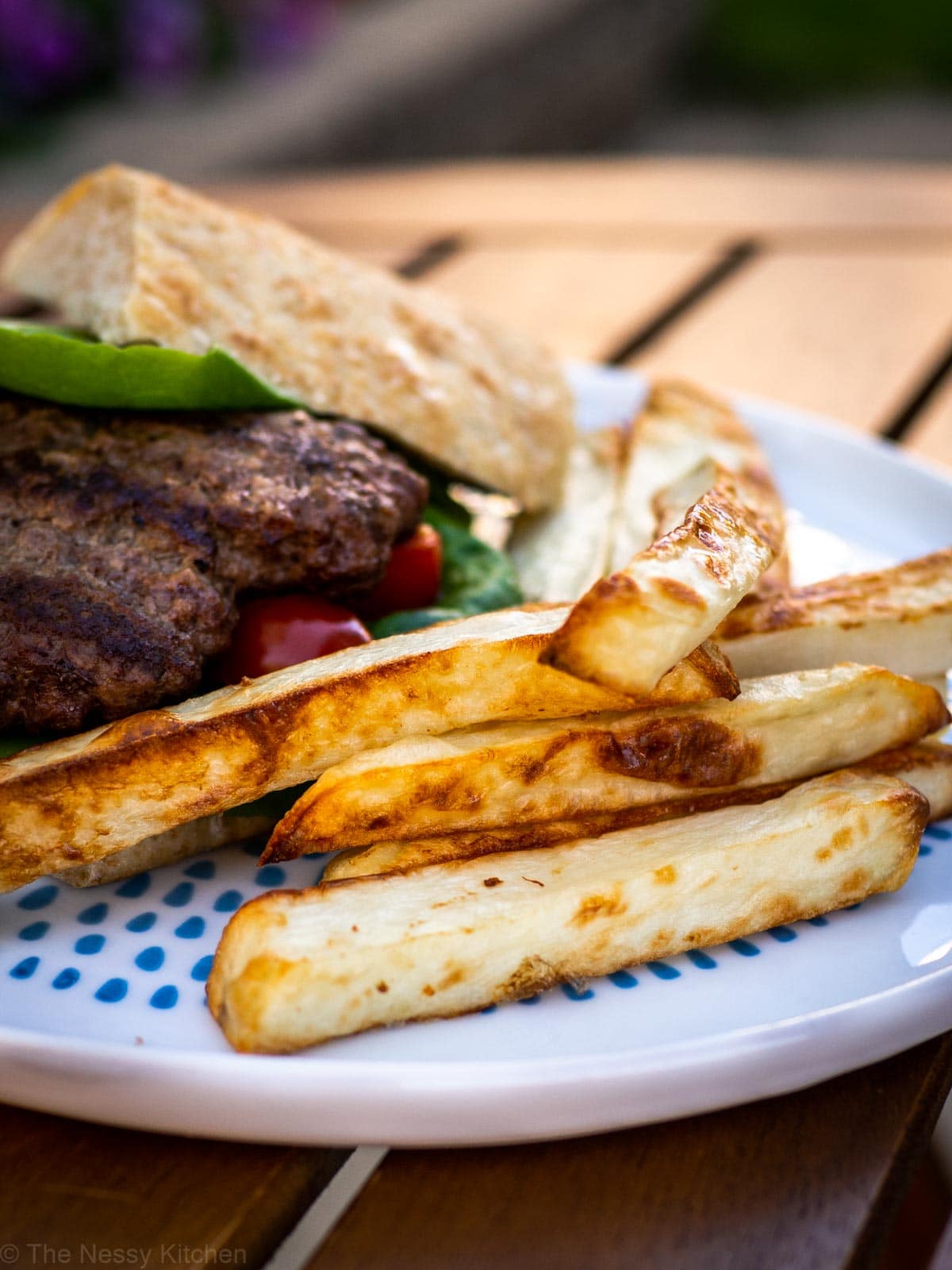 Whether you're making Barbecued Burgers, Chicken Sandwiches, grilled pork ribs, or almost anything else, Crispy Oven Baked Fries are the side dish that you are looking for!
Ready in under 30 minutes, they are fries that you will enjoy AND that you can feel good about eating!
The Ingredients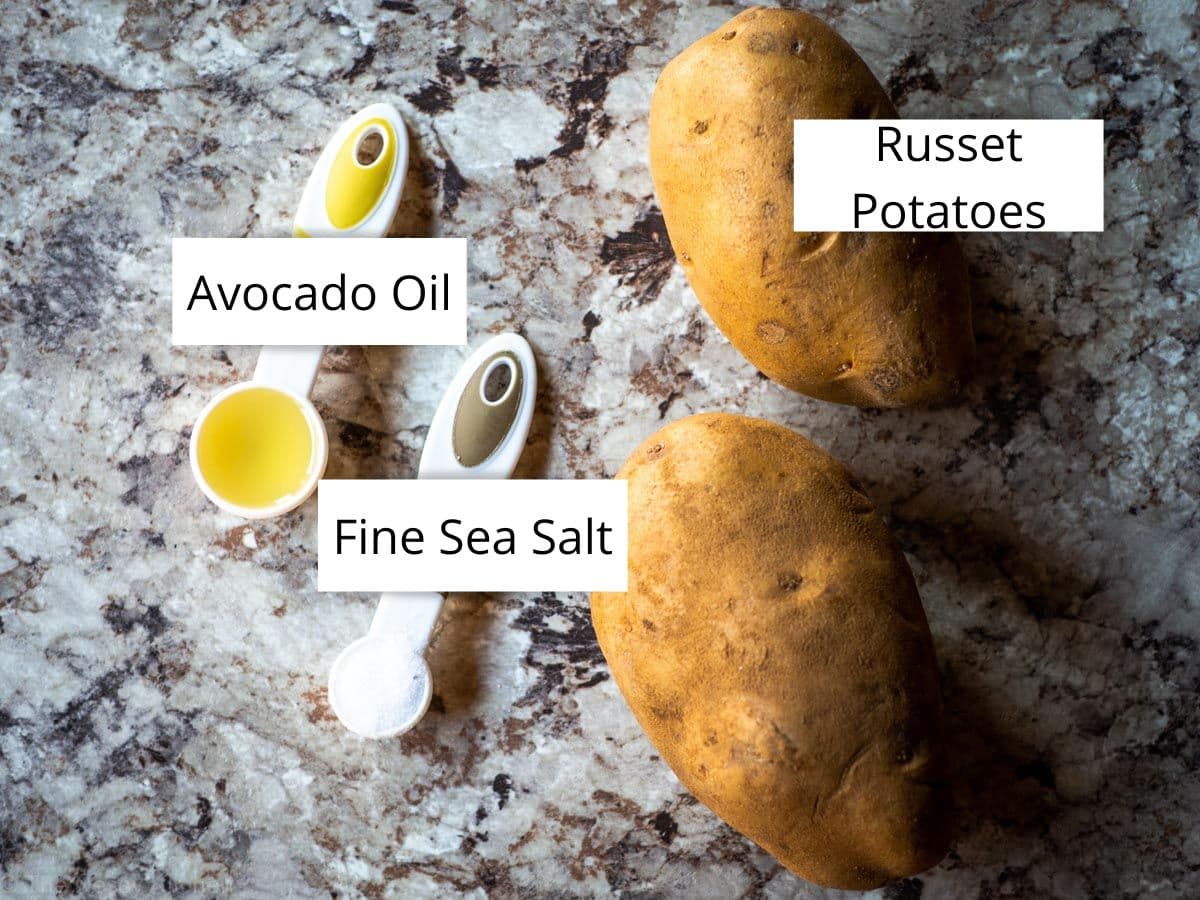 Potatoes- This recipe should work with most types of potatoes but I find either Russets or Yukon Golds give the best results. I usually don't peel the potatoes but you can if you prefer.
Olive oil- Avocado oil is another great option.
Sea salt
The Method
1. Cut the potatoes. Slice into ¼-½ inch sticks, depending on your preference, ensuring they are all approximately the same size for even cooking time. Thinner fries will cook a bit faster so be sure to check them a few minutes early.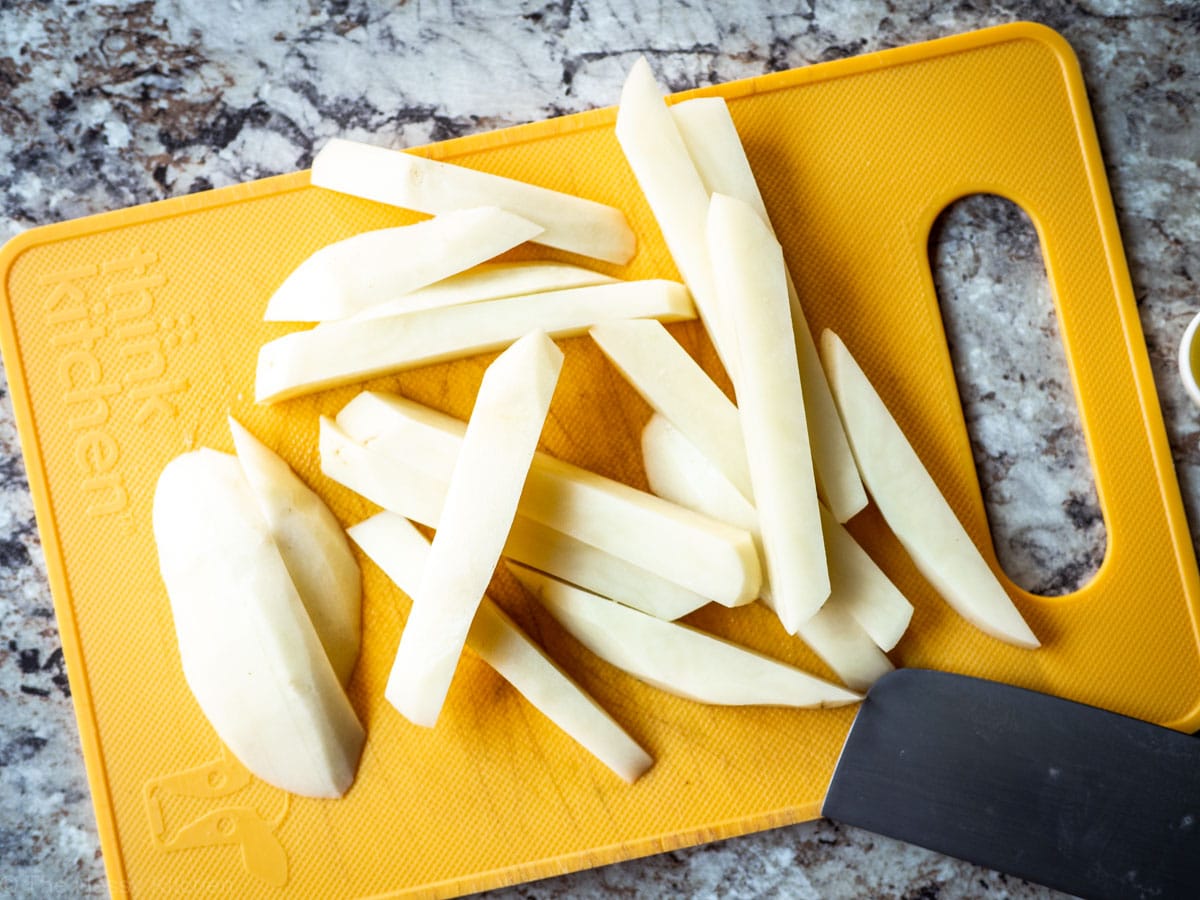 2. Coat. Toss potatoes with oil and seasoning and place on the oven rack. For easy clean up, I recommend placing a silicone mat below the rack.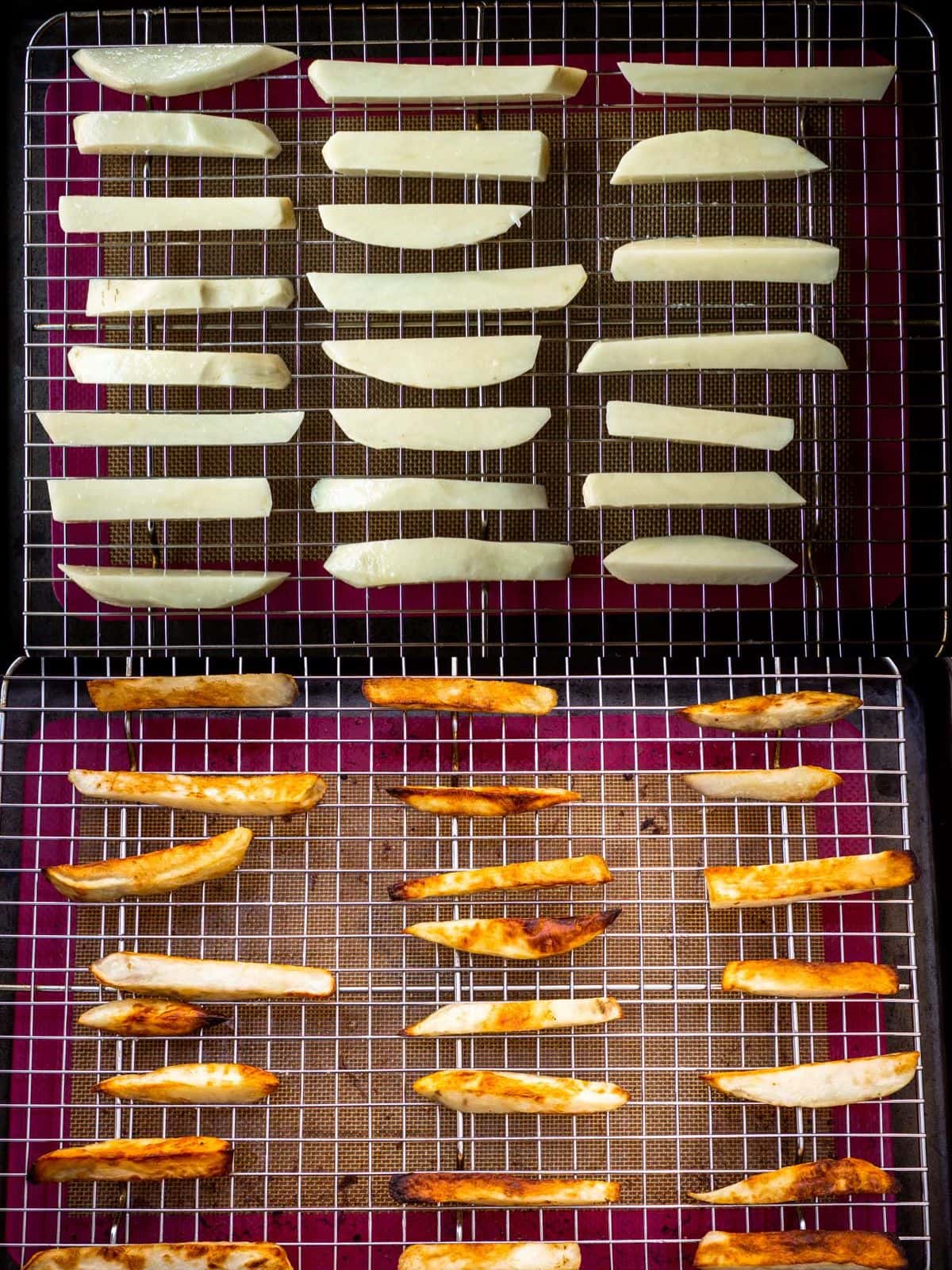 No oven-safe rack? No problem! Line a baking sheet with a silicone baking mat (best!) or parchment paper and lay the fries spaced out on top. Lining the pan is critical- otherwise the crispy part may end up sticking. Bake for 10 minutes then remove from the oven. Use a spatula or tongs and flip each fry over. Return baking sheet to oven for 5-10 minutes until fries are crispy!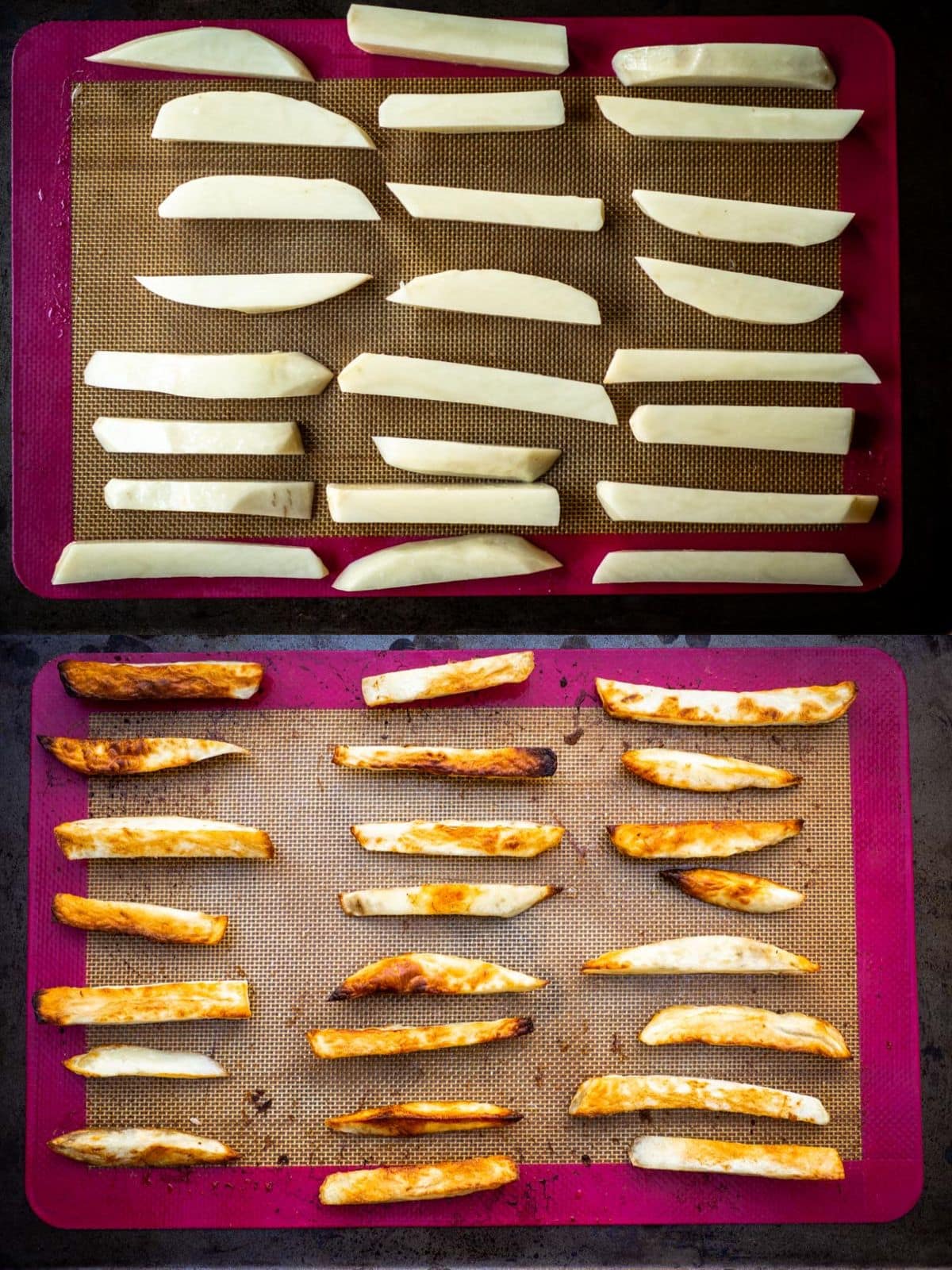 3. Bake for 15-20 minutes and serve hot! If using the rack method, rotate the pan 180 degrees after 10 minutes.
TIP: If you have a convection oven, bake at 450 F on the convection setting (you may have to still set it to 475 F on some models and it will automatically change it to 450 F when you set it to "convection") for even crispier results!
Leftovers
These oven baked fries are best consumed fresh so I recommend only making the amount you plan to eat! However, if needed, leftovers can be stored and reheated and still be tasty- see below for tips.
To Store: Allow fries to cool completely on a wire rack. Store in an airtight container in the refrigerator for up to 3 days.
To Reheat: For best results, reheat in the oven at 350 F for 5-10 minutes. They can also be rewarmed in the microwave but will no longer be crispy.
Make It Your Own
Change up the seasonings! Some ideas:

Garlic Pepper- Add ½ teaspoon each of garlic powder and black pepper
Taco Seasoned - Omit salt and add 2-3 teaspoon of Taco Seasoning. For even more of a varitiation- try adding some grated Monterey Jack or Cheddar cheese for some Cheesy Taco Fries!
Cajun Seasoned- Omit salt and add 2-3 teaspoon of Cajun Seasoning.
Serving Ideas
There are SO MANY great ways to eat fries!
Enjoy them as a side to:
Use them to make:
Homemade Poutine (Make ¼ batch of this poutine recipe or quadruple the amount of fries that you make)
Chili Cheese Fries (Make a double batch of fries or half the chili cheese recipe)
Try them dipped in: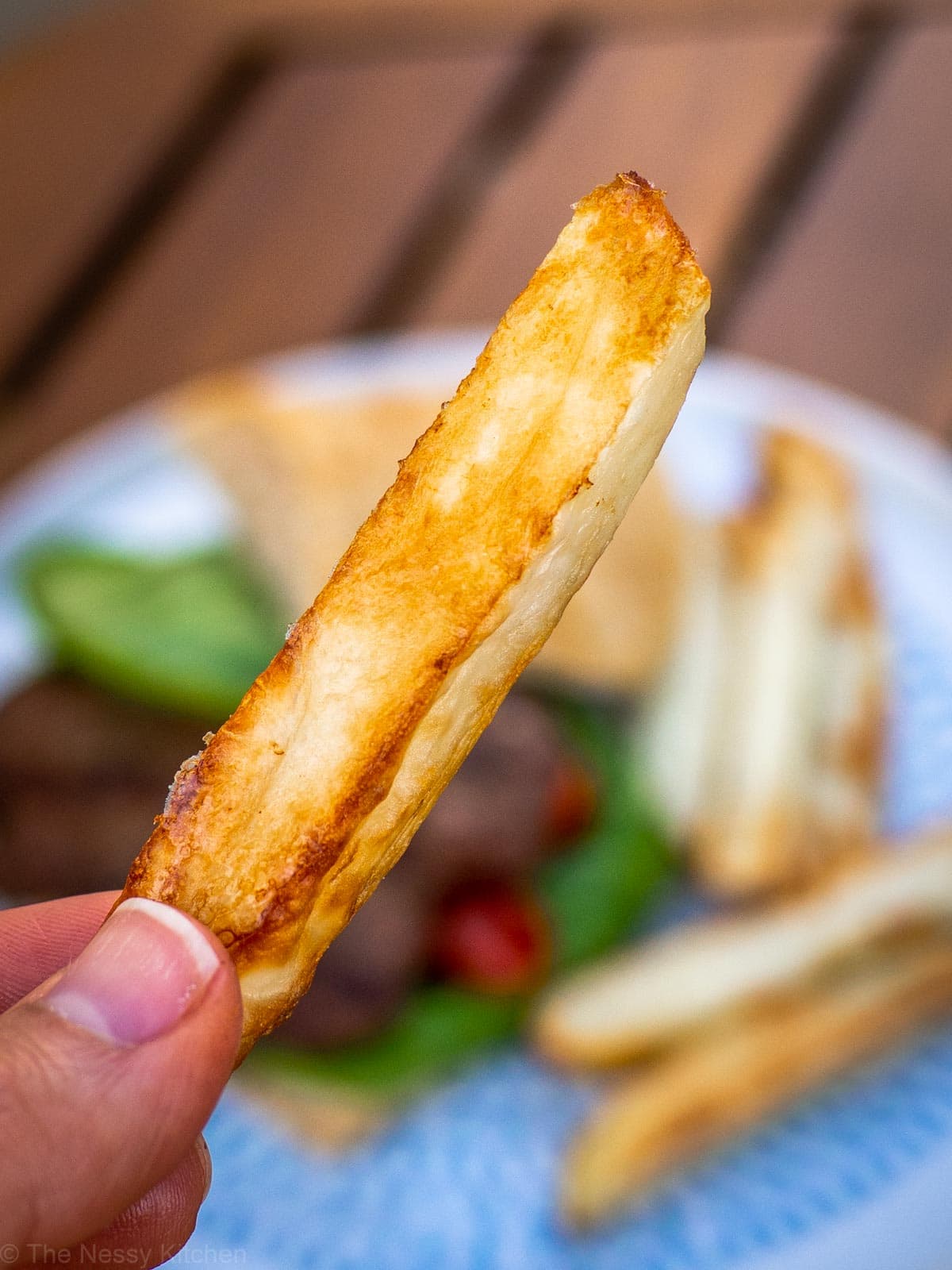 Dietary Notes
If you have dietary restrictions, be sure to check any packaging of specific ingredients that you use are compliant. As written, this recipe is naturally:
Dairy Free
Gluten Free
Nut Free
Vegetarian
Vegan
And if you liked this recipe...
...you might also like: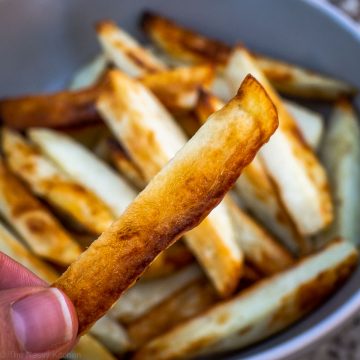 Crispy Oven Baked Fries
Baked Fries in a convection or conventional oven that turn out perfectly crispy and salted every time! Evenly cooked and easy- you don't even need to flip partway!
Print
Pin
Rate
Ingredients
1

lb

potatoes

about 2 medium

1

teaspoon

olive oil

½

teaspoon

fine sea salt
Instructions
Preheat the oven to

475

°F

. Line a large baking sheet with an oven safe cooling rack.

Scrub the potatoes and peel (optional). Slice into ¼-1/2 inch thick sticks and place in a mixing bowl.

Toss potato sticks with olive oil and sea salt until evenly coated. Place on the rack on the prepared baking sheet, evenly spaced.

Place in the oven and bake for 10 minutes. (If your oven has a convection option, using it will result in even crispier fries).

After 10 minutes, rotate the baking sheet 180 degrees and then return to the oven for an additional 5-10 minutes until the edges are lightly browned and the fries are crispy.
Notes
This recipe can easily be doubled but you'll need a second baking sheet and rack. Place one sheet on the top rack of the oven and the other on the second. Swap their positions at the halfway mark.
If you don't have an oven safe baking rack, see the post above for tips on how you can make these right on the baking sheet.
Leftovers
Fries are best consumed fresh. However, they can be stored in an airtight container in the refrigerator for up to 3 days. Reheat in the microwave or in the oven at 350 for 5-10 minutes. They won't be as crispy but they'll still be tasty.
Nutrition
Calories:
196
kcal
|
Carbohydrates:
40
g
|
Protein:
5
g
|
Fat:
2
g
|
Saturated Fat:
1
g
|
Polyunsaturated Fat:
1
g
|
Monounsaturated Fat:
1
g
|
Sodium:
596
mg
|
Potassium:
971
mg
|
Fiber:
5
g
|
Sugar:
2
g
|
Vitamin A:
7
IU
|
Vitamin C:
45
mg
|
Calcium:
30
mg
|
Iron:
2
mg
Did you make this recipe?
Let me know what you thought in the comments below!
More Tasty Side Dishes!