Turn on the grill, grab just 2 ingredients and let's make some homemade barbecued beef burgers! Excellent for a summer barbecue with friends or just a quick anytime dinner, these burgers are lightly seasoned, juicy and the perfect canvas to all your favourite toppings.
Jump to: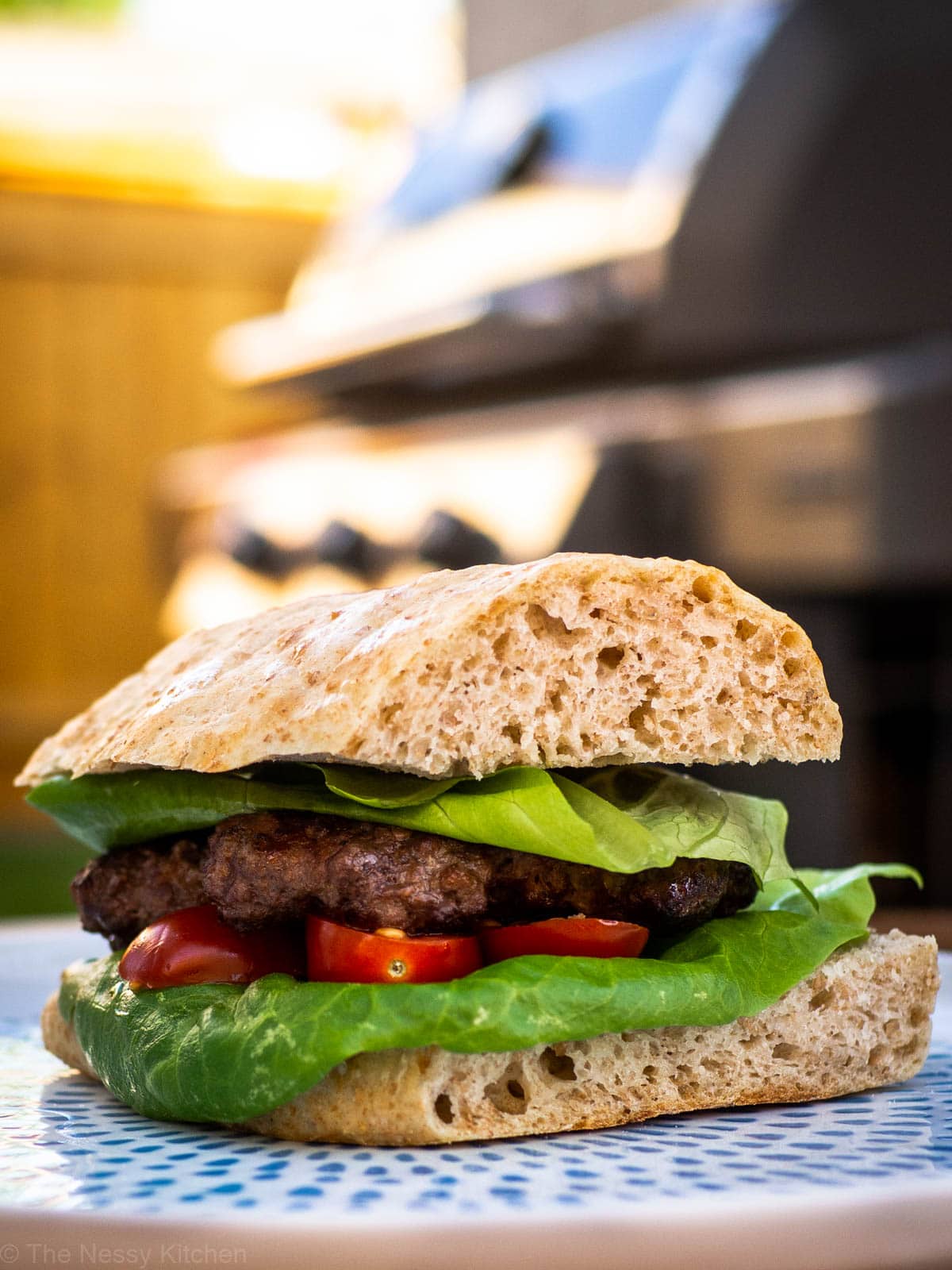 When Brendan and I moved in together, most things went pretty simply. We had no trouble deciding who would park in the garage, which pictures we would hang, whose bed we would keep and whose pots we would use. There was one exception- our burger presses.
We each thought that we had the better burger press and so in order to determine which one to keep, we had to have a showdown of sorts.
We made these barbecued burgers and used his to make 2 burgers and mine to make 2 burgers. Then we cooked and tried them each and decided which was the better burger. I regret to inform you that mine lost...
But barbecued burgers are still one of my favorite meals, especially in the summertime and this simple recipe is my go-to for making them!
The ingredients are super simple so that you can customize the burgers with all sorts of toppings, but they are honestly so delicious- you could eat them all on their own.
The Ingredients
Regular ground beef- I highly recommend using regular ground beef (rather than lean) because it produces the juiciest burgers. And since we are barbecuing them, I find that a lot of the grease cooks out, so they don't seem greasy to eat. That said, you can substitute lean ground beef in the recipe if you prefer.
Steak spice- Just 1 teaspoon of steak spice gives the burgers nice flavour without being overpowering. If you have any dietary restrictions, make sure to check the ingredients of the steak spice that you are using. And if you don't have steak spice on hand, use ¼ teaspoon each of sea salt, black pepper, garlic powder and paprika.
The Method
1. Mix beef and spices.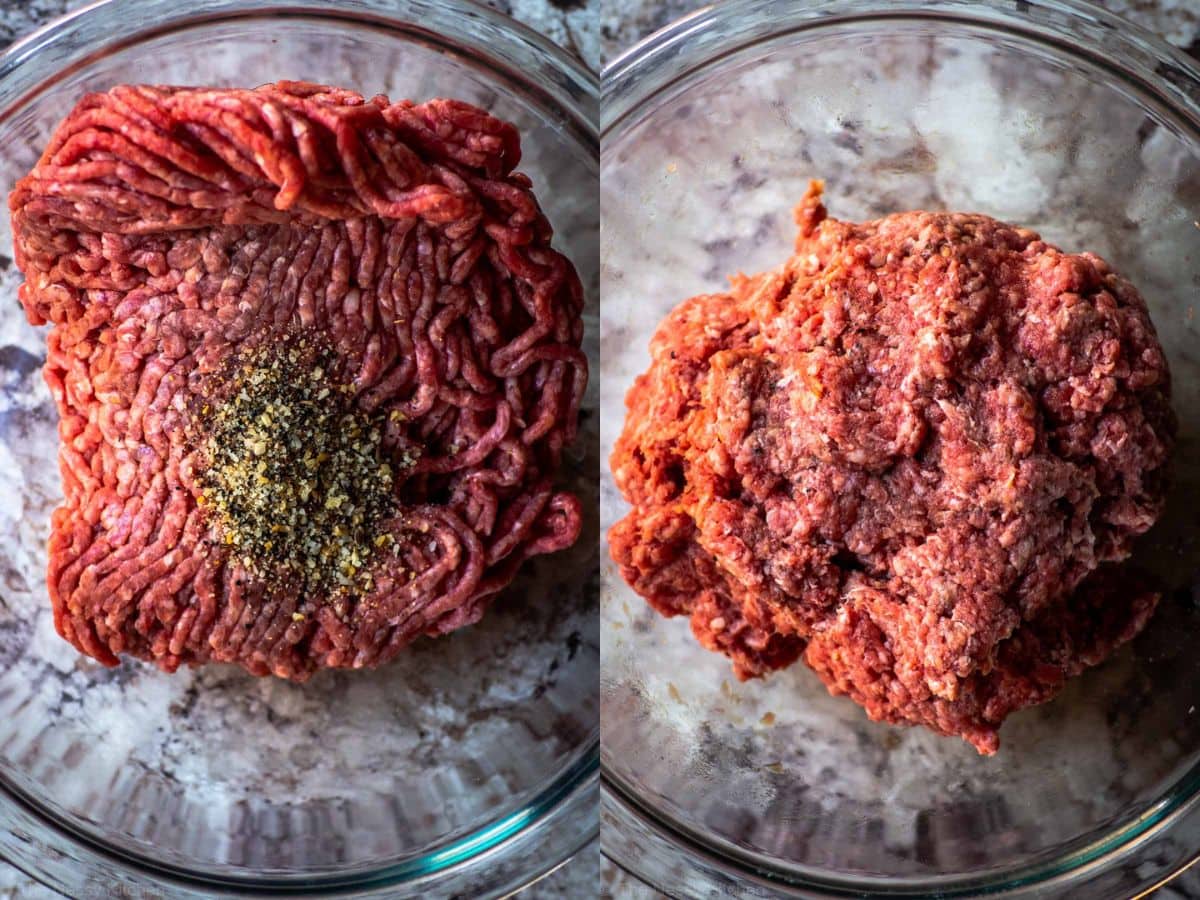 2. Shape. Divide the beef mixture into four even balls (about 4 oz/115 g each). Flatten to about ½ inch (1 cm) thickness and then score 4-5 shallow lines through on both sides (this helps to prevent shrinking!). If you have a burger press, feel free to use that instead. Cover and place in the refrigerator until ready to grill.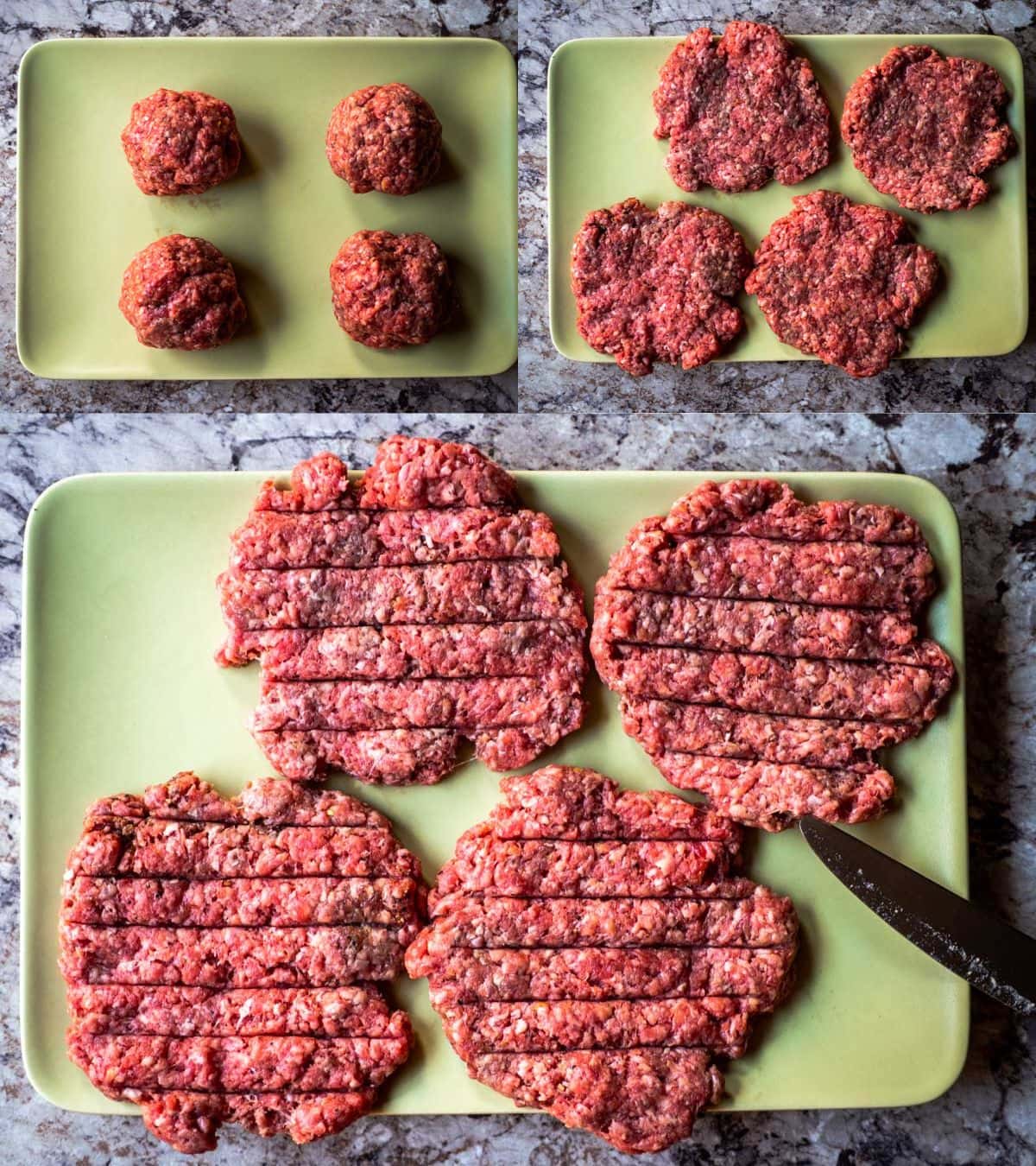 3. Grill. Heat a barbecue grill over medium high heat (450-500 F). Place the hamburger patties onto the grill, close the lid and cook for 5 minutes. Flip the burgers and cook for 3-7 more minutes until cooked through to 160 F and no longer pink inside.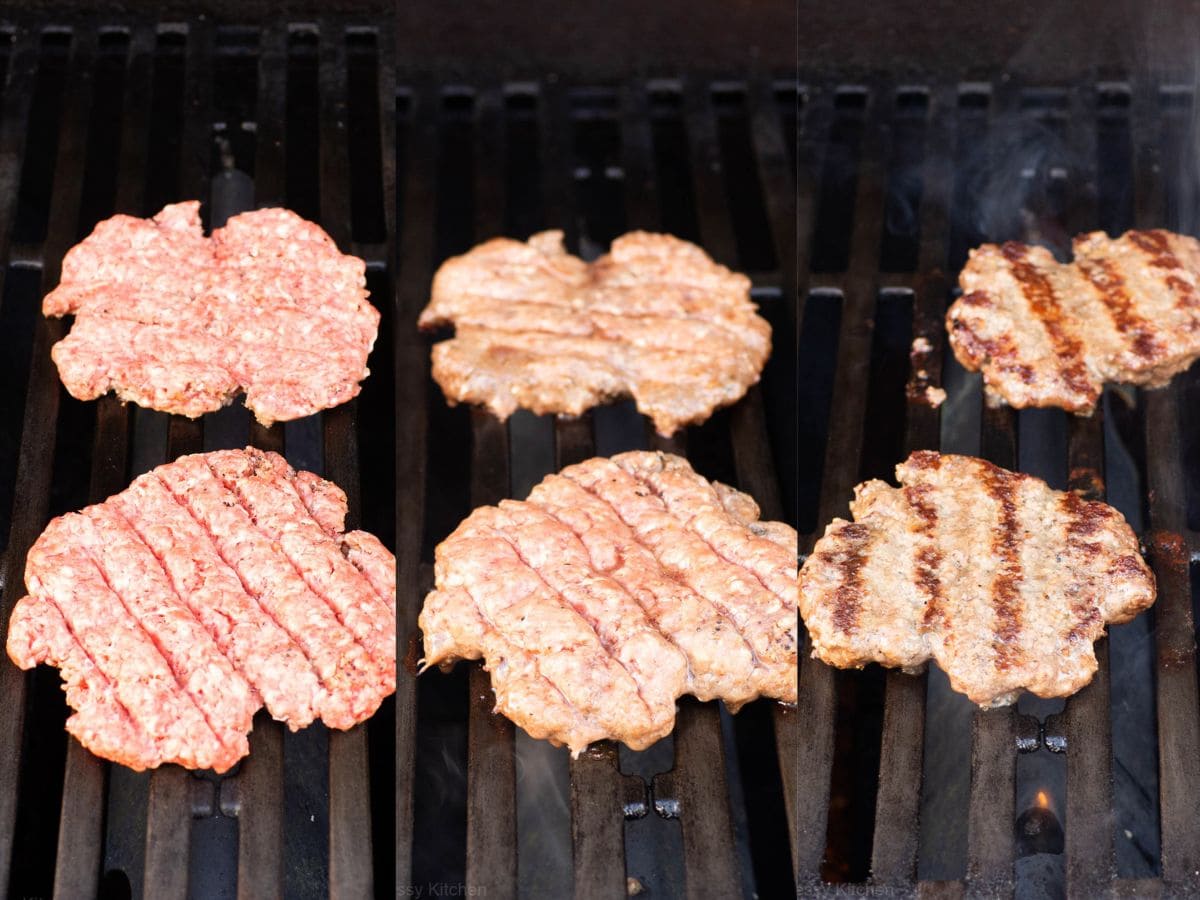 4. Enjoy!
Leftovers
To Make Ahead: You can prepare the burger patties and place in an airtight container in the refrigerator up to 1 day ahead of cooking. Layer in a single row or separate with wax paper or a silicone mat.
To Freeze Raw Burger Patties: Uncooked patties can be frozen up to 3 months. Freeze in a single layer and then stack once frozen. Thaw to room temperature in the refrigerator before proceeding with cooking OR cook from frozen- just add 1-2 minutes to the grilling time.
To Store: Leftover cooked burgers can be stored in an airtight container in the refrigerator for up to 4 days or frozen for up to 3 months.
To Reheat: You can use the microwave to warm through or reheat in a pan over medium heat for 2-3 minutes per side. Leftover burgers can also be rewarmed in the oven at 350 F for 5-10 minutes.
Make it Your Own
Cheeseburgers- Use tongs to place slices of cheese on the burgers in the last 2 minutes of cooking and allow it to melt.
Sliders- Divide meat into 8 equal portions instead of 4 and flatten to ¼-½ inch thickness. Cook time will be reduced slightly, around 4-7 minutes.
How to Serve Barbecued Burgers
Load them up with all of your favorite burger fixings! Some suggestions:
Toasted Buns
Lettuce (for topping or as a lettuce bun)
Tomato
Onion (fresh or caramelized)
Avocado or Guacamole
Sautéed mushrooms
Bacon
A fried egg
And if you're looking for some good side dishes for burgers, these are all great options!
How do I prevent my homemade burgers from shrinking?
Cut 4-5 shallow lines through the burger patties before grilling. For best results, do so one both sides (but stagger them so that you don't cut all the way through!). But even if you just do it on one side, it should help to minimize shrinking. See the images under Step 2 above for a visual.
How do you keep homemade burgers from falling apart?
This recipe generally holds together pretty well! However, for some extra assurance, you can place the shaped patty in a single layer, cover and refrigerate them for about 30 minutes before grilling.
What is the secret to juicy burgers?
Use regular ground beef! Regular ground beef is more fatty and won't dry out as quickly when grilling as compared to lean or extra lean ground beef.
Dietary Notes
If you have dietary restrictions, be sure to check any packaging of specific ingredients that you use are compliant. As written, this recipe is naturally:
Dairy Free
Gluten Free
Nut Free
Paleo
And if you liked this recipe...
...you might also like: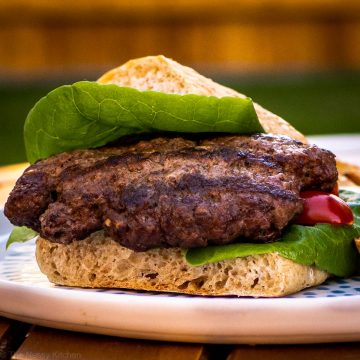 Barbecued Burgers
Lightly seasoned and juicy, these homemade beef burgers are the perfect canvas for all of your favourite burger toppings!
Print
Pin
Rate
Ingredients
1

lb

regular ground beef

1

teaspoon

Steak Spice
For Serving:
toasted buns

sliced cheese

lettuce

sliced tomatoes

sliced onions

caramelized onions
Instructions
Preheat a grill over medium high heat (around 450-500 F).

In a large bowl, add the ground beef and steak spice and mix until well combined.

Divide the mixture into 4 even portions (about 4oz/115g each), roll into a ball and then flatten to about ½ inch (1cm) thick patties. Use a dull knife to score 4-5 shallow lines through on each side.

Place the patties on the grill and cook for 8-12 minutes, until meat is cooked through to 160 F, flipping halfway through.

Serve immediately with your favorite toppings.
Notes
Substitutions
Steak spice- substitute ¼ teaspoon each of fine sea salt, black pepper, garlic powder and paprika.
Leftovers
Uncooked, assembled burgers can be kept in an airtight container and refrigerated for up to 1 day prior to resuming with the recipe and cooking. Or you can freeze uncooked burgers for up to 3 months.
Cooked burgers can be stored in the refrigerator for up to 4 days or frozen up to 3 months. Reheat in the microwave or in a frying pan over medium heat for 2-3 minutes per side until heated through.
Nutrition
Calories:
288
kcal
|
Protein:
19
g
|
Fat:
23
g
|
Saturated Fat:
9
g
|
Polyunsaturated Fat:
1
g
|
Monounsaturated Fat:
10
g
|
Trans Fat:
1
g
|
Cholesterol:
81
mg
|
Sodium:
657
mg
|
Potassium:
306
mg
|
Calcium:
21
mg
|
Iron:
2
mg
Did you make this recipe?
Let me know what you thought in the comments below!
More Meal Ideas!