With a crispy exterior, creamy interior and a sweet and salty flavor, baked sweet plantains are easy, wholesome and delicious! Learn how to peel this starchy fruit and how to roast it to perfection.
Jump to:
I was first introduced to plantains on my Spanish immersion homestay in Costa Rica a few years ago (the same time I was introduced to Gallo Pinto!). Iris, my host, would cook up "platanos maduros" (ripe plantains) or "platanos verdes" (green plantains) with almost every meal.
Sometimes, she would slice them thin, sometimes she would cut them in rounds and sometimes she made "Tostones" (plantains that are cut into rounds, fried, squished down and then fried again). But they were always cooked by frying in a lot of oil.
After my trip, I was decidedly hooked on plantains and have since been trying to figure out the best method to make them at home but without a lot of oil.
And this recipe for Crispy Baked Sweet Plantains is it! While I am still trying to find the best way to make "platanos verdes", this recipe for ripe plantains is, in my humble opinion, the best!
Super crispy outside, soft and creamy inside. Sweet and salty flavour combination. Quick and easy. Are you sold yet??
But seriously, if you have never tried plantains, this recipe is the place to start!
Sweet and savoury, they are a great snack or appetizer. They are also a tasty side dish to sandwiches, burgers, fish and more. Try them sometime instead of fries and be sure to let me know what you think!
The Ingredients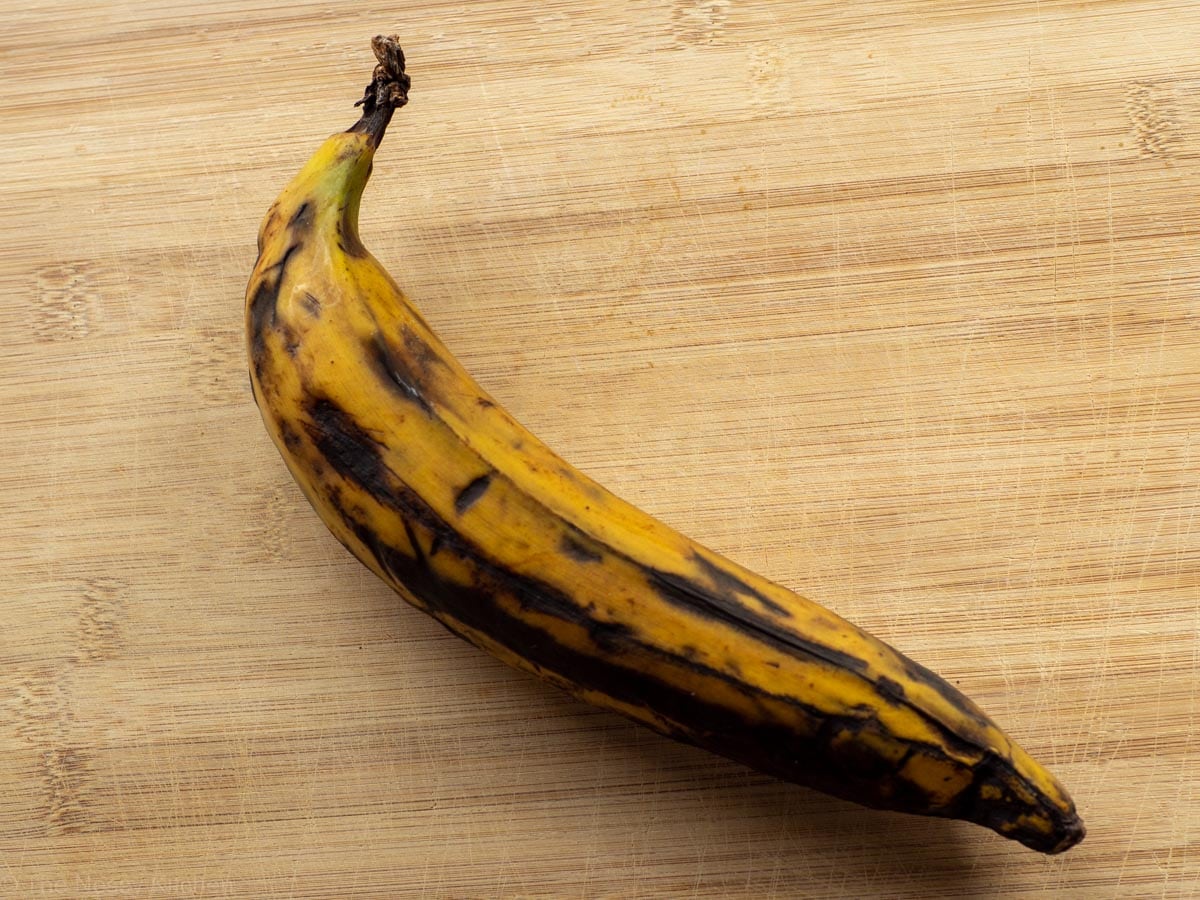 The Method
1. Prep the plantain. First, slice off the end. Then, cut a thin slit down the peeling (careful to only cut through the peeling and not into the fruit). You should then be able to peel it off. Finally, cut the plantain into ½ inch (1cm) rounds.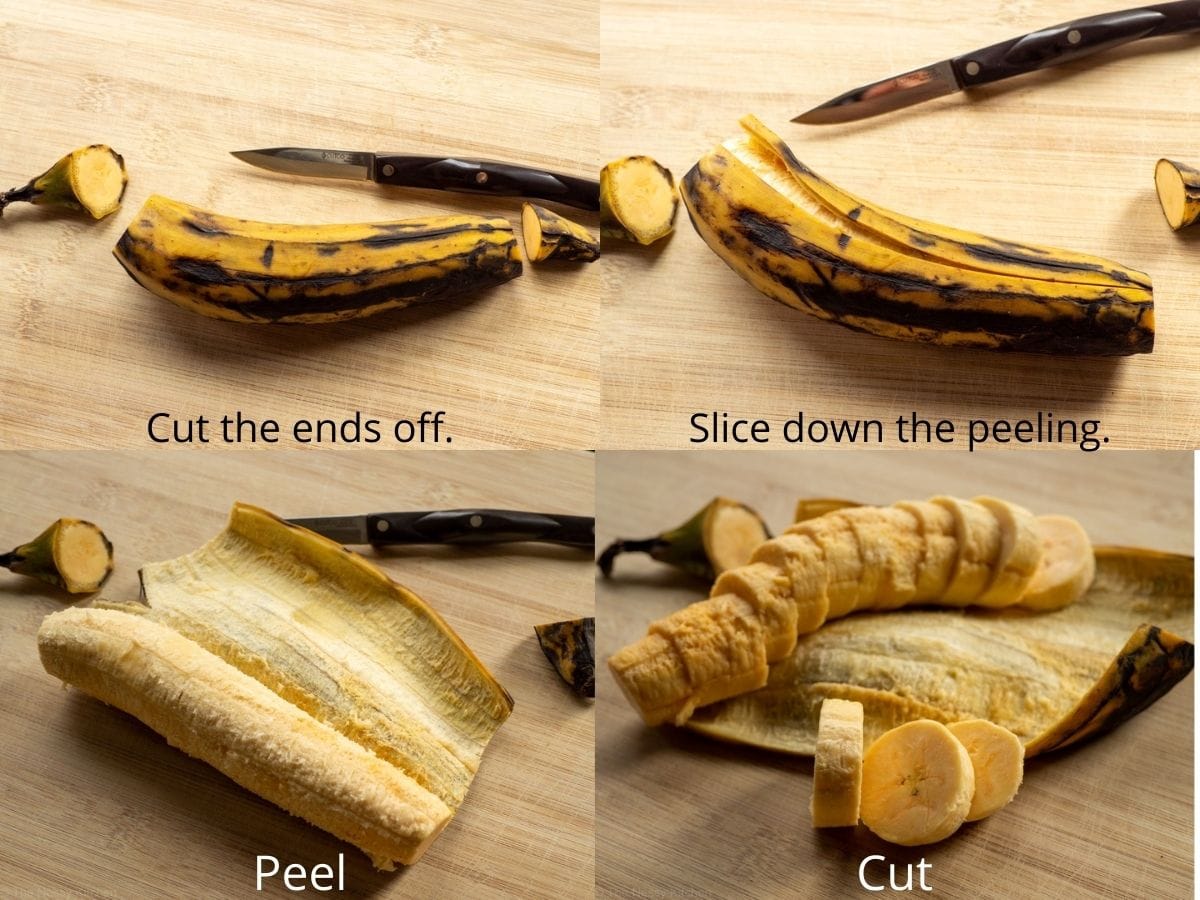 2. Toss plantain with oil and salt. Place the rounds in a bowl and toss with sea salt and olive oil until evenly coated.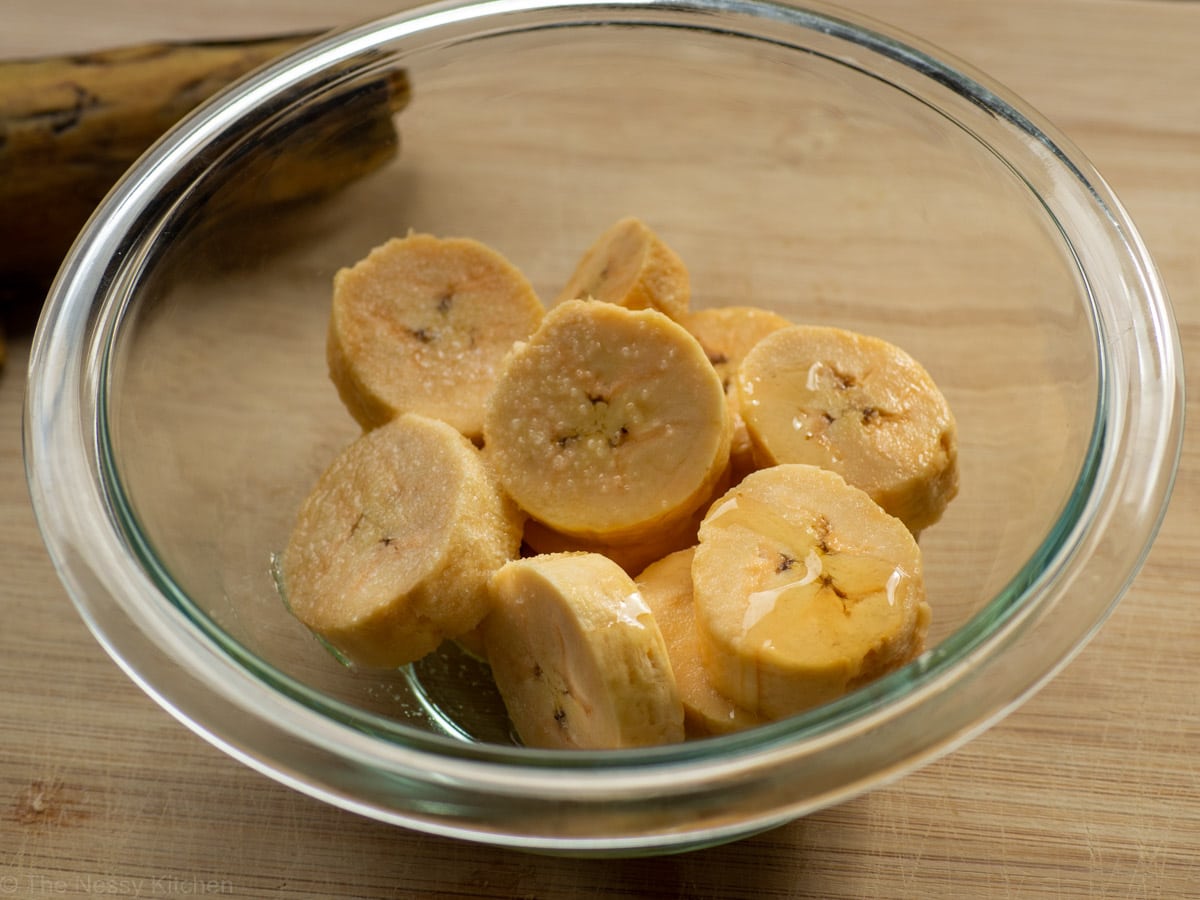 3. Place on a baking sheet. I highly recommend lining your baking sheet with either a silicone mat or parchment paper. That way, the plantains won't stick and you'll be able to achieve the golden and crisp edges! Ensure the plantains are spread out in a single layer and aren't over crowded.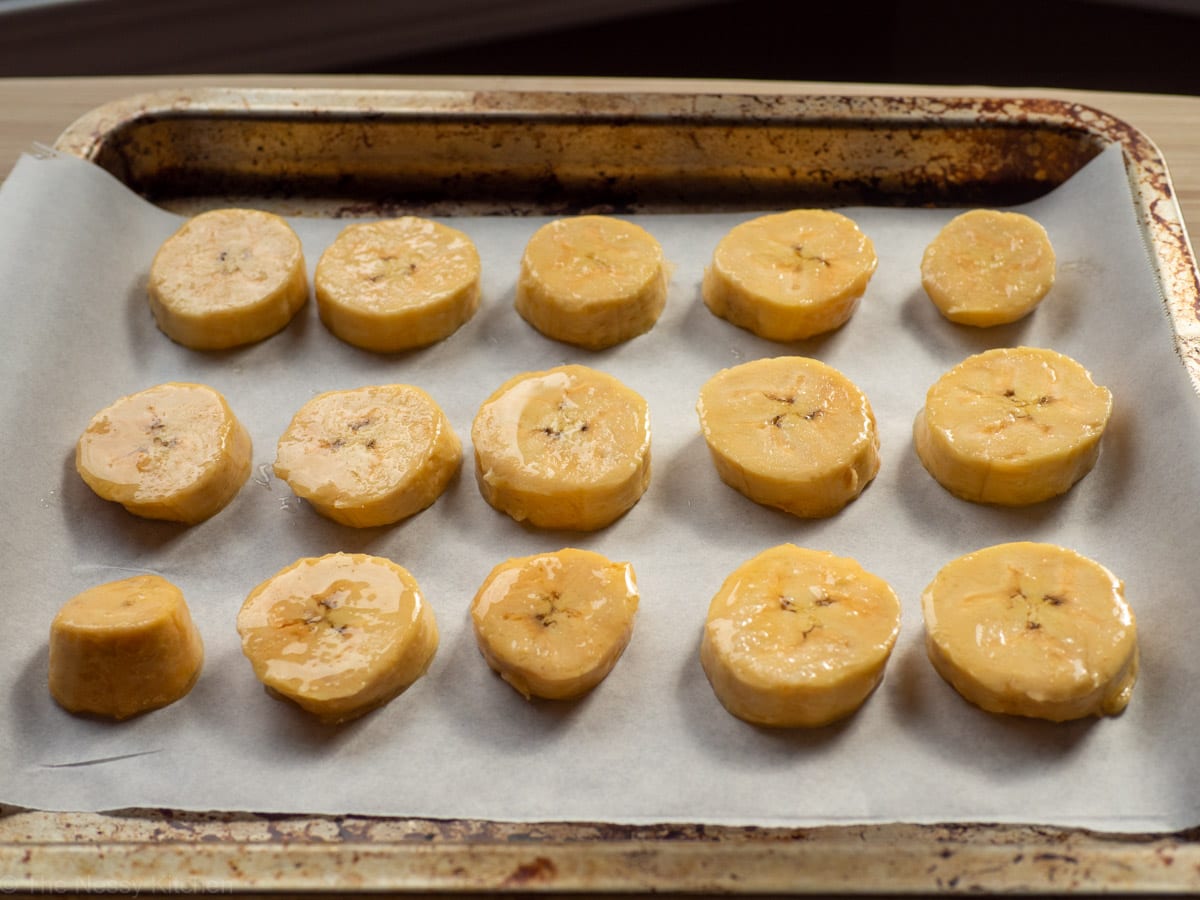 4. Bake. Flip. Bake. Bake the plantains at 450 F for 10 minutes. Remove the tray from the oven and flip each round. Bake for an additional 8-12 minutes (I usually find 10 to be perfect) until very soft on the inside and crispy on the outside.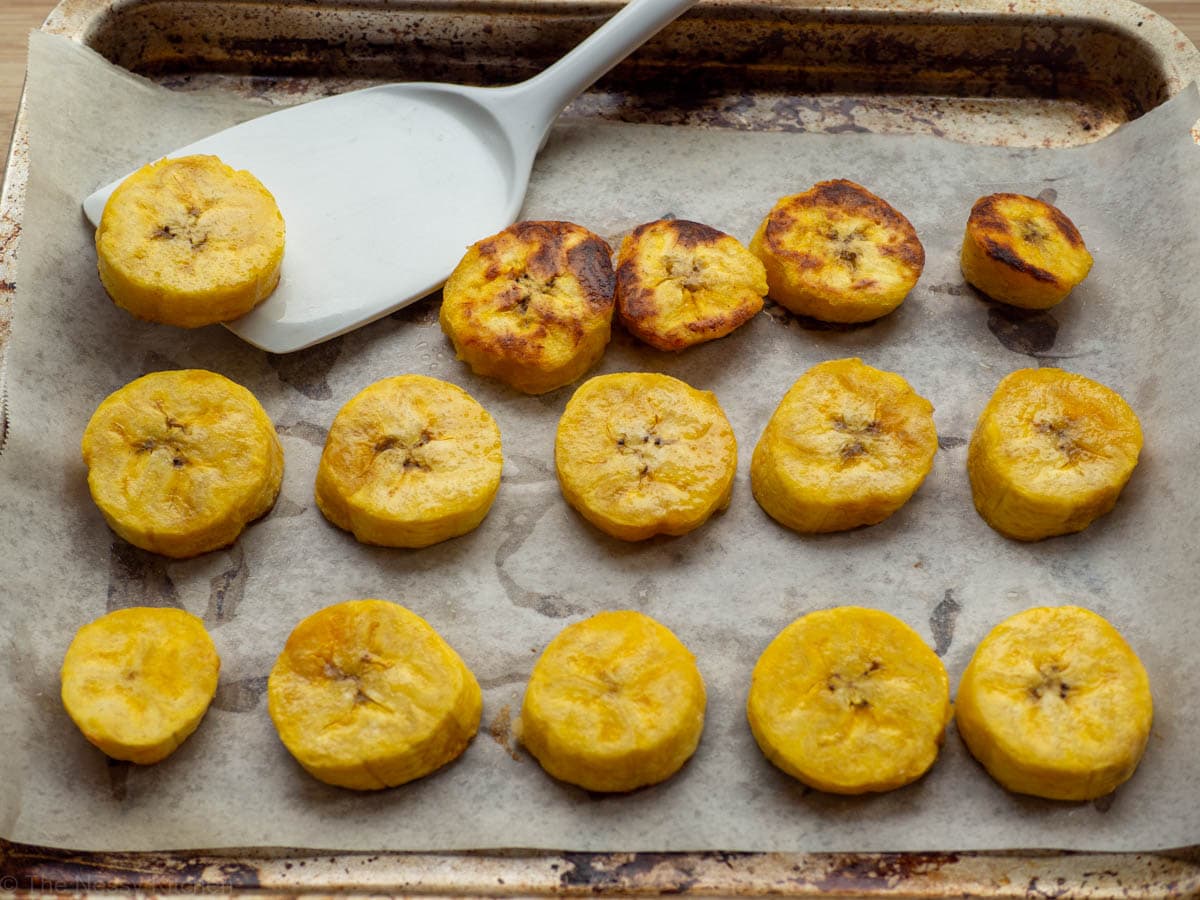 5. Enjoy!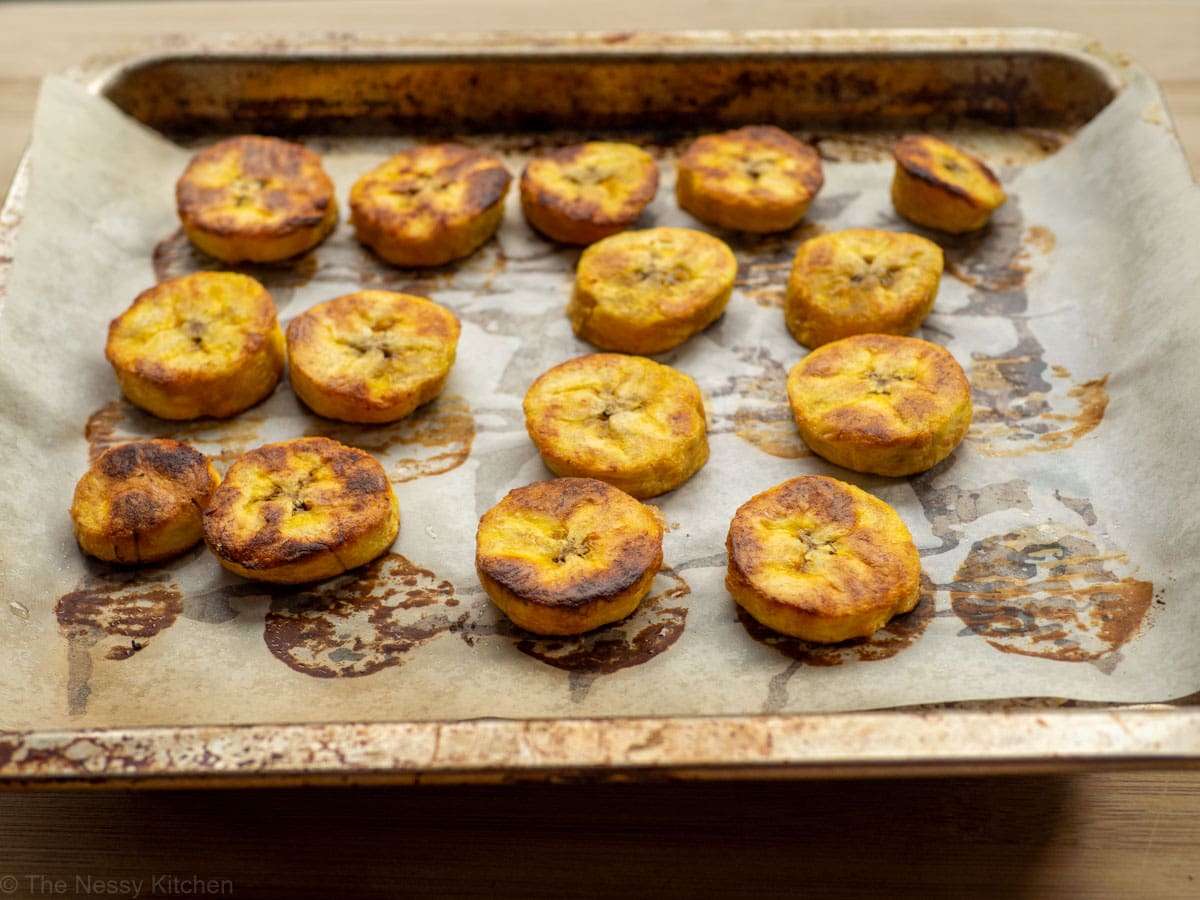 Leftovers and Storage
To Store: These baked sweet plantains are best enjoyed fresh. However, you can store leftovers in an airtight container in the refrigerator for up to 4 days.
To Reheat: Place plantains on a baking sheet and bake at 350 for 5-10 minutes until warmed and crisp. Or you can reheat them in the microwave (but they will no longer be crispy).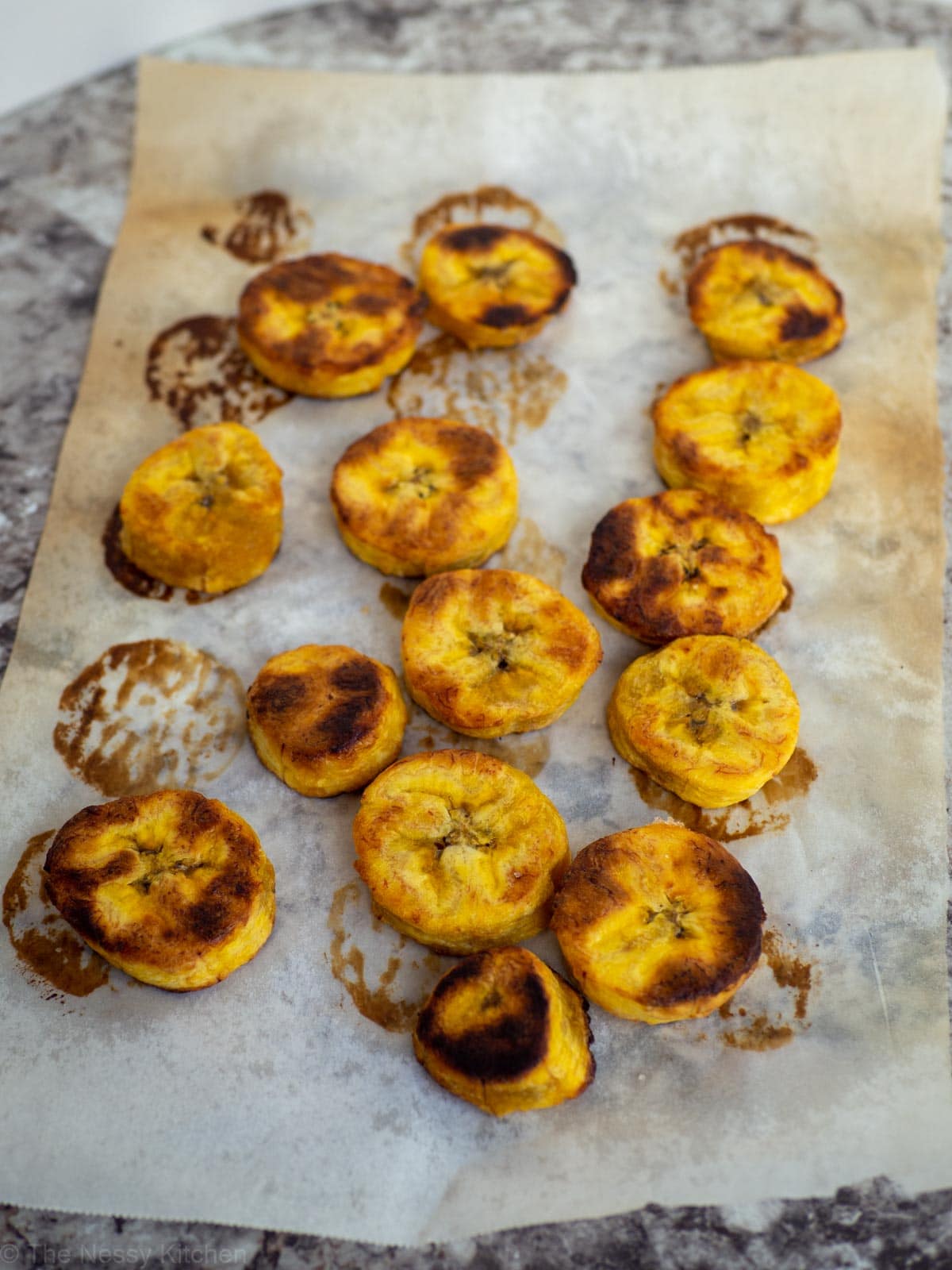 Make it Your Own
If you would like to change up the flavour of these, feel free to play around with adding seasonings! Some possible tasty additions would be:
Serving Ideas
Try these Sweet Baked Plantains as a fun snack or appetizer! They are also a tasty option for a side dish with:
What are plantains?
Plantains are a cousin of bananas. They have a thicker skin and are starchier. Unlike bananas, they are typically eaten cooked (they aren't very good raw- almost like eating a raw potato!).
Are plantains healthy?
Plantains are a source of fiber, potassium and magnesium as well as vitamins A, B-6 and C.
Where can I buy plantains?
Plantains can typically be found in most grocery stores. They are often in the produce section near bananas.
What is the difference between a green and a yellow/black plantain?
Green plantains are unripe, harder and starchier. They have a taste that is almost comparable to a potato. As plantains ripen, they become yellow and then black. They get softer and sweeter and start to taste a bit more like a banana.
LET ME PLAN YOUR DINNERS! Get My FREE Meal Plan (Including Grocery List!)>>>
And if you liked this recipe...
...you might also like: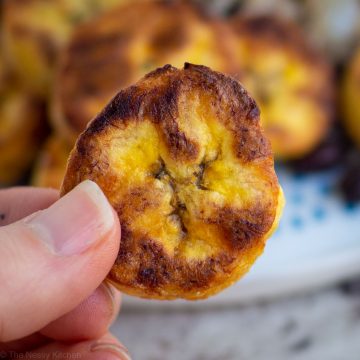 Baked Sweet Plantains
With a crispy exterior, creamy interior and a sweet and salty flavour, Baked Sweet Plantains are easy, wholesome and delicious! Try these in place of fries with your next sandwich or burger.
Print
Pin
Rate
Servings:
(~6-8 pieces each)
Ingredients
1

ripe plantain

1

teaspoon

avocado oil

¼

teaspoon

fine sea salt
Instructions
Preheat the oven to

450

°F

.

Peel and cut plantains into ½ inch thick slices. Toss to coat with olive oil and salt and arrange in a single layer on a silicone mat or parchment lined baking sheet.

Bake for 10 minutes. Flip. Bake for an additional 8-12 minutes until browned and crisp on the outside and tender on the inside.
Notes
Leftovers
Store leftovers in an airtight container in the refrigerator for up to 3 days. To reheat, place a baking sheet in the oven at 350 F for 5-7 minutes or rewarm in the microwave.
Nutrition
Calories:
129
kcal
|
Carbohydrates:
29
g
|
Protein:
1
g
|
Fat:
3
g
|
Saturated Fat:
1
g
|
Polyunsaturated Fat:
1
g
|
Monounsaturated Fat:
2
g
|
Sodium:
294
mg
|
Potassium:
436
mg
|
Fiber:
2
g
|
Sugar:
16
g
|
Vitamin A:
1009
IU
|
Vitamin C:
16
mg
|
Calcium:
3
mg
|
Iron:
1
mg
Did you make this recipe?
Let me know what you thought in the comments below!
More Side Dishes!