Wondering what to serve with Tomato Soup? I've got you covered! I've compiled a list of 30+ of the best options to serve with tomato soup that pair perfectly with this classic. From salads and sandwiches to toppings and more, I've got plenty of ideas for you!
Jump to: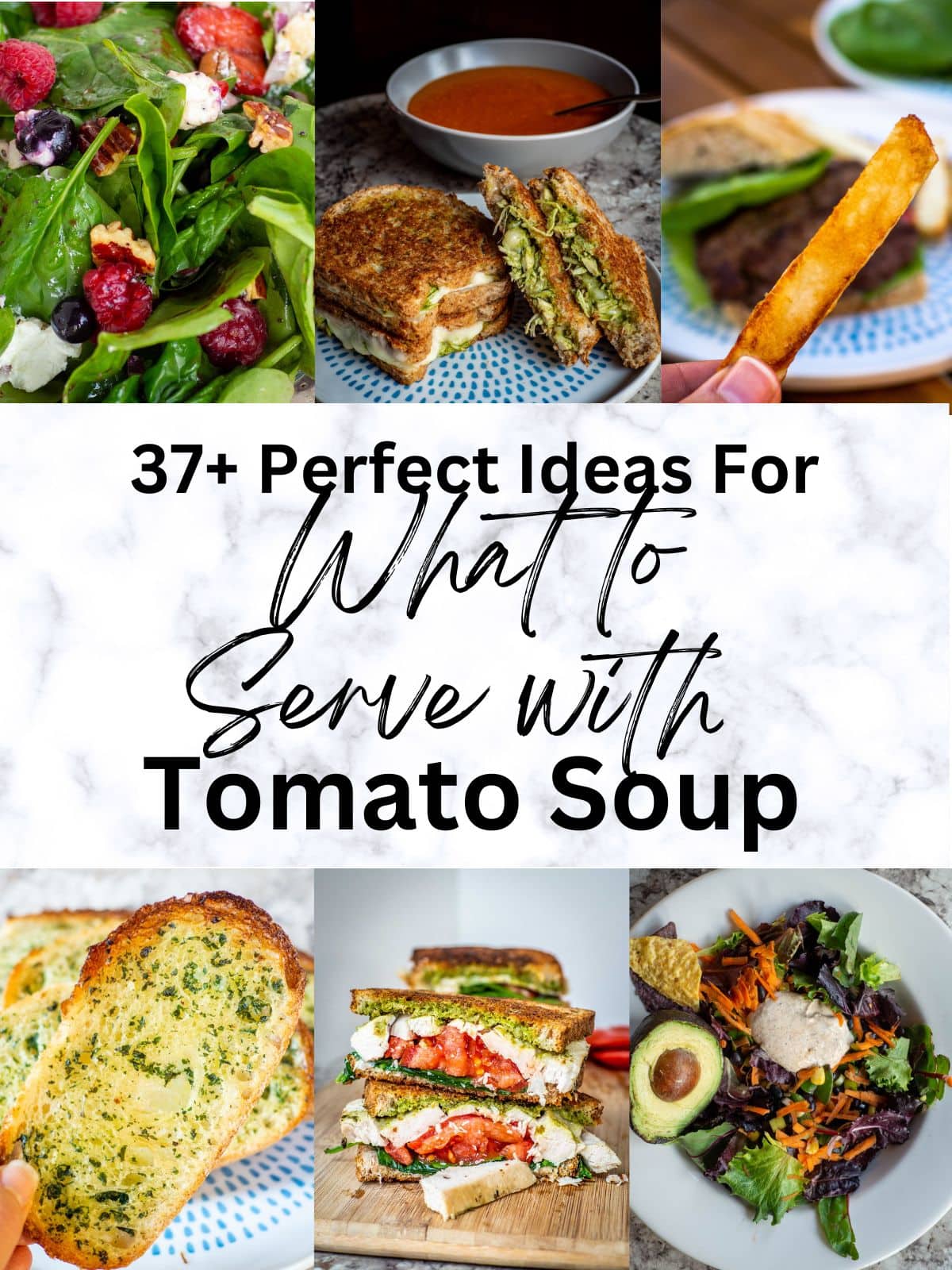 When it comes to tomato soup, I'm working on being a bit more open-minded when it comes to side dishes.
To me, not much beats a grilled cheese sandwich and tomato soup- they're best friends.
But while tomato soup and grilled cheese is always a good choice, it is superb served with so many things!
It would be a shame to limit this comfort food to just one side. And so I've come up with this extensive collection of recipes to make for the next time you whip up a batch of tomato soup.
I hope this list gives you plenty of inspiration!
And in case you need a recipe, try my Cherry Tomato Soup- simple and delicious, it is the perfect way to use up your fresh tomatoes.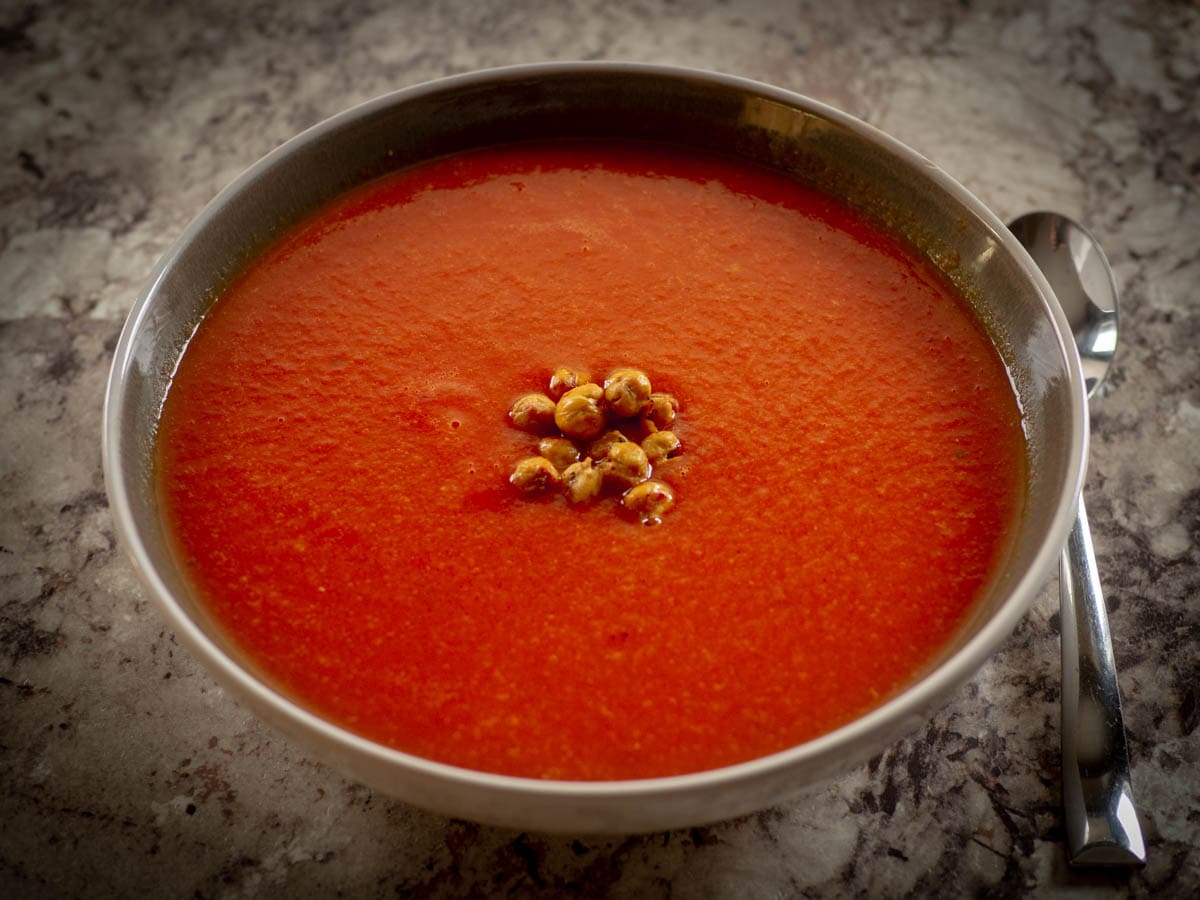 Toppings
Adding the best toppings is sure to jazz up any bowl of tomato soup! You can't go wrong with any of these ideas:
Bread
There's just something about having a nice hunk of crusty bread to sop up the last of any soup bowl. You can't go wrong serving your tomato soup with: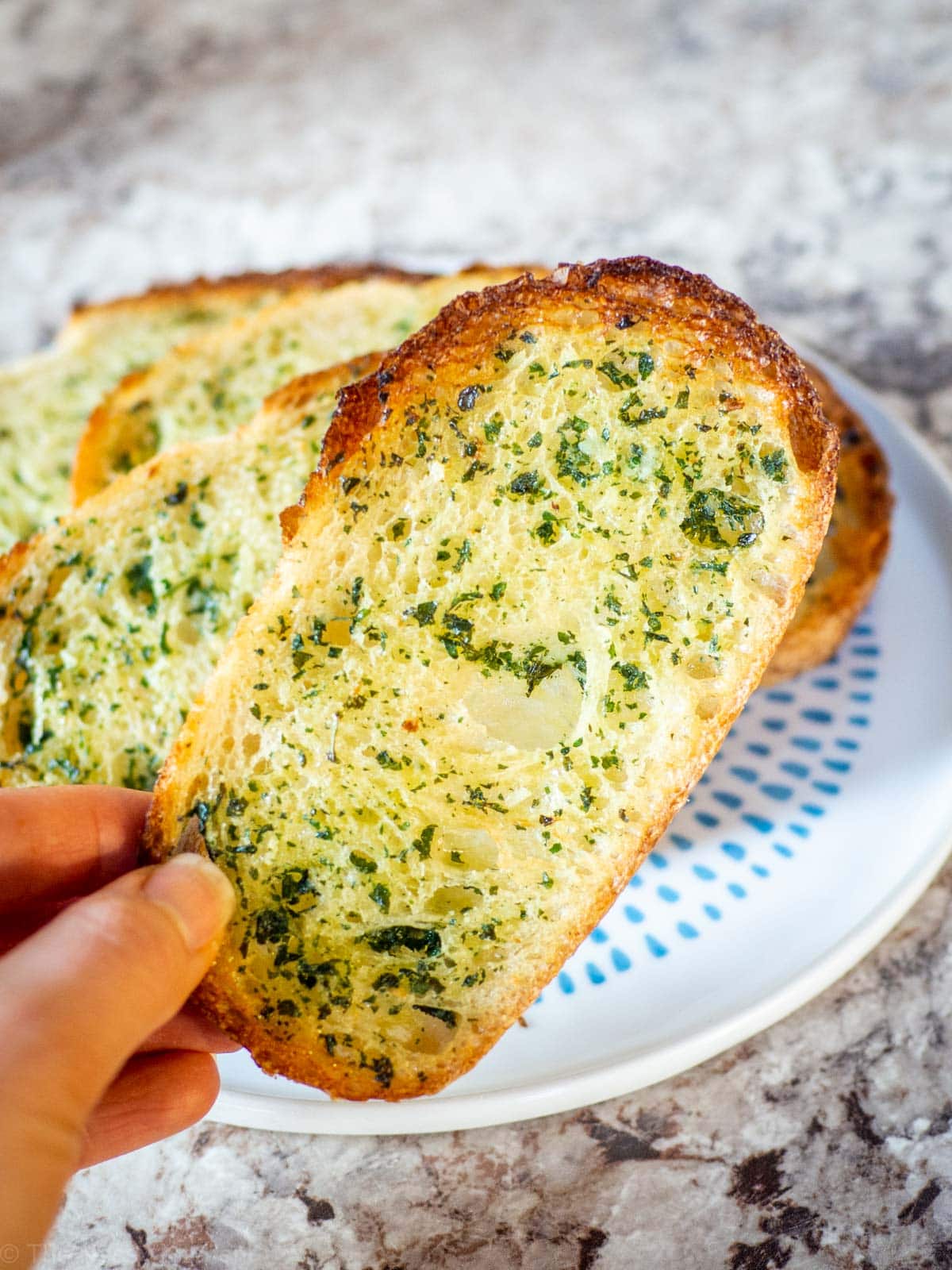 Sandwiches
Not much beats soup with a good sandwich! From paninis and grilled cheese sandwiches to quesadillas and more, you'll love your tomato soup alongside any of these simple meals.
Grilled Cheese Sandwiches (Classic combination!)- Stick with classic cheddar cheese or experiment with using different types of cheese such as Monterey jack.
BLT- Another classic sandwich that makes a great side to a bowl of creamy tomato soup.
Chimichurri Chicken Sandwich- This is my favorite recipe to serve with a bowl of homemade tomato soup. Melted cheese, fresh and flavorful shredded chicken and golden brown buttery bread- YUM!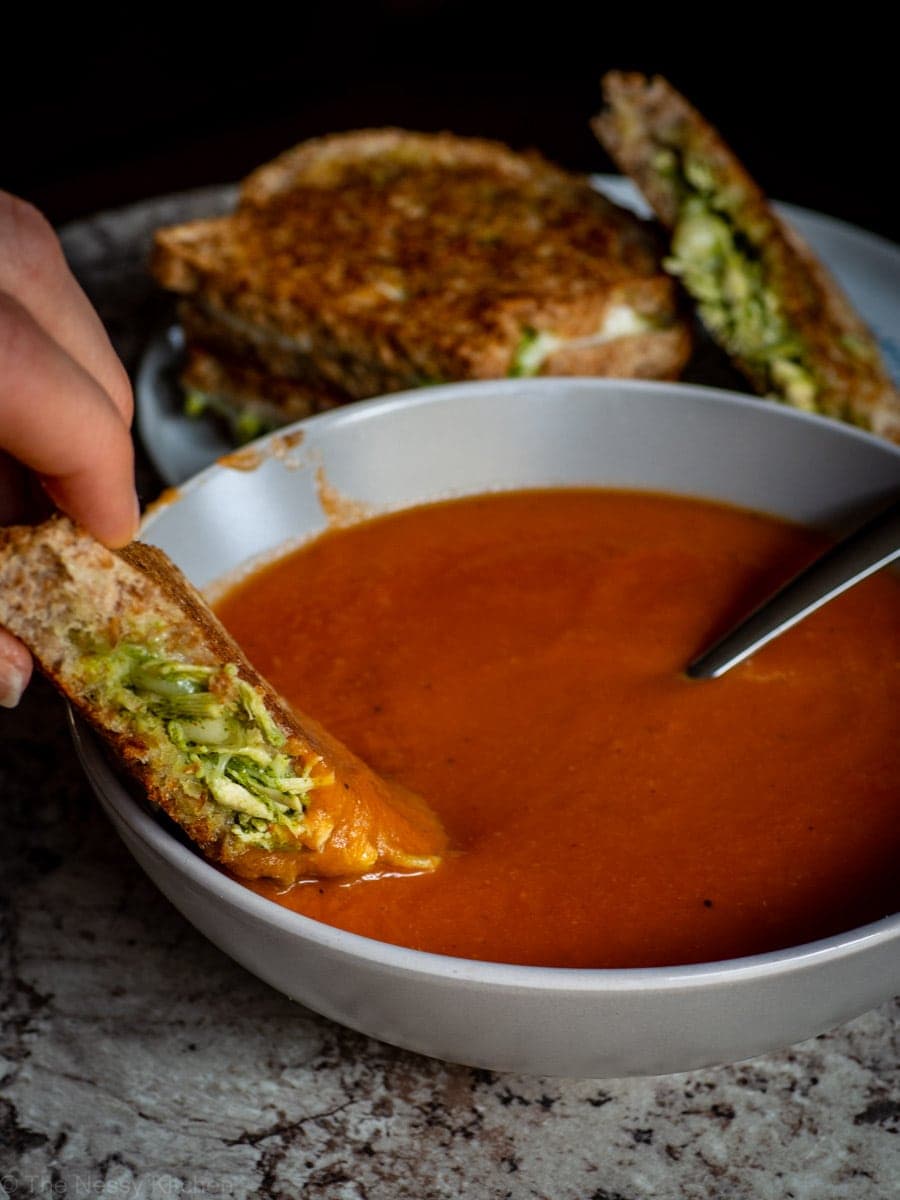 Italian Sausage Quesadilla- Spicy sausage and gooey cheese combine in this pizza-dilla. A bowl of homemade tomato soup would make the perfect complement and is a great alternative to the tomato sauce dip in the recipe.
Grilled Tuna Melt- Tuna melts are a great way to turn your bowl of soup into a protein-packed and filling meal.
Turkey Pesto Panini- The fresh basil flavors of pesto pair perfectly with some hot tomato soup.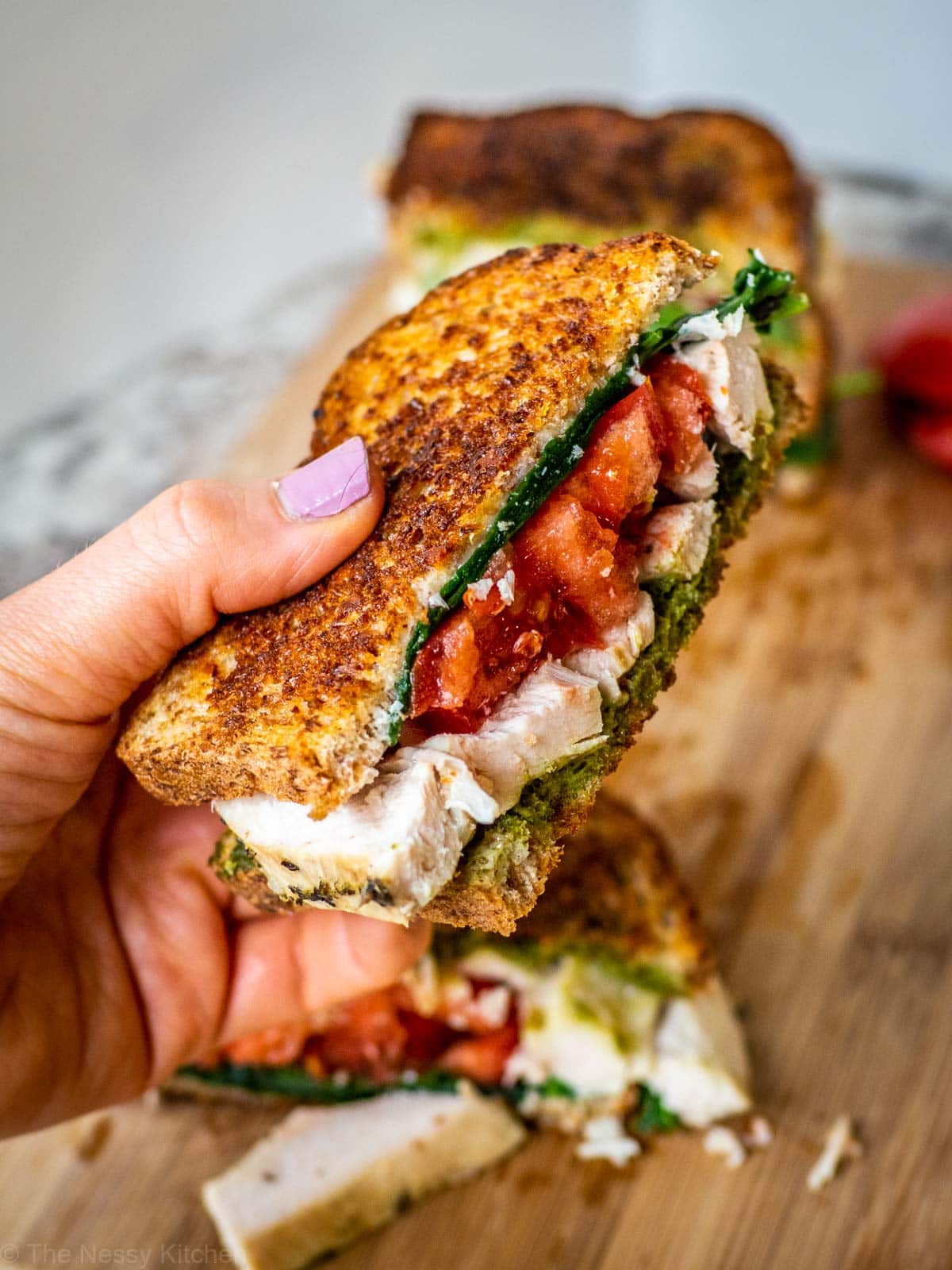 Salads
Soup and salad is always a winning combination. Enjoy your bowl of tomato soup with one of the following for a extra veggie packed meal.
Avocado Salad- A fresh and creamy avocado salad is a great option with a hot bowl of tomato soup.
Mediterranean Salad- Filled with healthy ingredients, this crunchy vegetable salad is tasty alongside some creamy soup.
Mixed Berry Spinach Salad- A simple salad of spinach, berries, goat cheese and crunchy pecans, this makes an excellent choice for serving with your soup.
Shrimp Ceviche- Made with fresh ingredients, this is a great option alongside some tomato-based soups.
Santa Fe Salad- Full of so much delicious flavor, your taste buds will love this tasty dish.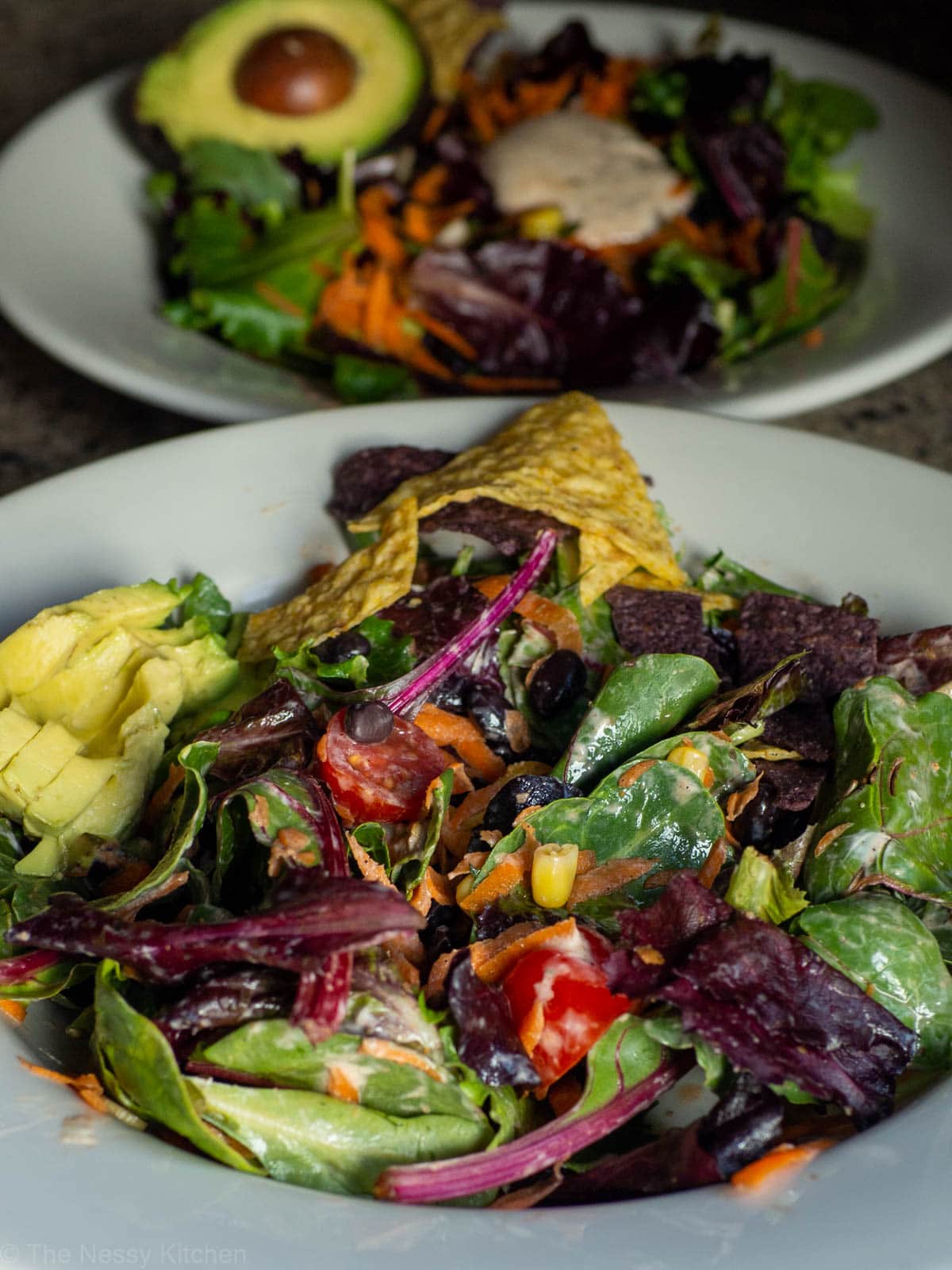 Vegetables
If you're looking for healthy sides dishes for your soup bowl, one of these veggie recipes would be a good idea.
Main Course Meats
Make your tomato soup an appetizer to a multi-course meal by serving it as a starter to one of these main courses.
Finger Foods
Finger foods are fun and great choice for a side with almost anything- simple tomato soup included!
Mozzarella Sticks- Melty mozzarella cheese on the inside and a crispy exterior, mozza sticks and classic tomato soup make the perfect combination! Check out this baked version.
French Fries- What isn't a side of fries the perfect match for?!
Baked Onion Rings- Crispy onions are a delicious complement to tomato soup. They are also a tasty topping!
Beef and Onion Pizza- One of my favorite restaurants, Famoso, serves their Tomato Bisque with a small pizza and it is amazing! Such a great alternative to grilled cheese and tomato soup.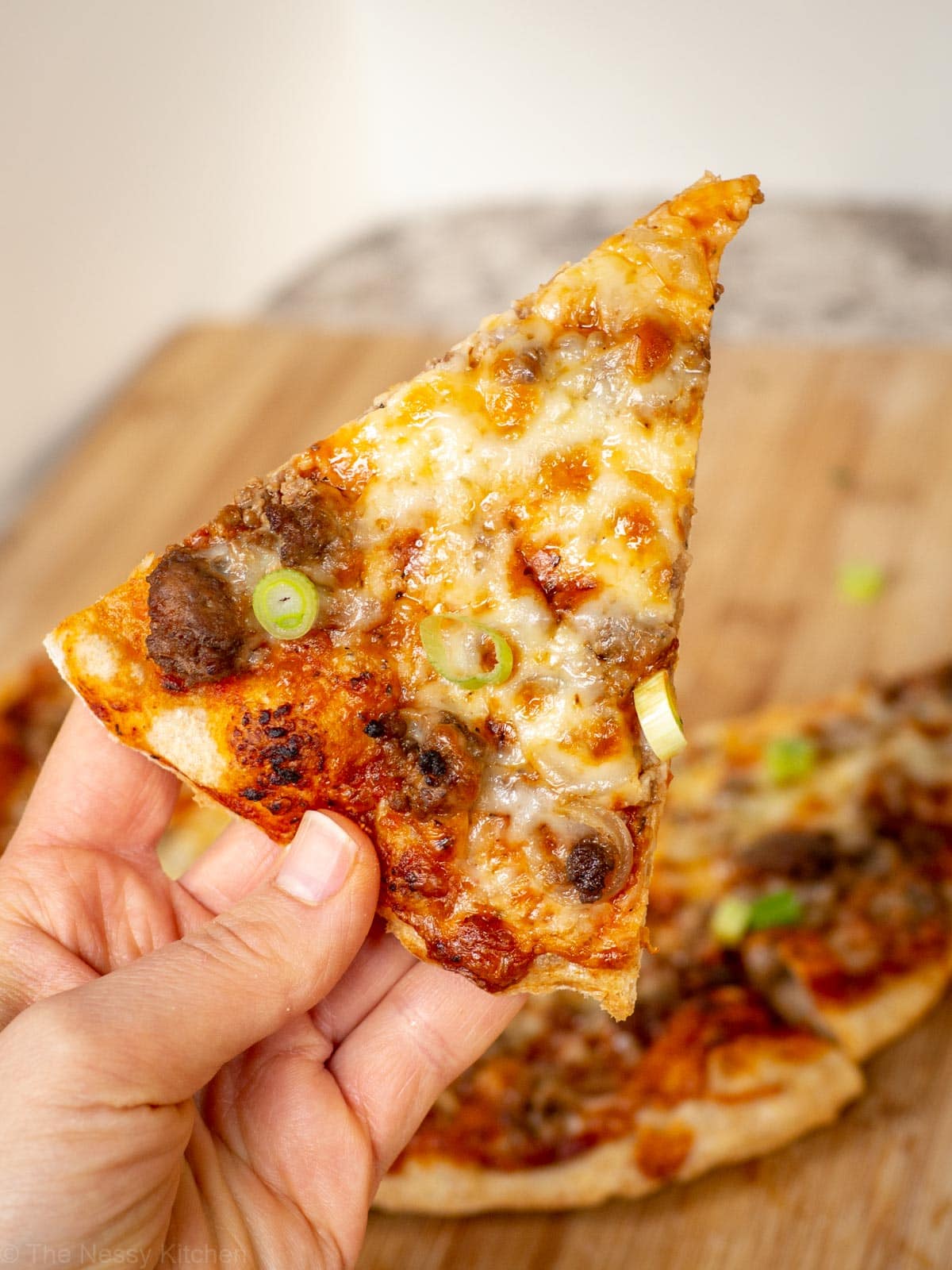 Hopefully you have found plenty of inspiration for what to serve with your tomato soup in this post! If you're looking for a soup recipe, I'm sure you'll love my Simple Tomato Soup.
Soup Recipes