Nothing is better than fresh, homemade bread! Whether you are new to baking yeasted bread or are a seasoned baker, you'll love this Honey Oat Bread recipe!
Made with 100% whole wheat flour and just 6 other basic ingredients, you can have fresh bread in less than 3 hours start to finish.
Plus this bread is naturally sweetened, dairy free and easily modified to be vegan!
The Ingredients
Oats- This recipe turns out best with large flake rolled oats but quick oats will also work.
Honey- Brown sugar or maple syrup could be used instead.
Water
Yeast- I use instant active dry yeast for this bread. I have not tested the recipe with a different yeast so I can't be sure of rise times. Let me know if you do though!
Sea Salt
Olive Oil- Avocado oil or softened butter also work!
Whole Wheat Flour- All purpose flour or bread flour can be used instead. Or you can use a combination for a less pronounced whole wheat flavour.
The Method
"Cook" the oats with honey by allowing them to sit in hot water.
Proof the yeast. To proof the yeast, just sprinkle it on top of the warm water (no need to stir it in). The optimal temperature to add the yeast is 110 F so if you have a thermometer, feel free to check! If after 5-10 minutes the yeast is not foamy, do not proceed with the recipe. Check to see if your yeast is expired and start again with fresh yeast. Otherwise you might end up wasting your ingredients on a bread that won't rise properly!
Mix the dough.
Knead.
First rise.
Shape the loaves.
Second rise.
Bake.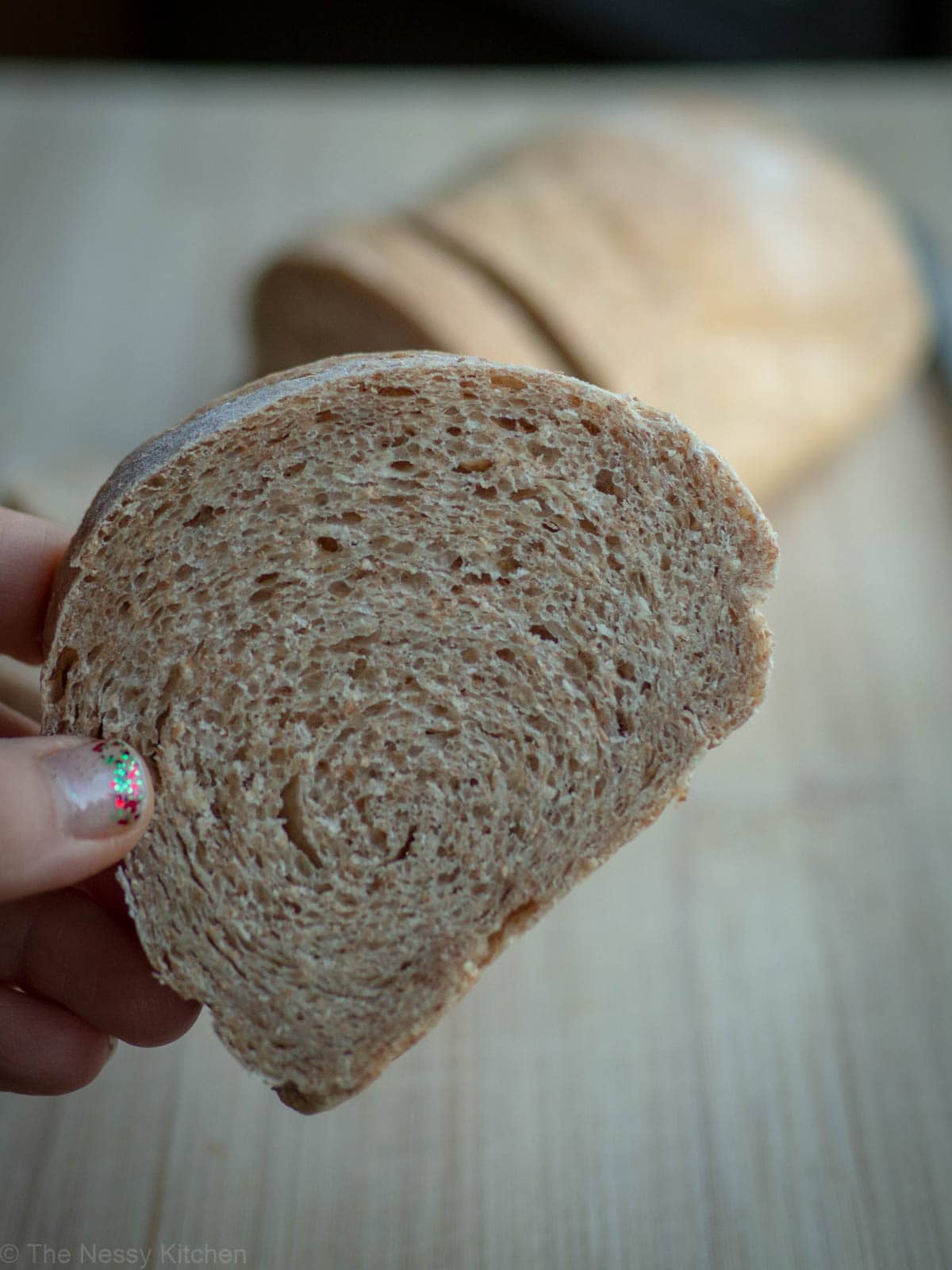 Leftover Storage
Store leftover bread in an airtight bag at room temperature for up to 3 days or freeze for up to 3 months.
Ways to Use this Honey Oat Bread
There are so many ways to enjoy this bread!
Dietary Notes
LET ME PLAN YOUR DINNERS! Get My FREE Meal Plan (Including Grocery List!)>>>
If you have dietary restrictions, check the packaging of specific ingredients that you use to ensure they are compliant. This recipe is:
Dairy Free
Vegetarian
Vegan- If you use maple syrup or brown sugar in place of honey.
Tips and Troubleshooting
No stand mixer? You can still make this bread with a bit of arm muscle! Mix the dough in a large bowl with a wooden spoon. Then knead the bread for about 5 minutes by hand.
Yeast didn't get foamy? Check to ensure the yeast isn't expired. Another common culprit could be adding the yeast while the water was too hot.
If you want to make one large loaf instead of two medium sized loaves, you can skip dividing the dough in half. Just roll out all of the dough into a 9x18 inch rectangle and roll up as per the directions. Bake time will increase to closer to 35-45 minutes.
And if you liked this recipe...
...you might also like: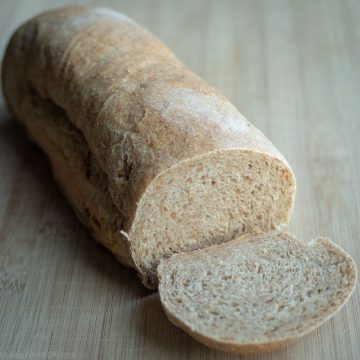 Whole Wheat Honey Oat Bread
Nothing beats fresh, homemade bread! Made with whole wheat flour and just 6 other basic ingredients, it is a great bread recipe for yeast beginners.
Print
Pin
Rate
Servings:
loaves (24 slices)
Ingredients
½

cup

large flake rolled oats

3

tablespoon

honey

1 and ¾

cups

boiling water

2 and ¼

teaspoon

instant active dry yeast

3

tablespoon

olive oil

1 and ½

teaspoon

fine sea salt

3 and ¾

cups

whole wheat flour
Instructions
In the bowl of a stand mixer fitted with a dough attachment, mix together the oats, honey and boiling water. Leave sit for 20 minutes.

After 20 minutes, the water should be about

105-115

°F

. Sprinkle the yeast on top of the water, cover with a kitchen towel and leave sit for 5-10 minutes until yeast is active and foamy.

Add the salt, olive oil and 3 and ½ cups of flour. Turn the mixer on low until combined, about 1 minute. Next, increase the mixer speed to medium high to knead the dough for 3-5 minutes. The dough should be soft, barely sticky and should pull away from the edges of the bowl. If it seems sticky, add more flour, 1 tablespoon at a time. I always end up using 470 grams of flour for this recipe.

Grease a large bowl and place the dough inside. Cover with a kitchen towel and allow to raise until doubled in size, about 1 hour. Meanwhile, lightly grease two 9x4 inch loaf pans.

After the dough has raised, lightly flour the counter, a rolling pin and your hands. Punch down on the dough to remove any air bubbles. Turn the dough onto the prepared counter surface and use a spatula or bench cutter to cut it in half. Take one half of the dough and roll it out into an approximately 9 inch by 18 inch rectangle (it doesn't have to be perfect). Next, starting at one of the short ends, roll the dough all the way to the other end so that you have a cylinder that is approximately 9 inches long. Place the roll seam side down in one of the prepared loaf pans. Repeat with the second half of the dough. Once again, cover both loaves and allow to raise until doubled in size, about 1 hour.

Meanwhile, after 30 minutes, preheat the oven to

350

°F

.

Once the loaves have doubled in size, place them in the oven and bake for 30-35 minutes until cooked through (

195

°F

).

Remove loaves from oven and allow to cool in pan for 5 minutes. Then, use a butter knife to cut around the edges and turn the loaf out onto a cooling rack. Allow to cool completely.

Cut and serve as desired!
Notes
Leftovers
Store leftovers in an airtight bag for up to 3 days for freeze for up to 3 months.
Nutrition
Serving:
1
slice
|
Calories:
97
kcal
|
Carbohydrates:
17
g
|
Protein:
3
g
|
Fat:
2
g
|
Saturated Fat:
1
g
|
Polyunsaturated Fat:
1
g
|
Monounsaturated Fat:
1
g
|
Sodium:
147
mg
|
Potassium:
86
mg
|
Fiber:
2
g
|
Sugar:
2
g
|
Vitamin A:
2
IU
|
Vitamin C:
1
mg
|
Calcium:
8
mg
|
Iron:
1
mg
Did you make this recipe?
Let me know what you thought in the comments below!
More Tasty Sides!