Whether your are a pumpkin fanatic or aren't too fond of it, I think you should give this Chicken and Rice Pumpkin Soup a try!
For the pumpkin fans, there's an entire can of pumpkin in one pot! For the pumpkin skeptics, it doesn't have a strong flavor. Rather, it helps to provide a thick soup that almost tastes creamy!
As a bonus, it cooks entirely in one pot in less than an hour including prep. Filled with rice, chicken and vegetables, it provides an all in one meal with minimal effort or ingredients.
The only seasonings are pepper and salt so the flavour is a lovely medley of seemingly simple ingredients that simmer together and end up being so tasty!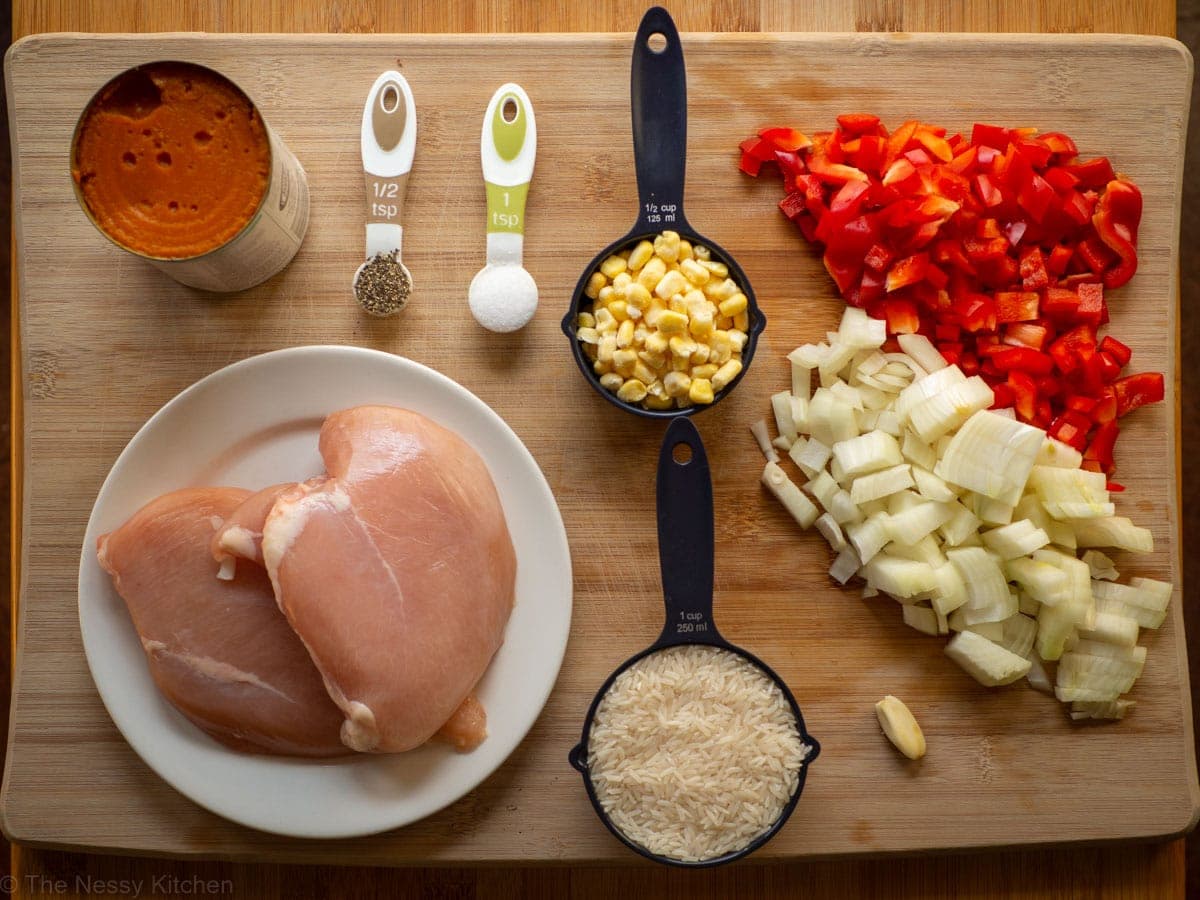 The Ingredients
Olive Oil- You could use butter or another neutral cooking oil instead.
Yellow Onion- Or use a red onion.
Red Bell Pepper- Feel free to use a different colour!
Garlic- You could substitute 1 teaspoon of garlic powder.
Water- You can add more or less depending on the thickness that you want.
Pumpkin- Be sure to use Pure Pumpkin Puree (not filling!). You need one 398mL can (14 oz) or half of a 796mL can (28 oz) for this soup. You can substitute 1 and ½ cups of homemade instead.
Corn- Feel free to add more or less. You can use canned, frozen or fresh.
Long Grain Brown Rice- I find long grain brown rice holds its shape the best in this recipe. However, you can use long grain white rice instead (I had to the day I took these photos because I was out of brown!) but it could end up getting a bit overcooked.
Chicken- Boneless skinless chicken thighs will also work. Or see my note below to make the soup vegan.
Sea Salt- Taste and add more if needed at the end.
Black Pepper
The Method
1. Sauté vegetables. In a large pot, sauté the onion and bell pepper with the salt and pepper until softened. Stir in the garlic.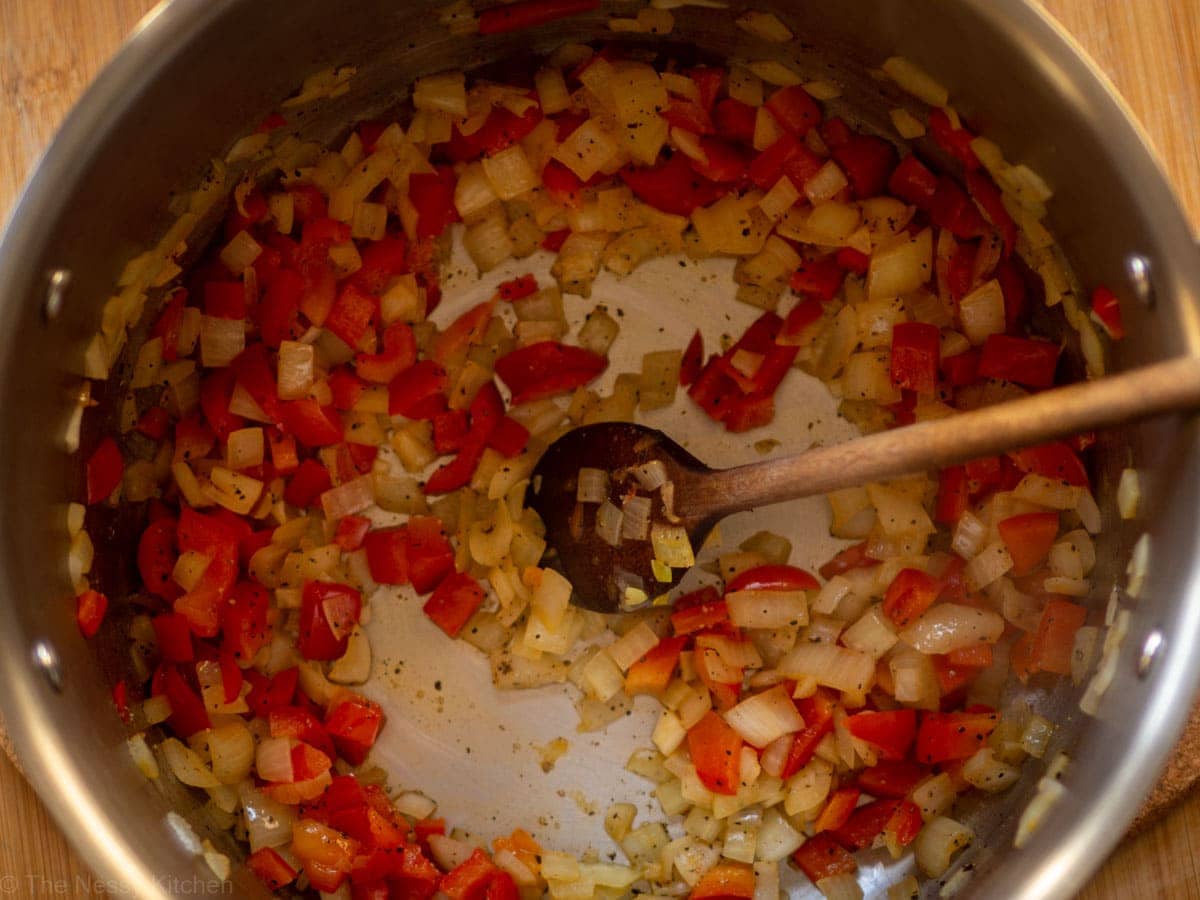 2. Add remaining ingredients and simmer. Add the water, pumpkin, corn and rice and stir until well combined and smooth. Once combined, add the chicken, cover and allow to simmer. Stir every 5-10 minutes, scraping the bottom to make sure that the rice isn't sticking to it.
3. Remove and shred chicken. Once the chicken is cooked through (165 F), use a fork or slotted spoon and remove it to a deep bowl. To shred it, I recommend using a hand mixer- trust me, it works so well!! Alternatively, you can shred it with two forks, your fingers (once it has cooled a bit) or simple cut it into bite size pieces.
4. Return chicken to the soup and stir.
5. Serve.
Leftover Storage
To Store: Store leftover pumpkin soup in an airtight container in the refrigerator for up to 4 days or freeze for up to 3 months.
To Reheat: Reheat in the microwave until warmed through. The soup will thicken as it sits, so you might want to stir in a bit of water (1-2 tablespoons).
Make it Your Own!
Use Less Rice- I used to make this soup with just ½ cup of rice but I find that I prefer the ratio of rice in the soup with 1 cup more. If you would like to make it with just ½ cup of rice, reduce the water to 5 cups.
Make it Vegan- The chicken can be omitted if preferred. A can of white or black beans would be a good add to this simple pumpkin soup!
Add more veges! You could definitely increase the amount of onion, peppers or corn. Or add other vegetables. Some that would be tasty additions:

Spinach- stir in a few handfuls of fresh spinach at the end when adding the chicken back in until it is wilted, about 1-2 minutes

Peas- Stir in ½ cup (or more) of frozen peas in the last 10 minutes of cooking
Carrots- Add thinly sliced carrots at the same time as the water, pumpkin, etc.
What to Serve with Pumpkin Chicken and Rice Soup
Although this soup is great all on its own, it would also be perfect for dipping a piece of toasted Honey Oat Bread, alongside a Turkey Pesto Sandwich or topped with some Crispy Roasted Chickpeas. Or with some of Sally's Homemade Cheddar Biscuits as we did the day I took pictures!
Dietary Notes
If you have dietary restrictions, check the packaging of specific ingredients that you use to ensure they are compliant. This recipe is:
Dairy Free
Gluten Free
Nut Free
Paleo - if you omit the corn and rice
Vegetarian/Vegan - if you omit the chicken
And if you liked this...
...you might also like: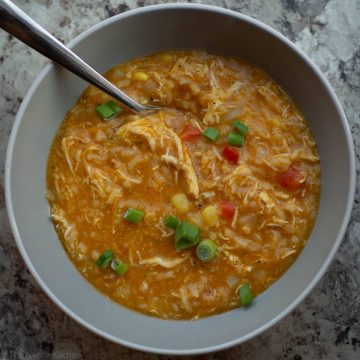 Ingredients
1

tablespoon

olive oil

1

medium yellow onion

diced, about 1 cup

1

red bell pepper

diced, about 1 cup

1 and ½

teaspoon

fine sea salt

¾

teaspoon

black pepper

1

clove

garlic

minced

½

cup

corn

1

cup

long grain brown rice

14

oz can

pure pumpkin

6-8

cups

water

1

lb

boneless, skinless chicken breasts

about 2

¼

cup

green onions

chopped, for serving (optional)
Instructions
In a large pot, heat oil over medium. Add onion, red pepper, sea salt and black pepper and sauté until softened, about 8 minutes. Add garlic and stir until fragrant, about 1 minute.

Stir in the water, pumpkin, corn and rice until well combined. Add chicken, cover and simmer on low for about 30 minutes. Stir every 5 minutes or so to ensure the rice doesn't stick to the bottom.

When the chicken is cooked through, turn the soup to low and remove the chicken to a deep bowl. Shred using a hand mixer. Alternatively, you can shred it with two forks or cut it into bite sized pieces.

Return the chicken to the pot and stir to combine. If you would like the soup to be thinner, you can stir in 1-2 more cups of water.

Serve hot, topped with green onions.
Notes
Leftovers
Store leftovers in an airtight container in the refrigerator for up to 4 days or freeze for up to 3 months. Thaw in the refrigerator and reheat in the microwave. The soup will thicken as it sits so you may need to stir in additional water if desired.
Recipe inspired by Seasons and Suppers.
Nutrition
Calories:
275
kcal
|
Carbohydrates:
36
g
|
Protein:
20
g
|
Fat:
6
g
|
Sodium:
689
mg
|
Fiber:
4
g
|
Sugar:
5
g
Did you make this recipe?
Let me know what you thought in the comments below!
More Delicious Soups!