Inspired by classic chicken tikka masala, a well known and loved Indian recipe, this easy one pot dinner features the same creamy tomato sauce but made dairy free thanks to coconut milk. If you're a busy cook looking to enjoy the taste of this dish but healthier and without the fuss, this recipe is for you!
Jump to: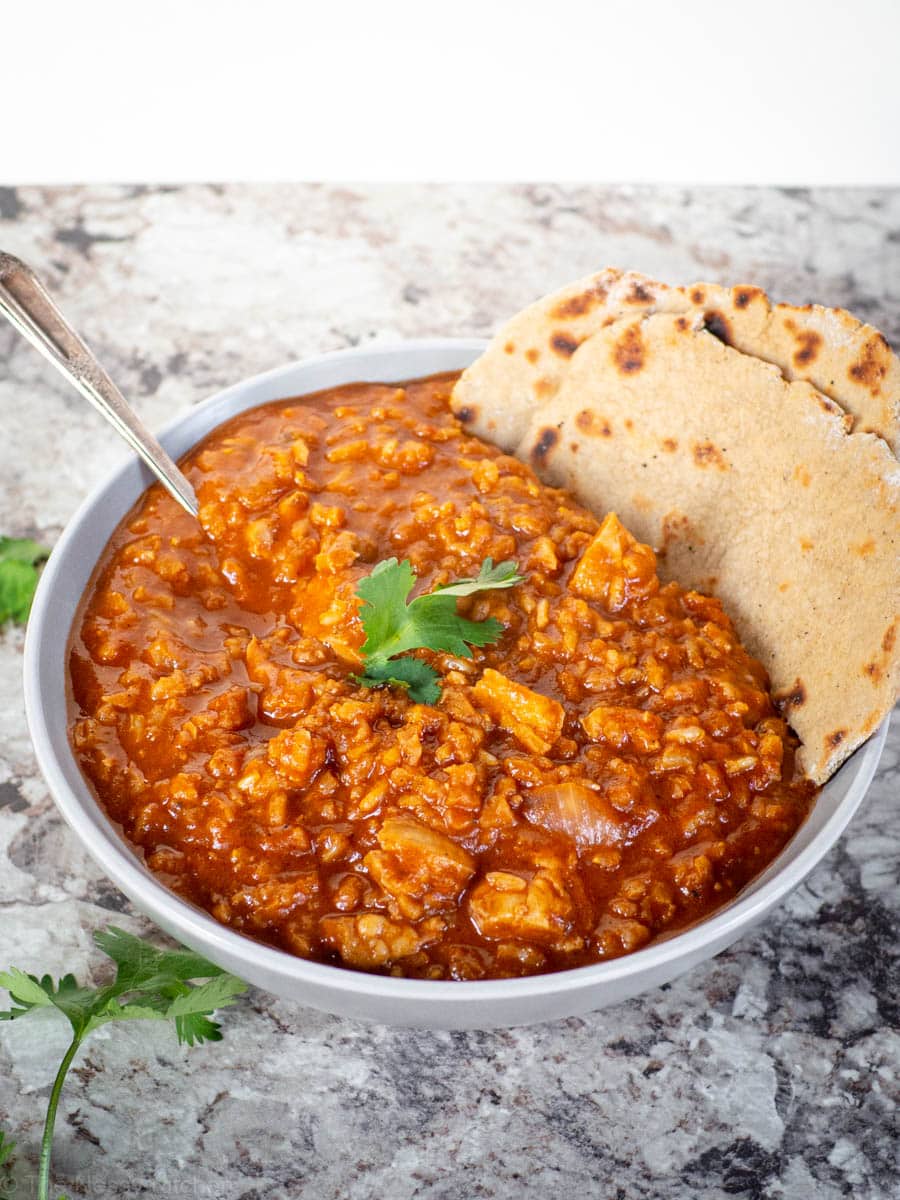 In case you were wondering, you're right, this isn't an authentic chicken tikka masala recipe.
I don't make the chicken and sauce separately and I certainly don't marinate the chicken and roast it on skewers.
In fact, I don't even make rice to serve with it in a separate dish!
But, while this isn't traditional tikka masala, it is the most easy chicken tikka masala recipe that you'll likely find.
It is made with coconut milk in place of heavy cream (which makes it dairy free), cooked entirely in ONE POT and is the kind of dinner that you can easily achieve cooking on a busy weeknight (or the next time you need to do some almost hands-off meal prep).
Tender bits of chicken and rice cook in a flavorful, creamy curry sauce for a dish that combines the delicious flavors of Indian food that you love with the simplicity of everyday cooking.
Often compared to its cousin, Butter Chicken, Tikka Masala tends to be a bit spicier, and you may find that this one dish meal packs a bit of heat. So if you need to, feel free to dial back the cayenne.
The Ingredients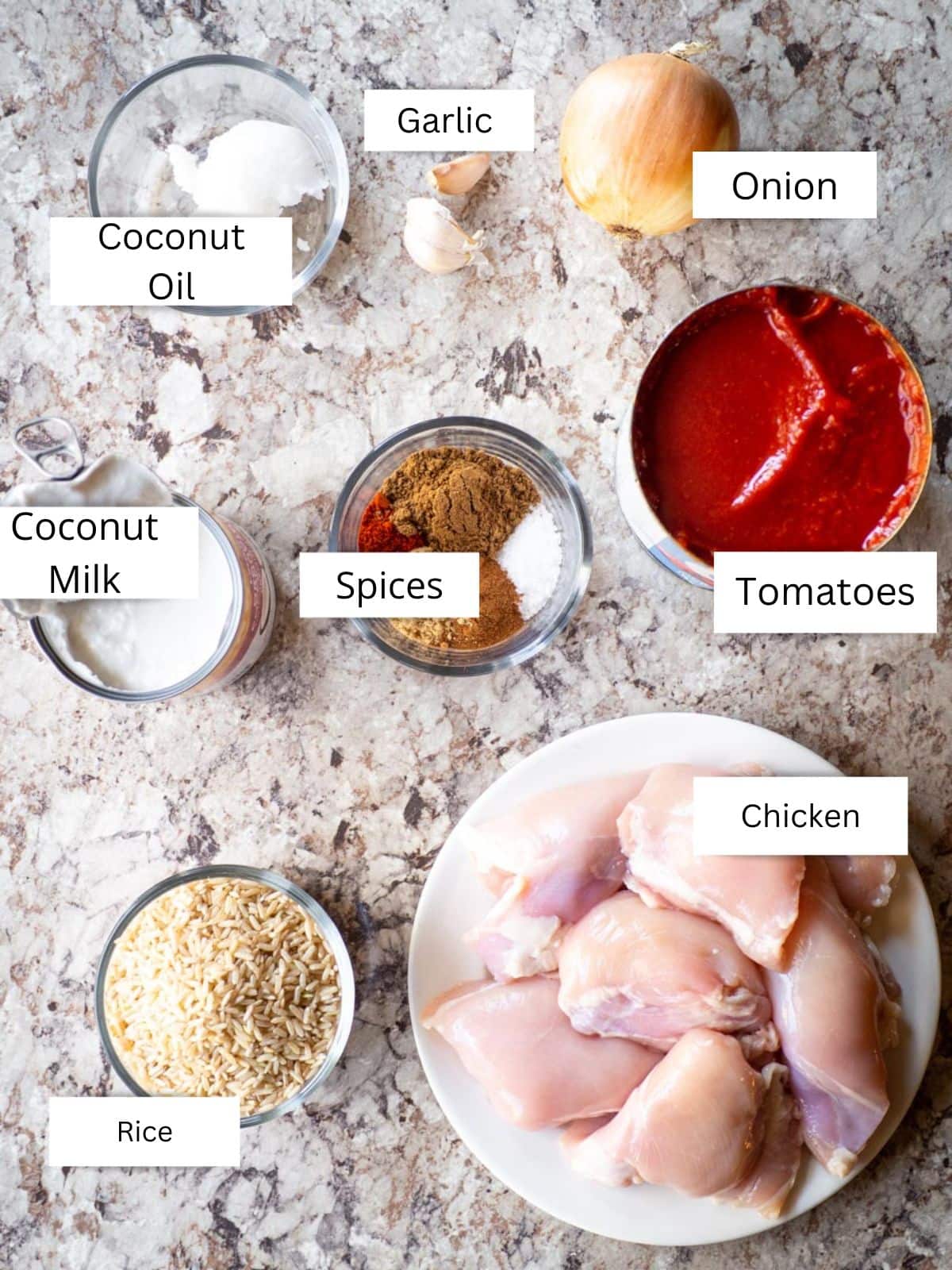 Coconut Oil- Coconut oil works really well with the overall flavour of the dish, but you can substitute olive oil or another neutral cooking oil if needed.
Yellow Onion- If needed, you can substitute with white onions or red onions.
Garlic- Garlic powder (1 and ½ teaspoons) can be used as a substitute for convenience.
Garam Masala- This spice blend is the heart of the recipe, lending the dish its flavor profile inspired by Indian cuisine. It's readily available in most grocery stores' spice sections and should not be substituted or omitted.
Cinnamon, Ginger and Cumin- This combination of spices add layers of warmth and depth to the sauce.
Ground Cayenne Pepper- As written, the dish is very mildly spicy. If you are sensitive to spice, you can omit it or reduce to a pinch of cayenne.
Boneless, Skinless Chicken Thighs- Cooking them whole in the sauce allows for a cleaner cooking process (no dicing raw chicken) but feel free to dice the thighs beforehand. Boneless, skinless chicken breasts can also be used.
Canned Crushed Tomatoes- Unlike traditional tikka sauce, which tends to be chunky, I use crushed tomatoes to add a smoother consistency to the sauce. You can use canned diced tomatoes or 3 cups of fresh tomato puree instead.
Canned Coconut Milk- Full fat coconut milk brings creaminess and a thick sauce to the dish. For a slightly thinner sauce, you can use light coconut milk instead.
Brown Rice- Use long grain rice. If you prefer to use white rice, that will work as well. And if you want to leave it out and cook it separately alongside, you will simply need to reduce the water in the recipe.
Water- If omitting the rice, you will only need to use 2 cups of water rather than 4.
The Method
1. Sauté. In a large pot or Dutch oven, heat coconut oil over medium-high heat. Sauté the onions until softened. Add the garlic and stir until aromatic.
Introduce the spice mixture of garam masala, cinnamon, ginger, ground cayenne pepper, and cumin. Sauté for a couple of minutes, stirring constantly, until fragrant.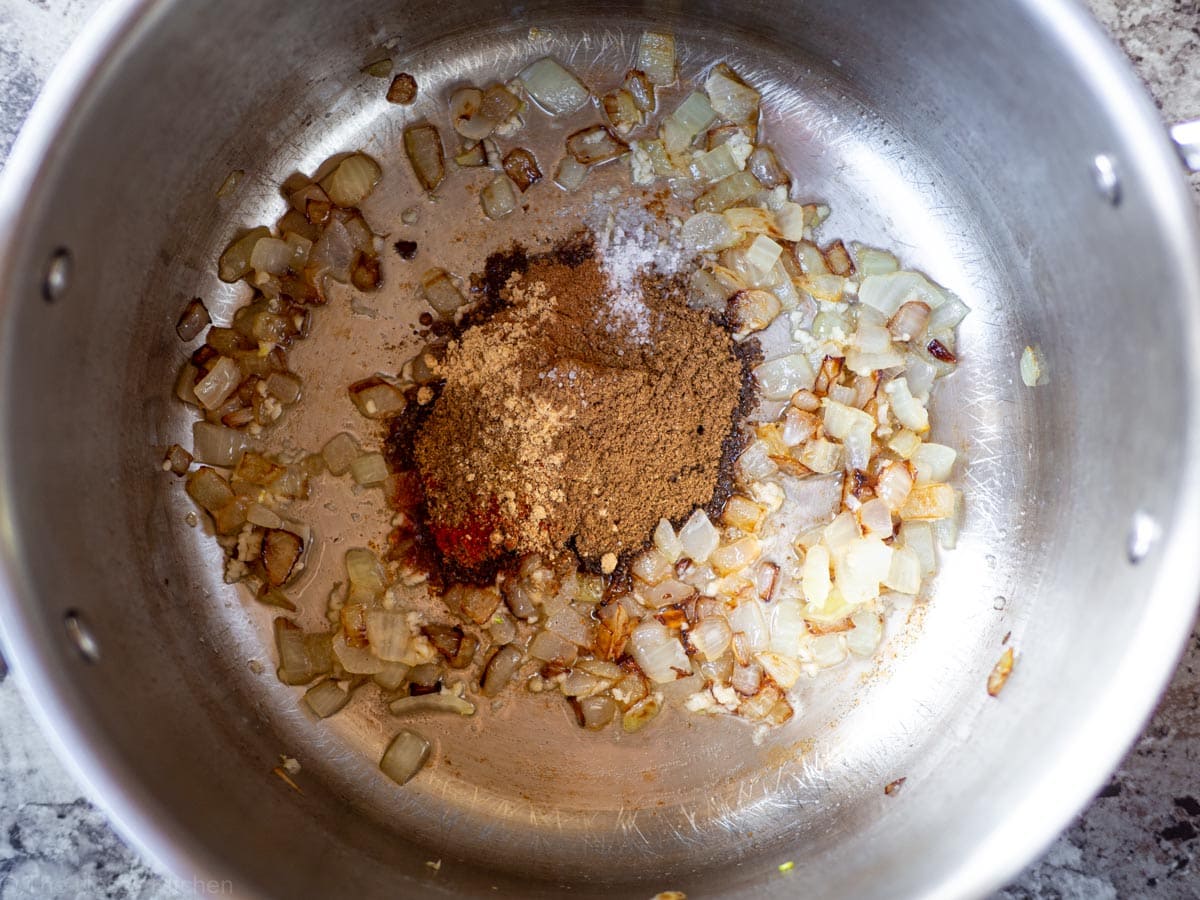 2. Combine. Reduce the heat to medium-low. Add water, canned crushed tomatoes, rice, and coconut milk. Stir gently to combine. Carefully place the chicken pieces into the pot, ensuring they are fully submerged in the sauce.
3. Cook. Cover the pot and let the mixture simmer for 30 minutes. Stir occasionally and scrape the bottom to prevent the rice from sticking. The chicken is cooked when its internal temperature reaches 165°F (74°C).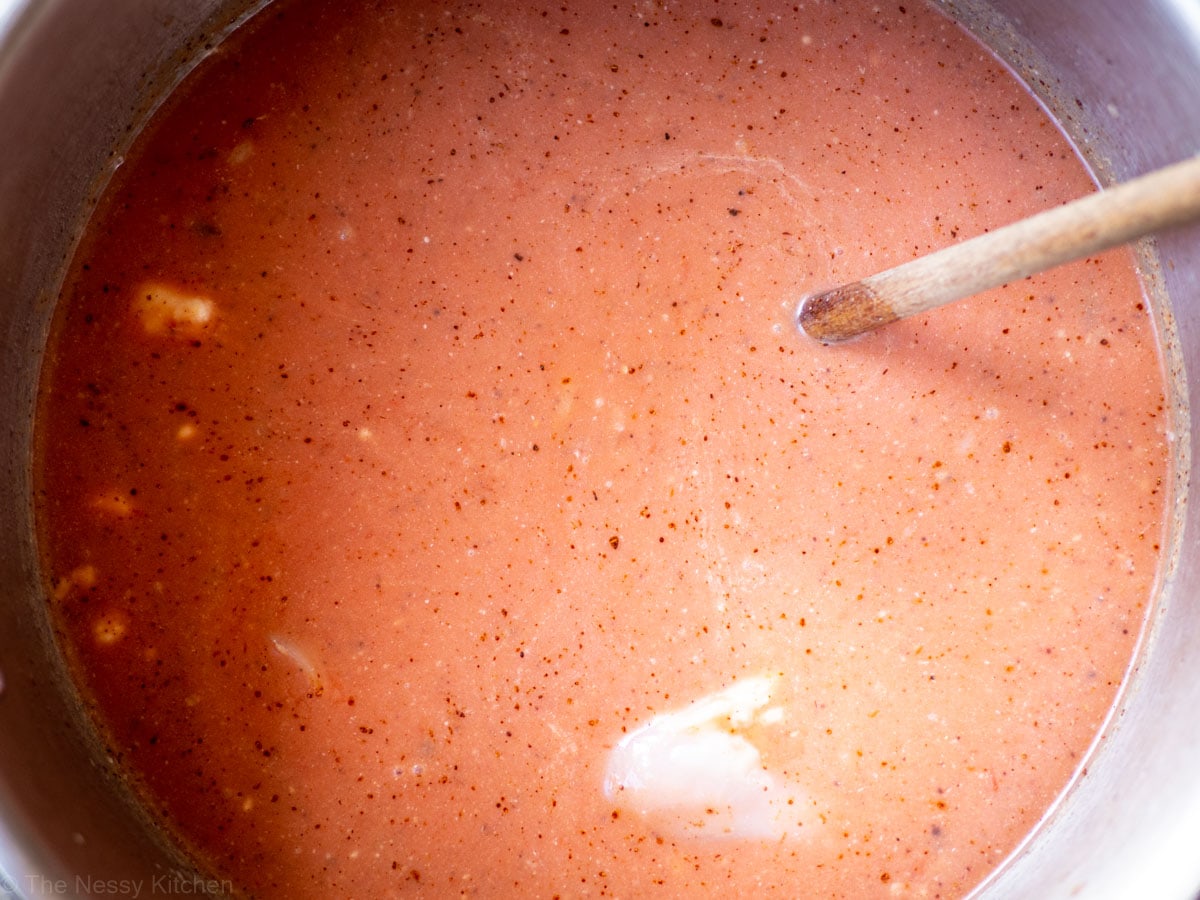 4. Cut the Chicken. Using a fork or a slotted spoon, transfer the cooked chicken to a cutting board. Dice the chicken into bite-sized pieces. Alternatively, you can shred the chicken.
5. Finish. Return the diced or shredded chicken to the pot. Stir gently to combine all the ingredients.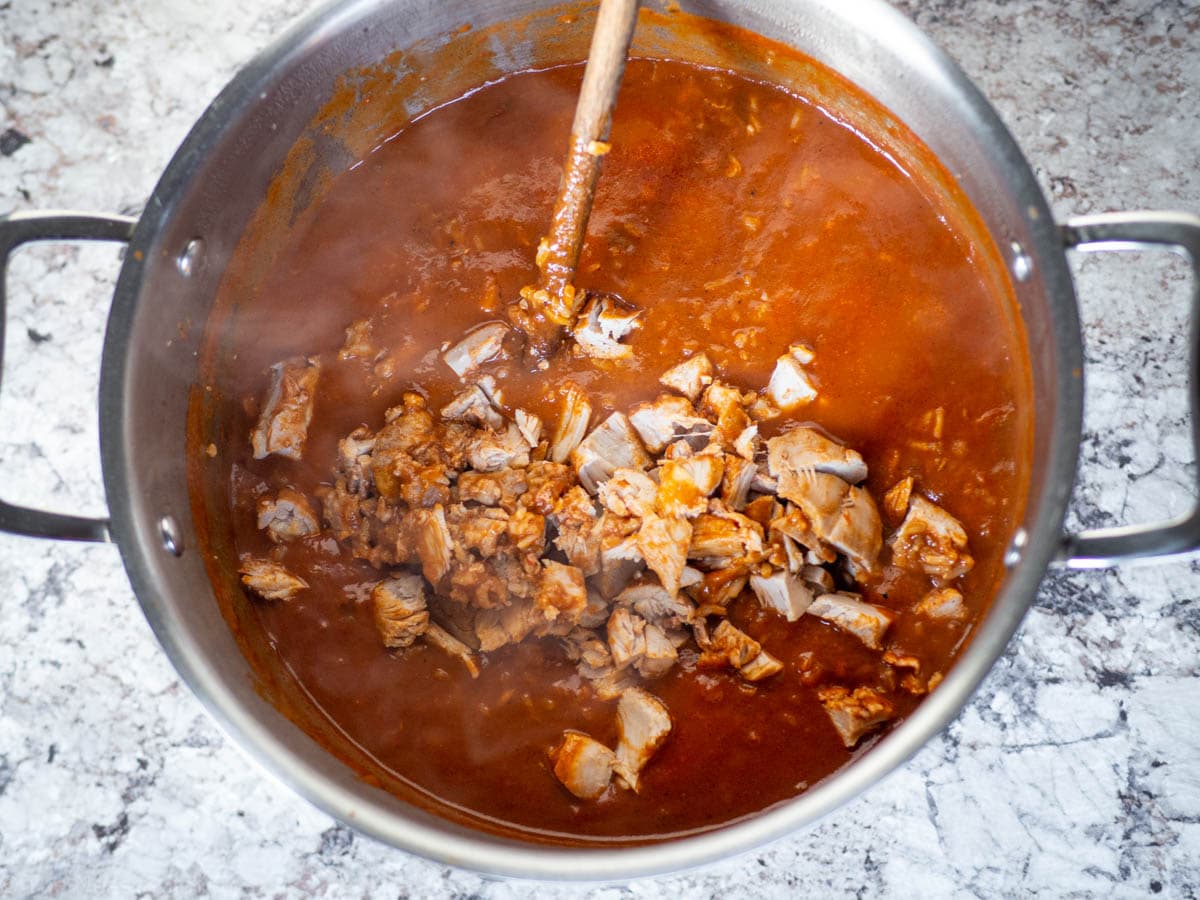 6. Serve.
Leftovers and Storage
To Store: Transfer leftover healthy chicken tikka masala to an airtight container and refrigerate for up to 4 days.
To Freeze: Store in a freezer-safe container for up to 3 months. Thaw in the refrigerator overnight before reheating.
To Reheat: Reheat in the microwave until warmed through or gently warm on the stovetop over medium heat with a splash of coconut milk or water as needed.
Make it Your Own
Add Spinach or Kale: Boost your intake of greens by tossing in a few handfuls of spinach or baby kale after removing the chicken and allow it to wilt.
Include Potatoes: For a heartier dish, throw in diced potatoes (up to 2 cups) when you add the rice. They'll soak up the flavors, making your meal more substantial.
Add Vegetables: Include veggies like carrots, cauliflower, broccoli or bell peppers by stirring them in at the same time as the rice.
Rice-Free Version: Skip the rice and reduce the water to 2 cups instead.
Chickpea Tikka Masala: For a vegetarian twist, replace the chicken with 2 cans of cooked chickpeas.
Shrimp Variation: Swap the chicken with an equal amount of shrimp. Since it doesn't take as long to cook, add it on top after 20 minutes and then stir to incorporate once cooked through and pink.
Slow Cooker Chicken Tikka Masala: Take a note from Crockpot Yellow Thai Chicken Curry and simply stir all of the ingredients together in a slow cooker. Cook on low for 4-6 hours or high for 2-3 hours. Then remove the chicken, dice it, return it, stir and serve.
Serving Ideas
Garnish your delicious chicken tikka masala with some:
Fresh Cilantro
Toasted Almonds
And while it is hearty on it's own, if you would like, try it served with a side of:
Naan Bread
Rice Cooker Coconut Rice or Cauliflower Rice- especially if you decided to omit it from the recipe.
Mixed Greens Salad
Tips for Success
Adjust Spice Level: Feel free to customize the spice level according to your taste. If you prefer a milder dish, reduce the amount of cayenne pepper. For more heat, add a pinch extra.
Stir Frequently: To prevent the rice from sticking to the bottom of the pot, stir the curry mixture frequently while simmering.
LET ME PLAN YOUR DINNERS! Get My FREE Meal Plan (Including Grocery List!)>>>
And if you liked this recipe...
...you might also like: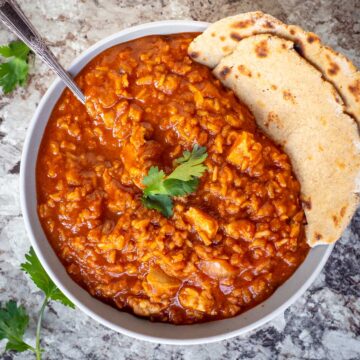 One-Pot Chicken Tikka Masala (With Coconut Milk)
Inspired by the well known and loved Indian recipe, this easy one pot dinner features the same creamy sauce but made dairy free thanks to coconut milk.
Print
Pin
Rate
Ingredients
2

tablespoon

coconut oil

1

small yellow onion

diced

3

cloves

garlic

minced

1 and ½

tablespoon

Garam masala

1 and ½

teaspoon

fine sea salt

1

teaspoon

cinnamon

1

teaspoon

ground ginger

½

teaspoon

cayenne pepper

½

teaspoon

cumin

4

cups

water

1

(28 oz) can

crushed tomatoes

1

(14 oz) can

coconut milk

1.5

cup

uncooked long grain rice

1.5

lb

boneless, skinless chicken thighs

about 6, or 3 chicken breasts
Instructions
In a large pot, heat coconut oil over medium-high heat. Sauté onions until soft, then add garlic. Stir in garam masala, cinnamon, ginger, and a pinch of cayenne pepper. Sauté for a minute until fragrant.

Reduce heat to medium-low. Add water, crushed tomatoes, rice, and coconut milk. Nestle in the chicken thighs. Ensure they are fully submerged. Cover and simmer for 30 minutes, stirring occasionally.

Once chicken reaches 165°F (74°C), remove it to a plate. Dice or shred the chicken.

Return chicken to the pot. Stir gently to combine. Simmer for an additional minute to meld flavors.

Serve hot, garnished with fresh cilantro if desired.
Notes
Leftovers
Store in the refrigerator for up to 4 days or freeze for up to 3 months. Allow to thaw in the refrigerator. Reheat in the microwave or on the stove with a splash of water.
Nutrition
Calories:
364
kcal
|
Carbohydrates:
40
g
|
Protein:
26
g
|
Fat:
11
g
|
Saturated Fat:
5
g
|
Polyunsaturated Fat:
2
g
|
Monounsaturated Fat:
2
g
|
Trans Fat:
0.02
g
|
Cholesterol:
108
mg
|
Sodium:
695
mg
|
Potassium:
451
mg
|
Fiber:
2
g
|
Sugar:
1
g
|
Vitamin A:
101
IU
|
Vitamin C:
2
mg
|
Calcium:
44
mg
|
Iron:
2
mg
Did you make this recipe?
Let me know what you thought in the comments below!