Just 5 simple ingredients are needed for this roasted asparagus and carrots recipe. This easy healthy side dish is a great way to add vegetables to both a weeknight meal or a holiday dinner. Read on for tips, flavor variations and ideas for garnishes.
Jump to: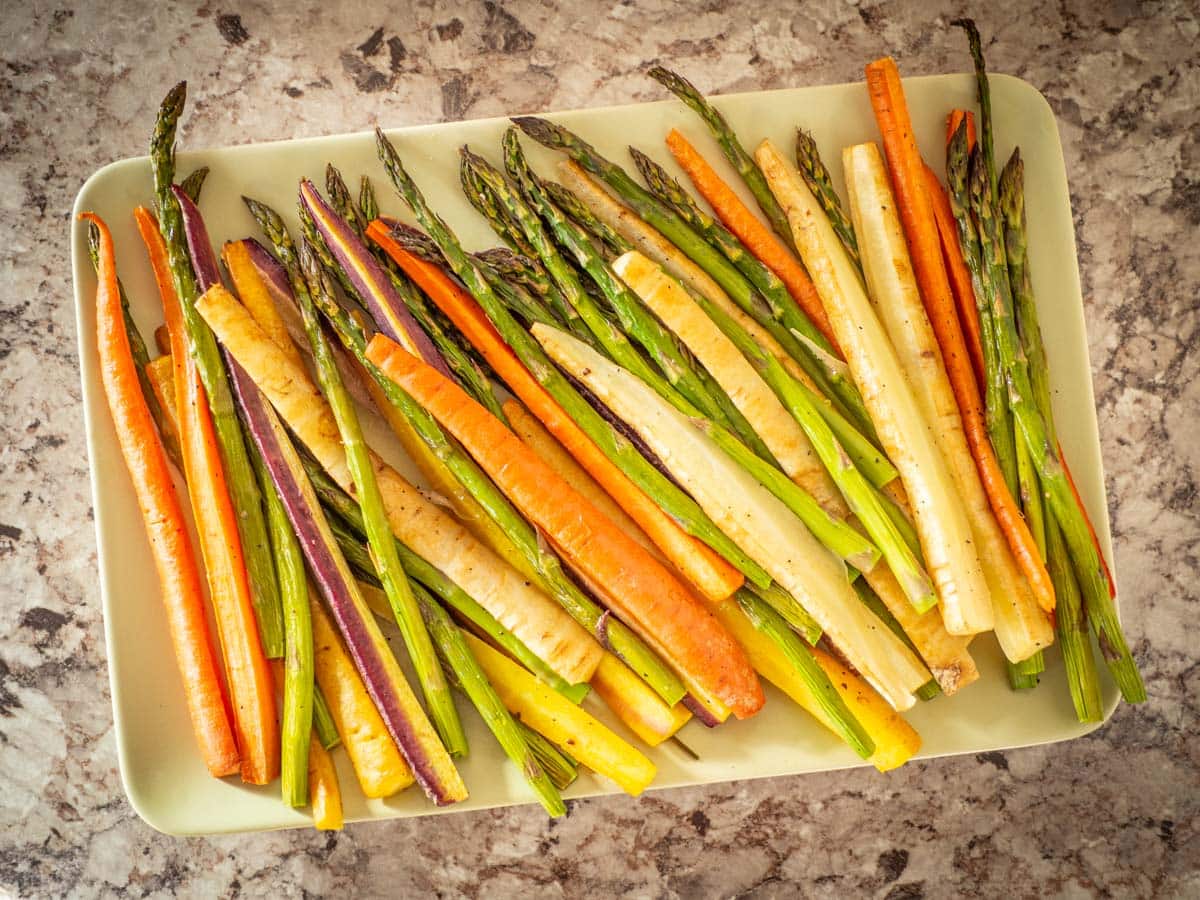 The best way to get yourself to eat more vegetables is to cook more vegetables that you will actually want to eat.
And when the veggies are as delicious as these roasted carrots and asparagus (or these sautéed green beans!), you'll find it is easy to make room on your plate.
I love the way roasting vegetables in the oven transforms them into the most delicious version of themselves (like in this Baked Herb Tomato Zucchini).
And since carrots and asparagus are two of my favorite vegetables, I wanted to figure out how to roast them perfectly at the same time to ensure tender spears with nothing over or undercooked.
Which, I will be honest, was no easy feat!
Carrots are much denser than asparagus so it took a few tries to figure out the right size to cut the carrots, the right temperature to roast at and a few other preparation steps.
But I think I accomplished it.
I hope you find these veggies are worth making room on your plate for!
The Ingredients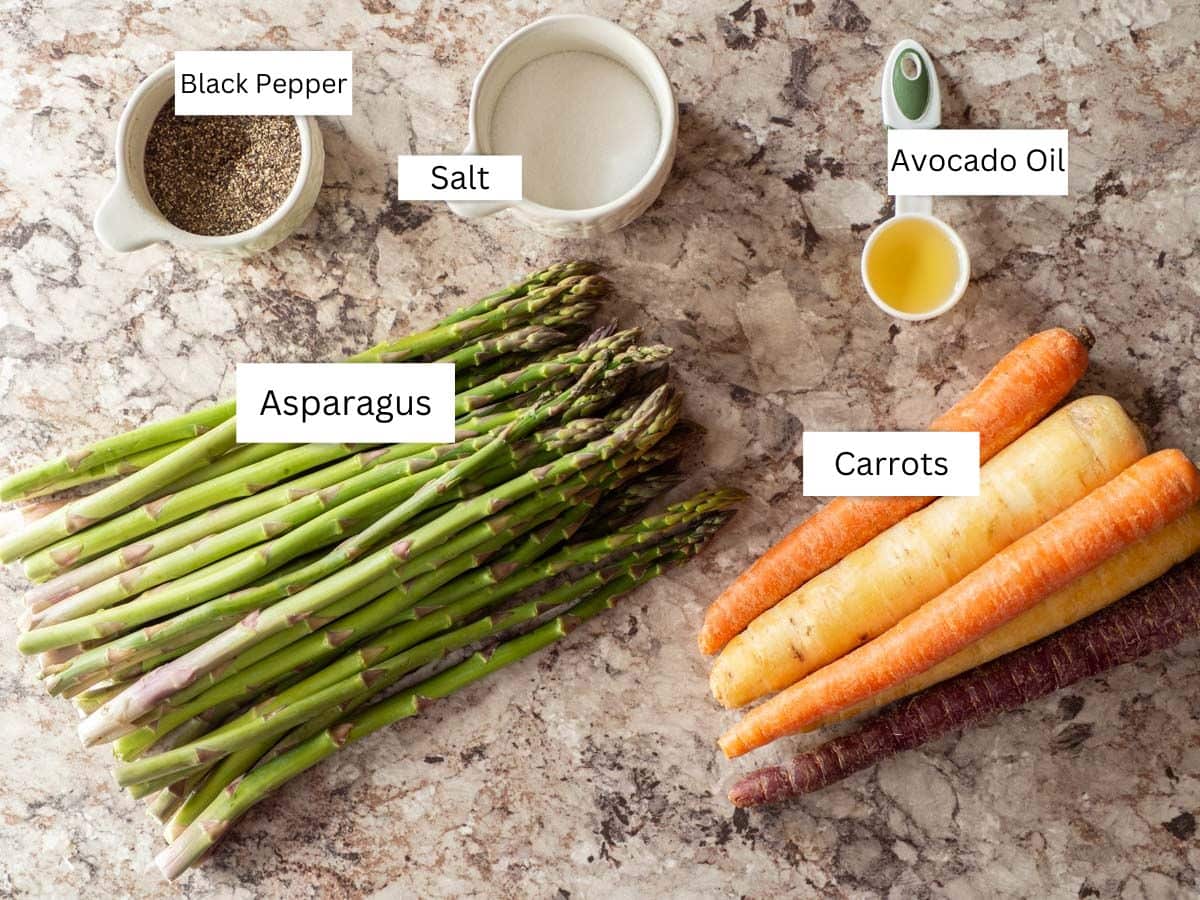 Fresh Asparagus- Try to look for asparagus bundles where all of the stalks are approximately the same thickness. I find that medium thickness stalks tend to taste the best and cook the most evenly with the carrots.
Carrots- I like using rainbow carrots to add some extra color but regular orange carrots work just as well.
Avocado Oil- Olive oil or another cooking oil can be used.
Sea Salt- Kosher salt, table salt or whatever you typically have on hand will also work. However, they all have slightly different levels of saltiness so you may need to adjust a bit according to taste.
Black Pepper
The Method
1. Prep vegetables. Wash and then place the vegetables on a cutting board. Cut the carrot tops off and use a vegetable peeler to peel them if desired (I usually leave the peels on).
Cut each carrot into thin sticks (usually in half lengthwise and then in quarters so that each stick ends up being cut into 4 thin carrots). Then either cut or snap the woody part off of the base of the ends of asparagus.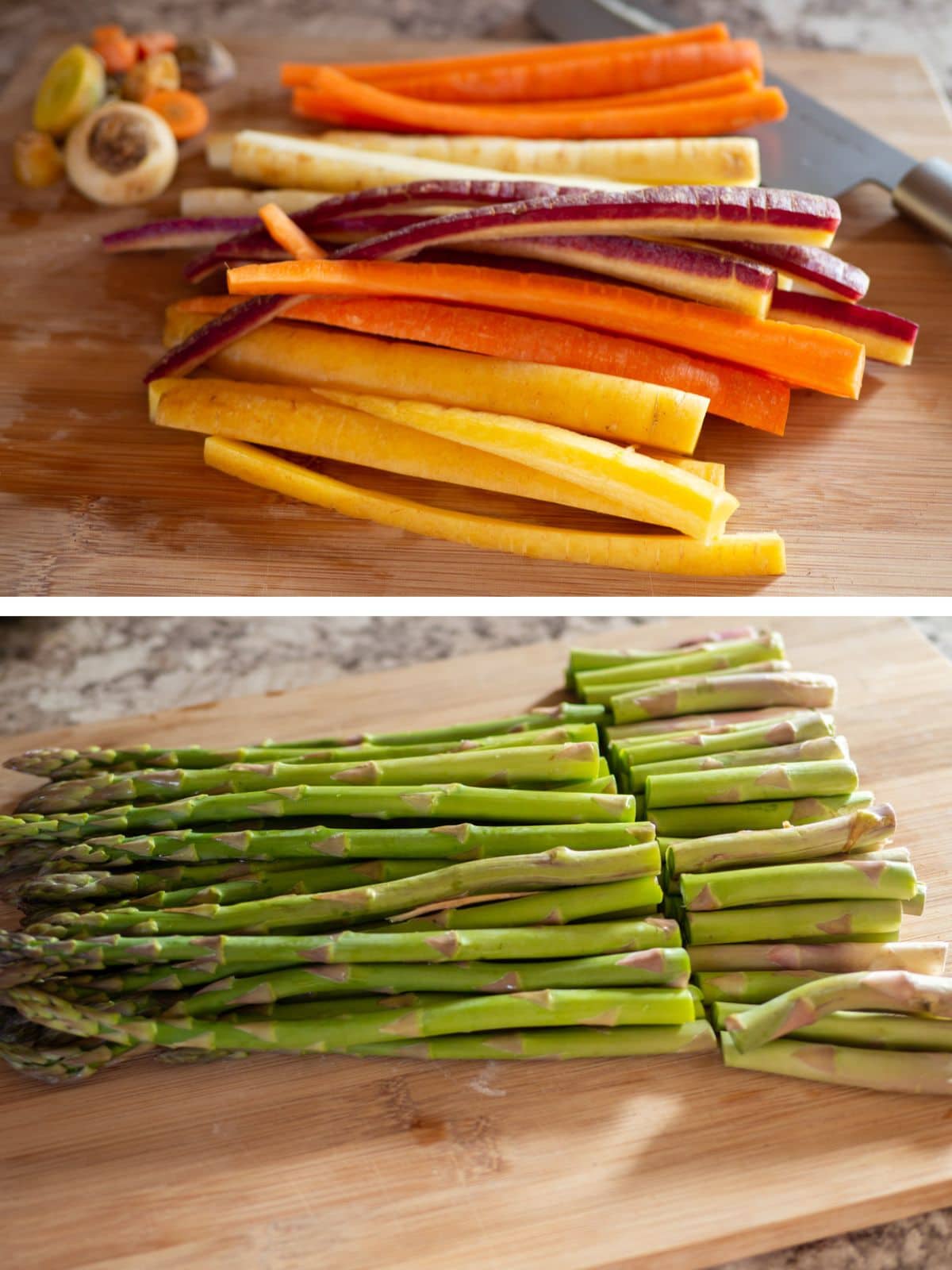 2. Mix. For easy clean-up, line a large sheet pan with parchment paper, aluminum foil or a silicone mat. Place asparagus spears and carrots on top and drizzle with the oil. Then, sprinkle the salt and pepper (and any additional seasonings) on top. Using clean hands, toss the vegetables to mix and then spread into a single layer.
3. Roast. Bake in a 400 F preheated oven for 15-20 minutes and then rotate 180 degree. Bake for an additional 5-10 minutes until the carrots and spears are just tender. Thinner vegetables will take less time.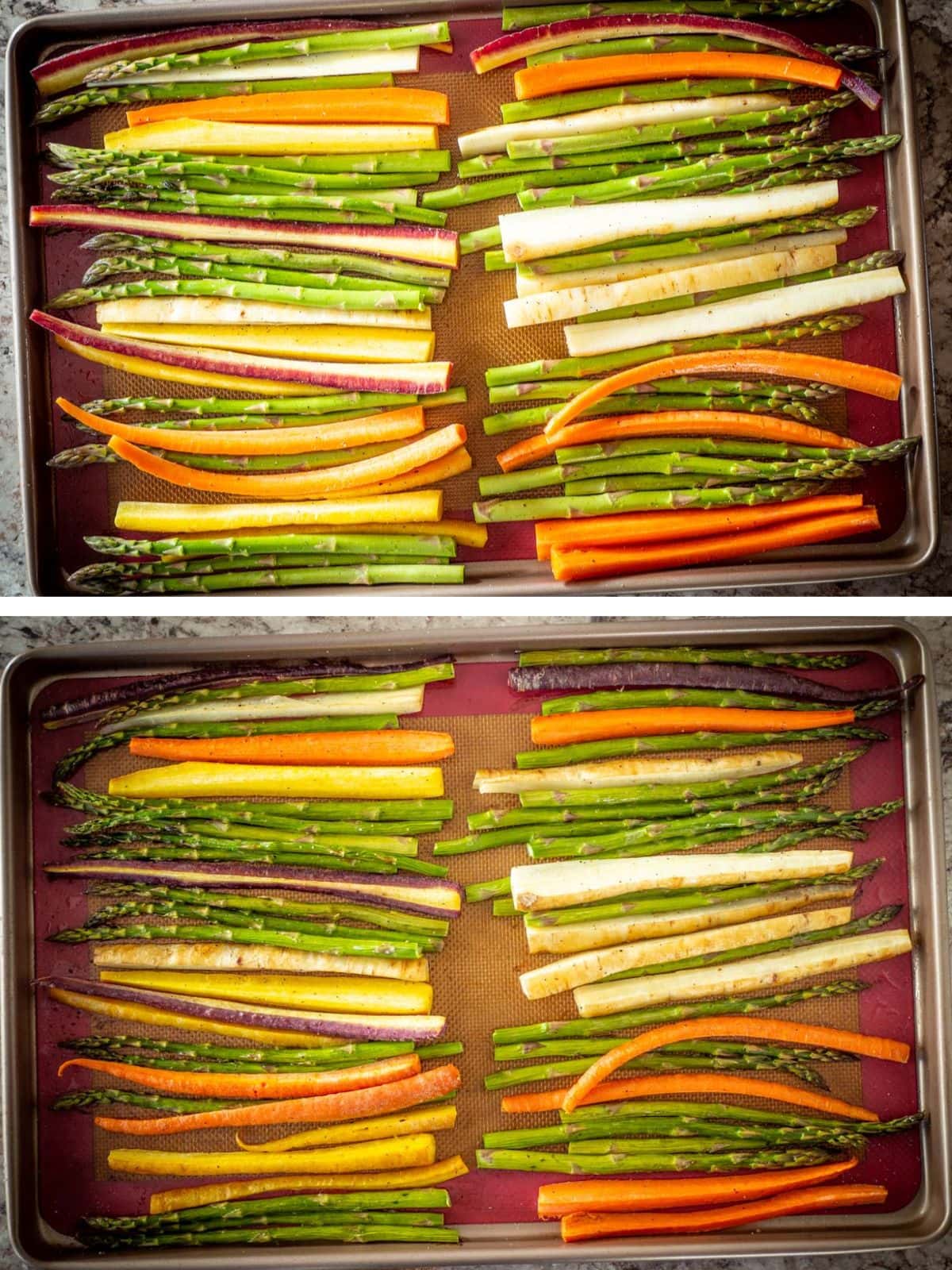 4. Serve. Add garnishes such as freshly grated Parmesan or chopped herbs if desired.
Leftovers and Storage
To Store: Store leftover roasted asparagus and carrots in an airtight container in the refrigerator for up to 4 days. It can also be frozen for up to 3 months but the texture may be altered slightly with thawing.
To Reheat: Rewarm in the oven at 350 F for 8-10 minutes or heat in the microwave.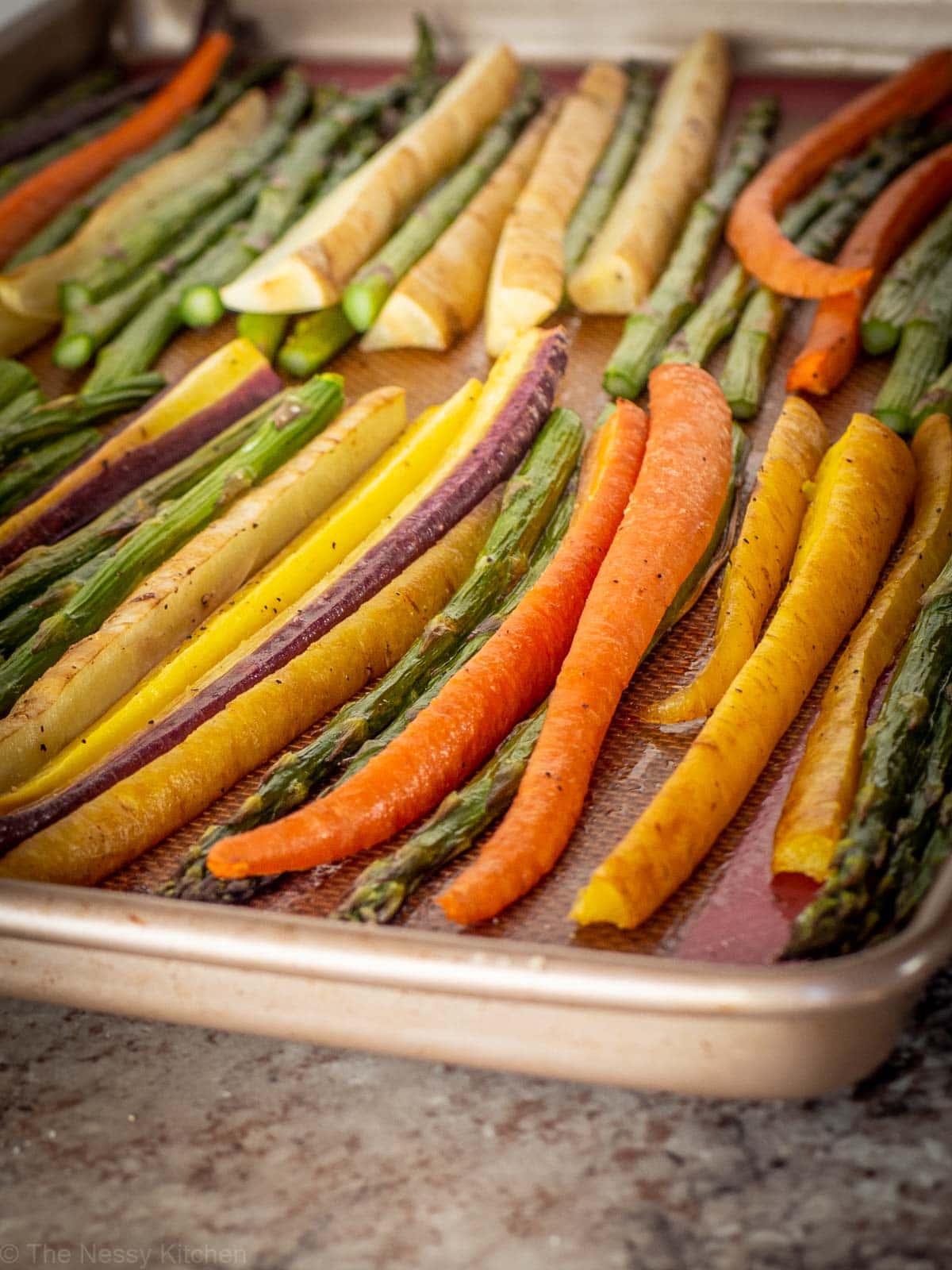 Make it Your Own
This basic roasted carrots and asparagus recipe is a great base that can be changed up to complement a variety of main dishes. Here are some of my favorite roasted vegetables flavor variations:
Garlic- Add 1 teaspoon of garlic powder or 2 freshly minced cloves
Maple- The sweet taste of 1 tablespoon of maple syrup nicely complements the sweet carrots
Italian- Add 2 teaspoon of Italian seasoning
Spicy- Add ¼ teaspoon of ground cayenne
Citrus- Use one lemon and add the lemon zest and a squeeze of fresh lemon juice
Want to use baby carrots instead? While I recommend using regular carrots for the best texture, baby carrots will work as well. Only cut them in half rather than quarters (or even leave them whole if they are really small), and check on them a bit earlier as they might cook faster. You can cut the asparagus into smaller chunks as well for presentation.
Prefer bite sized roasted vegetables? You can dice the asparagus and carrots into 1 inch chunks instead of leaving them as spears. The cooking time may be reduced by a couple of minutes.
Serving Ideas
Take this easy side dish to the next level by adding some garnishes such as:
A drizzle of balsamic vinegar
Red pepper flakes
Freshly grated Parmesan cheese
Crumbled goat cheese
Sesame seeds
Toasted and chopped almonds
Chopped fresh herbs such as fresh parsley, green onion or fresh basil leaves
These roasted vegetables are a great way to add more plants to your meal and would be the perfect addition to: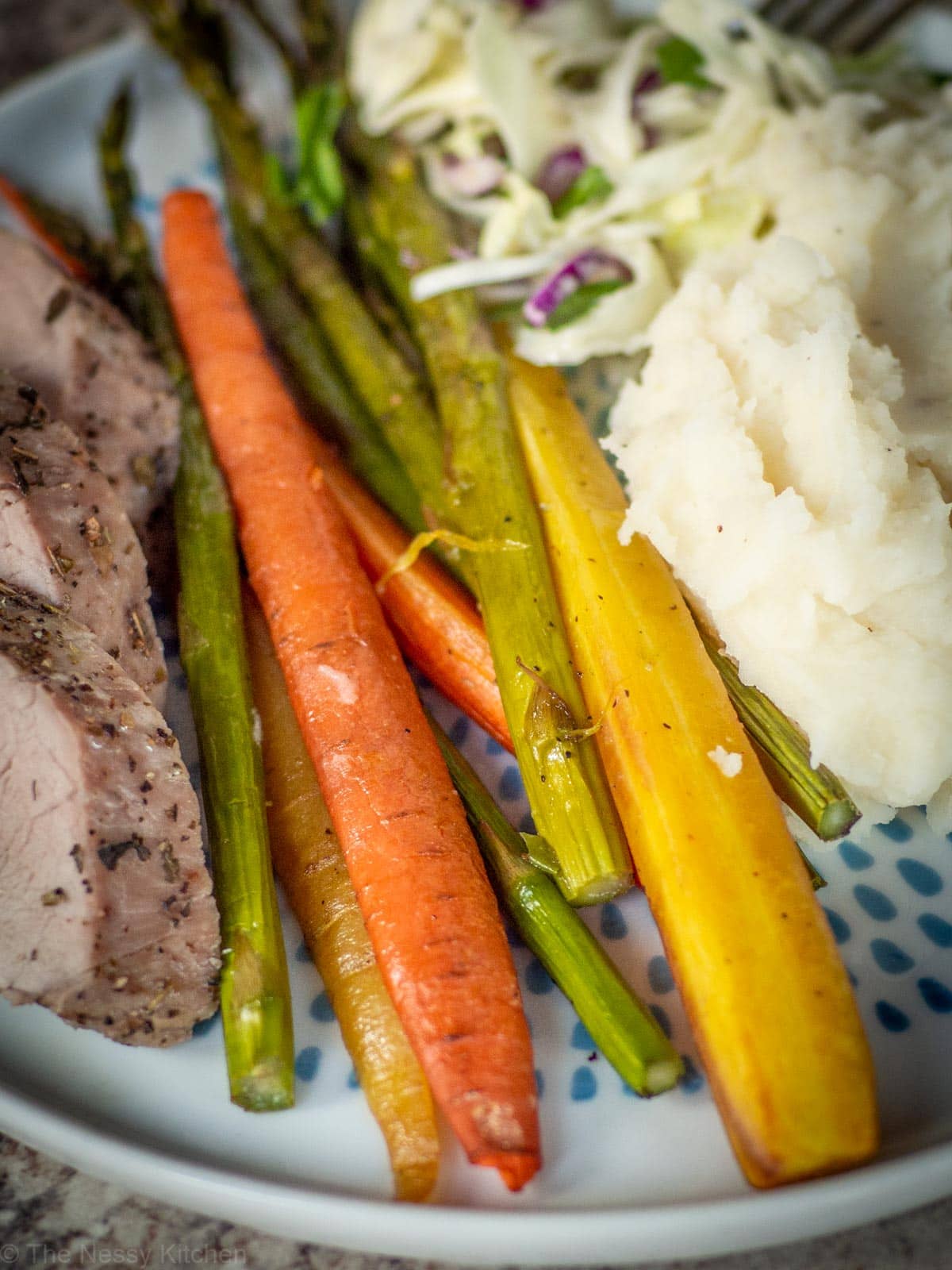 Why are my roasted asparagus soggy?
When asparagus has been overcooked, it can become soggy. Roast at a high temperature (400 F) and check it early for best results.
Why are my roasted carrots tough?
The carrots have not been cooked long enough. Cut the carrots thin or pre-roast them part way before adding the asparagus to ensure that they get fully cooked.
Tips for Success
Don't Overcrowd the Pan! I can't emphasize this enough. In order to ensure even cooking, the vegetables need to be in a single layer with a little bit of space in between each piece. If you have a lot of vegetables, divide them between two pans rather than crowding one sheet pan.
Cut the Veggies to the Same Size.

To ensure the vegetables finish cooking at the same time, they need to be similar size. Cut the carrots in sticks as thin as or slightly thinner than the asparagus that you are using.
If the asparagus you use are very thin, their cooking time will be reduce to 10-15 minutes. Roast the carrots for 10-15 minutes first, then add the asparagus for the last 15 minutes.
Dietary Notes
LET ME PLAN YOUR DINNERS! Get My FREE Meal Plan (Including Grocery List!)>>>
If you have dietary restrictions, check the packaging of specific ingredients that you use to ensure they are compliant. This recipe is:
Dairy Free
Gluten Free
Nut Free
Paleo
Vegetarian
Vegan
And if you liked this recipe...
...you might also like: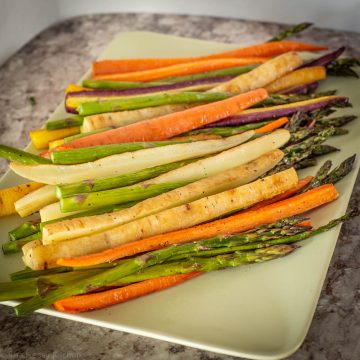 Roasted Asparagus and Carrots
This easy healthy side dish is a great way to add vegetables to both a weeknight meal or a holiday dinner. Read the full post for plenty of tips and flavor variations.
Print
Pin
Rate
Ingredients
¾

lb

carrots

about 4 large

¾

lb

asparagus

about 1 bundle

1

tablespoon

avocado oil

½

teaspoon

salt

¼

teaspoon

pepper
Instructions
Preheat the oven to

400

°F

. Line a large baking sheet with a silicone liner or parchment.

Wash both vegetables and cut or break the woody ends off of the asparagus. Peel the carrots if desired and then cut into thin sticks (likely quarters).*For best results, it is imperative that the carrots are cut to the same thickness or slightly thinner than the asparagus. If using very thin asparagus, see the "Tips for Success" portion in the post for how to pre-bake the carrots.*

Place the vegetables on the prepared baking sheet and pour the oil and seasonings over top. Toss to evenly coat and then spread out into a single layer.

Bake for 15 minutes and then rotate the pan 180 degrees. Roast for an additional 10-15 minutes until tender.
Notes
Leftovers
Store leftovers in an airtight container in the refrigerator for up to 4 days. Vegetables can also be frozen for up to 3 months though the texture may be slightly altered with thawing.
Nutrition
Calories:
83
kcal
|
Carbohydrates:
12
g
|
Protein:
3
g
|
Fat:
4
g
|
Saturated Fat:
0.5
g
|
Polyunsaturated Fat:
1
g
|
Monounsaturated Fat:
2
g
|
Sodium:
351
mg
|
Potassium:
446
mg
|
Fiber:
4
g
|
Sugar:
6
g
|
Vitamin A:
14852
IU
|
Vitamin C:
10
mg
|
Calcium:
49
mg
|
Iron:
2
mg
Did you make this recipe?
Let me know what you thought in the comments below!