If you're preparing juicy, tender and flavorful pulled pork for guests, the last thing you would want would be to not have enough! Use this post to help guide you to determine how much pork you need to prepare.
Jump to:
No time to read?
Download the Summary Reference Chart>>>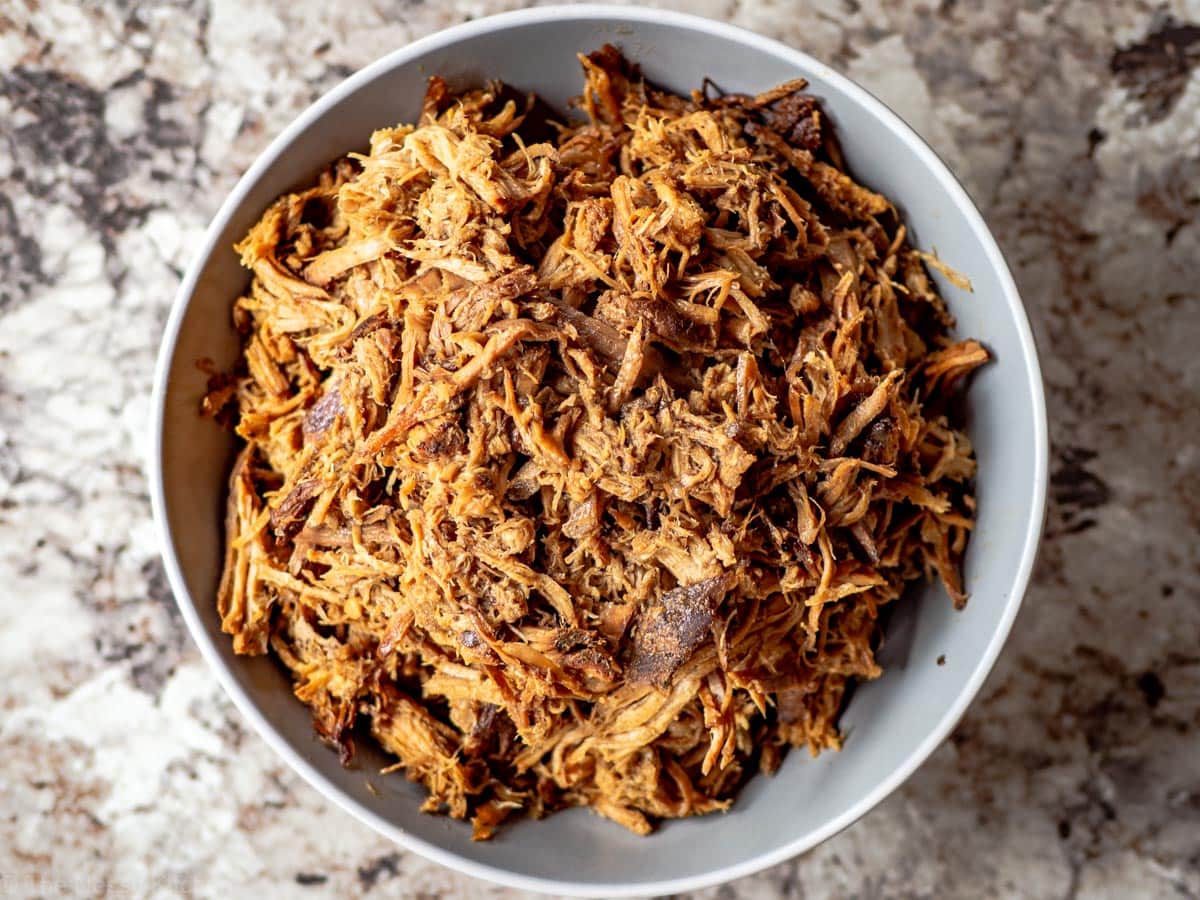 First, you'll need to determine how many people you need to feed. Then you'll need to factor in what else will be served as part of your menu. Also, how you are serving it
detailing some of the sides and saving room for dessert
A crowd-pleasing favorite that's perfect for large gatherings and casual get-togethers, I tend to make this slow cooker pulled pork on repeat.
Whether hosting a backyard barbecue, entertaining a large crowd or simply planning a weeknight family dinner, I always try to plan for extra pulled pork to use later for nachos, sandwiches or a quick stuffed sweet potatoes dinner.
So if you're finding yourself in a similar situation and are wondering how many pounds of meat you need to cook in order to ensure there is enough food for everyone, I'll help you figure out the right amount.
Additionally, if you're wondering how many sandwiches you can make per pound of pork, we'll cover how to estimate that too.
Considerations
The first thing we need to talk about is the considerations that will impact how much raw pork to cook per person. The amount your need will definitely vary on the type of event, the time of day and whether it is the only main course being served.
Sides and Accompaniments
You'll want to think about the side dishes and accompaniments you're going to be serving.
If you're offering a variety of hearty sides like coleslaw, potato salad, macaroni and cheese, cornbread, or baked beans, you may be able to lean towards the lower end of the serving size range and still have enough food.
But if your cooked pulled pork is the main event with just a few light sides, people will likely eat a larger portion size.
Also, it's important to note whether you are expecting it to be eaten on it's own or as a pulled pork sandwich. If it is being made into a bun with extra fixings, the same portion of cooked pulled pork will be more filling than if it isn't.
Appetites
Next, consider the appetites of your guests.
If you're hosting a group with larger appetites, you'll want to be on the safe side and err on the side of a larger serving size in order to have enough meat.
However, if you're serving the pork to those with a smaller appetite or a group which includes a lot of children, you'll be able to get away with needing a smaller amount of pork.
Other Protein Options
Consider if there will be other protein options being served. If you're providing alternative meat choices, it is likely guests will eat a similar amount of meat total so you can reduce the amount of pork according to the amount of other meat being served.
For example, if you determine that you need ½ pound of pork per person but decide to serve burgers as well, you would probably need closer to ¼ pound of pork and ¼ pound of beef each, assuming your guests like both equally.
In this case though, I might make one-third of a pound of each per person in case one ends up being strongly preferred over the other, if I'm unsure about preferences.
Event and Time of Day
You also have to think about the type of event and the time of day.
For early afternoon gatherings, guests might have lighter appetites, but for dinner events, guests may have heartier appetites.
Leftovers
Lastly, think about whether you want to have leftovers.
Leftover pulled pork can be stored in an airtight container, freezes well and can be used in various recipes.
How Much Pulled Pork Per Person?
So now that we've gotten all of the things to think about out of the way, its time to get down to the simple calculation!
While it is important to remember that the amount will always vary somewhat depending on the event and who is eating it, a good rule of thumb is to plan on serving ⅓ to ¾ pounds of raw pork per person.
So to determine the exact amount needed, use this simple equation: Number of guests x 0.33 (minimum) - 0.75 (maximum) pounds of pulled pork per person = weight of pulled pork required.
For example, if you're hosting a gathering of 20 guests, the pulled pork quantity would be: 20 guests x 0.33 pounds = ~7 pounds (minimum estimate) 20 guests x 0.75 pounds = 15 pounds (maximum estimate)
Based on these calculations, preparing 7 to 15 pounds of pulled pork should be enough pork.
Generally, for an average group, ½ pound is how much raw pork (boneless) that I plan on when I am serving to guests and ¼ pound per serving is how much I plan on when I am preparing it for meal prep and using in recipes.
How Many Sandwiches Per Pound of Pulled Pork?
The number of sandwiches you can make per pound of pulled pork depends on the size of each serving (and the size of the bun!). On average, you can expect to get approximately 3 to 6 sandwiches per pound, depending on sandwich sizes.
For an average serving size, assume 4 sandwiches per pound, which would be about ¾ cup of meat per sandwich. With this in mind, you can use the following simple formula to estimate the number of sandwiches you'll get from your pulled pork batch: Pounds of pulled pork x 4 sandwiches per pound = estimated sandwich count.
For instance, if you prepared 5 pounds of pulled pork, the expected sandwich count would be: 5 pounds x 4 sandwiches per pound = 20 sandwiches.
FAQS
What much meat if I am using Bone-In Pork?
If you are preparing your pork meat using a cooking process that calls for bone-in meat, double the pounds of meat in weight to ensure that your yield enough pork.
What if some of my guests can't have pork, are vegetarian or vegan?
If you are having guests that won't be eating your juicy pork, omit them from your number of people in the calculation as you will need less meat. For example, if you are having 20 guests and 2 are vegan, use 18 in your calculation. And then make sure you have other options available for them to eat!
How many cups of cooked pulled pork are in 1 pound of raw meat?
One pound of boneless meat will yield approximately 3 cups of shredded pork.
Summary (Reference Chart)
Keep this info handy!
Download the Reference Chart>>>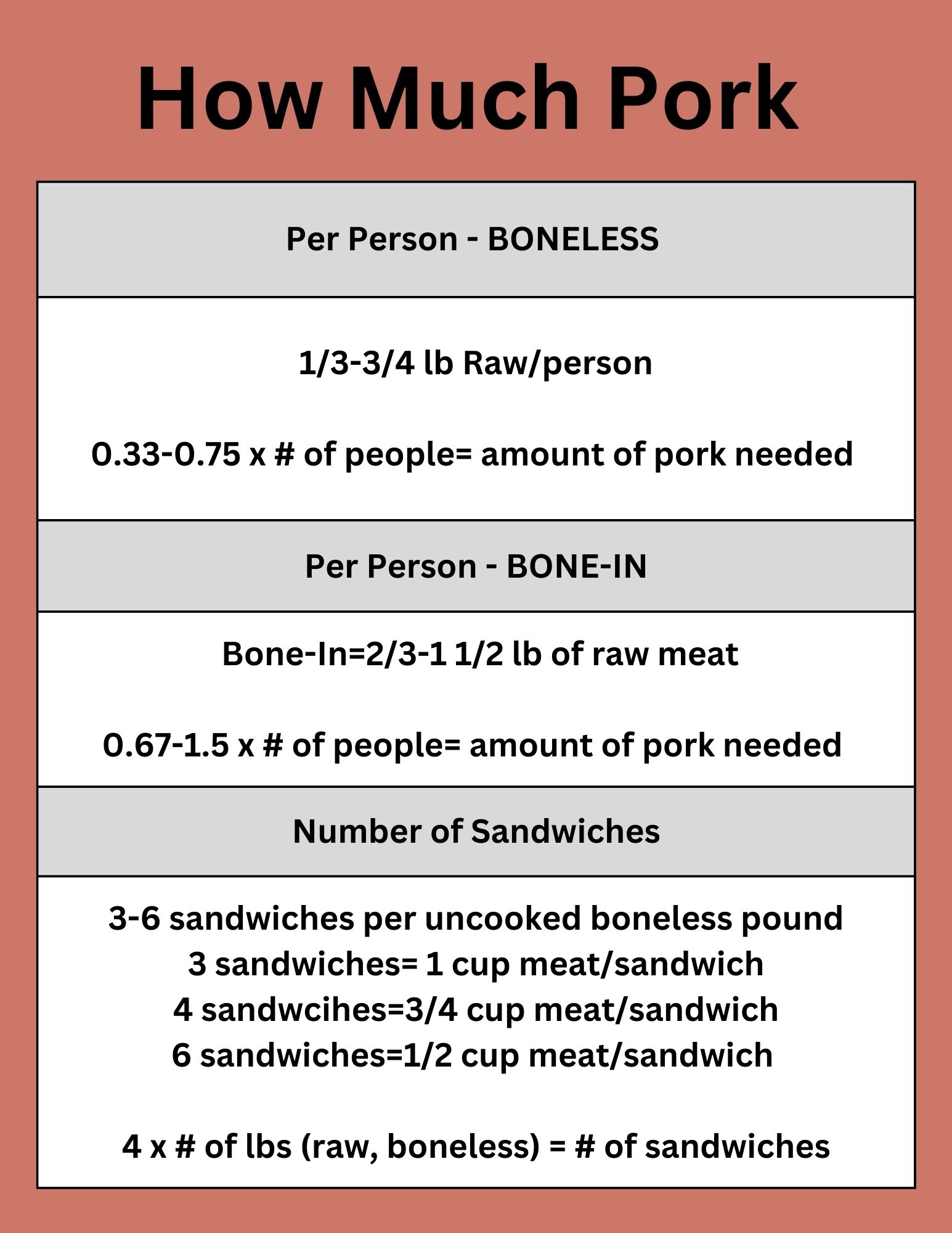 Related: Ways to Eat Pulled Pork without Bread
Pulled Pork Recipes