Wondering what to serve with stir fry? I've got you covered! I've compiled a list of 30+ of the best sides dishes and more to serve with stir fry that pair perfectly with this easy weeknight dinner. From fried rice and noodles to pork ribs and shrimp toasts, I've got plenty of ideas for you!
Jump to: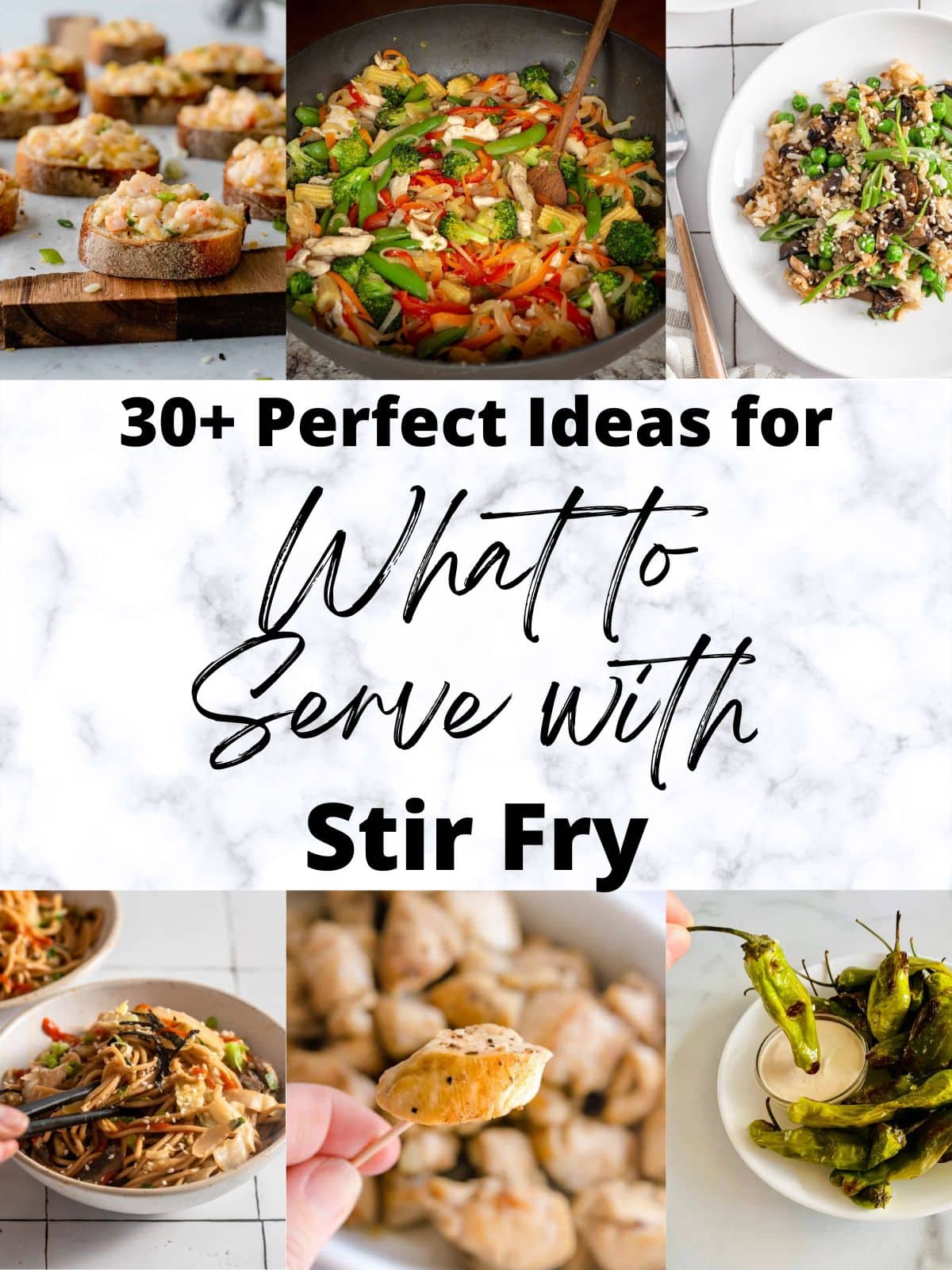 What's not to love about stir fries? They are the ultimate one pan meal.
The best way to clean out the fridge. (Week old bell peppers, green beans, snow peas, etc.- throw them in!)
One of the most delicious ways to eat your fresh vegetables (leafy greens are so much better when they are covered in sauce!).
And the best part is that they can be whatever you want. Need a main course? Add a chicken breast. Looking for a great side dish? Stir fry, at your service. Easy meal prep? Yep, stir fries make great leftovers!
If you're searching for a recipe, here is my Sweet and Spicy Stir Fry. It features an easy homemade sauce and includes chicken, red pepper, snap peas and a handful of other vegetables. But it can totally be customized to be made with your favourite vegetables and protein!
Or for another option, you might enjoy Egg Rolls in a Bowl! Stir fried coleslaw mix combined with ground pork for a healthier twist on a popular dish.
Whether you are serving your stir fry as a side and are looking for a delicious main dish or you're looking for the perfect accompaniment to your stir fry meal, you're sure to find ideas in this collection.
I hope this list gives you plenty of inspiration!
Toppings
Take your stir fry up a level by adding some tasty garnishes and toppings. Some great options are:
Sliced Green Onions
Fried or Boiled Eggs
Toasted Nuts such as cashews, peanuts or almonds
Sesame Seeds
Extra Stir Fry Sauce
Other Favourite Sauces

Coconut Aminos, Soy Sauce or Tamari
Sriracha
Hoisin Sauce
Oyster Sauce
Rice
You can never go wrong with simply serving your stir fry over a bed of rice. Plain white rice or brown rice are both an easy and good option. Or try one of these fried rice sides that are as good as at a Chinese restaurant!
Noodles
Instead of rice, noodles are another great side dish for soaking up your savoury sauce. Whether you opt for plain rice noodles, egg noodles or try one of these recipes below, it is sure to be delicious!
Low Carb
If you're looking for a low carb alternative to rice or noodles, try serving your stir fry on top of one of these perfect choices.
Salads
Complement your stir fry with even more vegetables by serving it with a salad inspired with flavours from Asian Cuisine.
Vegetables
Or you can add more vegetables to your meal with well.. More vegetables! Try one of these mouth watering recipes that are sure to be a delicious addition.
Meats
Turn your vegetable stir fry recipe into a meal by serving it alongside one of these delicious meat dishes.
Appetizers
If you're looking to serve your stir fry as part of a larger meal, try beginning with one of these tasty starters.
Hopefully you have found plenty of inspiration for what to serve with your stir fry in this post! If you're looking for a stir recipe, I'm sure you'll love my Sweet and Spicy Stir Fry.
Most Popular Recipes