Wondering what to eat with Potato Soup? I've got you covered! I've compiled a list of 32+ of the best options that pair perfectly with this hearty soup. From toppings and bread to sandwiches and dessert, I've got plenty of ideas for you!
Jump to: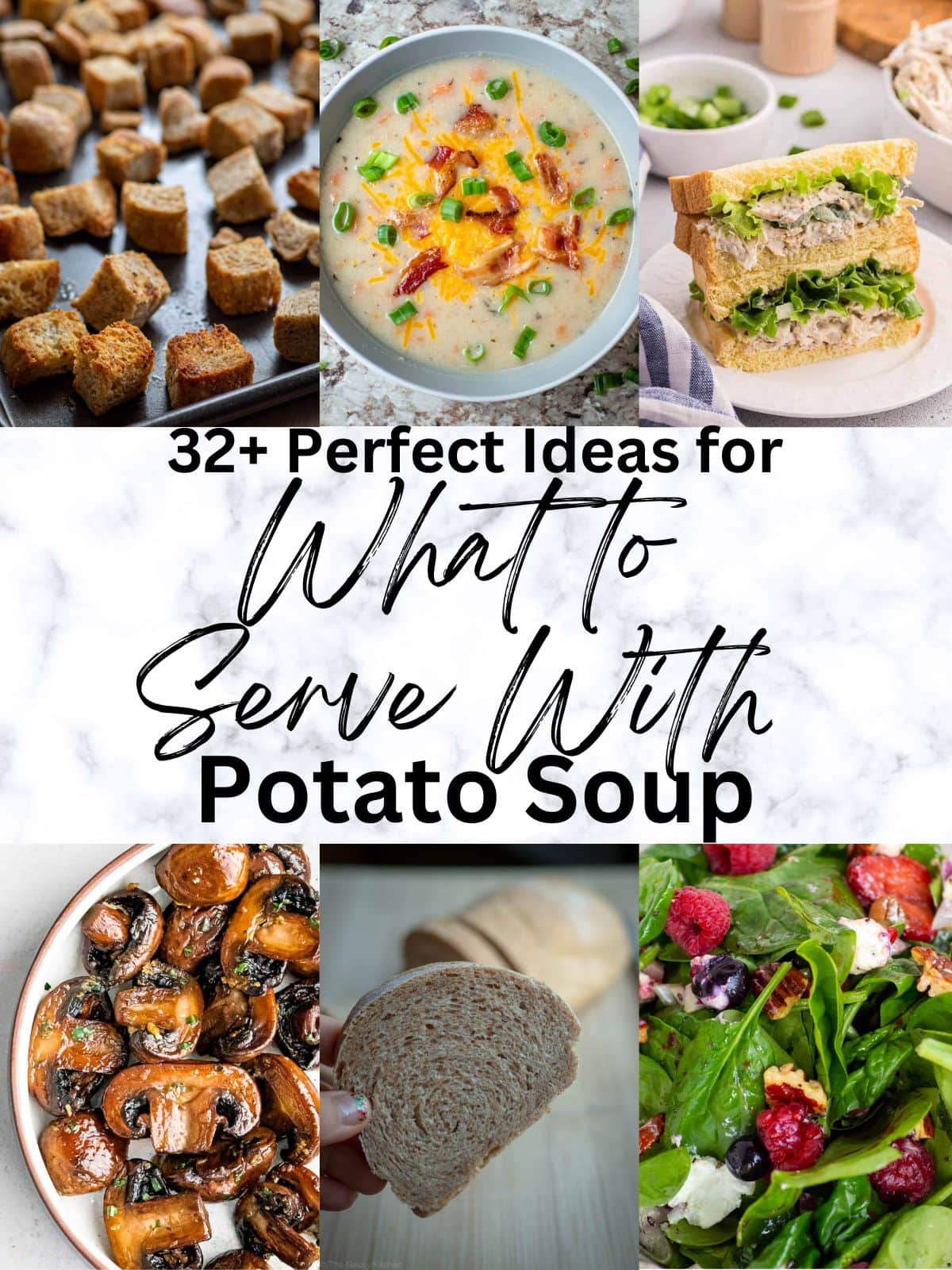 Piled high with all of the best baked potato toppings, creamy potato soup is the definition of comfort food.
Here is my recipe for Potato Soup. Made in one pot and in under an hour, it is thick, creamy and delicious. But unlike most traditional potato soup recipes, it is made without wheat flour and heavy cream for a naturally gluten free recipe.
Or for a twist on potato soup, try this Three Potato Soup recipe which is made with sweet potatoes, red potatoes and Yukon gold potatoes.
With so many delicious spins on potato soup there are so many delicious options for what to serve alongside.
I hope this list of delicious sides gives you plenty of inspiration!
Toppings
Take inspiration from baked potatoes and top your bowl of soup with one (or several) or these delicious garnishes:
Crumbled Bacon Bits
Chopped Green Onions
Shredded Cheddar Cheese
Greek Yogurt or Sour Cream
Breads
There's just something about soaking up the last of your bowl of soup with a chunk of crusty bread.
Sandwiches and Handhelds
Soup and sandwich is a natural pairing that always makes for a comforting lunch or easy dinner. Enjoy your potato soup next to a classic sandwich such as ham, roast beef or grilled cheese. Or give one of these delicious recipes a try!
Salads
Balance out your creamy soup by serving it alongside some crunch from one of these salads.
Vegetables
Serve your hearty bowl of potato soup alongside one of these recipes to add more vegetables to your meal.
Meats
Your potato soup can also be the side show to a delicious main course meat such as one of these.
Desserts
And now on to my favorite course! Give your soup a sweet ending with one of these recipes.
Hopefully you have found plenty of inspiration for what to eat with potato soup in this post! If you're looking for a recipe, I'm sure you'll love my thick and creamy Potato Soup.
Most Popular Recipes