Wondering what to serve with White Chicken Chili? I've got you covered! I've compiled a list of 36+ of the best options to serve with your bowl of chili that go perfectly with this hearty meal. From quesadillas and corn tortillas to salads, desserts and more, I've got plenty of ideas for you!
Jump to: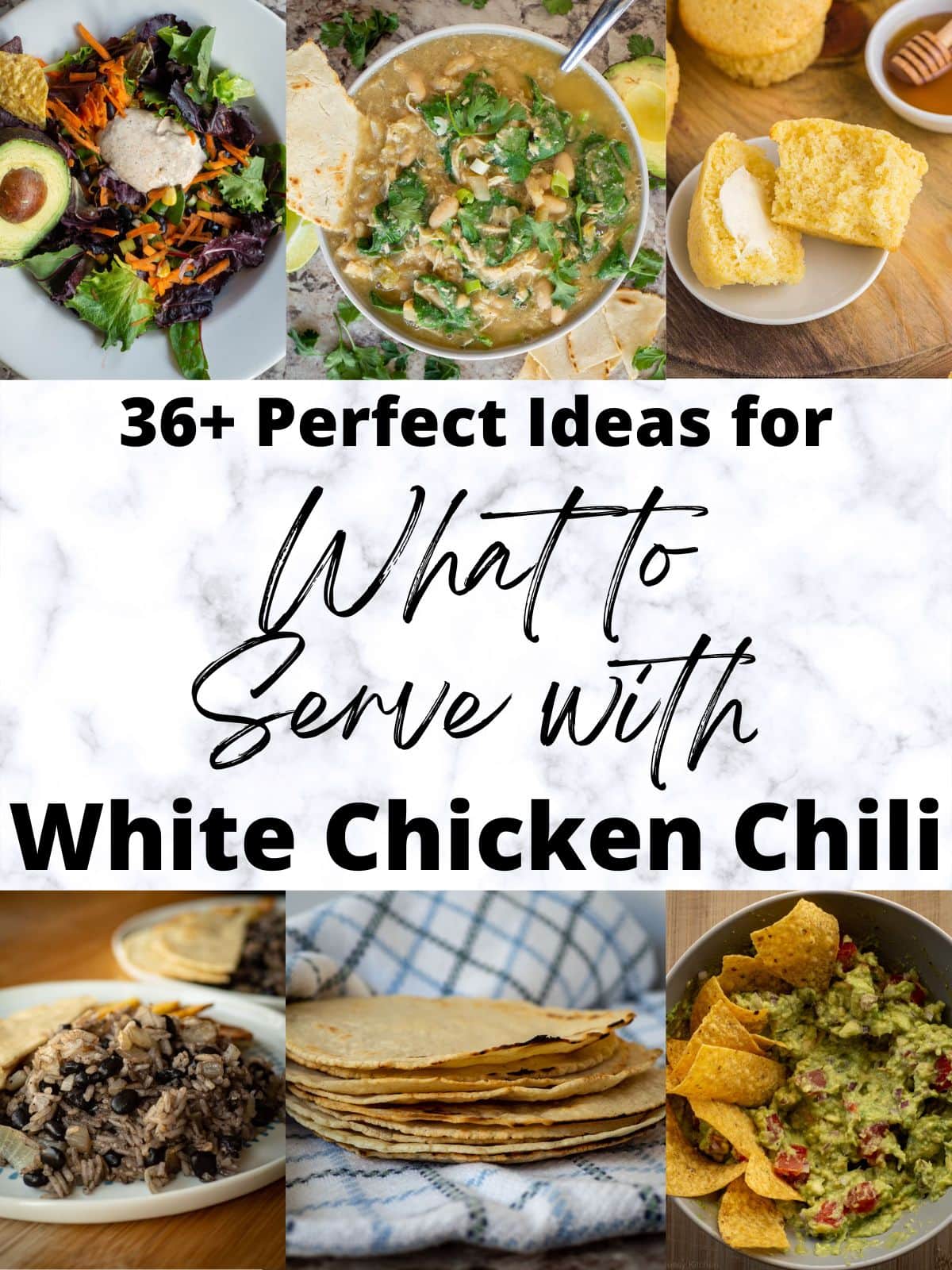 During the time of year when the weather gets cooler, nothing hits better than a large pot of hearty soup or chili for dinner.
Living in Canada, we have a long winter. But the good news is that means a long comfort food season (silver linings!). And even after months of rotating through our go-to recipes, I never tire of eating white chicken chili.
Here is my White Chili Recipe- creamy, flavourful and cooked mostly hands off in just one pot, it is an easy weeknight dinner.
It is filled with wholesome, lighter ingredients including kale, boneless chicken breast and white beans which are blended for a creamy broth without any dairy.
Or for richer version with cream cheese, try this slow cooker recipe.
And of course, there are so many great toppings and sides to serve with soups and chilis (just ask this post about what to serve with pumpkin soup!).
So if you're wondering what to eat with your white bean chicken chili, I've compiled an extensive collection. With everything from sides and toppings to drinks and desserts, I hope this list gives you plenty of inspiration!
Toppings
Upgrade you big bowl of chili by finishing it off with some of these tasty garnishes!
Chopped cilantro
Avocado or Guacamole
Shredded Monterey jack or cheddar cheese
Freshly squeezed lime juice
Green onions
Sliced jalapeños
Sour cream or Greek yogurt
Hot sauce
Bread and Tortillas
Handhelds
Rice
Salads
Vegetables
Appetizers
Drinks
Desserts
Hopefully you have found plenty of inspiration for white chicken chili sides in this post! If you're looking for a recipe, I'm sure you'll love my White Chicken Chili.
Most Popular Recipes