If you want to make a sandwich but without bread, you're in luck! This post explores a variety of delicious options that are perfect for making a handheld without bread. Get ready to redefine your classic sandwich with these creative alternatives.
Jump to: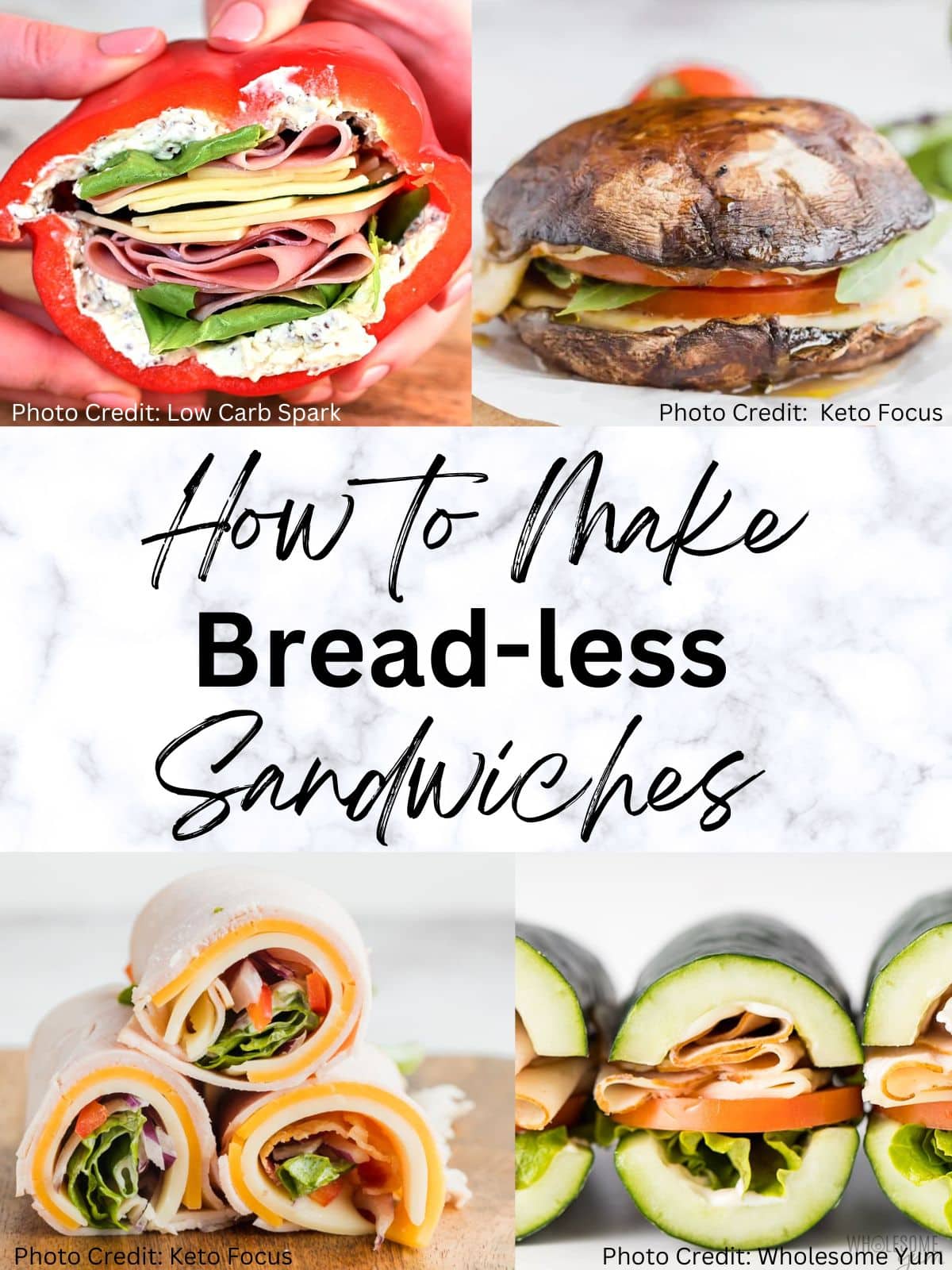 I could literally eat a healthy sandwich for every meal every day.
From tuna salad to egg salad, layers of turkey, roast beef or chicken breast, vegetables of your choice, delicious spreads and sauces, maybe a slice of cheese or some leafy greens- the options are endless when it comes to sandwich fillings.
And then if you start to consider all of the different ways to make breadless sandwiches, there is even more variety!
Don't get me wrong, I absolutely adore a classic sandwich with bread (This Turkey Pesto Melt with Mozzarella Cheese is unreal!) but I'm all about exploring new and creative recipes and ideas too.
So, if you ever find yourself wanting something in place of bread for your sandwich, these ideas are perfect for you.
Plus, if you or someone you're cooking for follows a gluten-free diet, these alternatives are naturally gluten-free and make a fantastic option instead of gluten-free bread.
Grain Based
Made with just two basic ingredients, oats and water, soft and pliable oat tortillas add a hearty and wholesome base to your favorite fillings, perfect for making a satisfying wrap.
While not as pliable as oat tortillas, corn tortillas work well sandwiched together as the "bread" for your handheld. Or you can serve your sandwich taco-style.
3. Rice Paper
These thin and pliable wraps can be filled with an array of ingredients, from different types of vegetables to proteins, offering a unique and satisfying way to enjoy your favorite fillings without the bread. If you'd like to make them crispy, follow the directions from these Crispy Rice Paper Egg Wraps.
4. Rice Cakes
These crispy cakes provide a light and crunchy base for open face sandwiches.
Vegetable Based
5. Lettuce
Swap bread for large, crisp lettuce leaves, and fill them with your favorite ingredients for a crunchy lettuce wrap. This tends to work best with romaine, iceberg or butter lettuce. I find this is a great way to enjoy tuna or chicken salad.
6. Collard Greens
These large and sturdy leaves make an excellent substitute for classic tortillas and add a slightly earthy flavor to wraps. Check out this tutorial for an easy way to make them into wraps.
7. Portobello Mushrooms
With umami taste and a meaty texture, mushrooms make a hearty base in place of slices of bread. For best results, follow the directions for Keto Focus's Portobello Mushroom Buns to cook them first in order to bring out the most flavor.
8. Potato or Sweet Potato Toast
Roast on a baking sheet or grill thinly sliced sweet potato rounds for a delicious way to serve your "sandwich".
9. Bell Peppers
Enjoy a vibrant and crunchy twist on your regular sandwich by using sweet bell peppers in place of slices of bread. Check out Low Carb Spark's Pepper Sandwiches for a go-to recipe idea.
10. Cucumbers- A refreshing alternative to bread, crispy cucumbers can be used to make subs like this quick recipe from Wholesome Yum or you can also take thin cucumber slices, add your fillings, roll them up and secure with a toothpick.
Other Ideas
11. Deli Meat Rolls- Wrap your favorite deli meats around your preferred fillings, such as fresh cheese slices and vegetables for a convenient and protein-packed option. For an idea, check out this club sandwich inspired deli meat rolls recipe from Keto Focus.
12. Cloud Bread- Made with just eggs, cream cheese, and a touch of cream of tartar or baking powder, these airy and light rounds offer a unique base for your typical bread sandwich recipe.
Related: Healthy Sandwich Spread Ideas and Sides to Serve with Sandwiches