A lunch box classic for when you are on the go, sandwiches can be both delicious and healthy meals. With endless possible combinations of quality ingredients and healthy sandwich spreads, a nutritious lunch doesn't have to be boring.
Jump to: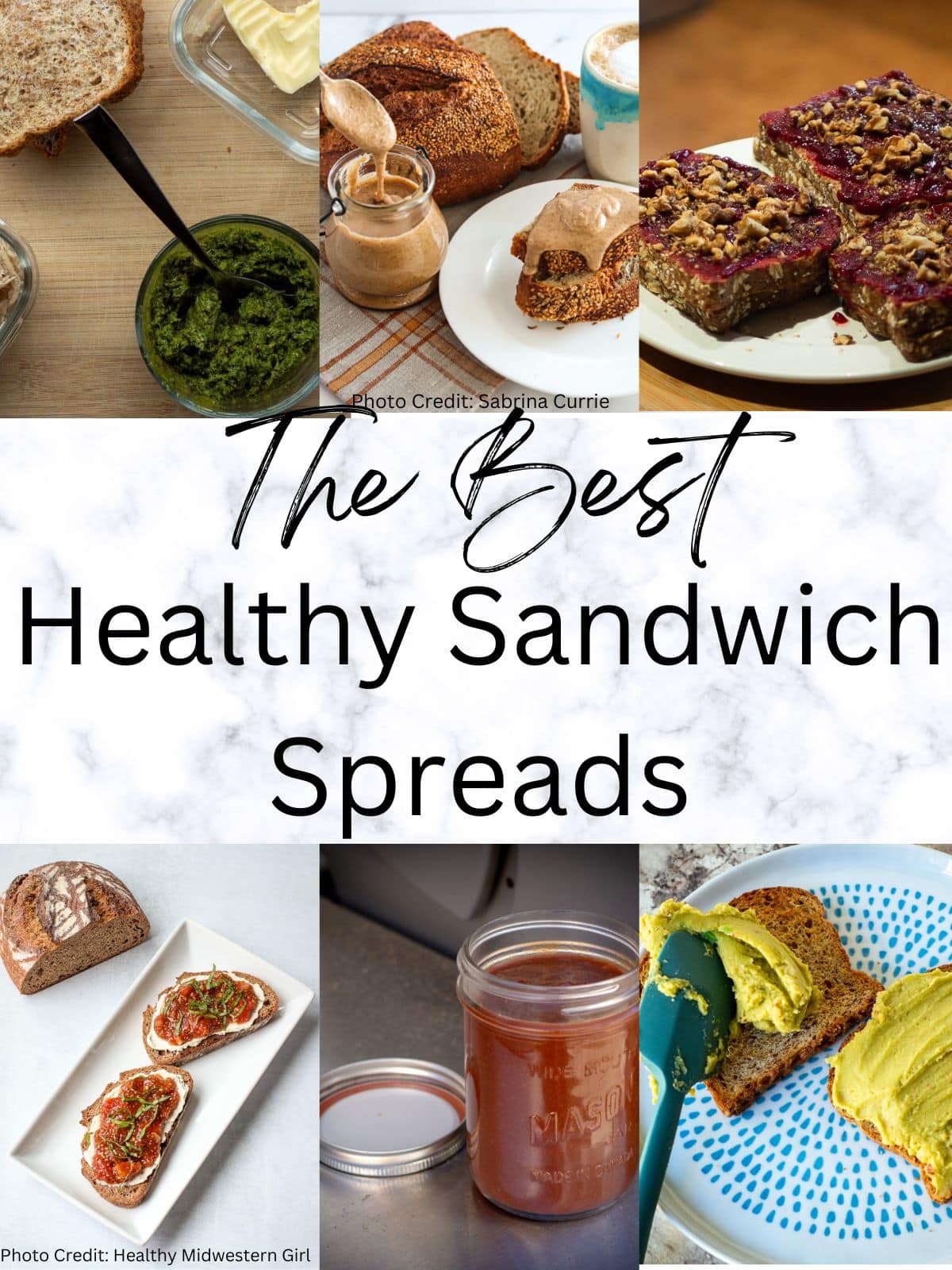 Being able to craft a mouthwatering sandwich is one of those valuable life skills that not everyone has.
Sure, most people have the skill of making a sandwich.
However, if that skill is limited to cold cuts, butter and maybe a slice of cheese on a bun. Well, let's just say that it could be improved upon.
But, with a bit of practice and creativity, it could become the skill of making a sandwich!
The kind of sandwich that you would rather have for dinner than most other meals.
The type that you elaborate about.
(What are you having for lunch? A sandwich, you? A goat cheese, roasted vegetable, chicken and pesto handheld all-in-one delicious meal! So a sandwich? Well yeah, but delectable one!)
And now that you have found this list of delicious spreads, you'll be well on your way to taking your sandwich skills to the next level.
How to Make A Healthier Sandwich
Choose a nutritious bread. Avoid making your sandwich on refined white bread as it provides limited nutrition. For a better for you option, try making your sandwich on a whole grain or sprouted bread which contains more nutrients and is easier to digest. Or if you'd prefer, check out these ideas for ways to make your sandwich without bread.
Include a quality protein. Avoid using deli meats and cold cuts which can be high in sodium and preservatives. Instead, opt for home-cooked, preservative free meats, eggs or plant based proteins such as beans or nut butter.
Incorporate vegetables. Round out your handheld meal by including plenty of vegetables. Some of my favourites are: red bell pepper, tomato slices, cucumber, red onion, lettuce, spinach, sliced beets and shredded carrots.
Add flavour with a nutritious spread! Check out this comprehensive list for plenty of ideas for ways to add flavour and texture without unwanted ingredients.
What to Look For in a Healthy Spread for Sandwiches
Whether using a homemade spread or something from the grocery store, look for the following qualities:
No or Low Sugar
Low Salt
Few or No Preservatives
No Artificial Ingredients
Savoury Spread Ideas
1. Cashew Queso- Add creamy, Mexican inspired flavours to your sandwich or wrap with this quick and easy sauce. This would be delicious on a sandwich with sautéed bell peppers and onions.
2. Hummus- Whether you use a healthy store bought version, this Beet Hummus, Hummus without Garlic or another favourite homemade version, Hummus acts as a creamy sandwich spread, adds lots of flavour and boosts the protein. It is perfect for spreading on a tortilla wrap filled with plenty of fresh vegetables.
3. Avocado- Another creamy add to your sandwich, fresh avocados boast healthy fats, vitamins, minerals and fibre. Whether you simply add some smashed avocado, this Chickpea Avocado Spread (like avocado hummus) or Guacamole, it really elevates a sandwich.
4. Greek Yogurt- Plain yogurt contains protein and nutrients and is a thick and creamy addition to your sandwich. Stir in a little bit of fresh dill or other herbs and garlic for extra flavour. It is also a great way to replace mayo in a classic egg salad sandwich along with a bit of Dijon mustard.
5. Tzatziki Sauce- Homemade Tzatziki sauce contains Greek yogurt and cucumber and adds wonderful flavour. Spread a thin layer on a sandwich with some chicken, lettuce and other vegetables for some Mediterranean flavour.
6. Santa Fe Ranch- This Greek yogurt recipe is filled with creamy taco flavour and is another tasty addition to your handheld.
7. Healthy Caesar Dressing- This wholesome recipe is perfect on a grilled chicken sandwich.
8. Nut Butter- Not all are created equal so ensure that you choose one that doesn't contain extra oils, sugar or artificial ingredients. Or try making your own! Whether you opt for peanut butter, almond butter, cashew butter, hazelnut butter or another kind, it is a creamy way to add some good fats, nutrients and protein to your sandwich.
9. Goat Cheese- Spread a little goat cheese on your piece of bread for some creamy and tangy flavour. Try it spread on a roasted veggie wraps along with a touch of pesto.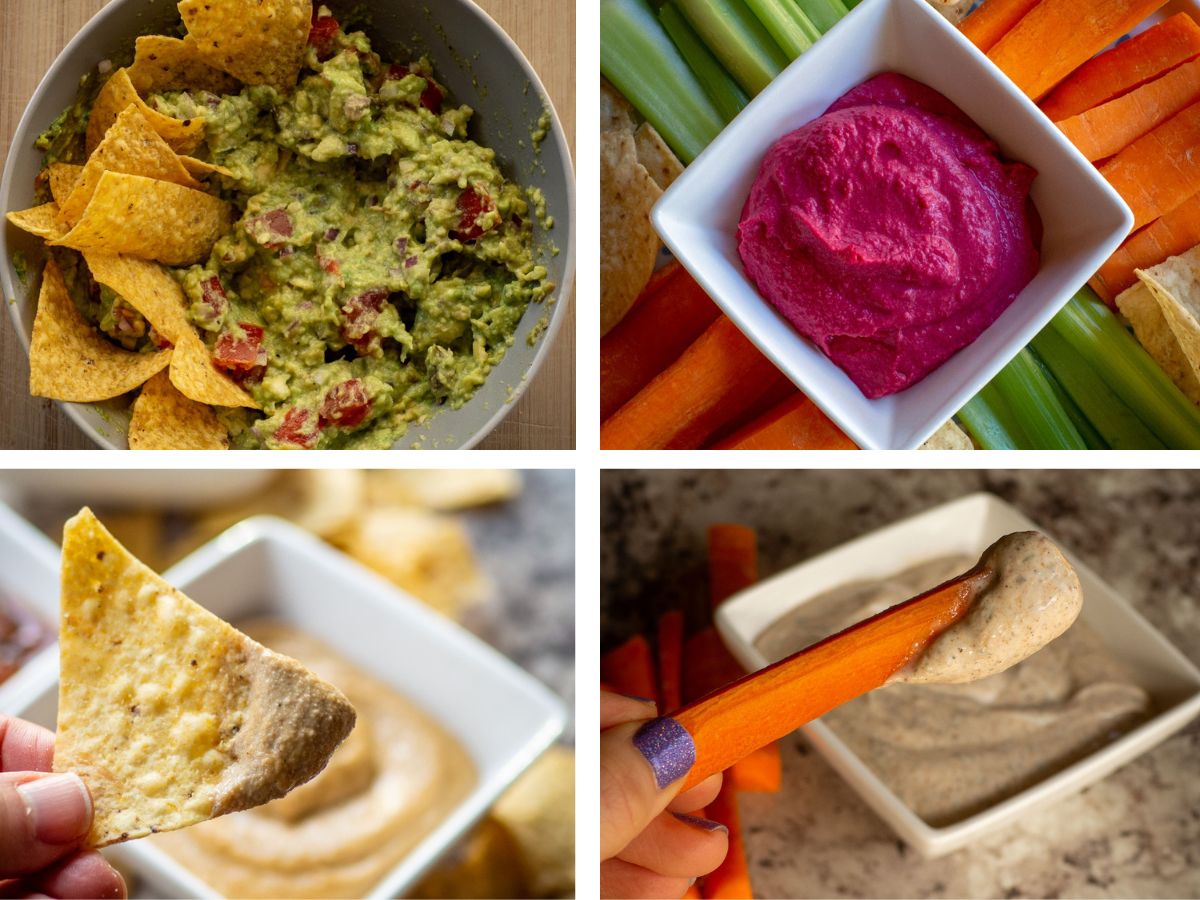 10. Pesto- Pesto made with whole, natural ingredients such as garden basil and quality olive oil, like in this recipe, can be very healthy. A little goes a long way spread on a sandwich to add some incredible flavour (like on this Turkey Pesto Sandwich).
11. Chimichurri- This quick, homemade recipe is made with simple ingredients and is a great way to add herb and garlic flavour to sandwiches. I especially like it on a chicken or egg sandwich along with plenty of veges.
12. Barbecue Sauce- This recipe is naturally sweetened and is a great healthier alternative to add to Sugar Free Pulled Pork buns.
13. Mustard- Rich with minerals, mustard paste can add robust flavour to your sandwich.
14. Sweet Chili Sauce- This homemade version is naturally sweetened and made without preservatives. Use this sweet and spicy spread on a chicken sandwich for some Thai inspired flavour.
15. Roasted Red Pepper Sauce- This easy, creamy spread would definitely take a Mediterranean flavoured sandwich to the next level.
16. Pizza Sauce- Use this spread along with some roasted vegetables for a roasted vegetable pizza inspired sandwich.
17. Tomato Chia Jam- This savoury spin on chia jam would take a BLT or club sandwich to the next level.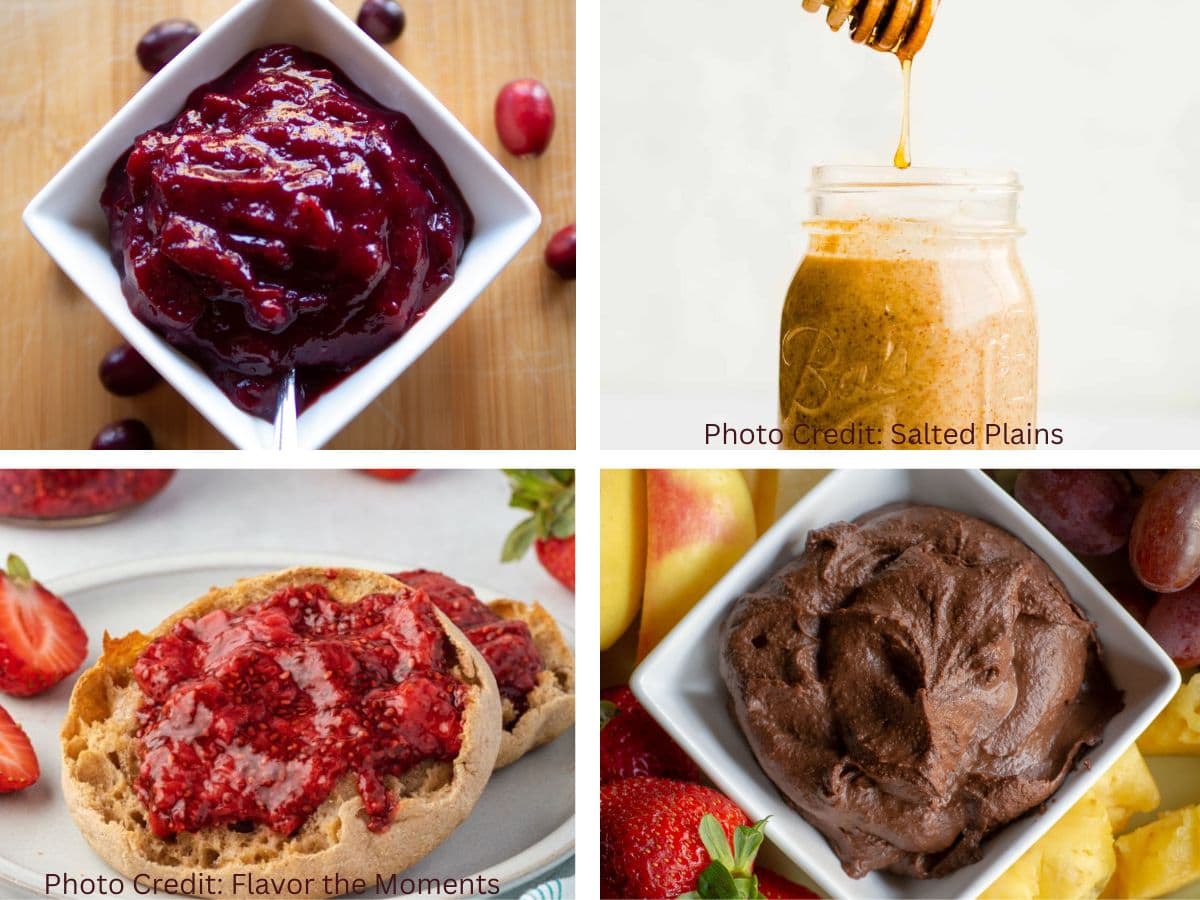 Sweet Spread Ideas
18. Cranberry Sauce- This homemade recipe is naturally sweetened and is a great alternative to jam for a PB and J inspired sandwich. It also pairs wonderfully with leftover turkey.
19. Chia Jam- Making chia jam is another wonderful healthier alternative to high sugar boughten jams. It can be quickly whipped up with any of your favourite fruits.
20. Apple Butter- This concentrated version of applesauce spreads like butter and tastes amazing on a grilled cheese. Or try it on this Apple Cheddar Pork Tenderloin Sandwich.
21. Pumpkin Butter- Try this sweet squash spread with peanut butter or to make a unique grilled cheese.
22. Sweet Nut Butter (Homemade)- While the sugar-laden versions you can buy aren't exactly healthy, try spreading some homemade Healthy Nutella, Salted Caramel Nut Butter, Coconut Almond Butter, Honey Pistachio Paste or Honey Almond Butter on your sandwich alongside some sliced apples, bananas or berries for a wholesome take on a PB and J.
23. Chocolate Hummus- This dessert spin on hummus is naturally sweetened, filled with protein and is a more nutritious chocolate spread.
More Ways to Up Your Healthy Sandwich Game
Fresh Herbs- Dill, parsley, cilantro, basil, chives.
Pickles- For crunch and flavour.
A Slice of Cheddar Cheese or Fresh Mozzarella- A little cheese can go a long way for adding flavour and a bit of protein to your sandwich.
Fresh Fruit- Sliced fresh fruits can be a great alternative to jam and add flavour to both sweet and savoury sandwiches.
Chopped Nuts or Crispy Roasted Chickpeas- I love the added crunchy texture that these add.
Serve it with a Delicious and Healthy Side- Check out this post of 34 Delicious and Healthy Sides to Serve with Sandwiches for ideas!
Healthy Sandwich Recipes
More Handhelds!