Wondering what to serve with sandwiches? I've got you covered! I've compiled a list of 34+ of the best options that pair perfectly with this lunchbox classic. From dips and soups to salads and dessert, I've got plenty of ideas for you!
Jump to: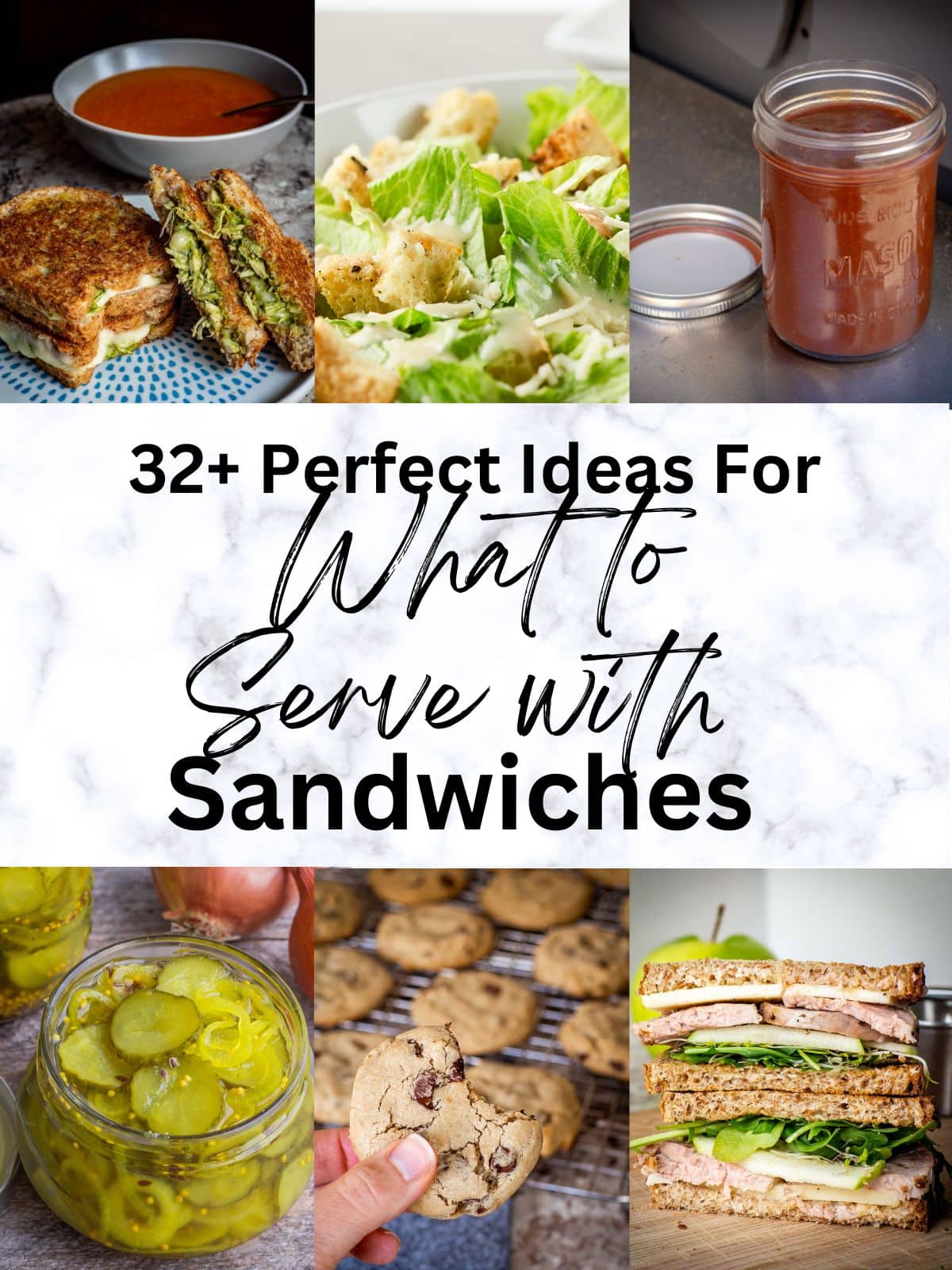 I pride myself on my skill of making a good sandwich.
Whether whipping one up with whatever I have on hand (and some sort of delicious, healthy spread), making my FAVE Chimichurri Chicken Sandwich or even a Breadless Sandwich, it's not a task I take lightly.
But when you're putting in all that effort to make a delicious sandwich, sometimes what to serve alongside it ends up an afterthought.
And then I'm scrambling trying to put together some sides to turn it into a wholesome, filling meal.
Which is where this list comes in.
The next time you find yourself scratching your head and wondering what would pair well with your handheld, this post is here to give you plenty of tasty inspiration!
Sauces and Dips
Take your sandwich to the next level by dipping it into one of these tasty sauces! I especially love serving hot sandwiches with a dip.
1. Santa Fe Ranch- This zesty Greek yogurt based dip is a great accompaniment to any taco-inspired handheld flavors.
2. Hummus- Either as a dip to the sandwich itself or as a dip to some vegetables alongside, I love serving hummus with my handhelds. It also works well as a spread on your sandwich.
3. Pizza Sauce- This easy recipe is perfect for dipping grilled cheese sandwiches.
4. Barbecue Sauce- This homemade BBQ sauce is naturally sweetened and perfect for dipping chicken sandwiches.
5. Gravy- Hot gravy elevates these Cranberry Turkey Brie Melts.
Garnishes
Another great option for enhancing your hearty sandwich is to serve it with some tasty garnishes.
6. Fresh Herbs- Depending on the kind of sandwich, try serving it with some chopped fresh herbs such as parsley, basil, chives, dill or cilantro.
7. Pickles- While I'm partial to dill pickles in all situations (but most especially with egg salad), sweet pickles or a different type of pickled vegetable adds some crunch and flavor.
Finger Foods
Tasty finger foods make a great side dish to any sandwich and there are plenty of delicious, healthy options!
8. French Fries or Potato Wedges- These baked fries are crispy, perfectly seasoned and are one of the best sides to serve with your favorite sandwich.
9. Sweet Potato Fries- Use sweet potatoes in place of regular potatoes in my baked fries recipe for the perfect side dish to your sandwich.
10. Baked Sweet Plantains- For a fun alternative to fries, this easy side dish is crisp on the outside, creamy on the inside and the ideal combination of salty and sweet.
11. Onion Rings- Another classic side dish, onion rings are a great addition to your sandwich (or added inside!). To keep them on the healthier side, try this baked version.
12. Fresh Vegetables (Aka: Crudite)- For the ultimate healthy side dish, serving your sandwich with some sliced carrots, cucumbers, cherry tomatoes or whatever other fresh veggies you enjoy best is a great way to make it a complete meal. Feel free to serve them with a dip too (I love using Beet Hummus).
13. Mozzarella Sticks- Golden brown, gooey and cheesy mozza sticks are tasty with almost anything! This homemade and healthy baked version is my go-to and a great option to round out your meal.
Salads
Sandwiches and salads are another natural pairing and make the perfect meal. Whether enjoying a turkey club, a grilled cheese sandwich or another handheld, one of these delicious salads is sure to be an excellent choice!
14. Spinach Salad- This green salad features balsamic vinegar poppyseed dressing, plenty of berries and roasted nuts for crunch.
15. Caesar Salad- A great accompaniment to almost any meal, I especially love a Caesar salad served alongside a BLT.
16. Mediterranean Salad- With crunchy vegetables, hearty chickpeas and creamy feta cheese, this is a great choice if you want a veggie-packed salad without leafy greens.
17. Pasta Salad- If you're looking for a heartier option, a pasta or macaroni salad pairs nicely with a good sandwich for a filling meal.
18. Potato Salad- Like pasta salad, potato salad is a filling side to serve with your handheld. My recipe uses Greek yogurt in place of mayo for a protein boost.
19. Santa Fe Salad- Arguably my all-time favorite salad, this is definitely one of the best sides to serve with a sandwich.
20. Broccoli Salad- This crunchy salad is full of flavor and texture making it one of those delicious side dishes that works with so many meals, including sandwiches.
21. Slaw- Whether you prefer classic, Chimichurri or this Lemon Tahini Slaw version, coleslaw is one of the best side dishes (and my go-to with a pulled pork sandwich).
Soups
While I love all of the different healthy sides that you can serve with sandwiches, soup plus sandwich will always be the G.O.A.T. to me! Whether alongside cold sandwiches or a melt, I would always choose this delicious meal combination first.
22. Tomato Soup- An absolute classic with a grilled cheese (though I suppose you can serve tomato soup with a different side dish...), this soup is like a sandwich's best friend.
23. Potato Soup- This creamy soup makes for a delicious side to a variety of sandwiches.
24. Pumpkin Soup- This is great alongside any sandwiches featuring autumn flavors.
25. Borscht- Full of hearty vegetables, I love this soup paired with a panini.
Vegetables
When looking for healthy alternatives to serve as a side to your sandwiches, these vegetable dishes are all great options.
26. Baked Beans- Packed with protein and fiber, tender baked beans are a flavorful side to many kinds of handhelds (and are classic with Barbecued Beef Burgers). For a wholesome version, try this recipe.
27. Roasted Carrots and Asparagus- One of those easy sides that pairs with almost anything, these roasted vegetables are a tasty way to add more plants to your meal.
28. Sautéed Green Beans- Made using frozen green beans, this simple recipe is quick, easy and delicious!
Sweets
And last but certainly not least, if you're looking for a sweet side to serve with your sandwich or as dessert, you can't go wrong with any of these.
29. Fresh Fruit- Sliced apples, fresh strawberries, cherries, peaches. Any fruit that you love will pair nicely with your sandwich.
30. Apple Nachos- A fun way to eat your "apple-a-day", these thinly sliced apples are topped with nut butter, granola and seeds for a healthy and tasty treat.
31. Fruit Salad- If the vegetable salads above didn't suit your sandwich, why not try enjoying a fruit salad instead!
32. Rice Paper Candy Straws- This homemade, fruity spin on candy straws is a fun and sweet side to your sandwich.
33. Applesauce- A lunchbox classic, applesauce is a wholesome sweet treat that pairs well with a variety of sandwiches.
34. Chocolate Chip Cookies- Easily packed along, chocolate chip cookies are a timeless and always welcome dessert.
Hopefully you have found plenty of inspiration for what to serve with sandwich in this post! If you're looking for a sandwich recipe, I'm sure you'll love one of these handhelds!