Nothing like the classic cheesy topped tortillas version, these Healthy Apple Nachos make for a fun breakfast, snack or even dessert. Crispy apples are thinly sliced and topped with creamy nut butter and crunchy toppings. The sky is the limit when it comes to this fun recipe so get creative and make it your own!
Jump to: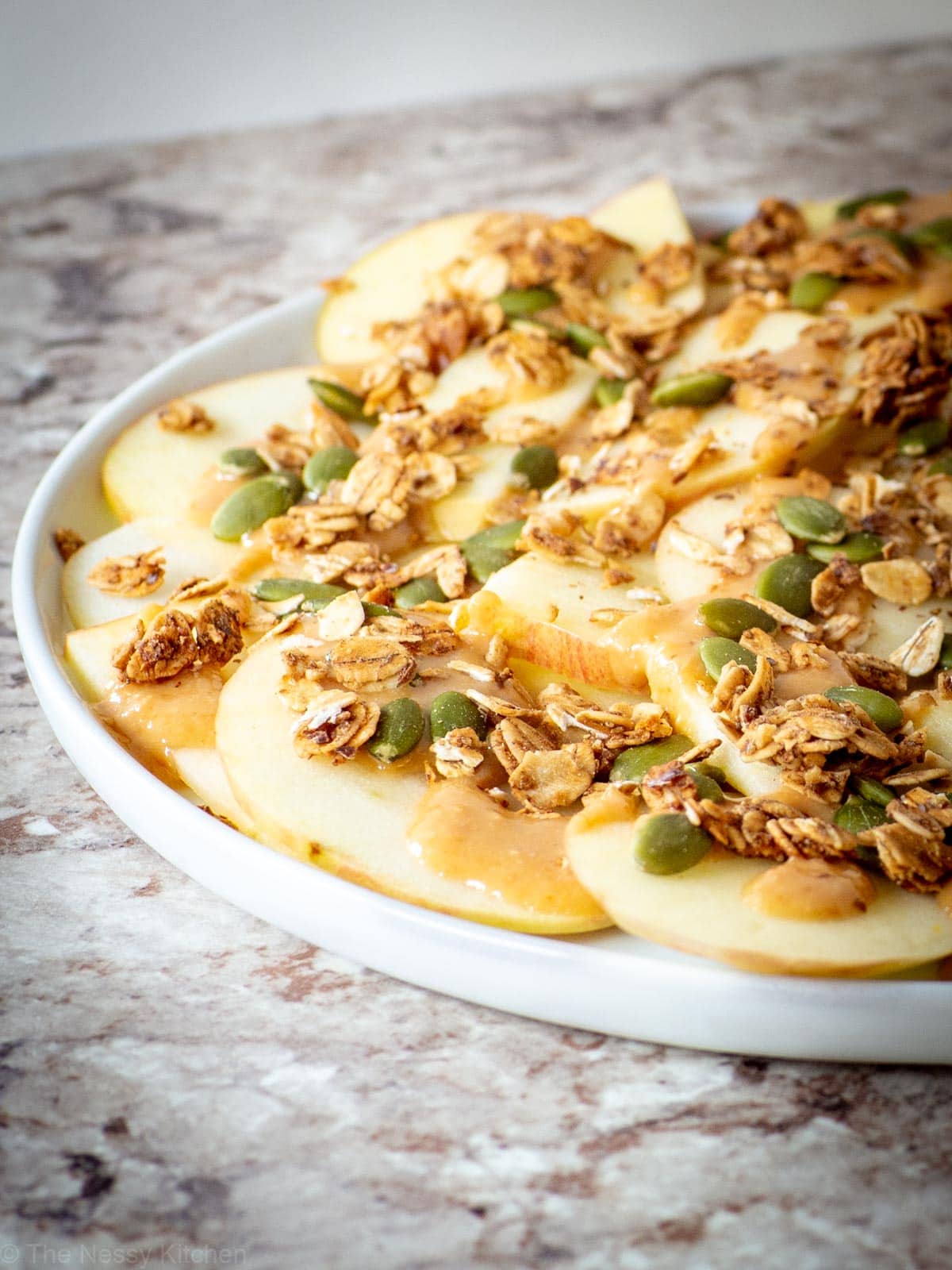 Apple nachos are one of my favorite healthy snacks! Because sometimes, simply eating an apple and some nuts.... well it's boring.
Turn them into nachos, though, and it's something to be excited about!
Way different than classic nachos (like this White Cheddar Chicken version) but equally as fun, they are quick to make and delicious to eat.
Whether you make them to entice kids to eat fruit, or simply to make it easier for your inner kid to eat an "apple a day", they are sure to be a hit!
And if you're looking for more ways to make fruit fun, check out these Rice Paper Candy Straws.
The Ingredients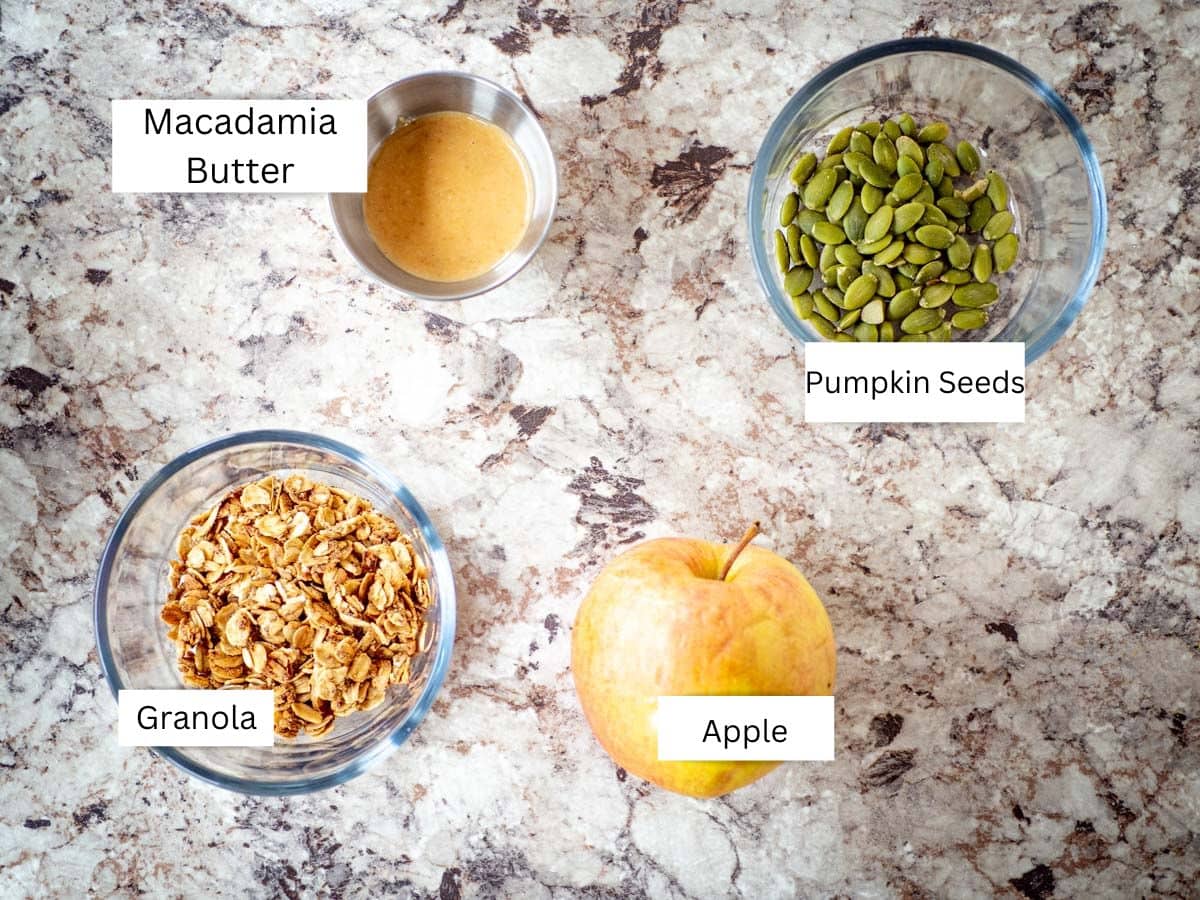 Apple- You can use any apple you like the taste of. Gala and granny smith apples are my favorite go-tos. If you are making these to share, you could use two apples of two different types for some extra flavor variation.
Nut Butter- I love using homemade macadamia nut butter on my apple nachos- it is very drippy and easy to spread and I love how buttery and creamy it is. However, you could use whatever nut butter you like or use sunflower seed butter for a nut free option.
Toppings- These are my favorite toppings but almost anything goes! See the "Make It Your Own" section below for more ideas.
The Method
1. Slice apple. Wash and thinly slice your apple. I slice from two opposing sides first and then slice the thin remaining portion so that I have large circles and a few small rectangular pieces. You could also cut the apple in quarters and then cut the quarters each into even slices.
TIP: To prevent browning, you can toss the sliced apples with a tablespoon of lemon (or lime) juice. If you are planning on eating them right away as a snack, it probably isn't necessary but if you are anticipating not eating them all right away, it can help them to last.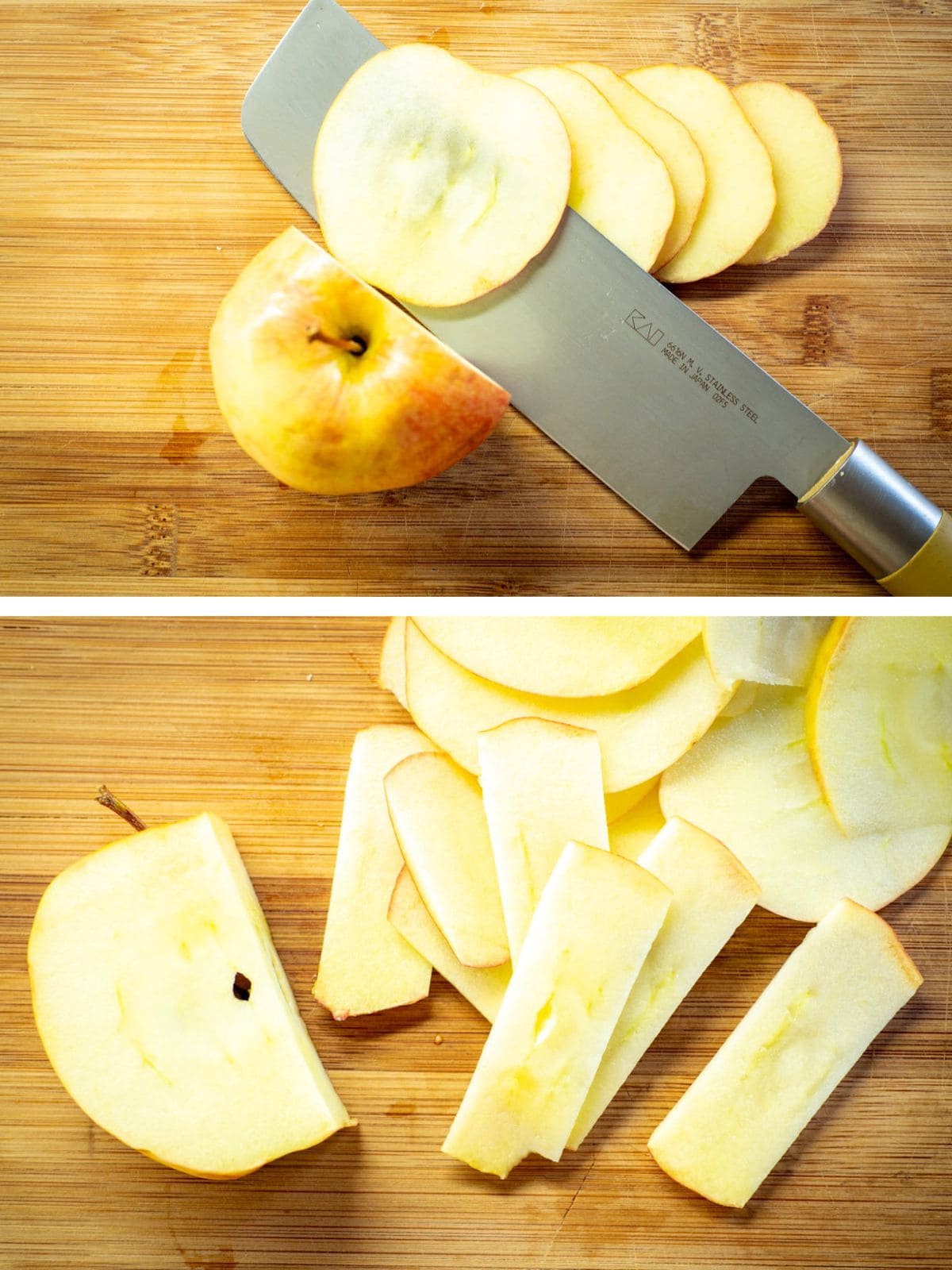 2. Lay Out Apples. Spread the apples out on a plate in a single layer, overlapping just enough to fully cover the plate.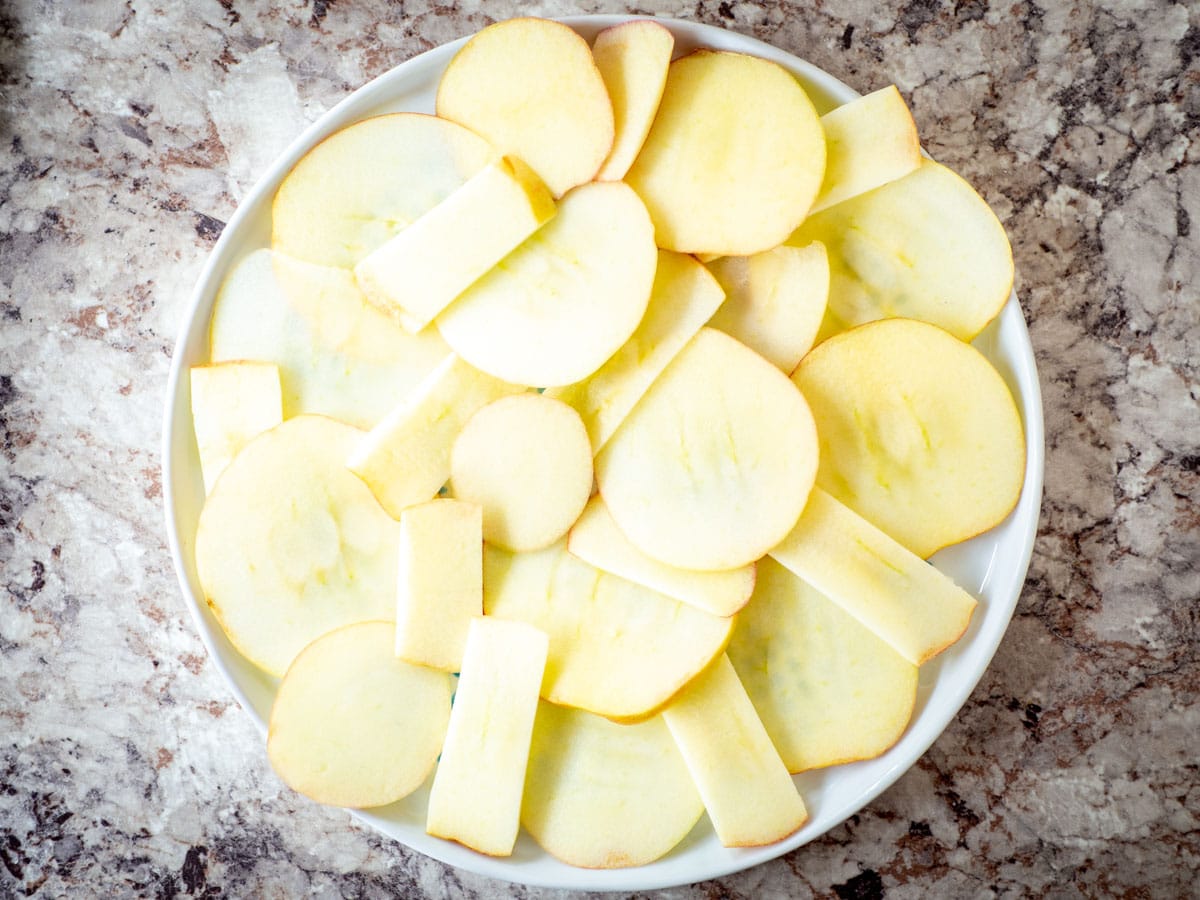 3. Drizzle Nut Butter. If using a drippy nut butter (such as homemade macadamia butter) it may be runny enough to simply spoon it over the apple slices. If the nut butter that you are using is thick, heat it in the microwave for 15-30 seconds in order to make it easier to drizzle on.
4. Add Toppings. Sprinkle your desired toppings evenly over the apples and nut butter. The nut butter will help the toppings to stick.
5. Serve! If you are making them for a crowd, you can repeat the process with additional apples for multiple layers.
Leftovers and Storage
This snack is best enjoyed fresh as the apples will brown and the toppings may lose their crunch after a short period of time. I recommend only slicing and assembling as much apple as you plan to eat!
To Store: That said, leftovers can be stored in an airtight container in the refrigerator for up to 1 day. If you anticipate that there will be leftovers, toss the sliced apples in a tablespoon of lemon juice to help minimize browning.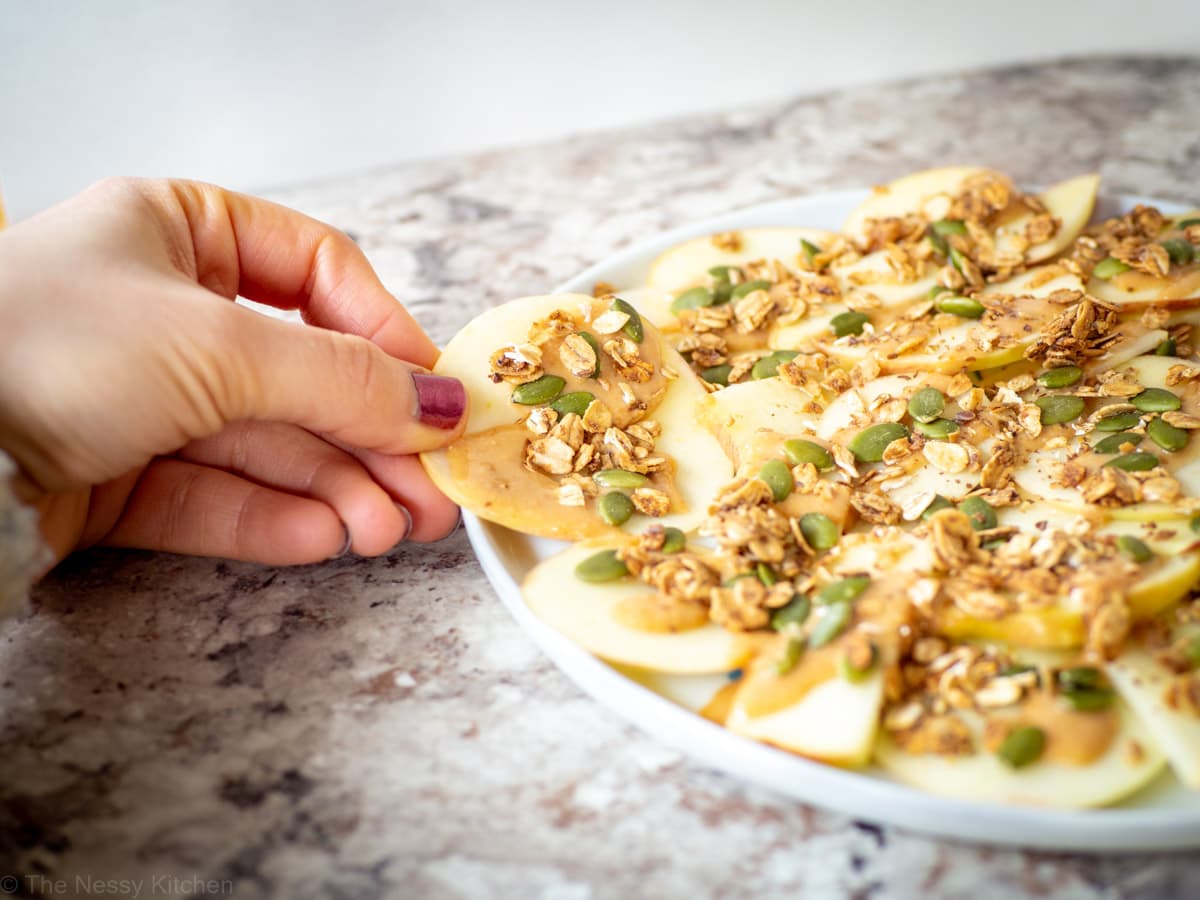 Make it Your Own
Toppings
There are so many great toppings that you could add to your apple nachos! Get creative and try it out with whatever you like. Here are some ideas:
Granola (Maple Granola would be scrumptious)
Cocoa Nibs or Chocolate Chips
Raisins or Dried Cranberries
Coconut Flakes
Chopped Roasted Nuts

Almonds
Peanuts
Pistachios
Pecans
Walnuts

Seeds

Pumpkin
Sunflower
Chia
Hemp Hearts

Trail Mix
A sprinkle of cinnamon or apple pie spice
Sauce
You can also change up the "sauce" by drizzling on:
A different nut or seed butter
Some maple syrup
A bit of melted dark chocolate
Some date caramel sauce
Fruit
This tasty snack doesn't have to be reserved for just apples! Try making it with:
Pears
Guava
Or a combination of apples and pears
Serving Ideas
These apple nachos are versatile as breakfast, a snack or even a healthier dessert. Simply vary the toppings to suit how you're serving them!
These would be fun served as part of a brunch alongside a Greek Yogurt Frittata and some Blueberry Oat Muffins.
LET ME PLAN YOUR DINNERS! Get My FREE Meal Plan (Including Grocery List!)>>>
And if you liked this recipe...
...you might also like: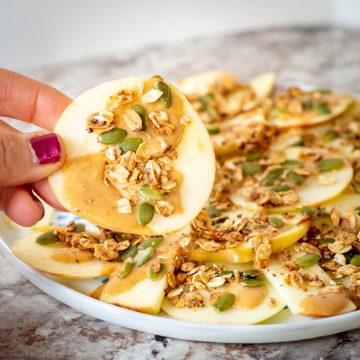 Healthy Apple Nachos
Crispy sliced apples are topped with creamy nut butter and crunchy toppings. These apple "nachos" are totally customizable so get creative! See the post body for plenty of variation and topping ideas.
Print
Pin
Rate
Instructions
Wash and thinly slice the apple. Place the rounds on a plate in a single layer that is just slightly overlapping.

If needed, melt your nut butter in the microwave for 15-30 seconds so that it is runny and drizzle evenly over the apples.

Sprinkle the pepitas and granola (or whatever toppings you would like to use!) on top.
Notes
Leftovers
These apple nachos are best enjoyed fresh but can be stored in an airtight container in the refrigerator for up to 1 day.
*Nutrition estimate based on 2 tablespoon macadamia nut butter, 2 tablespoon granola and 1 tablespoon pepitas. Numbers will vary depending on toppings used.
Nutrition
Calories:
444
kcal
|
Carbohydrates:
45
g
|
Protein:
8
g
|
Fat:
29
g
|
Saturated Fat:
5
g
|
Polyunsaturated Fat:
3
g
|
Monounsaturated Fat:
19
g
|
Trans Fat:
0.01
g
|
Sodium:
4
mg
|
Potassium:
386
mg
|
Fiber:
9
g
|
Sugar:
24
g
|
Vitamin A:
100
IU
|
Vitamin C:
11
mg
|
Calcium:
49
mg
|
Iron:
3
mg
Did you make this recipe?
Let me know what you thought in the comments below!