Few things elevate a pot roast dinner or a turkey feast like a rich, flavorful gravy. Learn how to make gravy with cornstarch using roast beef, pork, chicken or turkey drippings. Gain the gravy making skills you need to impress your guests and yourself.
Jump to: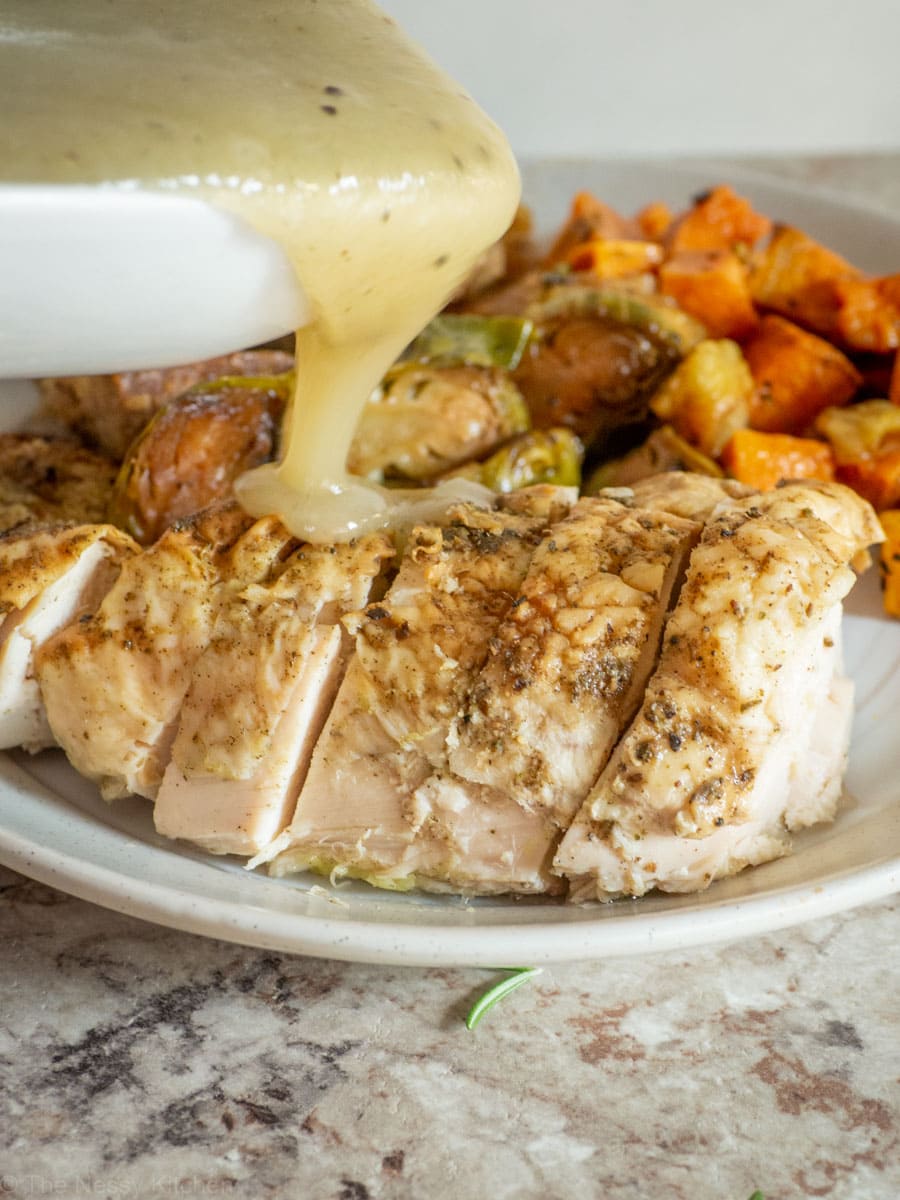 Some of my best childhood memories involve Sunday afternoons filled with family and the comforting scent of a roast dinner.
The centerpiece of these gatherings was a roasted main course, surrounded by an array of vegetables, creamy mashed potatoes, and, of course, delicious gravy.
On special occasions, our table would also feature sourdough stuffing (which was, without a doubt, the best part), and if we were lucky, sweet apple crisp for dessert.
From a young age, our parents ensured that these Sunday dinners were a team effort, which gave us valuable cooking experience.
So over the years I have had many chances to learn and hone my brown gravy making skills and guess what, it is not as difficult as it seems- promise!
And today I want to pass all that I have learned along to you so that you can make perfectly cornstarch thickened gravy from any kind of drippings.
So let's make this easy gravy recipe!
The Ingredients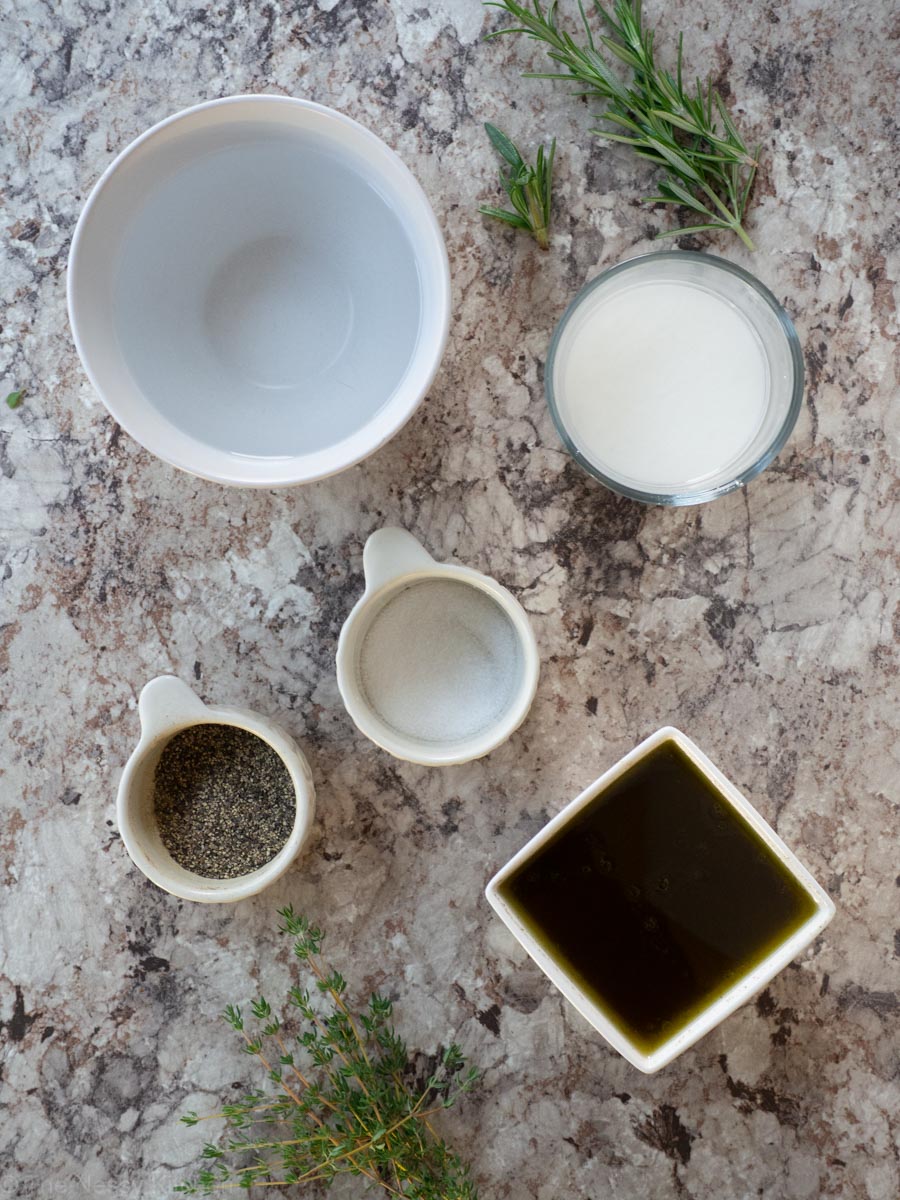 Pan Drippings- Regardless of what meat you have cooked, the drippings contribute major flavor.
Water or Stock- You can use beef broth, chicken stock, potato water (the potato starch can help it to thicken a bit) or just regular water depending on the protein that you cooked and the flavor profile that you want to match.
Cornstarch Slurry- A mixture of cornstarch and cold water, this will work as our thickening agent instead of making a flour-based gravy.
Seasonings- Depending on the flavor of the drippings, you will likely need to add salt and pepper to taste as well as onion powder, garlic powder and dried fresh herbs. See the "seasoning your gravy" section of the post for more tips on determining what and how much to add.
The Method
1. Prepare drippings. Remove your meat (roast turkey, beef, pork or chicken) to a large cutting board. Pour the drippings through a strainer into a large, glass measuring cup or dish, using a spatula to scrape the brown bits from the bottom of the roasting pan.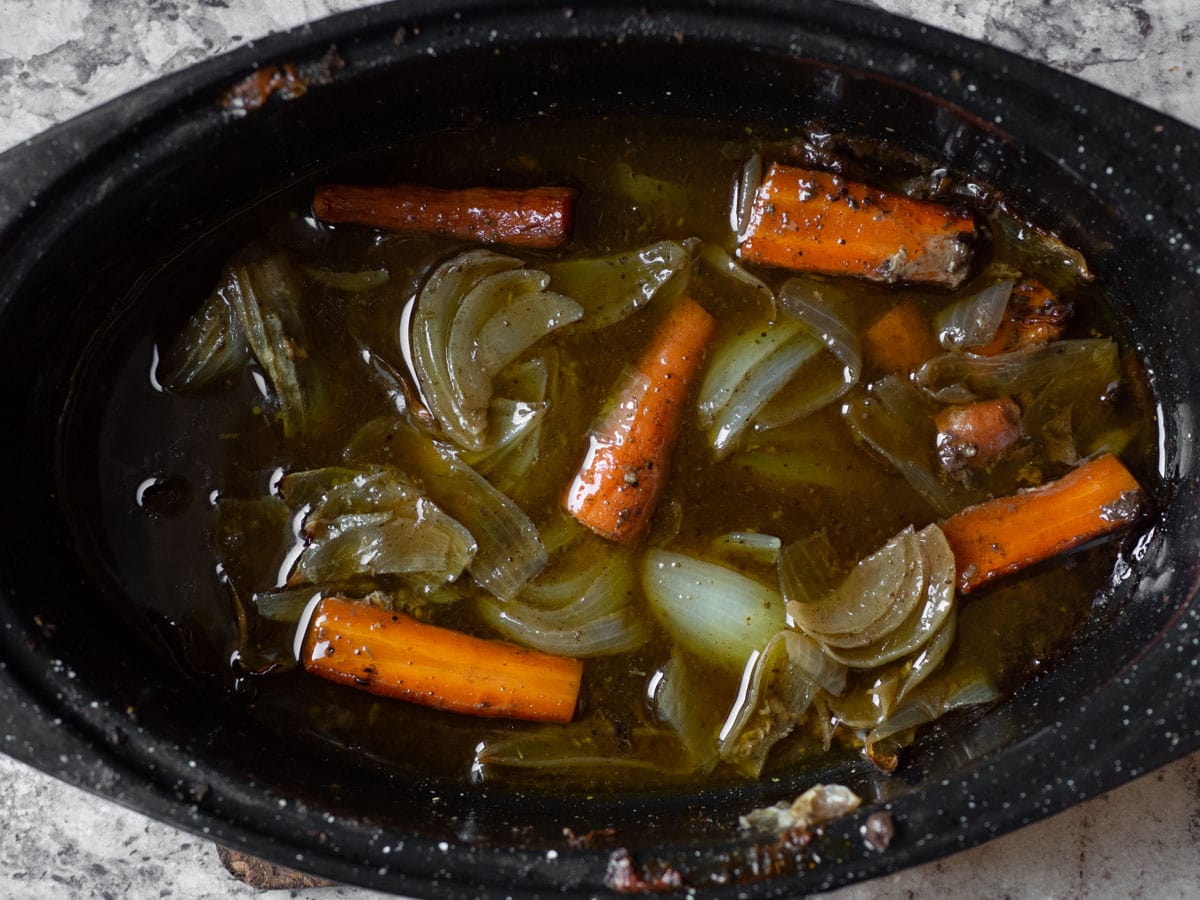 Most recipes call for you to remove the fat from the drippings and then to use the fat to make the roux. I honestly have much success with skipping this step. If there is a lot of fat drippings (it will be the top layer) you can remove some of them, if you prefer.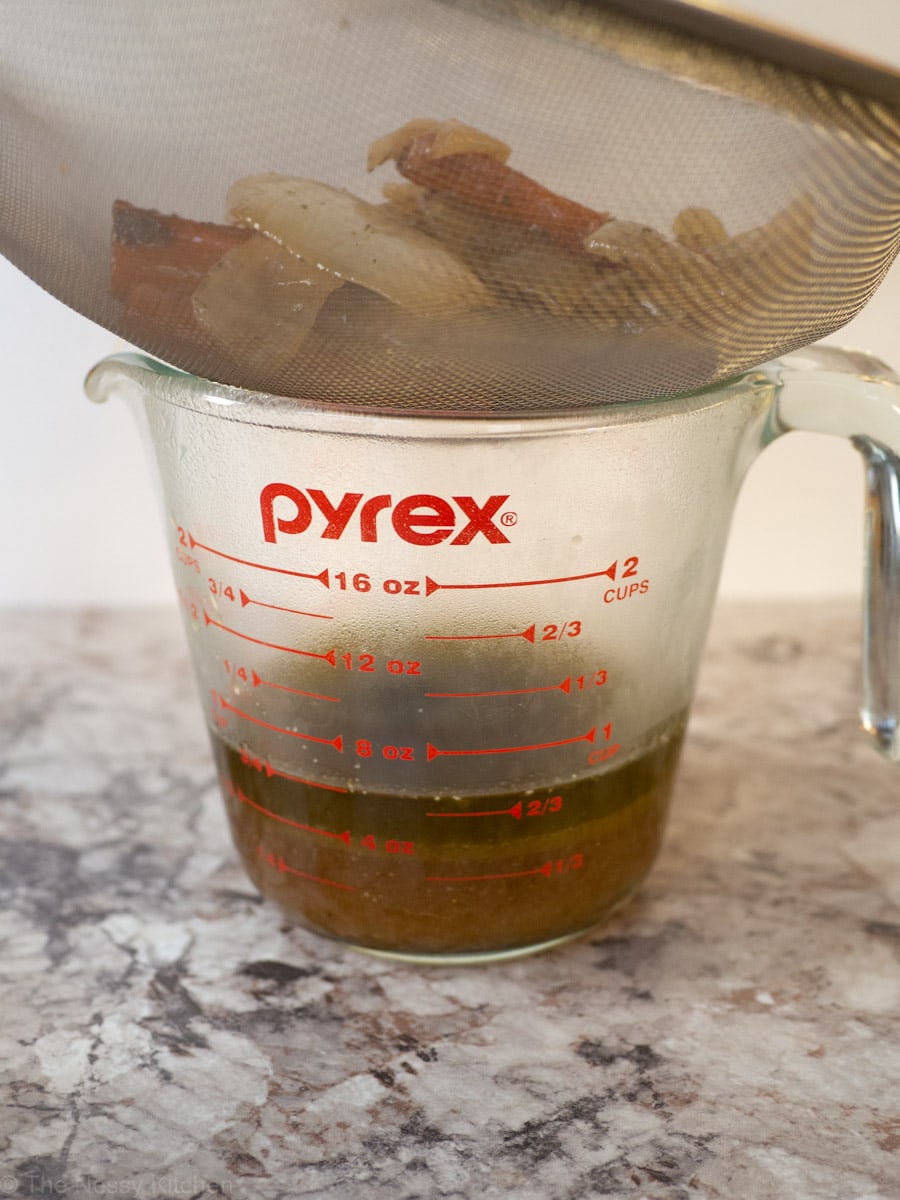 *Take note of the number of cups of liquid yielded from the drippings in order to calculate how much cornstarch to use.
2. Heat. Pour the drippings and broth or water into a medium saucepan and place over medium heat. Once the mixture boils, reduce heat to medium-low to simmer.
3. Add Thickener. In a small bowl, make the slurry of cornstarch by mixing cornstarch with cold wate. Then, while whisking the hot liquid, slowly pour in the cornstarch mixture.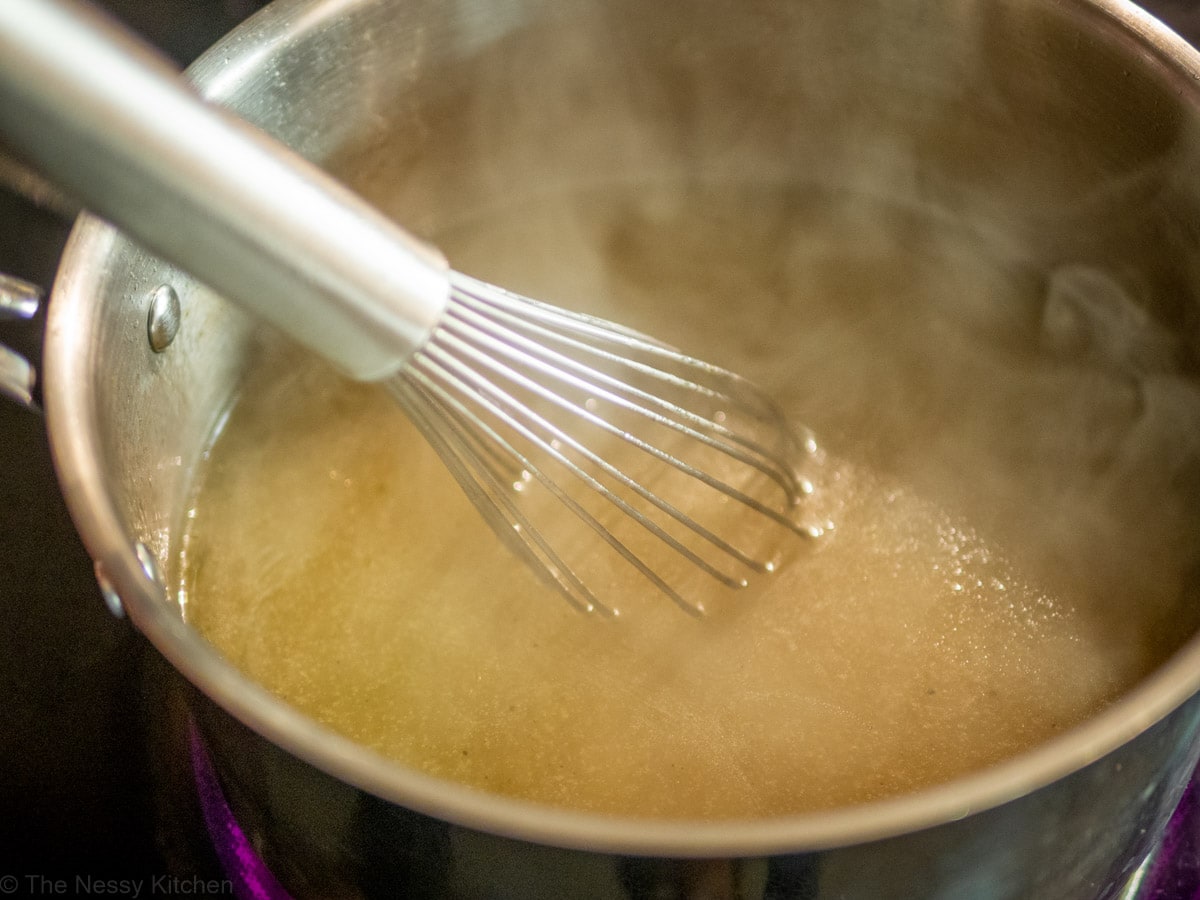 4. Simmer. Continue to whisk until the pot returns to a simmer and until it reaches your desired thickness.
5. Taste and Season. Remove your homemade gravy from the heat and use a clean spoon to taste. Add salt, pepper and seasonings as needed.
6. Serve.
Leftovers and Storage
To Store: Allow the cornstarch gravy to cool before transferring it to an airtight container. Store it in the refrigerator for up to three days.
To Reheat: Reheat the leftover gravy on the stovetop over medium heat, stirring constantly until it's warmed through. You may need to add a little water or broth if it's too thick.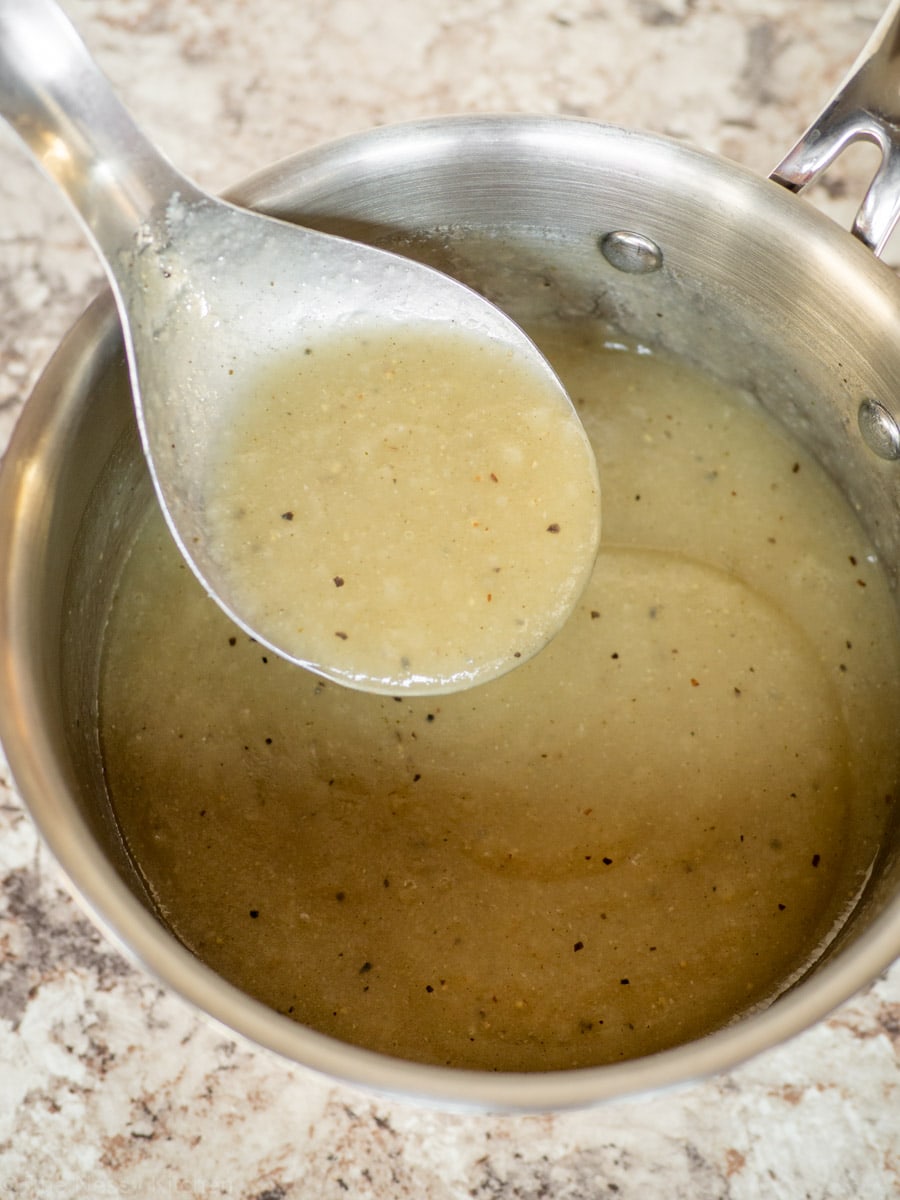 Seasoning Your Gravy
No matter the protein, I recommend seasoning with the following:
Salt
Pepper
Garlic Powder
Onion Powder
Taste and add ¼ teaspoon at a time, stirring and tasting between each addition until to your liking.
For reference, for 4 cups of gravy using water (or unsalted broth) and the drippings from my roast chicken, I use:
1 teaspoon salt
½ teaspoon pepper
½ teaspoon garlic powder
If you make roast beef gravy, use water or beef broth and add a splash of Worcestershire sauce for extra depth of flavor (optional).
In a homemade turkey gravy or chicken gravy recipe, use water or chicken broth and try including a half teaspoon of rubbed sage or poultry seasoning.
If you would like to make it without drippings:
Use 4 cups of broth (beef if serving with beef, chicken if serving with turkey or chicken or vegetable for a neutral option) and 1 tablespoon of butter in place of the drippings and water.
Add 1 teaspoon salt, ½ teaspoon of pepper and ¼ teaspoon of garlic powder and onion powder. Taste and add more seasoning as needed.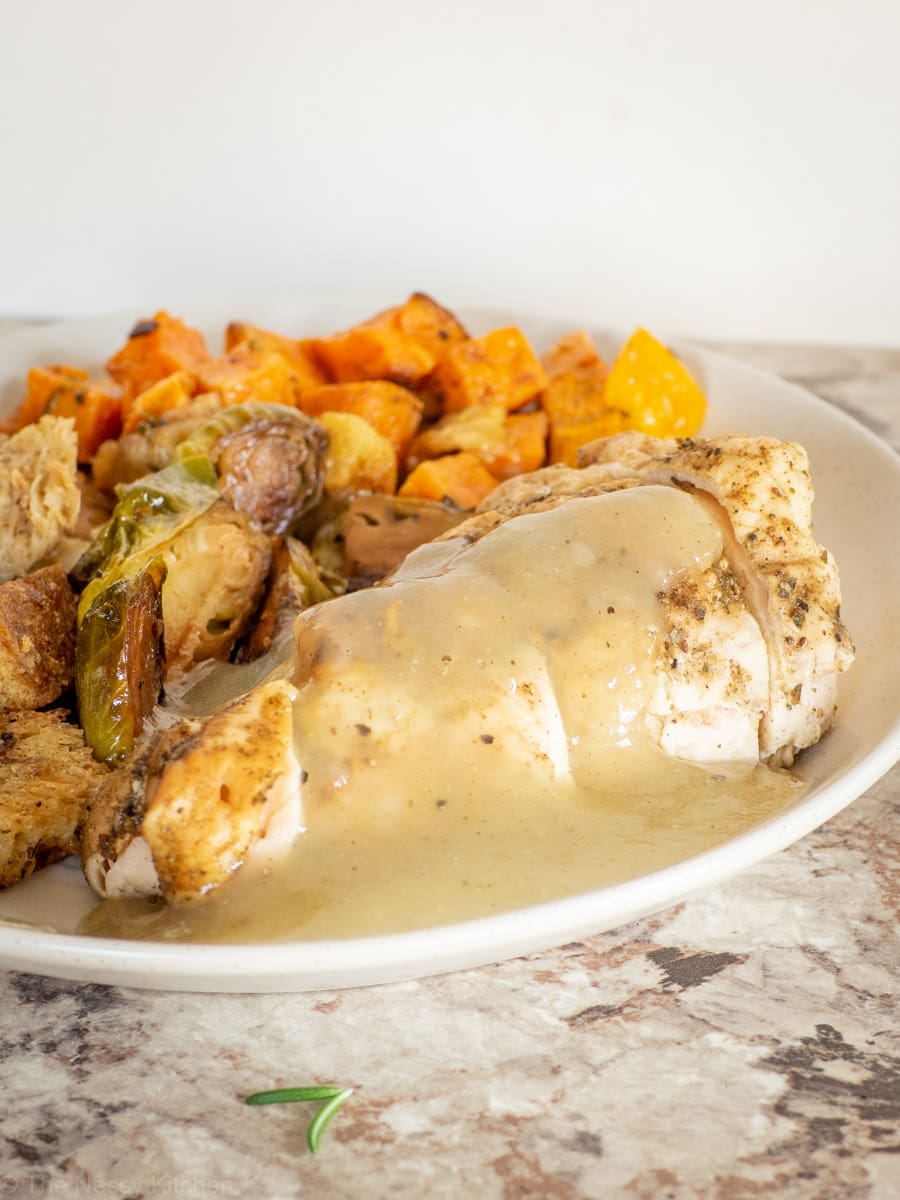 Serving Ideas
On Potatoes: Try it on some Greek Yogurt Mashed Potatoes or with Skillet Chicken and Potatoes.
With Stuffing: If you thought sourdough stuffing couldn't get better, enjoy it with gravy.
Meatballs: Warm gravy is excellent over a plate of meatballs.
Sandwiches: Layer leftover roast meat between bread or rolls and generously drizzle with gravy or use it to dip a Cranberry Turkey Sandwich.
Poutine: Layer Crispy Baked Fries with shredded cheese or curds and top with hot gravy.
As a Soup Base: Use your homemade gravy as a base for hearty soups and stews.
Make Pot Pie: Use leftover gravy to make your favorite pot pie recipe.
Troubleshooting
Lumpy:
Use an immersion blender to blend your gravy until smooth.
Thick:
If your gravy turns out too thick, it's likely you added too much cornstarch. Dilute it by adding more liquid (either water or stock), ¼ cup at a time, until you achieve your desired consistency.
Thin:
On the other hand, if your gravy is too thin, you may not have used enough cornstarch. To thicken it, mix an additional 1 tablespoon of cornstarch with 1 tablespoon cold water and whisk it into your gravy. Allow it to simmer and repeat until you reach your desired consistency.
Bland:
If your gravy lacks flavor, it may need more salt or seasoning. Taste your gravy and add ¼ teaspoon of salt, taste and repeat as needed. You can also try adding a bit of black pepper, garlic powder or even onion powder.
Salty:
If your gravy becomes too salty, you can dilute it by adding more liquid, like water or unsalted broth. You can also try adding a squeeze of lemon juice to counter the saltiness.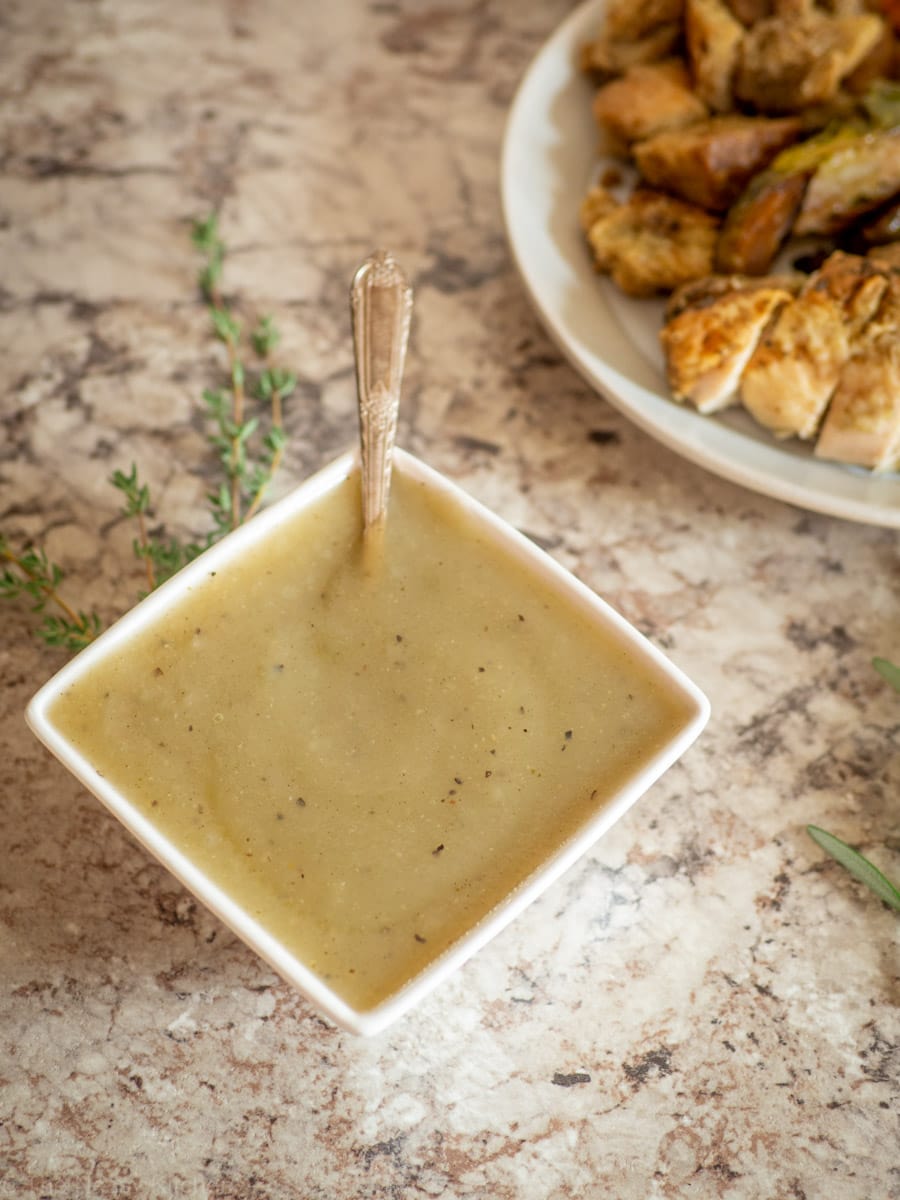 Tips and Tricks for the Best Gravy
Drippings Matter: The quality and flavor of your gravy start with the pan drippings. Make sure they are well-seasoned (accomplished by properly seasoning your meat) and free from any burnt bits.
Cornstarch Slurry: Mix your cornstarch with cold water thoroughly before adding it to the hot liquid. This prevents lumps and ensures even thickening. DO NOT add the cornstarch directly to the hot pot as it will not set up properly.
Stir Constantly: While adding the cornstarch mixture, stir your gravy continuously to avoid clumps.
Use a Whisk: A wire whisk is an excellent tool for stirring and blending the gravy. It helps to break up any lumps and ensures a smooth texture.
Simmer, Don't Boil: Once you've added the cornstarch mixture, let the gravy simmer rather than boil. This allows it to thicken properly.
Taste and Adjust: Always taste your gravy before serving. Adjust the seasoning with salt, pepper, and any other desired herbs or spices.
LET ME PLAN YOUR DINNERS! Get My FREE Meal Plan (Including Grocery List!)>>>
And if you liked this recipe...
...you might also like: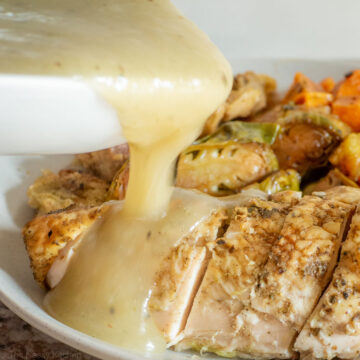 Cornstarch Gravy (Using Drippings)
Few things elevate a roast dinner or a turkey feast like a rich, flavorful gravy. Learn how to make gravy with cornstarch using roast beef, pork, chicken or turkey drippings. Gain the gravy making skills you need to impress your guests and yourself.
Print
Pin
Rate
Ingredients
½-1

cup

drippings

3

cups

water or stock

plus additional water for cornstarch slurry

6

tablespoon

cornstarch

¼

teaspoon

salt

plus additional to taste

black pepper

to taste

garlic powder

to taste
Instructions
Start by pouring the drippings from the pan through a strainer into a dish or measuring cup.

Add the drippings and water or broth to a medium saucepan. Bring to a boil over medium heat, stirring often. Reduce heat to bring down to a simmer.

In a small bowl, whisk together cornstarch with half cup of cold water.

While stirring the pot, slowly pour in the cornstarch slurry. Continue to whisk until thickened, about 2 minutes.

Taste and add seasoning as needed (*see note).
Notes
Leftovers
Store leftover gravy in an airtight container in the refrigerator for up to 3 days. Reheat in the microwave or on the stove over medium with an extra splash of water.
Seasoning
*The amount of seasoning you need to add largely depends on the drippings you are using as well as the broth or water. You may need to add up to 2 teaspoon salt, 1 teaspoon pepper and ½ teaspoon garlic powder, but I would only add ¼-1/2 teaspoon of each at a time, taste and then add more.
*Nutrition is calculated as an estimate and will vary depending on the drippings and amount of seasoning added.
Nutrition
Serving:
0.25
cup
|
Calories:
62
kcal
|
Carbohydrates:
3
g
|
Protein:
0.1
g
|
Fat:
6
g
|
Saturated Fat:
4
g
|
Polyunsaturated Fat:
0.2
g
|
Monounsaturated Fat:
1
g
|
Trans Fat:
0.2
g
|
Cholesterol:
15
mg
|
Sodium:
82
mg
|
Potassium:
2
mg
|
Fiber:
0.03
g
|
Sugar:
0.004
g
|
Vitamin A:
177
IU
|
Calcium:
2
mg
|
Iron:
0.02
mg
Did you make this recipe?
Let me know what you thought in the comments below!