Wondering what to serve with cod? I've got you covered! I've compiled a list of 23+ of the best options to serve with cod that pair perfectly with this flaky fish. From salads and lemon rice to garlic toast and more, I've got plenty of ideas for you!
Jump to: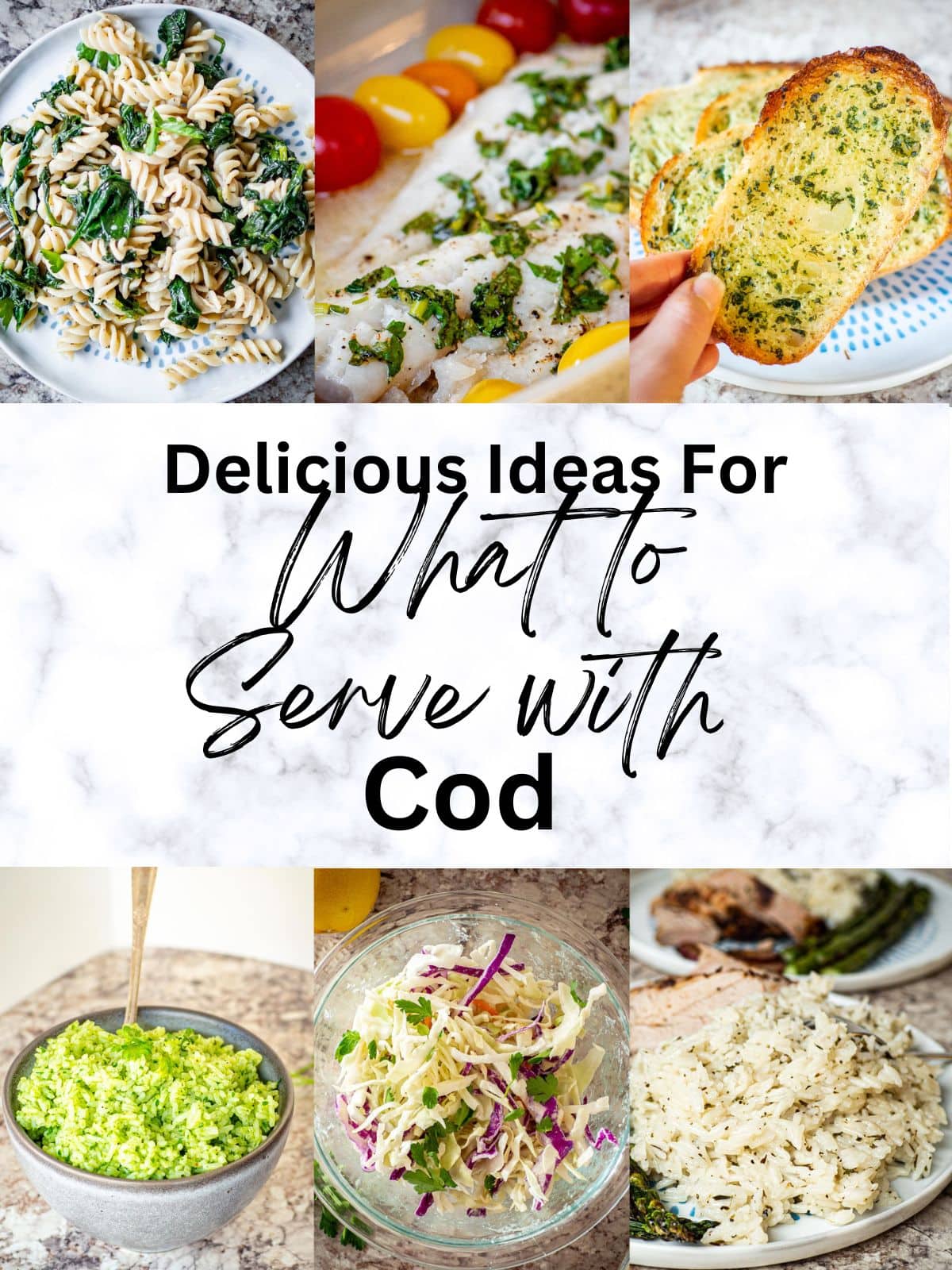 Ever found yourself whipping up a mouthwatering cod dish and scratching your head about what to serve alongside it? Don't worry, I've got you!
From refreshing salads to comforting grains and veggies, these sides will jazz up your cod dinner and take it to a whole new level of yum.
Garnish and Sauces
Take your tender cod to the next level by garnishing with one of the following:
Fresh Lemon Juice- A natural pairing for any fish!
Chopped Fresh Herbs such as Green Onions, Dill or Parsley
Tartar Sauce
Freshly Cracked Black Pepper
Bread
There are few recipes that bread is not an excellent side dish for and cod is not exception! Try serving your fish with:
1. Garlic Toast- Toasted bread and garlic butter- does it get any better than this?!
2. Honey Oat Bread- Nothing beats a loaf of homemade bread and this recipe is a great place to start for yeast beginners.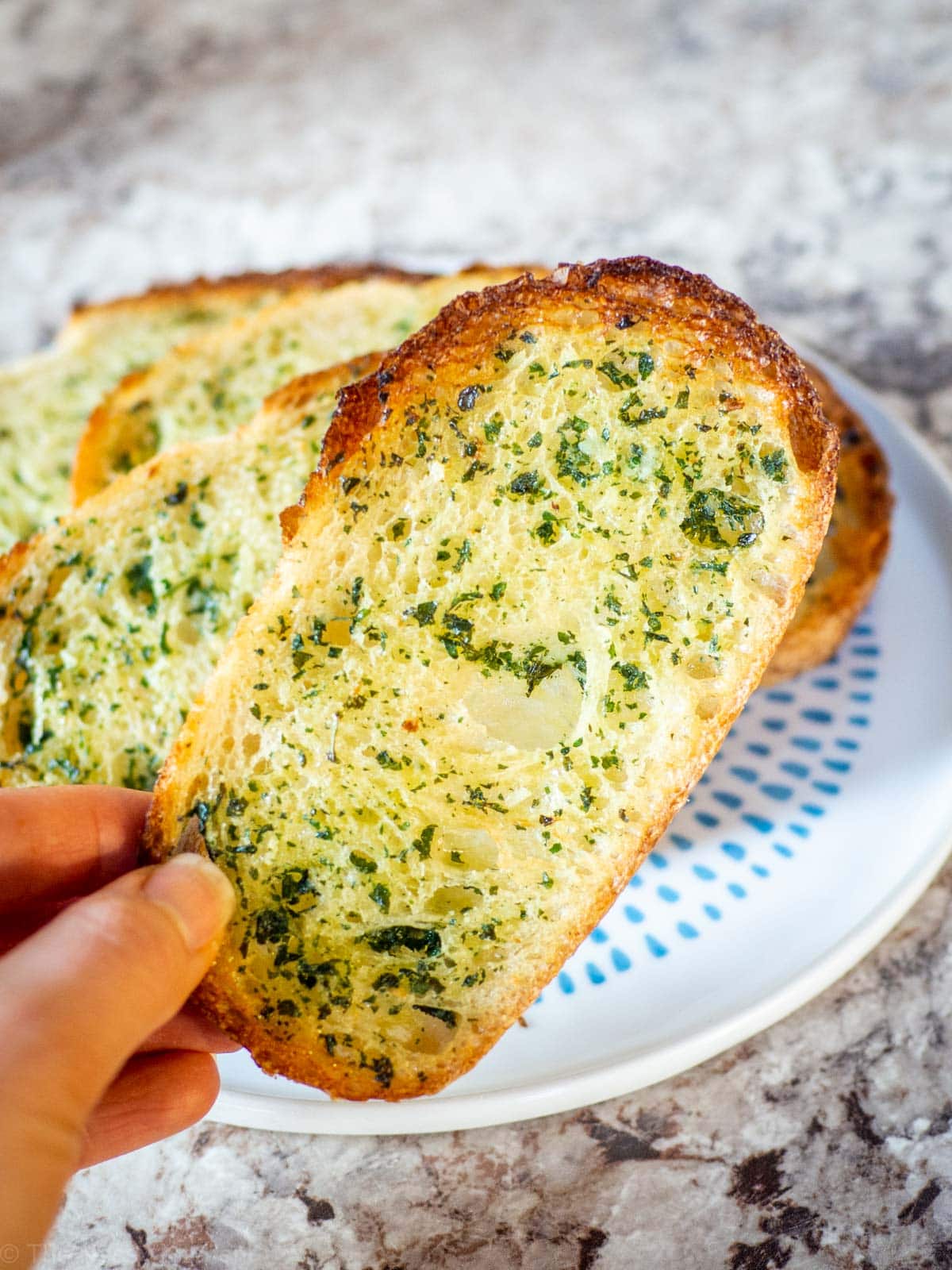 Potatoes
3. Mashed Potatoes- A super simple recipe, these creamy potatoes are always welcome at my dinner table and pair nicely with the mild flavor of cod.
4. Onion Roasted Potatoes- Golden brown and full of flavor, this is another great option to serve with your white fish.
5. Crispy Baked French Fries- If you choose to turn your cod fillets into fish n' chips, this recipe is a perfect match for the "chips" part!
6. Potato Wedges- Or if you'd prefer, make some potato wedges instead.
7. Sweet Potatoes- Whether roasted of mashed, sweet potatoes are also an excellent choice.
Grains
8. Chimichurri Rice- Packed with fresh ingredients like garlic and parsley, this simple side dish is fantastic with fish! Plus this recipe can easily be made with white or brown rice.
9. Rice Cooker Coconut Rice- With a fluffy texture and mild coconut flavor, this is the perfect side dish for a cod recipe that has tropical or south Asian flavors.
10. Lemon Herb Rice- Made in 15 minutes in one pan, this elevated white rice recipe is a great dish to serve with fish.
11. Quinoa- Whether you serve it plain or make it fancier such as this Lemon Quinoa Recipe, it makes a great serving base for the flaky texture of cod.
12. Farro- Another great option for serving with cod, enjoy farro on its own or try making this tomato "farrotto" recipe.
Pasta
13. Sautéed Spinach Pasta- With lots of flavor from garlic and sautéed leafy greens, this easy side dish is fantastic served with cod (and is one of my go-tos!).
14. Baked Feta Pasta- This simple dish is made mostly hands off and is great served with cod.
Salad
15. Mixed Berry Spinach Salad- With creamy goat cheese, fresh berries and crisp red onions, this green salad is perfection and a great way to add some veggies to your plate.
16. Mediterranean Salad- Full of crunchy vegetables, hearty chickpeas and topped with a homemade olive oil and balsamic vinaigrette, your taste buds will happily eat their vegetables alongside your cod with this recipe.
17. Chimichurri Slaw- Fresh, flavorful and so easy, this is one of the best side dishes to serve with this versatile fish (and is great if you want to serve it as fish tacos!).
18. Creamy Lemon Tahini Slaw- And if you're all about different ways to enjoy slaw (I sure am!), you have to try your cod served with this delicious recipe.
Vegetables
19. Sautéed Frozen Green Beans- My favorite way to cook frozen green beans, these are perfectly seasoned with a delicate texture that is a great complement to your cod.
20. Brussels Sprouts- This delicious vegetable pairs wonderfully with white fish.
21. Roasted Asparagus and Carrots- These roasted vegetables are one of the best side dishes to serve with cod.
22. Baked Herb Tomato Zucchini- Full of fresh herbs and flavor, these simple baked vegetables are a delicious side to your cod.
23. Cajun Corn- Incredibly easy, sweet and a little spicy thanks to Cajun seasoning, this simple recipe is one of my favorite things to make when I'm trying to come up with a side dish.
Hopefully you have found plenty of inspiration for what to serve with your flaky cod in this post! If you're looking for a white fish recipe, I'm sure you'll love my Herb Roasted Cod with Cherry Tomatoes.
Need a Dessert?